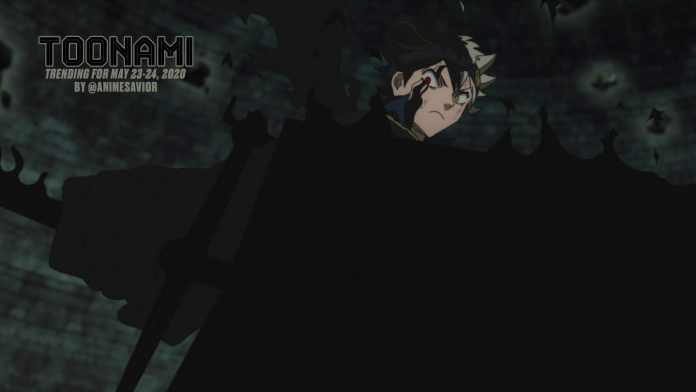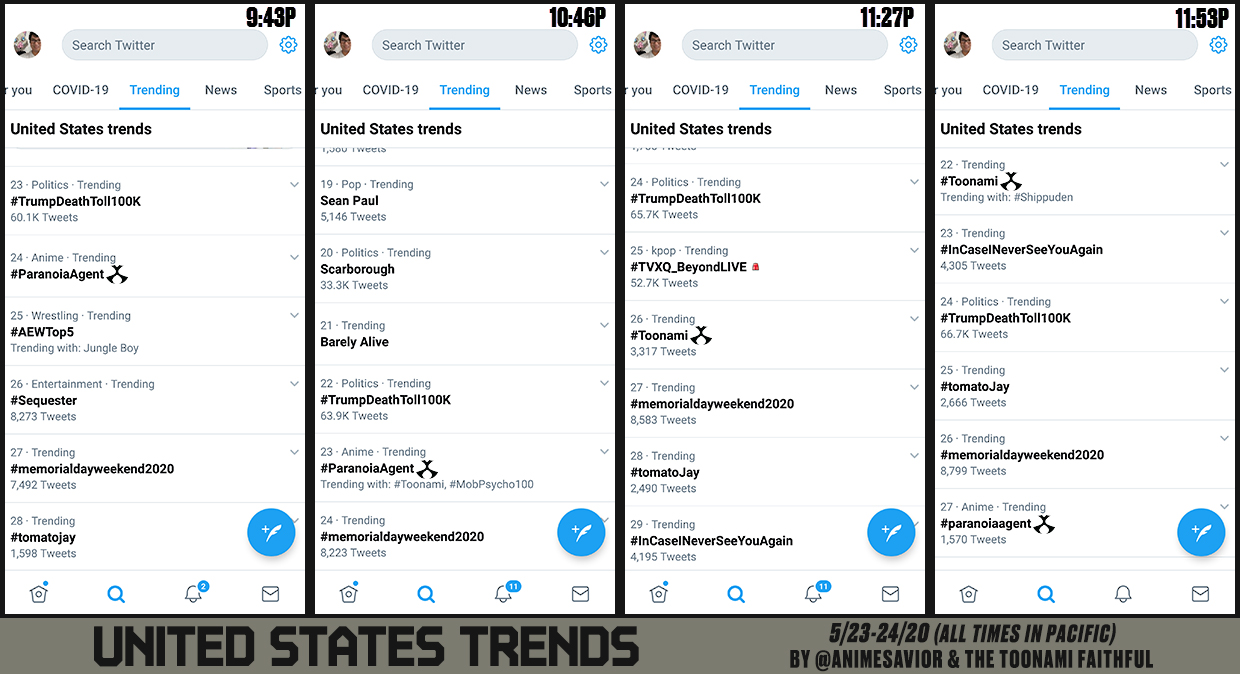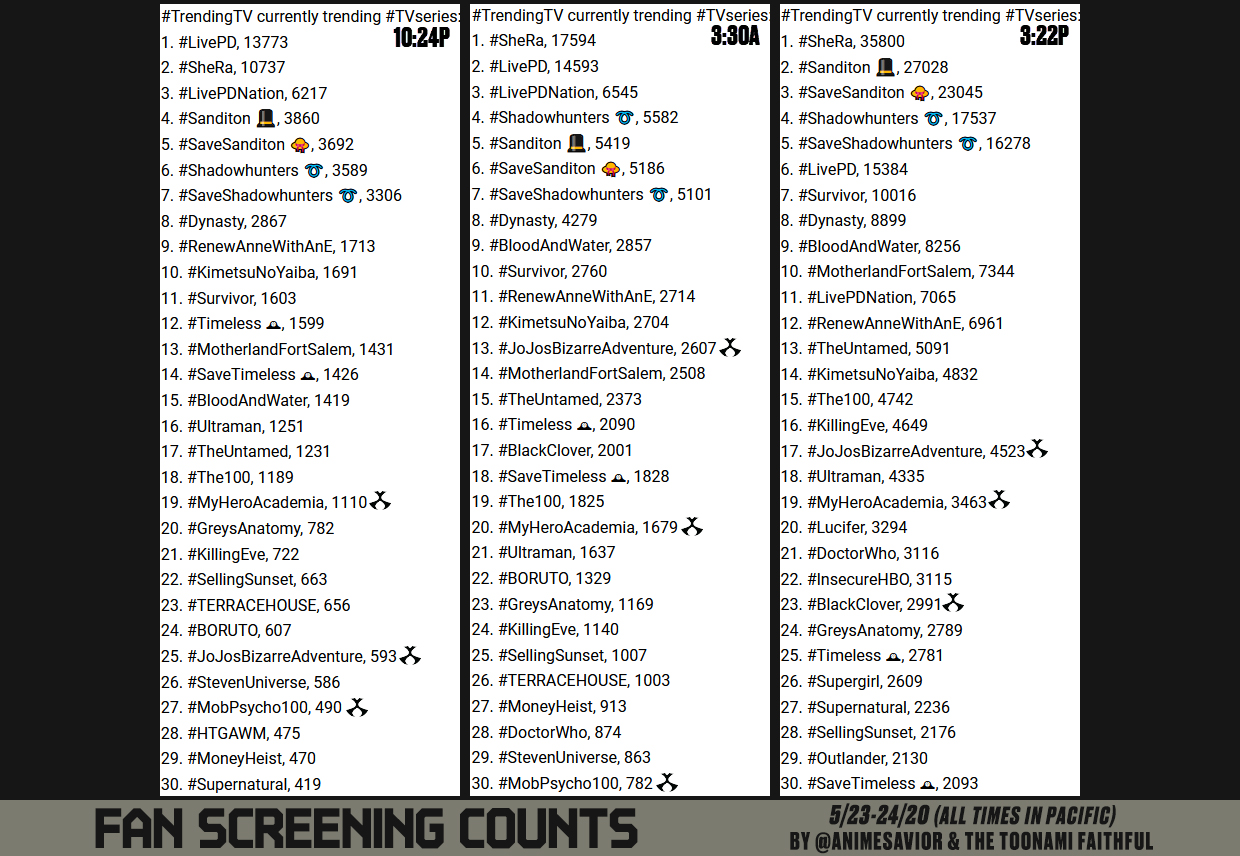 "That sword is even more deadly than I thought it was. If my own sword has a power I haven't unlocked yet, then we still have a chance. I couldn't erase that spear but I did block it. Then it probably means my anti-magic was too weak to break through. But if it kind-of worked, then it's possible right? So, if I can fight as hard as them, then there's something only I can do because I don't have any magic."
–          Asta, Black Clover (Ep. 118)
The Toonami Trending Rundown for May 23-24, 2020. Fans commemorate Memorial Day weekend and the eighth anniversary of Toonami's revival. The block showcased its regular schedule (albeit with My Hero Academia taking the first of a three-week hiatus due to COVID-19 production delays) in comparison to the previous few years where a holiday marathon aired instead.
Among the night's highlights, Paranoia Agent saw Lil' Slugger get taken into questioning by the police for his actions. As the officers begin their interrogation, Lil' Slugger describes everything as if they were playing an RPG, which confuses them. Meanwhile, Black Clover saw the original Wizard King Lumiere and Secre/Nero join Asta and company in the fight against Kotodama Devil. Despite their combined power to overwhelm him, Kotodama Devil continues his rampage without much of a scratch, touting his immortality. And Naruto Shippuden continues the Fourth Shinobi War, as Gaara is forced to battle his father and the Fourth Kazakage, Rasa, reanimated by Kabuto. Despite his father continuing to treat him poorly even during death, Gaara tried to show empathy to Rasa. As the events through the series continued, Garra gained some perspective into the motives behind his father's actions. Seeing what Gaara has accomplished despite it all, Rasa apologized to his son for his actions and entrusted the village's future to him before getting sealed up by Gaara.
On Twitter, #Toonami would successfully trend in the US alongside Paranoia Agent, Mob Psycho 100, and Naruto Shippuden. Meanwhile, on Tumblr, #Toonami would trend alongside JoJo's Bizarre Adventure and #BNHA. The full list, including statistics and tweet counts from the Twitter app and Amr Rahmy's Fan Screening analytics app, can be seen below.
---

This week's feature was a video game review of the newest installment of the Animal Crossing series: New Horizons, for the Nintendo Switch. It received a score of 9.5 out of 10.
Funimation and Kodansha this week revealed a new trailer for the upcoming second season of Fire Force. It was also revealed that the opening theme for the new season is titled, "SPARK-AGAIN" by Aimer, with the ending theme song performed by the artist Cindergirl. The new season is scheduled to premiere this July on MBS and TBS in Japan and simulcasting stateside on FunimationNow and Crunchyroll. While not officially confirmed, those hoping for a SimulDub of the series (as well as a Toonami run) will likely have to wait a bit longer due to current stay-at-home orders related to the COVID-19 pandemic (as evidenced by the delays with My Hero Academia's dub), so all I can say is have patience.
With the production of My Hero Academia's fifth season underway, sound director Masafumi Mima tweeted that they have implemented social distancing measures to allow actors and musicians to record more safely as the pandemic continues. These measures include separated recording stations and plexiglass dividers. 
アフレコ作業のマニュアル(コロナ対策)を読み、協力して下さった役者さん。
抜き(ひとり録音)では無く、「これなら掛け合いで作品が出来ます!」と力強い言葉を頂いた。
ヒーロー作品だけに、気持ちもヒーローだ♫
しかし、無理は出来ない、させられない!
焦らずに!だ。
「安全第一」のultra〜! pic.twitter.com/raA5Iwnxix

— 音響監督 三間雅文 (@Sunma47) May 16, 2020
Nothing else to say other than we'll see you again next week for another round of the better cartoon show. And of course, make sure you do your part to stop the spread of COVID-19 and to protect others by following your local health advisories. Practice social distancing by staying home unless you have to, and wash your hands thoroughly for at least 20 seconds.
---
Legend: The shows listed are ordered based on their appearance on the schedule. Show trends are listed in bold. The number next to the listed trend represents the highest it trended on the list (not counting the promoted trend), judging only by the images placed in the rundown. For the Twitter tweet counts, the listed number of tweets are also sorely based on the highest number shown based on the images on the rundown.
United States Trends:
#Toonami [#22]
#ParanoiaAgent [#23]
#MobPsycho100 [Trended with #Toonami]
#Shippuden [Trended with #Toonami]
Tweet Counts:
#Toonami [3,317 tweets]
#ParanoiaAgent [1,570 tweets]
Fan Screening Counts:
#MyHeroAcademia [#19 with 3463 tweets]
#MobPsycho100 [#27 with 782 tweets]
#BlackClover [#17 with 2991 tweets]
#JoJosBizarreAdventure [#13 with 4523 tweets]
Tumblr Trends:
#Toonami
#BNHA
#JoJo's Bizarre Adventure
Ahh… Only Toonami on [adult swim] on Cartoon Network.
Did you enjoy this week's Toonami? Let us know by commenting below or directly on our social media. And be sure to follow us on @ToonamiNews and subscribe to our podcast on Soundcloud for future content and breaking news updates. This week, Paul Pescrillo and Sketch had a conversation with Toonami's newest editor, George Banks. Check it out in the player below.