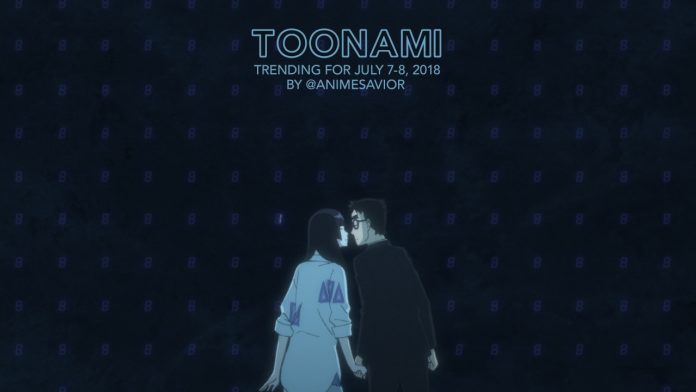 "There's nothing I want to be. There's nothing I want to do, and that's probably not the best way to be, but you know what? It probably doesn't matter."
–          Hidomi, FLCL Progressive (Ep. 06)
The Toonami Trending Rundown for July 7-8, 2018. FLCL Progressive comes to an end with a bang, as Hidomi tries to get Ide back from Atomisk's grasps, while Beerus and Champa try to settle their feud by playing some baseball, and Sasuke comes for Danzo's blood for his actions against the Itachis, among other great moments.
On Twitter, Toonami would trend alongside FLCL Progressive and JoJo's Bizarre Adventure, making sure the former's premiere run would end on a high note. On Tumblr, Toonami would trend alongside My Hero Academia.
---
This week, the anime community celebrated the medium of anime at Anime Expo, and we were there to help get you some of the big news, some of which relate to the better cartoon show. Of course, the big news from LA this week was Toonami will be renewing JoJo's Bizarre Adventure for Part 4: Diamond is Unbreakable beginning August 18. Other notable news include Attack on Titan's season 3 simuldub set to begin in August (though it's still unconfirmed if Toonami will air it), a new trailer for season 3 of SAO, Sentai commissioning their own dub of Pop Team Epic, the next Dragon Ball Super film will feature Broly, and of course, we're not done with FLCL just yet, as FLCL Alternative will be set to begin on September 8.
We'll have a full rundown of all the big events in the days ahead, hopefully before I go to SDCC, and we'll see you again tonight for another round of the better cartoon show. Later.
---
Legend: The shows listed are ordered based on their appearance on the schedule. Show trends are listed in bold. The number next to the listed trend represents the highest it trended on the list (not counting the promoted trend), judging only by the images placed in the rundown. For the Twitter tweet counts, the listed number of tweets are also sorely based on the highest number shown based on the images on the rundown.
United States Trends:
#Toonami [#8]
FLCL Progressive [#11]
#JoJosBizarreAdventure [#8]
Tweet Counts:
#Toonami [5,055 tweets]
#FLCL [2,541 tweets]
#PopTeamEpic [2,481 tweets]
#JoJosBizarreAdventure [2,645 tweets]
#HunterXHunter [1,689 tweets]
Tumblr Trends:
#Toonami
#My Hero Academia
Special thanks to @coreymbarnes, @jmb70056, and others I forgot to mention for spotting some of the trends on this list.
Only Toonami on [adult swim] on Cartoon Network.