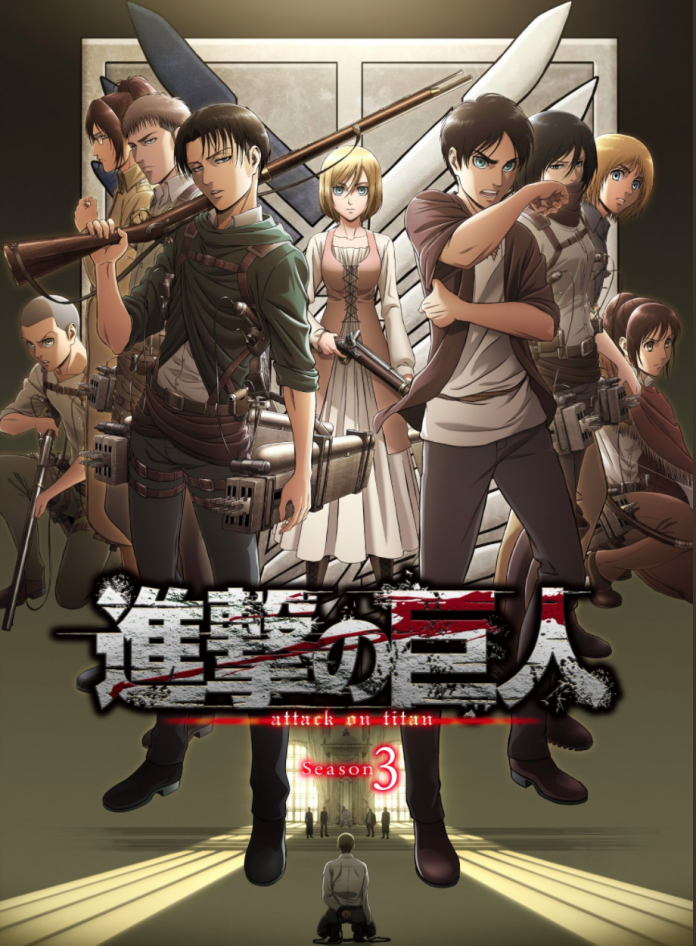 During the Attack on Titan panel at Anime Expo, FUNimation gave an exclusive presentation of the first episode of season 3 at Anime Expo to several thousand con-goers who were fortunate enough to enter the panel, ahead of its scheduled airing on July 22 in Japan and streaming simulcasts on both Crunchyroll and FUNimation Now.
Season 3 is off to a strong start. It covered more than I expected but never felt rushed. #AttackOnTitan

— SuperElite BusDriver (@Sketch1984) July 8, 2018
For those denied entry, or for those that didn't attend AX, Funimation will be presenting a limited theatrical run of the season 2 recap film Roar of Awaking, which will follow with a bonus World Premiere showcase of the first episode of Season 3. These limited screenings will take place in select theaters on Tuesday, July 10 for the subtitled version & Wednesday, July 11 for the dub. For those interested, check out funimationfilms.com/attackontitan for tickets and more information.
Good news: More theaters are added for the #AttackOnTitan recap movie happening this July 10th/11th where you can catch up on season 2 and see the first episode of season 3!

Find theaters in your city in our theater locator: https://t.co/5HEfTnMHMf pic.twitter.com/Fdwxyfy1zB

— Funimation 🔜 SDCC 2018✨ (@FUNimation) June 27, 2018
FUNimation has also announced that a simuldub is in the works, set to premiere sometime in August. While it is confirmed that FUNimation Now will showcase this simuldub, it is still yet to be announced whether or not Toonami will continue the series for season 3 as well, as they have for the previous seasons.
No Attack on Titan news for Toonami. It'll start simulcasting on July 22, and the Simuldub will happen in August (no date given). However, the first episode is bonkers! WAIT TILL YOU SEE THE ENDING!

— CJ Maffris alive after AX (@SeaJayMaffris) July 8, 2018
Season 2 originally was announced for Toonami on the same day the subbed version came out on April Fools Day 2017, with the dub premiere beginning 3 weeks later (with premiere episodes also coming out on FUNimation Now a day later).
We will post a follow up article when more information or an announcement is revealed.
What are your thoughts on the recent news? Let us know by commenting blow or directly on our social media.