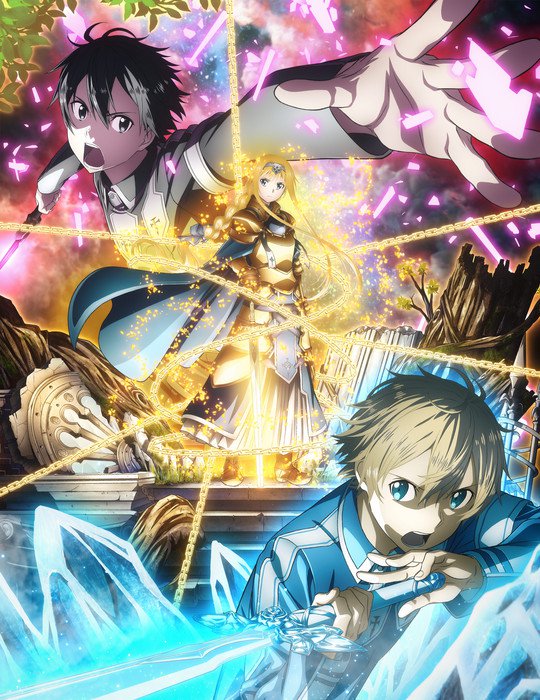 During the Sword Art Online panel at Anime Expo, Aniplex released a new trailer as well as a new visual for the upcoming third season of the SAO franchise in Project Alicization. The trailer can be seen below.
Aniplex plans to adapt all 10 volumes of the Project Alicization light novels (Volumes 9-18) into anime form, though it is yet to be seen how many episodes that will take. Season 3 will premiere in Japanese airwaves sometime in October. Both Crunchyroll and Hulu, who have simulcasted previous seasons, have yet to officially confirm that they plan on doing the same for the new season.
The Alternative Gun Gale Online side-story has just completed its 12 week run in Japan, with the subtitled version presently available to stream on Crunchyroll and Hulu. Yen Press is in charge of translating the light novels, with the first volume of Alternative GGO released on June 26, to go along with volumes 1-12 of the main series, and the first 4 volumes of Progressive among Reki Kawahara's other works presently available for purchase stateside.
A dub of both Alternative GGO and Project Alicization have yet to be announced and a prospective Toonami airing of both series (as they have done with both seasons 1 and 2) are still to be determined. It has yet to be officially announced whether Bryce Papenbrook or Cherami Leigh will reprise their roles as Kirito and Asuna for season 3 when the time comes, though due to Kirito returning as a "kid" in the start of the new arc, Bryce did jokingly feared during the panel about Kirito potentially being re-casted.
Dear @aniplexUSA. Please don't recast @BrycePapenbrook. Also, SAO 3, Alternative GGO, and Ordinal Scale for Toonami plz. #AX2018

— Toonami News (@ToonamiNews) July 7, 2018
¯_(ツ)_/¯

— Alex von David (@alexvondavid) July 7, 2018
As with any potential Toonami shows, if you do wish to see Sword Art Online return to the block for Project Alicization, Alternative GGO, and perhaps even Ordinal Scale as well, we do recommend that you continue giving your support to the show and Toonami overall, and to send your show recommendations to their Facebook and Tumblr message boxes as well as letting Aniplex know in their respective social media outlets.
What are your thoughts on the recent news? Let us know by commenting blow or directly on our social media.