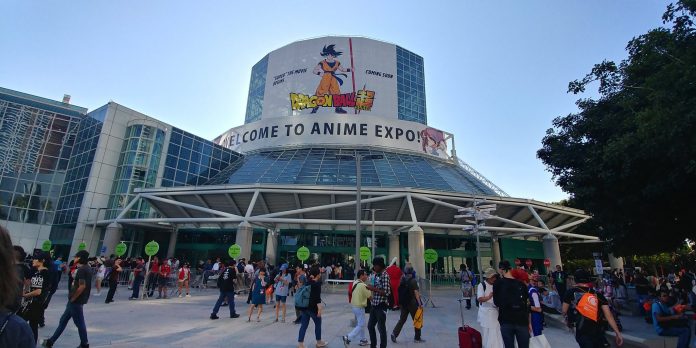 As always, Anime Expo continued to demonstrate why it is the biggest and most popular anime convention to attend. This year was a who's who of big-name stars and guests impressing thousands of fans. Whether they be industry stars, YouTube personalities, or AniTwitter stars, anyone and everyone showed up at what could only be described as the best Anime Expo yet. It offered something for many different types of fans, and included a ton of world premieres that left everyone stuffed to the brim with excitement. So I will do my best in giving a complete rundown of all the festivities, as well as all of the juicy details fans crave when it comes to announcements, because there were a lot.
Everyone's waiting to get in. #AX2018 pic.twitter.com/kKUeyJHA03

— Toonami News (@ToonamiNews) July 5, 2018
For starters, three franchises dominated the mind of all those who attended Anime Expo this year: My Hero Academia, JoJo's Bizarre Adventures, and Attack on Titan. All three franchises came in with either a big premiere or impactful info that fans have been craving for quite a while. And all of them had events which required one to line up very early in order to attend. You needed to get a wristband given out at the location of the panel in order to be granted entry. And did those lines fill up quick! I heard that people waited as early as Wednesday to make sure they had a chance to get into the Thursday showing of the My Hero Academia movie. And fans did the same in lining up early at the JoJo's Bizarre Adventures and Attack on Titan panels. I didn't mind this, even though I'd like these events to be a little more accessible for the press. But it goes to show just how popular these titles are and how much fans here in the U.S. love them. Even on Sunday (a typical down day at conventions) people filled up the Attack on Titan Season Three Premiere. It blew me away, the number of people who stayed behind and proves just how big Anime Expo is.
As for other panels, many were super enjoyable, that our staff who attended (myself, Sketch, and Anime Savior) loved. Panels, such as the one for Dragon Ball Super had Lauren Moore partake in an actual fun fan Q & A with the DBS voice cast of Sonny Strait, Monica Rial, and Sean Schemmel. They were all hilarious and the chemistry between the three was apparent. Both Schemmel and Strait have their comedy routine down to a science, and it left the entire panel in stitches. Best of the highlights was a tie between someone asking why Goku is so stupid to the face of Schemmel and letting Rial do her own Kamehameha wave. Not to be out-done, the Sword Art Online/Gun Gale Online panel looked to be a blast from what Anime Savior told me. They talked about past seasons and GGO, with the guests acting somewhat coy about the status of an English dub of GGO (I assume it will happen, but nothing is confirmed). Plus, fans were treated to the key visual for the newest season of Sword Art Online: Project Alicization. Both Bryce Pappenbrook and Cherami Leigh were in attendance and were able to give fans many great quotations, as well as the treasured blooper reel of SAO that so many fans enjoy. Other panels that were super fun to be at (not relating to Toonami) included the Studio Trigger Live Drawing panel (which was hilarious), The Sailor Moon panel (which held colossal importance being Charlene Ingram's last one), as well as the Seven Deadly Sins panel which had both the English and Japanese actor for Meliodas in attendance.
. @rialisms if Bulma could do a Kamehameha. #AX2018 pic.twitter.com/mH1JSpEeKq

— Toonami News (@ToonamiNews) July 5, 2018
The Key Visual of Sword Art Online: Project Alicization. #AX2018 pic.twitter.com/ry7lyJxTKn

— Toonami News (@ToonamiNews) July 7, 2018
But the biggest thing that made Anime Expo huge were all of the world premieres that took place. These included the My Hero Academia: Two Heroes movie, JoJo's Bizarre Adventures Golden Wind, the first episode of Cells At Work, SSSS. Gridman, Overlord Season Three, and Attack on Titan Season Three just to name a few (as there were more as well). It's just another example as to how valuable Japan views this convention and allows all these cool things to happen for the anime fandom that isn't in Japan. It became a huge party that many seemed to enjoy.
No Attack on Titan news for Toonami. It'll start simulcasting on July 22, and the Simuldub will happen in August (no date given). However, the first episode is bonkers! WAIT TILL YOU SEE THE ENDING!

— CJ Maffris (@SeaJayMaffris) July 8, 2018
It wouldn't be a convention article if we didn't give you a rundown of all the news that the primary distribution companies gave at the convention. VIZ Media had a strong showing, not just with their JoJo's Bizzare Adventure news (licensing Golden Wind and the Diamond is Unbreakable manga), but the fact that they also have the rights to the MegaloBox anime (which has taken social media by storm this past season). Many are looking forward to this series' eventual release, as well as the English dub that will follow (considering VIZ Media dubs nearly every series they license). Aniplex USA also looked good, talking about a couple of high profile licenses that they acquired, including Demon Slayer: Kimetsu no Yaiba and Yuuna and the Haunted Hot Springs anime titles. Not to mention that Aniplex also highlighted their newest seasonal anime Cells at Work (watch this!) and their latest movie acquisition, I Want to Eat your Pancreas. There is also a little bit of mystery involving The Promised Neverland and Aniplex USA. Two hours before their panel, representatives said that they were able to mention it. I'd assume they were talking about the anime that's in production, considering that VIZ Media has the rights to the manga. Nothing much was said, but the fact that they spoke of it leads me to believe that they will have the rights. Sentai Filmworks announced A TON of dubs at their panel, with the headliners being the Made in Abyss and Scum's Wish English cast. Sentai Filmworks also announced their dubs for future projects like UQ Holder, Real Girl, and Tada Never Falls in Love. And to cap it off, Sentai Filmworks announced it will continue to produce DubCasts with Mr. Tonegawa: Middle Management Blues on their streaming platform HIDIVE. FUNimation also mentioned their release slate for Oct., with some notable mentions being Dragon Ball Super Part 5 and Pop Team Epic. They also announced that they have the rights to Studio Trigger's newest anime, SSSS. Gridman. Rounding out the Toonami related industry news, Rightstuf gave out the details about their Gundam releases. Gundam Seed will have both the new and old dub in the release (set to happen in 2019). And there was some info regarding the G Gundam release as well (a Blu-ray release)!
. @stupidgill @ItsXanthor @SimplyAllegra @robbiedaymond @stephaniesheh @MSinter @MeganTHarvey @ericalindbeck @RayChase among other FLCL cast members on stage. #AX2018 pic.twitter.com/Y9YHtPSO2A

— Toonami News (@ToonamiNews) July 7, 2018
That's a lot of people! Look at the cast and crew of #FLCL 2 & 3 pic.twitter.com/qQiz35p1qQ

— CJ Maffris (@SeaJayMaffris) July 7, 2018
And of course, Toonami was well represented at Anime Expo as is customary at this event. The FLCL was once again packed to capacity and had fans going nuts hearing about all the inside stuff, as well as a funny take reel of Allegra Clark (Jinyu) having a hard time saying Haruko's name. After the panel, it was great getting in touch with Gill Austin for a bit. He seemed exhausted from all the work he's been doing, but it was nice to say hi and talk with him about the block. I give kudos to Sketch for asking him probably the best question, wondering how the decision of Pop Team Epic came to be. "We want Toonami to stay on the air", Gill began to say (a sentiment that many fans can relate to). He continued, discussing how in order for Toonami to continue, the block will have to evolve and look at shows that aren't exactly in the wheelhouse of what typically is considered to be a "Toonami" show. He recalled that he and Jason watched some of Pop Team Epic and that the two couldn't stop laughing after watching it, and felt that it was a solid choice. Jason DeMarco (who wasn't at the convention) has stated on Twitter that they have other non-action shows in the works as well. So fans can look for some more exciting changes in the future.
But the more things change, the more they stay the same, as there was a show announcement that was made by VIZ Media informing fans that JoJo's Bizarre Adventures: Diamond is Unbreakable will be airing on Toonami after Stardust Crusaders, starting on August 18th. While I'm sure many found that predictable or were annoyed, it's still a pretty big deal that we now have a set date for when Diamond is Unbreakable will air in English. This specific part became a huge favorite of mine, so I am excited to hear this arc in English. Especially since we have Billy Kametz playing the lead role of Josuke (someone who I don't think many Toonami fans know about). So get ready to pose some more, because Diamond is Unbreakable will be coming to the block. And after that, we wait till Vento Aureo finishes its run to allow VIZ Media to dub it.
Announcement: JOJO's Bizarre Adventure: Diamond is Unbreakable premieres on Toonami Saturday, August 18th! pic.twitter.com/P3W2SWX80p

— VIZ (@VIZMedia) July 6, 2018
So excited to finally be able to talk about it!!! I'll be voicing Josuke in Jojo's Bizarre Adventure – Diamond is Unbreakable!! Thanks so much to the crew at @BangZoom, @mummynyan, @VIZMedia, and all the fans who have already reached out! It'll be on Toonami Aug 18th! pic.twitter.com/xZIIk2qjfO

— Billy Kametz (@BillyKametz) July 9, 2018
Thankfully, Toonami Faithful had the chance to chat with four guests at the convention, and we cannot wait to show you all. We sat down with Adam Gibbs, Tara Sands, Keith Silverstein, and Allegra Clark. We tried to get more guests to appear, but given how busy people can be at Anime Expo, we were thankful we had the chance to speak with anyone. Everyone was super busy! But the fact that people had so much stuff to do made the convention even more exciting. So be on the lookout for those interviews when they are posted.
With #AX2018 coming to a close Toonami Faithful would like to announce the 4 interviews we were able to conduct at the convention. We are able to spend some time with @Adamngibbs @TaraSandsLA @SilverTalkie and @SimplyAllegra We cannot wait to share these with you all! pic.twitter.com/XmVUF9eRPk

— Toonami News (@ToonamiNews) July 8, 2018
Thanks @ToonamiNews for the chat! pic.twitter.com/k90zv9moiU

— Adam Gibbs (@Adamngibbs) July 8, 2018
The biggest question I think everyone wants to know is, how were the lines at Anime Expo? After all, it is called "Line-con" for a reason. I'm generally not the best person to ask about things like that since the press has better access than regular attendees. But things certainly felt smoother (at least on Thursday). Anime Expo added a card reader for everyone's badge, especially convenient if you didn't bring a bag to the convention. However, during the rest of the weekend getting in could've been smoother for all entrances, including mine. I don't recall if Anime Expo had the "premier pass" last year, but they also had access to that entrance as well. While I wasn't too bothered by that, I'm sure it became a hassle for those working in the dealers' hall or artist alley, adding more people in those lines.
Things became crowded at high traffic times at the convention because of the horrible heatwave that hit over the weekend. Temperatures were over 100, and it took away much of the appeal of hanging outside, whether it be to get food, relax, or have cosplay meetups. The heat made staying outside miserable. The downside to that is everyone stayed inside, making traffic lanes to get around the convention much more challenging to navigate. There are always the inevitable groups that stop in the middle to take a picture of great cosplay. But this year it felt even more punishing because of the high volume of people inside. I don't fault the convention itself, but it was unlucky. Anime Expo has done an excellent job in managing the lines into panel rooms. While I'm not a fan of not clearing out rooms, I understand the method. I think it's time for Anime Expo to figure out lanes for attendees to travel throughout the convention. They are getting much better with that kind of organization, but I do think it's still something that could be improved.
Re: those extreme crowd scenes at Anime Expo – I heard several anecdotes of exhibitors being late to panels, or being shut out of their own panels by security when rooms would hit capacity pic.twitter.com/cPuEFAV0Ay

— Deb Aoki (@debaoki) July 10, 2018
This article wouldn't be complete without giving thanks to our entire team at Anime Expo. Typically I go to conventions alone. This time I was in a group of six, and it couldn't have been better, especially the backup I had to make sure no industry information would be lost. Having our editor and chief, Andrew "Sketch" Hingson, and Anime Savior, hit up panels that I missed, was a great morale booster. Plus fans of Toonami Faithful, VLordGTZ, HappyKuroKitty, and LumRanmaYasha all were fabulous to be around and helped out in so many ways that I don't think a simple thank you can suffice. They did a fantastic job keeping tabs on everything for us and made things a lot easier. Also, it was super fun getting to play the JoJo's Escape Room with everyone. We got pretty close to finishing, but the puzzles that involved blocks were ridiculously hard to figure out. It isn't my cup of tea, but it gave us something to do other than going to panels. And Anime Expo offered a lot of other things to do, so there is something for every anime fan out there.
Anime Expo 2018 Event Highlights!

Read more → https://t.co/d3jIoXecss pic.twitter.com/4lB5bHGBPJ

— Anime Expo (@AnimeExpo) July 10, 2018
Overall, Anime Expo 2018 was a blast. The panels and premieres they offered were great, and something that no other convention can provide. When it comes right down to it, Anime Expo is the complete package, containing something fun for everyone. All kinds of companies travel to give attendees the latest news about things that fans want to hear. And Anime Expo keeps adding more fanfare and more variety to the event. The lines and the massive amounts of people are intimidating for those who don't like crowds. But all kinds of celebrities show up, and I think it's a red carpet event that all fans should see at least once.
C.J Maffris is an editorial writer for Toonamifaithful.com. Follow C.J on Twitter @SeaJayMaffris