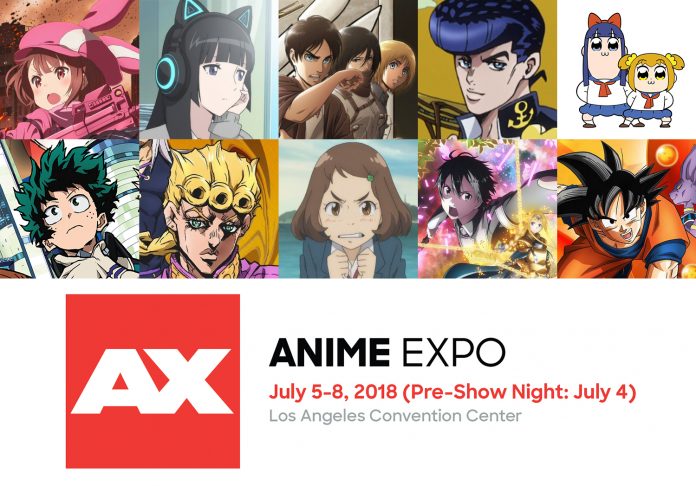 Going to Anime Expo has been a lifelong dream for me. I can vaguely recall seeing a commercial when watching Toonami back in the CN days regarding an early version of AX  when the event took place in Long Beach. But as the event moved to Anaheim and later to Downtown Los Angeles, this 4 day event on the 4th of July weekend has grown to become the biggest event in North America, and one of the biggest in the world, and soon became one of the things I personally needed to go to in my bucket list.
Toonami Faithful had previously covered the last two Anime Expos, with Sketch going in 2016 and CJ Maffris headed last year. However, with the amount of events that AX has, there was no way one person would be able to go to all of the events. I previously helped the crew by posting breaking news on this site and on @ToonamiNews as things were announced, but with CJ asking for help to cover the show floor last year, I was like, "why not?" While I have been a regular attendee of San Diego Comic-Con for the past few years now, traveling to other cities to attend conventions was a bit of a foreign concept to me, to say the least. So with some cash saving, and the help of my family for housing, I'd finally embark on heading up the I-5 to Los Angeles to attend AX for the very first time.
While normally I cover San Diego Comic Con alone (though I do run into fans every now and then), this time, ToonamiFaithful.com's coverage would be a team operation consisting of me, Andrew "Sketch 1984" Hingson, and CJ Maffris, as well as regular readers of this site, @VLordGTZ, @HappyKuroKitty, and @LumRanmaYasha. They were all generally great to work and hang around with with as well, and having a group did help this site cover much more of AX than if just one person went.
Being one of the main curators of @ToonamiNews, I made sure to have gotten our followers all the insight and news from AX that we could, which meant attending all the Toonami related events we could, talking with all the people we could, and taking photographs of the show floor and some amazing cosplays. While I wasn't able to get a press pass this year (still need more con-reporting experience before I do), to be able to get the content to write up this article, I was able to snag a Premier Pass, which I paid out of my own pocket. Although a Premier Pass costs around four times the price of a regular pass, it does have its perks including line cutting privileges to panels, early access to renting hotels rooms and purchasing concert tickets, a separate lobby/rest room, among other things. Although the convention took place in the middle of a heatwave which crowded up the inside halls, and there was even a threat of a shooting that fortunately never came to pass, overall things went without a hitch for the most part.
CJ's article showcased some of the general gist of what happened during AX, so my article will focus on some of the general highlights and news that related to Toonami programming during the week, including some of the big news announced, some of the fan reactions, as well as my personal reactions on what was showcased.
5 notable shows, My Hero Academia, JoJo's Bizarre Adventure, Sword Art Online, FLCL, and Attack on Titan, were among the biggest talks of the town during AX, and their highlights are among what we will feature below:
My Hero Academia
With season 3 presently airing in Japan (and on Crunchyroll, FUNimation Now, and Hulu), the show finally reaching Toonami, and now this upcoming movie, it's safe to say that My Hero Academia is continuing to reach new heights. And throughout Anime Expo, we saw a lot of people show their love for this franchise in many ways.
I personally never got around to seeing the show until it started airing on Toonami, but even being a relatively new fan of My Hero Academia, I was quite amazed to see the enthusiasm for this show. How people react to the simulcasts from week to week, how people wanted this show for Toonami (and eventually got their wishes granted), its quirky characters and storyline, and so on.
We saw plenty of con-goers wearing My Hero Academia cosplay, perhaps more than any other show, MHA swag was everywhere to purchase, the artist alley had plenty of MHA art to purchase, ticket signings with Justin Briner and Colleen Clinkenbeard went by fast, among many other things. And with the acclaim of Deku and his band of heroes in training not stopping anytime soon, with the announcement that the highly anticipated first film for the franchise: The Two Heroes, would be premiered at Anime Expo, no doubt getting access to the panel would prove to be one of the toughest tickets in town, even though said tickets were free.
Due to the high anticipation of fans wanting to see this film, Anime Expo did something new by requiring prospective attendees for this and the Attack on Titan panel on Sunday to line up for an admission wristband at the beginning of the day, that basically guaranteed you entry, provided you didn't remove or tamper with the wristband (to prevent scalping) and you managed to get in line for the actual panel on time. I managed to snag a wristband to the MHA movie screening with the help of my premier pass, and apparently I was the only one who was able to, as the very long lines that actually circled around the convention center prevented my other colleagues from entering. Some con-goers in the front of the line even camped overnight in line, a tactic that isn't uncommon if you've heard of or experienced the Hall H line in Comic-Con. Not surprisingly, the hall was packed.
In line for the MHA Movie wristbands with @LumRanmaYasha and @kiirobon. This line is legit stretching around the block!!! pic.twitter.com/98x3HxGEA2

— VLord The Pro Manga Addict (@VLordGTZ) July 5, 2018
Welp we didn't get in to the MHA movie 😞. I guess I have some time to kill now.

— VLord The Pro Manga Addict (@VLordGTZ) July 5, 2018
Although the film takes place around season 3 from what I've been told, the film still was relatively easy to follow for someone who follows the Toonami broadcasts (we were at episode 9 during the week of AX), as you basically only really needed to know the main characters and the premise of the franchise.
The film's premise is that All Might and Deku are taken to an artificial island called I-Island, an artificial island where scientists study quirks. All Might arrives by invitation of an old friend named David Shield, a scientist whom he worked with as a sidekick in fighting crime in the US back in his glory years. Due to his ailing physical health, All Might's powers have been slowly fading, and he meets up with David to see if he can try and do something about it. Deku would also meet David's daughter, Melissa, a quirk-less human whose goal is to be a scientist much like her father. An expo was going on at the time at the island, and Deku would also soon run into his classmates, whom so happened to be summoned to the island as well for different purposes.
I-island had a near zero criminal record, but that was all about to change, as during a private reception celebrating All Might's heroics, a group of villains stormed through the Island's security system, and managed to lock down the entire island, turning all the security bots into hostage bots, and managing to pin All Might and the Adult heroes down. But somehow, Deku and his friends managed to slip through. With All Might and the adult heroes forced to stand down and citizens held hostage, without going to spoiler territory, Deku, Melissa, and the class are forced to work together and improvise to try and stop these villains and save the island.
Watching the film in the panel felt a lot different compared to watching an (anime) film in theaters, as there was a lot of general enthusiasm within the sold out crowd and added some excitement to what was an already thrilling film from when their favorite characters did something amazing or funny and even fangirls screaming when their favorite ships had their "moments".
Although most anime films based on popular series tend to be considered "filler", there is plenty of canon material as it goes into All Might's Past. And I've been growing to become a fan of Deku's determination, and seeing Deku continue to grow as a hero as well as his good teamwork with his class is always good to see. And regarding All Might, all i can say he's as badass as ever.
No doubt that when the credits rolled, many gave a standing ovation, and I even saw that some were put to tears. Funimation also mentioned that there was a post-credits scene, that wasn't shown to the AX crowd to entice them to check it out in theaters as well.
We weren't allowed to take photographs or livetweet the panel due to restrictions on using phones (as they don't want any leaks, though some people somehow managed to do at least the latter anyway) but to give an idea on how crazy it was in there, Toho posted a small video of the reactions and the cast that were there.
There was a special on Nihon Television for Boku No Hero Academia The Two Heroes character Melissa's seiyuu, Mirai Shida! The program had a short clip of this year's Anime Expo 2018 as well as some shots of the audience during the world premiere of the movie! Here's my sub of it~ pic.twitter.com/5ySM3wrynm

— ☆オードリーAudrey☆ (@aitaikimochi) July 22, 2018
Overall, the Two Heroes was a very fun film with good animation, an intriguing storyline, and very exciting action, I feel like it epitomizes all what makes MHA so great. Being a new fan of the series, I think I understand a bit more of why people have grown to love this franchise so much, and it's definitely made me more of a fan.
Was nice meeting with you @ccarrollbeard and @justinbriner. Loved the film, loving this show, great that it's on Toonami now, MHA sure is going beyond Plus Ultra! pic.twitter.com/Qyacr5oq96

— Daniel Limjoco (@AnimeSavior) July 6, 2018
Later on during San Diego Comic-Con, FUNimation had announced that The Two Heroes will be available in select theaters in late September, with the English dub on September 25, 27 and 29 and in Japanese (with English subtitles) on September 26 and October 2.
Colleen Clinkenbeard, the ADR Director and voice of Momo, has mentioned that she is already working on the dub, and I'm really excited to see what she, Justin Briner and the entire cast bring to this movie. Just this week, Funimation also announced the voice actors for the new characters for this film, including Erica Mendez playing Melissa Shield, Ray Chase playing her father David Shield, and Keith Silverstein playing the main villain Wolfram.
In short, all I can say is that My Hero Academia fans will be in for a real treat, and if you can, I definitely would recommend you see it in theaters when it comes out.
JoJo's Bizarre Adventure
Several weeks prior to AX, Viz had announced that big things were coming for the JoJo's franchise, which later were revealed among other things, that Part 5: Golden Wind was in the works, and that the very first episode will be previewed to AX attendees who could get into the panel. No doubt JoJo's fans would come out in full force on Friday as they lined up in droves to enter the Main Events Hall in their hopes of seeing this world premiere, among being the first to know some of the other big JoJo's news Viz has in store.
I've reached the mother of all lines for the jojo's bizarre adventure panel #AX2018 . Trying to survive the heat now w/ @AnimeSavior pic.twitter.com/KGqBSXZb9Y

— Happy Kuro Kitty #KyoAniStrong (@HappyKuroKitty) July 6, 2018
Although having a Premier Pass gave me line cutting privileges (along with Press, ADA attendees, and Exhibitors), I decided to hang with @HappyKuroKitty in the regular line for a bit. Unfortunately, the line was outside and we were in the middle of a heatwave in Southern California, so temperatures reached as high as 110 degrees Fahrenheit. Much kudos to the JoJo's fans who spent hours in that sweltering heat, as Kuro gave up after a while and just went to line up early to get us good seats for the SAO panel which happened later in the day, and if I didn't have a premier pass, I probably would have as well. @LumRanmaYasha also managed to get in, but he wasn't with me.
Much like the MHA panel, we weren't allowed to take photographs or livetweet the panel due to restrictions on using phones as they don't want any leaks of the episode, which was unfortunate, because we received some major Toonami related news from the panel. Although the official sign at the door said no photographs or recording the panel, security enforced it as a blanket ban on cellphones and other electronics, even at times where it would normally be okay, and were even telling attendees to get off their phones or go to the bathrooms to make their calls well before the panel started. Perhaps a bit overkill, but those are the rules.
With Stardust Crusaders coming down the stretch for Toonami (we were at Episode 42 of 48 during the week of AX), fans wondered if Toonami and Viz will continue the series for Diamond is Unbreakable. The answer fortunately would be a resounding yes, as Viz announced that Part 4 would be dubbed and air on Toonami beginning August 18, following the completion of Stardust Crusaders, and that Billy Kametz would be the voice of the fourth JoJo: Josuke Higashikata.
So excited to finally be able to talk about it!!! I'll be voicing Josuke in Jojo's Bizarre Adventure – Diamond is Unbreakable!! Thanks so much to the crew at @BangZoom, @mummynyan, @VIZMedia, and all the fans who have already reached out! It'll be on Toonami Aug 18th! pic.twitter.com/xZIIk2qjfO

— Billy Kametz (@BillyKametz) July 9, 2018
Billy joined the panel to give us this announcement, and while Part 4's arrival was considered inevitable within the Toonami and JoJo's communities, JoJo's fans (or at least those watching the dub) reacted very positive to this. I sure did.
Besides Part 4 for Toonami, Viz did announce that they would also be translating and releasing the Diamond is Unbreakable manga, and that they would be releasing the Diamond is Unbreakable live action movie in US shores as well as licensing the Golden Wind anime for North American distribution.
.@VIZMedia #jojospanel at #ax2018 – Jojo's Bizarre Adventure Part 4: Diamond is Unbreakable manga is licensed! "It'll be hardcover, it will be 2-in-1, and it will be beautiful" https://t.co/oD4Au8oN8H pic.twitter.com/UfBdIb8MlR

— Deb Aoki (@debaoki) July 6, 2018
The panel ends as Viz shows us a World Premiere screening of the first episode of Golden Wind, which is scheduled to premiere in Japan and on streaming sites in October. The show introduces us to the fifth JoJo: Giorno Giovanna, a man in Naples, Italy with a stand power called "Golden Wind".
My first impressions of Giorno is that he's a bit of a heartthrob, but is also a very troubled man. While he has used his stand to scam and pickpocket unsuspecting tourists and trying to bribe off the cops, he has done good deeds with his stand as well, such as helping out a woman in need from getting harassed, and giving a young crying child a smile.
However, Giorno will find out that there are more people like him in this stand filled world. During one of his "jobs" as an airport taxi driver, he attempts to rob Koichi, who uses his own stand powers to try and stop him, and it turns out it just so happens that Giorno is what Koichi traveled to Naples to see. And Giorno's problems only get worse from there, as he runs into a gangster with a stand of his own, and uses it against him in very gruesome ways.
As I am following along with the Toonami broadcast, there were a few references to previous seasons that went over my head or were a bit of a spoiler to previous parts, so I won't really talk about those here. I will say that the colorful 80's look that JoJo's fans have grown to love is no doubt prevalent for the new season, and the visuals and story definitely gives the feel of JoJo's that I've experienced watching on Toonami these past 2 years. In short, I can safely say that Part 4 and Part 5 will surely be an absolute blast when both reach Toonami in time, though long time manga readers probably already knew that.
After the Sword Art Online panel, our whole crew got together for dinner before playing the JoJo's Bizarre Adventure Escape Room Game VIZ Media has made for AX 2018. Story wise, the Escape Room took place during the Journey to Egypt as the Joestars rented a hotel for the night. However, Dio has been sending his whole arsenal of minions to stop them, and this time, they run into Dija with a stand called which basically took away the crew's stand powers and trapped them in the hotel.
Your crew of 6, each representing a member of the JoJo's cast, have an hour to solve a series of clues and puzzles using the items in your arsenal and around the room to get your stands back, and move through the stages to take out Dija and escape from the hotel. While we were doing pretty well to start, further along we became increasingly dependent on using the hints guide for assistance (and as CJ has previously pointed out, the puzzles that involved blocks in particular were ridiculously hard to figure out) and at one point, we were missing a piece to the puzzle to complete a step, which was rectified by one of the referees.
In the end, the hour came and went with our crew coming around 5 puzzles short of reaching Dija, which wasn't bad considering that we've only met each other for the first time at AX. Out of the 15 or so teams that were in the room also trying to solve the puzzle, one team did manage to defeat Dija, though they did mention they had plenty of previous experience playing Escape Room games together. Regardless, much kudos to them for being able to do so.
Overall, the Escape Room was quite a fun and unique experience, bringing some team building to our crew, and giving us a unique chapter to the JoJo's story. While it's unknown if they'll be bringing this to other conventions (the only other con where this Escape Game was showcased was in Fanime at San Jose in May) we definitely would recommend checking it out if they decide to create more stops for this attraction, though the game might be a little costly for some folks (tickets are $40 each). It does make me wonder what other kinds of anime related attractions can be made from things like this, and if there is, we definitely would be interested in checking it out.
To celebrate #JojosBizarreAdventure Diamond is Unbreakable on Toonami, we played the Escape Game attraction @VIZMedia has made for #AX2018. We came up well short. pic.twitter.com/3gANakNnJG

— Toonami News (@ToonamiNews) July 7, 2018
Sword Art Online
With Alternative GGO completing its 12 week run in Japan and on streaming the week prior to Anime Expo, and with Project Alicization in preparation for launch in October, SAO mania was winding back up as fans were eagerly awaiting what would be next for the franchise.
You want them back on Toonami. You know you do… pic.twitter.com/qnkI0eMrww

— Toonami News (@ToonamiNews) July 5, 2018
Despite all the complaints from critics for a show "nobody likes", "is the worst anime series ever", and "has no business being on Toonami", it didn't stop thousands of anime fans from converging into the Petree Hall, and the room was absolutely packed with fans very excited for the new season.
Looking to be a full house for the SAO panel. #AX2018 pic.twitter.com/S0miCUfgxa

— Toonami News (@ToonamiNews) July 7, 2018
WAIT A MINUTE?! WAIT A FREAKING MINUTE?! I thought no one liked SAO. That's what Twitter and Reddit told me?! And yet there is a huge ass line to get into the SAO panel. You mean to tell me the internet lied to me!

— CJ Maffris (@SeaJayMaffris) July 7, 2018
Bryce Papenbrook and Cherami Leigh co-hosted the panel, as they were joined by Yoshitsugu Matsuoka, (the Japanese voice of Kirito), Ai Kayano, (the voice of Alice), Tomori Kusunoki (the voice of Llenn/Karen), Alternative GGO creator Keiichi Sigsawa, and producers Shinichiro Kashiwada, Kazuki Adachi, and Kenta Suzuki.
Bryce and Cherami did a quick recap of the SAO series to the current point of the dub, and after showing a slideshow recap of SAO seasons 1, 2, Ordinal Scale, and Alternative GGO, (with background music so fans could look away from what they have yet to see if need be) a teaser of the next story arc in the SAO franchise, Project Alicization (similar to the post-credits scene seen in Ordinal Scale) was shown.
Bryce and Cherami then had a Q&A session with the rest of the panel. Among some of the questions answered, the producers also mentioned that development for the Ordinal Scale film (which takes place between Mother's Rosario and Alicization) ran into several production issues that it came very close to getting delayed.
Alternative GGO just completed its run the previous week in Japan and on streaming, and despite that the show was a pretty big talking point this anime season, we didn't hear much news about the spinoff, possibly because it might have been too early to announce a dub just yet. The producers did mention that a big reason why they decided to make Alternative GGO an anime was when the producer discovered that when the Keiichi Sigsawa side story had enough written content to make an animated season, Reki Kawahara had finished the story for Project Alicization, so he wanted the two stories to flow together.
Tomori Kusunoki, the voice actress of Llenn/Karen Kohiruimaki, did mention that she was originally an SAO fan, so when she was casted, she was naturally very excited and said it took a while for it to sink in. Fans who have seen the sub may know that she also sings the ending theme song, "To See the Future", and mentioned that she had previous experience in singing being the vocalist in a music band in high school.
The panel gave a plug to the light novels that are presently being translated by Yen Press, with Alternative GGO also being added, with Volume 1 released on June 26. This goes along with the first 12 volumes of the mainline SAO series (including the first 4 novels of Project Alicization) as well as the first 4 volumes of the Progressive series that were available to purchase as of this writing.
Bryce did mention that one of his personal favorite moments to act was when Kirito was impersonating a girl during the Phantom Bullet arc, as he aspired to get a gig acting a magical girl when he was a kid, at least until it dawned on him that it was unrealistic. He then had a small competition with Matsuoka with the famous "cheer for me" segment during episode 8 of season 2, to see which version fans preferred. Going by fan cheers, Matsuoka was declared the winner.
The big announcement from the panel was an extensive new trailer as well as a new visual for Project Alicization, which gives viewers some slight hints of what to expect for the new season and shows us more about Kirito's newest teammates (and harem members), Alice and Eugeo. I'll let the trailer speak for itself:
Some fans including Kuro, who was with me attending this panel, was wondering why Kirito looked like a kid during promotional art and in this trailer. As the reason why is a plot point spoiler, all I can say is that it is something you will learn in time, or you can just go read the light novels. However, it did make Bryce (jokingly) fear about potentially getting re-casted from his lead role.
Dear @aniplexUSA. Please don't recast @BrycePapenbrook. Also, SAO 3, Alternative GGO, and Ordinal Scale for Toonami plz. #AX2018

— Toonami News (@ToonamiNews) July 7, 2018
¯_(ツ)_/¯

— Alex von David (@alexvondavid) July 7, 2018
Kayano and Matsuoka did a script reading of Episode 1 of season 3, with Matsuoka doubling as Eugeo. Due to various restrictions, we can't really show you what happened here, though those who read the light novels will recognize that the script is from the prologue of Volume 9.
Kayano and Matsuoka doing a live script reading, with Matsuoka doubling as Eugeo. (Spoilers from Episode 1) pic.twitter.com/tJZ7mvY8Zg

— SAO Wikia (@sao_wikia) July 7, 2018
Ai Kayano mentioned that Alice's character reminded her of Menma from Anohana, another character that she voices.
To misquote Benjamin Franklin, nothing is certain in life besides death, taxes, and Kirito cheating on Asuna, and once again at Asuna's expense, Project Alicization will introduce not just Alice to the harem, but Eugeo (even though he's more of his BFF/a brother figure, but tell that to the yaoi fangirls) and several other girls still to be revealed as well. Of course, Cherami (jokingly) was not pleased that Kirito was expanding his ever growing harem yet again, but Matsuoka and Bryce assured her that Kirito still remains loyal to Asuna.
On behalf of the Toonami Faithful: Damn it, Kirito. Stop cheating on Asuna. #AX2018 @BrycePapenbrook @CheramiLeigh

— Toonami News (@ToonamiNews) July 7, 2018
The panel ended with a Blooper reel of Seasons 1, 2, and Ordinal Scale, directed by Alex von David, and filled with some pretty funny outtakes by Bryce, Cherami, and the entire SAO cast, including tongue twisters, sexual innuendos like Portuguese Breakfasts and Kentucky Klondike Bars, Agil creating paper machete swords, and Kirito wanting to have a Facetime chat with Asuna in the hot tubs.
PORTUGUESE BREAKFAST, BITCHES

— Alex von David (@alexvondavid) July 7, 2018
The cast then thanked the fans for all their support, before getting the crowd to chant S-A-O in a sports like chant, before they were on their way.
Thank you everyone who came to the SAO Summer Festival 2018 at @AnimeExpo! https://t.co/MBteIuQTKa

— Aniplex USA (@aniplexUSA) July 9, 2018
Many fans who have read the light novels will tell you that Project Alicization is a long and tedious story, and Aniplex and new series director Manabu Ono have promised that they do plan on animating Project Alicization from beginning to end. Considering that the previous two seasons adapted 4-5 volumes a piece into 26 episodes each, adapting a 10 volume story arc surely will be a challenge. Due to the amount of detail and story Reki Kawahara puts in Alicization this time around, this will be the longest in the series, at least until they get around to animating the Aincrad reboot in SAO Progressive. On the other hand, the story tends to drag along at times and considering the high production costs and A1 Pictures' general averse to padding, I assume they will use it as an excuse to speed up the story a bit. If you personally ask me, seeing what I know about Alicization, and going by previous Aniplex works, 36-50 episodes will likely suffice, but I wouldn't be surprised if they managed to squeeze it all into 26 as well.
From what I've read from the novels regarding the story arc so far, on one hand, Alice and Eugeo are very interesting characters, which helps that Kawahara gives them extra time for character development and world building this time around. And without going into spoiler territory, Kirito will be going through hardships that he hasn't experienced since Aincrad and fulfilling complaints (somewhat) about him being more overpowered than Goku and Saitama combined, as will Asuna as well.
On the other hand, there have been many complaints by fans regarding Asuna being "thrown under the bus" for half of the arc so Kirito's relationship with these "new harem members" can develop (adding insult to injury to her Fairy Dance damsel-in-distress nerf) although her role will be major during the other half. Combined with the fact that the non-Alicization cast are largely forgotten during the arc (so much that even the artists started to complain about it in a way if you've heard of the "More Deban (screentime)" meme going around the SAO community), and considering Alicization's length and that it drags along at times, those factors could be off putting for those getting tired of Kirito's harem expansion and characters who will also be shoved aside when the next story arc rolls around. And that's not to mention the many other things haters will likely be nitpicking that they would be saying "This is fine" if it was any other show.
Regardless, SAO 3 will no doubt be among the most anticipated shows of the year and barring an unprecedented falling out of relationship between Toonami and Aniplex, this series alongside Alternative GGO will be a top favorite to return to the better cartoon show when the time comes ahead. Whether fans and critics see what happens in Project Alicization as a breath of fresh air for the franchise and the improvement of Reki Kawahara as a writer, or see Kirito's hardships as nothing more than a desperate attempt to pander to the show's haters, we'll see beginning in October, and when/if it comes to Toonami in due time.
I did run into Bryce in the halls a day after the panel, and while I couldn't get an extensive interview due to his busy schedule, he did mention to me that he was planning on getting together weekly Toonami-related livestreams during the block on the Unlocked app he, David Vincent, and several of his other friends and colleagues have been developing. He is also hopeful Sword Art Online will make its way back to Toonami in the future as with Attack on Titan, and we got our fingers crossed as well.
Nice to have met you yesterday, @BrycePapenbrook. Thanks for all your hard work and looking forward to what's next for Eren and Kirito. Hopefully a return to Toonami will be among them. #AX2018 pic.twitter.com/YL64Rj11PL

— Daniel Limjoco (@AnimeSavior) July 8, 2018
FLCL
Several hours before the panel, I ran into Xanthe Huynh, the voice of Hidomi, who was at the side of the halls signing autographs with fans. While we weren't able to get an interview with her as she was booked for other events, and whatever free time she had she wanted to meet with fans, she did say that she did appreciate our work, and I responded by basically thanking her for her effort as Hidomi during the season. We also did like that she cosplayed as her character for the panel.
Just ran into @ItsXanthor walking through the halls. Can't wait to see Hidomi's finale tonight and see you at the panel. #FLCL #AX2018 pic.twitter.com/BqiEcSQpq2

— Daniel Limjoco (@AnimeSavior) July 7, 2018
The finale of FLCL Progressive was set to air on the very Saturday night of Anime Expo (contrary to previous 4th of July weekends, Toonami did not have a marathon night on the Saturday of Anime Expo as the 4th this year was on a Wednesday), and to celebrate the show's success and bring anticipation for Alternative coming this September, FLCL fans (including our crew) packed the Petree Hall for this great yet bizarre franchise. To give you an idea of how anticipated this event was, the panel before it (the Rightstuf panel) was only roughly half full when I got in, but as the panel progressed, the room quickly filled to the max roughly an hour before the FLCL panel began. This probably comes as no surprise considering that FLCL fans packed a smaller room and then some last year. Not bad for something critics called a shameless cash grab.
To thank fans for their support, Production IG and Adult Swim gave out free T-Shirts and Posters to fans, however, they were both in limited supply, and so instead of doing something like giving them at the door, they pretty much gave them to whoever can reach out their hands to them as they came along first. Not surprisingly, Maki, Gill, and the volunteers were pretty close to getting mobbed by the crowd, and only those who sat along the edges of the front rows had a chance of getting either a shirt or a poster. Needless to say, as we sat at the middle despite being several rows away from the stage, none of our crew got one.
— Toonami News (@ToonamiNews) July 7, 2018
The panel began as Production IG producer Maki Terashima-Furuta was joined in the panel by Toonami co-executive Gill Austin alongside several voice actors and producers from the new seasons, including Michael Sinterniklaas, Stephanie Sheh, Erica Lindbeck, Marianne Miller, Megan Taylor Harvey, Marieve Herington, Ray Chase, Xanthe Huynh, Allegra Clark, and Robbie Daymond. Jason DeMarco was scheduled to be among the panelists as well, but did not attend due to personal matters.
Wish I could've been there for this but I'm so happy to see everyone showing support! Thank you! https://t.co/gWJgA3niEq

— KING ATOMSK DEMARCO (@Clarknova1) July 7, 2018
Jason and Gill have regularly said that FLCL is among their all-time favorite anime series, and Gill had mentioned that ever since they had first seen FLCL and aired it on Adult Swim, they had always wanted to make more and felt that there was more to tell in the FLCL universe. At the time, Gainax wasn't interested in creating a sequel, but as time went along, they eventually sold the rights to create a sequel, which eventually went to Production IG. Adult Swim definitely wanted to be involved as they felt they would give the series the most justice, being some of the series' biggest fans.
Allegra Clark, the voice of Jinyu, mentioned that she had a tough time calling out Haruko's full name during recording, "Haruha Raharu", as it was quite a bit of a tongue twister to say the least, and even had to take a week of her off-time practicing it to get it right. Maki even showed a blooper reel of how difficult it was.
One of the constants the cast members said about the show and their roles is that the show made them relate to their respective adolescent days. For instance, playing Hidomi reminded Xanthe of her life in High School, when she was rather withdrawn due to the pressure and indecisiveness of life. Robbie Daymond said that his adolescences and Ide's respectively were in short: "Knowing everything, and nothing."
Many of the show's cast were previously big fans of the original or even worked on the original, so it was an honor for them to get the privilege of working on the sequel as well. The actors and producers have been genuinely very satisfied with the results.
Maki showed the crowd the first 5 minutes of the FLCL 2 Progressive Finale, which would later air in full on that night's Toonami. Following that, a quick Q&A session occurred before the panel came to an end.
Thanks to the cast for an eventful panel. See you tonight for Toonami. #AX2018 pic.twitter.com/iv7fZ0tC3W

— Toonami News (@ToonamiNews) July 7, 2018
We did manage to meet with both Maki and Gill briefly between panels, both of them were very thankful to our site for helping to spread the word and the news of Toonami and FLCL. Maki actually wanted to present me a gift for keeping her informed with the FLCL trends, however as she was being swarmed by other fans and eventually had to leave for the next panel and said present was backstage, she wasn't able to get it for me.
Thanks for meeting with us @stupidgill. We always appreciate your hard work. Send my regards to @Clarknova1. #AX2018 pic.twitter.com/KxBwL7hkcQ

— Daniel Limjoco (@AnimeSavior) July 7, 2018
During the Production IG panel which took place immediately after the FLCL panel, Maki showcased among other things, the Japanese trailers for FLCL Progressive and Alternative, as well as a trailer for Attack on Titan season 3. Interestingly enough, Alternative will air before Progressive, and will both premiere as a feature film.
Following the panel, Sketch and CJ did get an interview with Allegra Clark, which you can see below. And of course, we'll have more information and moments regarding FLCL in our SDCC article coming soon.
Attack on Titan
Unfortunately, I wasn't able to attend the Attack on Titan panel as I had to head home early due to family reasons, which was unfortunate as I did manage to get myself a wristband reserved to attend this panel as well. To give an idea of how many people wanted to attend the panel, Sketch and CJ barely managed to get in even with their press passes, while the others came up short or didn't bother to try.
先日ロサンゼルスで行われたAnimeExpo2018ワールドプレミアの映像をまとめた新CMを解禁!
TVアニメ「進撃の巨人」Season 3 NHK総合にて7月22日(日)24時35分より放送開始!
※関西地方では同日25時15分からとなります
※放送日時は変更になる場合がございます

放送をお楽しみに!#shingeki pic.twitter.com/Zy5YvrzEeB

— アニメ「進撃の巨人」公式アカウント (@anime_shingeki) July 17, 2018
Season 3 is off to a strong start. It covered more than I expected but never felt rushed. #AttackOnTitan

— Sketch (#PrayForKyoAni) (@Sketch1984) July 8, 2018
We did hear some news regarding the dub as FUNimation did announce that a simuldub is in the works, set to premiere sometime in August. While it was confirmed that FUNimation Now will showcase the simuldub, a prospective Toonami announcement did not come to pass.
No Attack on Titan news for Toonami. It'll start simulcasting on July 22, and the Simuldub will happen in August (no date given). However, the first episode is bonkers! WAIT TILL YOU SEE THE ENDING!

— CJ Maffris (@SeaJayMaffris) July 8, 2018
After Anime Expo, Jason DeMarco did mention that besides JoJo's part IV, there was another Toonami announcement that was supposed to be released during the convention, but was held back due to legal issues.
Come to Dragon Con in ATL, I'll be there! And you can usually count on Comic-Con, AX, Momocon. One hint: our next show announcement was supposed to be at AX but for legal reasons we had to hold it. But it should be announced soon….

— KING ATOMSK DEMARCO (@Clarknova1) July 10, 2018
However, just a week after Anime Expo ended, Toonami and FUNimation would finally announce that Attack on Titan would indeed make its return to premiere season 3 on August 18, the same day that Diamond is Unbreakable would also make its premiere. As with season 2, FUNimation Now will also have the show available for streaming a day after. While we kind of wish the announcement would have been at AX or SDCC so we could scream our butts off like Asta in excitement, getting the show back on Toonami is really all that matters, and we're pretty happy regardless.
Cosplay
Cosplaying is a very popular tradition during Comic and Anime conventions, and Anime Expo was no exception as we saw plenty of cosplayers during the week. Many cosplayers congregated around the entrance to the South Hall, where professionals and amateurs alike hung out and get photographed by photographers, journalists, other cosplayers, and general attendees alike. Anime Expo also set up several designated cosplay gathering areas around the grounds outside as well as the West Hall. As previously mentioned, My Hero Academia fans came out in droves, though we also saw plenty of Attack on Titan, FLCL, JoJo's, Naruto, Pop Team Epic, and Sword Art Online cosplayers as well, and I even checked out a cosplay gathering for Hunter x Hunter. Outside of Toonami-aired franchises, CardCaptor Sakura, Darling in the Franxx, Overwatch, Sailor Moon, among others were also very popular cosplays of choice.
Some of the other notable news from Anime Expo include:
In a rarity in the anime industry, Sentai Filmworks has also co-licensed dubbing and distribution rights for Pop Team Epic, and have created their own dub for the show. Sentai showcased the first episode in the show's panel on Thursday, however none of us were able to enter the panel (it was immediately after the Aniplex panel, which we attended, so we couldn't get in line in time) so we can't make a review here. Sentai will be showcasing their version of the Pop Team Epic dub on their HiDive service, however a release date is still to be announced.
During the Sunrise panel on the Thursday of AX, Sunrise President & CEO Yasuo Miyakawa announced that they will be collaborating with Legendary Pictures to produce a Live Action Gundam Hollywood film. A teaser trailer was showcased during the panel, which has not been released to the public as of this time, but a visual has been released which you can see below. No timetable has been set in regards to a release date as of now.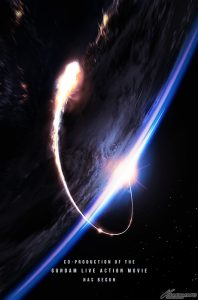 Rightstuf has been working with Sunrise on re-releasing a few classic Gundam favorites, including a G Gundam Ultra Edition Blu-Ray set coming this holiday, a Gundam 00 10th Anniversary Ultra Edition available 9/4/18, in addition to Four Individual Sets, and a Gundam Seed Ultra Edition Blu-Ray set for release in 2019. While a re-dub and re-cast by NYAV Post was done for Gundam Seed due to the remaster, Rightstuf plans on also including the original Ocean dub as well in the Ultra Edition.
We're making Mobile Suit Gundam Seed & Seed Destiny Ultra Edition Blu-ray set, what would you like to see in it? Let us know by replying to this tweet! (Please no retweet comments) Only the Ultra Editon will contain both the old and new English dubs. #AnimeExpo2018 pic.twitter.com/JPVxJn6i39

— Nozomi Entertainment (@NozomiEnt) July 7, 2018
Studio Trigger and Arc System Works are teaming up to create a Kill la Kill video game, titled "IF", and released a trailer at the Studio Trigger panel, which you can see below. The game is scheduled for release on the PS4 and PC in 2019.
Overall, attending Anime Expo was an amazing experience. It's really hard to put into words feeling the excitement of being here. Meeting a lot of good people, here to enjoy all that is great about anime and manga, checking out all the cool swag, and while standing in line for hours on end may not always be worth it, there's something different being in the audience hearing a major announcement and seeing a major premiere as opposed to just reading it online.
Was I convinced to go again next year? No doubt. I already purchased a Premier pass for next year, which hopefully I can upgrade to a Press Pass in the future so I can help Sketch and CJ conduct interviews among other things.
For those that are interested in going, do I recommend checking out Anime Expo? Let's just say if you have ochlophobia ("Fear of Crowds") and/or demophobia ("Fear of Unruly Mobs"), you might want to stay away, or at least go to a smaller convention instead. But if you don't mind the crowds (or even interested in people watching) and are really interested in going to big events like this one, there's no better place in the Americas (that I've heard of) to celebrate the medium of Anime and Manga than by taking a trip to LA in the 4th of July Weekend to attend Anime Expo.