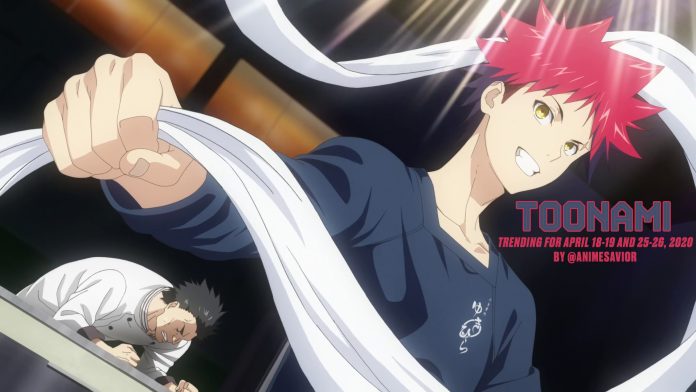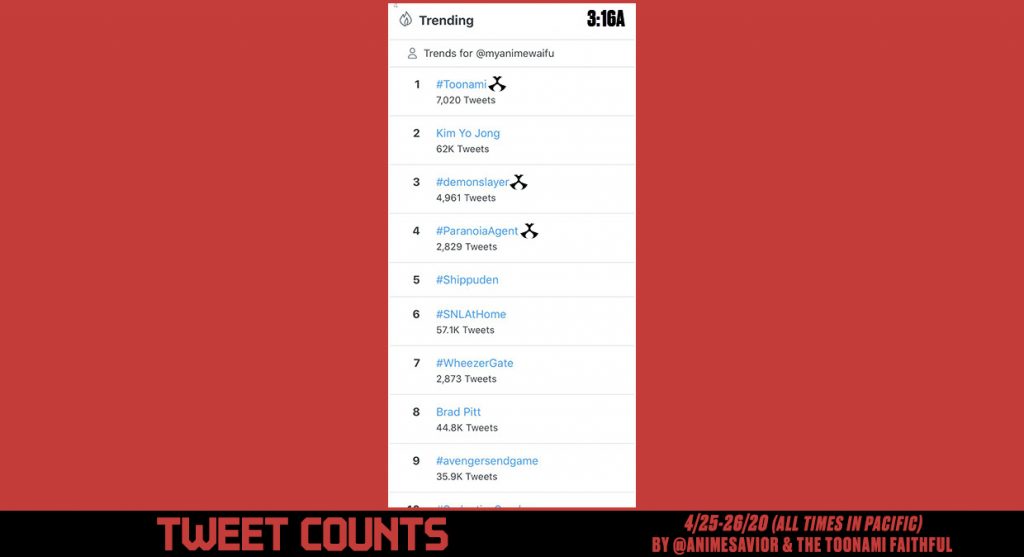 "I want to push myself to the limits of my abilities. I'll take any challenge from anybody, right here and now. Cause it's time for Food Wars!"
–          Sōma Yukihira, Food Wars! The Second Plate (Ep. 13)
This Toonami Trending Rundown is a double-feature for the weeks of April 18-19 and 25-26, 2020, as Food Wars! completes The Second Plate. And we see the return of Satoshi Kon's Paranoia Agent to the network for the first time in 13 years.
Among some of the notable moments of the night, in Food Wars, Soma completes his internship with Toshiro, learning from the intense hardships during the soft-open of Toshiro's new restaurant. Meanwhile, in My Hero Academia, Mirio takes Eri to the UA campus as the students host their annual school festival. However, Gentle Criminal and La Brava begin their attempt to break into the school as part of their next viral villainous scheme, and Deku has to prevent them from doing so. And in JoJo's Bizarre Adventure, Bucciarati and the gang begin their rebellion against the boss as they start to figure out how to expose his identity to defeat him. However, the Mafioso send Squalo and Tiziano as their hitmen, using their stands to control Narancia.
On Twitter, for the night of April 18-19, #Toonami would trend in the United States alongside both Food Wars and Demon Slayer. For the night of April 25-26, #Toonai would trend in the U.S. alongside Demon Slayer and Paranoia Agent. Meanwhile, on Tumblr, #Toonami would trend alongside My Hero Academia and JoJo's Bizarre Adventure on both nights. The full list, including statistics and tweet counts from the Twitter app and Amr Rahmy's Fan Screening analytics app, can be seen below.
---

On this week's Toonami Faithful Podcast, we released our interview with Kristen McGuire at the My Hero Academia: Heroes Rising Premiere. We discussed our reactions to the film and her Toonami roles, including Ruri in Dr. Stone, Nakagame in My Hero Academia Nakagame, and Yu in Fire Force. You can check it out on our Soundcloud by clicking here. (The actual interview begins at 47:30)
As the situation regarding COVID-19 continues to worsen, stay-at-home orders worldwide continue to delay an increasing amount of Toonami programming in Japan. Last week, Aniplex announced that The Promised Neverland's second season had been delayed from October to January 2021. In addition, Black Clover will also be suspending its broadcast in Japan and simulcast indefinitely after episode 132. Both shows will join Sword Art Online and My Hero Academia as programming to have been affected in some way due to the pandemic.
With the current coronavirus pandemic expected to continue well into the summer, many of the anime industry's biggest conventions, including Anime Expo, Otakon, and San Diego Comic-Con, announced that they have canceled this year's respective events.
Variety has reported that Sony is working on a live-action adaptation of One-Punch Man. Avi Arad and Ari Arad of Arad Productions are producing, while Scott Rosenberg and Jeff Pinkner (of Venom and Jumanji fame) are the film's writers.
As Demon Slayer will air its season finale this upcoming Saturday, Toonami announced last Friday that they will give Mob Psycho 100 an encore run of its first season beginning on May 9, 2020, at 1:00 a.m. Paranoia Agent will move to 12:30 a.m. starting on that same night. No word if Toonami will air the second season following this encore run.
---
During Food Wars' Toonami run, the show successfully trended 22 out of 26 weeks during The First Plate (which includes the Thanksgiving marathon) and all 13 weeks during The Second Plate. Character trends were also spotted with Erina trending twice, and Megumi once. The full statistics can be seen in the image below.
While Sentai Filmworks has dubbed The Third Plate and is available to view on HiDive as well as DVDs and Blu-ray box sets, whether Toonami will air the next few seasons is still a work in progress. As mentioned by Jason DeMarco last week, the television airing rights to future seasons are still being negotiated. All fans can do is to put their faith in Toonami to get it done, and Food Wars will be back before we know it.
---

Tune in next week for the season finale of Demon Slayer, among other great moments. And of course, make sure you do your part to stop the spread of COVID-19 and to protect others by following your local health advisories. Practice social distancing by staying home unless you have to, and wash your hands thoroughly for at least 20 seconds. Until next week, have a Happy Ramadan for those celebrating, and stay safe and gold as always.
---
Legend: The shows listed are ordered based on their appearance on the schedule. Show trends are listed in bold. The number next to the listed trend represents the highest it trended on the list (not counting the promoted trend), judging only by the images placed in the rundown. For the Twitter tweet counts, the listed number of tweets are also sorely based on the highest number shown based on the images on the rundown.
April 18-19, 2020 Trends
United States Trends:
#Toonami [#9]
#DemonSlayer [#26]
#FoodWars [#29]
Tweet Counts:
#Toonami [7,226 tweets]
#DemonSlayer [6,549 tweets]
#FoodWars [2,845 tweets]
#JoJosBizarreAdventure [5,571 tweets]
Fan Screening Counts:
#MyHeroAcademia [#5 with 6,255 tweets]
#DemonSlayer [#5 with 7,302 tweets]
#KimetsuNoYaiba [#29 with 1,943 tweets]
#FoodWars [#22 with 2,869 tweets]
#BlackClover [#13 with 2,308 tweets]
#JoJosBizarreAdventure [#10 with 5,915 tweets]
Tumblr Trends:
#Toonami
#BNHA
#JoJo's Bizarre Adventure
April 25-26, 2020 Trends
United States Trends:
#Toonami [#30]
#DemonSlayer [#26]
#ParanoiaAgent [#2]
Tweet Counts:
#Toonami [7,020 tweets]
#DemonSlayer [4,961 tweets]
#ParanoiaAgent [2,829 tweets]
Fan Screening Counts:
#MyHeroAcademia [#2 with 4,811 tweets]
#DemonSlayer [#5 with 3,898 tweets]
#KimetsuNoYaiba [#29 with 815 tweets]
#BlackClover [#15 with 1,990 tweets]
#JoJosBizarreAdventure [#12 with 2,431 tweets]
Tumblr Trends:
#Toonami
#My Hero Academia
#JoJo's Bizarre Adventure
Special thanks to @myanimewaifu and others I forgot to mention for spotting some of the trends on this list.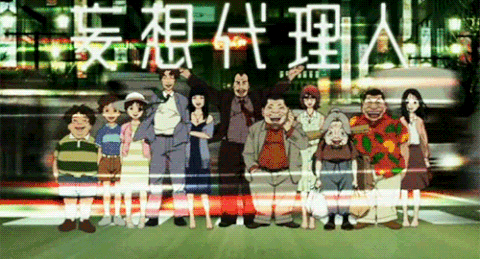 Only Toonami on [adult swim] on Cartoon Network.