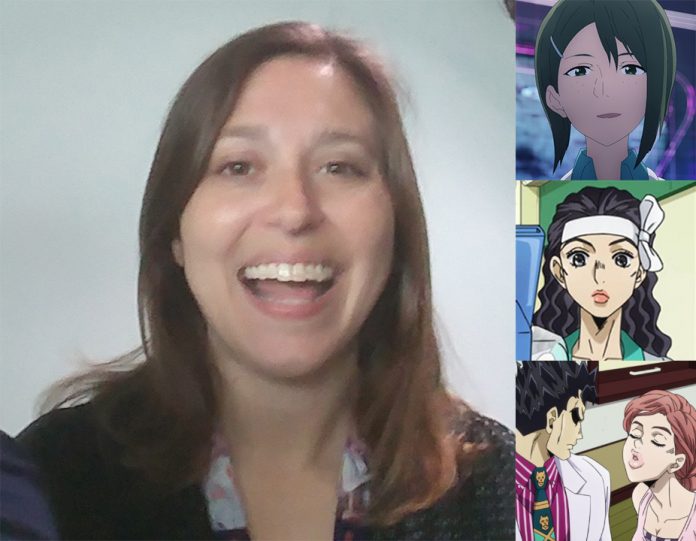 For the tenth installment of Toonami Faithful's thirteen-part series of interviews from Anime Expo 2019, C.J Maffris and I met up with Jennifer Losi for her first-ever interview as a voice actress.
Jen is notable among Toonami fans for voicing Rinko Kojiro (Kayaba's girlfriend) in Sword Art Online, Reiko (one of Yuya Fungami's girls) and Shinobu Kawajiri (Hayato's mom) in JoJo's Bizarre Adventure: Diamond is Unbreakable. We discussed how she feels getting to voice in these two popular Toonami-aired franchises and being a Toonami Faithful, how she got through the audition and recording process, and some of her thoughts on her characters themselves.
We also discussed her rise to becoming a voice actress, her other job being a video game producer, and her general excitement of being at Anime Expo (which included the news about the Sound Euphonium! Film with her role of Hazuki Katou). She also mentioned an upcoming role that she couldn't reveal at the time, which was later revealed to be Tethys in Fire Emblem Heroes.
Later on, Jen took the mic on Sunday afternoon to talk with myself and C.J Maffris about our experiences covering Anime Expo and all of our favorite moments at the convention. If you missed it, you can check it out below.
Let us know what you think about this interview at the comments below or directly on our social media. If you missed it, also check our interviews with Antonio Canobbio, Jason Marnocha, Deneen Melody, Erika Harlacher, Marissa Lenti, Jackie Lastra, Ryan Bartley, and Michelle Marie. Stay tuned for our final three interviews from Anime Expo 2019 coming soon, featuring Cedric Williams, Brandon Winckler, and a group interview including Alex von David, Bryce Papenbrook, Kayli Mills, and Jeff Burns. For those interested in seeing early access, the interviews are available to view for those who subscribe to the Toonami Faithful Pass on the podcast's Pateron page.
Editor's note: A slight error was caught when we were counting the interviews as they were released. The interviews for Marissa Lenti, Jackie Lastra, Ryan Bartley, and Michelle Marie were released as the sixth, seventh, eight, and ninth interviews respectively. The error was that they were accidentally written in their respective articles as the fifth, sixth, seventh, and eight interviews respectively. The interview article featuring Erika Harlacher (which didn't have a count) accidentally threw us off. The errors will be fixed accordingly. We apologize for the inconvenience.