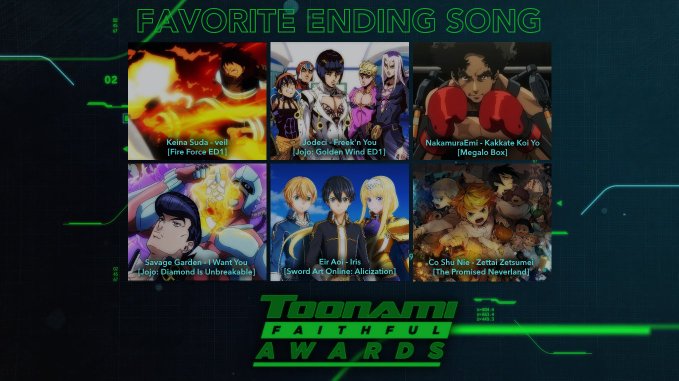 The next category for this year's Toonami Faithful Awards is Favorite Ending Song. The nominees are:
– "veil" by Keina Suda (Fire Force ED1)
– "Freek'n You" by Jodeci (JoJo's Bizarre Adventure: Golden Wind ED1)
– "Kakkate Koi Yo" by NakamuraEmi (Megalo Box)
– "I Want You" by Savage Garden (JoJo's Bizarre Adventure: Diamond is Unbreakable)
– "Iris" by Eir Aoi (Sword Art Online Alicization ED1)
– "Zettai Zetsumei" by Co Shu Nie (The Promised Neverland ED1)
Click the song name for an example of the opening title that is nominated.
Please vote below and let us know what you think in the comments below.
Please note: You can only vote for one Ending Song and you can only vote once.
[yop_poll id="7″]