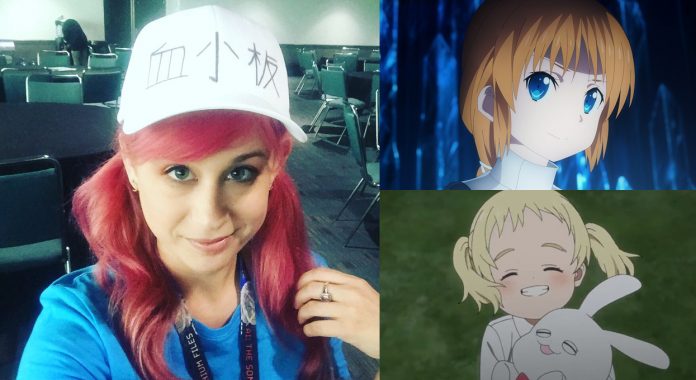 In the sixth installment of our 13-part series of interviews from Anime Expo 2019, CJ Maffris and I met with Jackie Lastra, known among the Toonami Faithful for voicing Selka in Sword Art Online, Connie in The Promised Neverland, a few minor characters in Hunter x Hunter. In addition, since we recorded this interview, Jackie later revealed that she is the voice of Zenko in One-Punch Man.
Alongside learning about her upbringing in the voice acting industry and being a fan of Toonami, we talked about her characters that appeared on the better cartoon show, whom I could personally describe as sweet girls that find themselves in the worst situations. Jackie shared her impressions voicing Connie, from how such a charming character is dead center in a horror series; to how her death led to the children of Grace Field House knowing what their ultimate fate was and the catalyst for them devising a plan to escape from it. Jackie also discussed her role as Selka, Alice's little sister, in Sword Art Online. She mentioned how the directors found her voice appropriate for the part due to  Selka's growth and needing to step up after Alice was arrested by the Axiom Church, and becoming a big sister figure to Eugeo and the other orphans.
We also discussed a bit regarding some of her non-Toonami roles, including Io in Granblue Fantasy, Melty in The Rising of the Shield Hero, one of the platelets in Cells at Work (which she was cosplaying as when we did this interview), and Iris "A-set" Sagan in AI: The Somnium Files.
Let us know what you think about this interview at the comments below or directly on our social media. If you missed it, also check our interviews with Antonio Canobbio, Jason Marnocha, Deneen Melody, Erika Harlacher, Marissa Lenti, as well as one where Jen Losi interviews us regarding AX this year. Stay tuned for the other interviews from Anime Expo 2019 coming soon. For those interested in seeing early access, the interviews are available to view for those who subscribe to the Toonami Faithful Pass on the podcast's Pateron page.