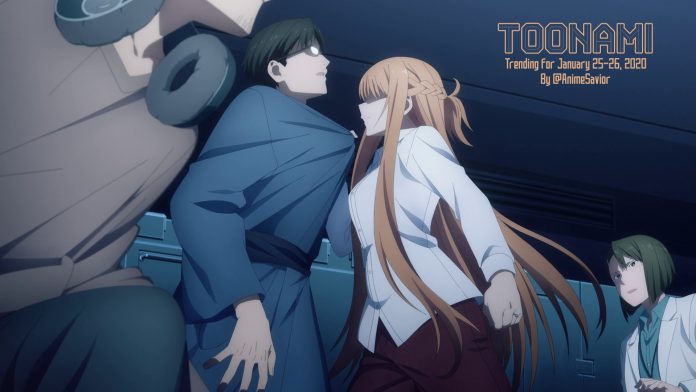 "You better pray that Kirito wakes up [Kikuoka], because if he doesn't, I swear I'll make you pay!"
–          Asuna Yuuki, Sword Art Online: Alicization (Ep. 26)
The Toonami Trending Rundown for Jan. 25-26, 2020. The first Toonami in the "Year of the Rat" brought us the penultimate episode of Fire Force's first season.
Among the notable highlights from the night, Sword Art Online would see Alice being forced out of her short retirement from the Integrity Knights as she defended the village against an army of goblins from the Dark Territory. But it was not before Alice had to shut down the village chief for wanting to have the citizens guard the town (or more accurately, his mansion) instead of evacuating to safety. Meanwhile, the crew of the Ocean Turtle is forced to retreat and bunker down in another area as a group of armed mercenaries storm the base and began hacking into the Underworld servers to take Alice for themselves. Also, Asuna is furious at Kikuoka that the invasion lead to a power surge that would render Kirito unconscious again, leaving a hole in his fluctlight and disabling his ego. Fire Force saw Shinra trying to persuade his brother Shou to leave the Evangelists and come home with him, helping Shou remember his childhood memories with him and their mother. Despite having his eyes opened to these revelations, Shou nonetheless stabs Shinra with his sword. The Evangelists retreat with Shou and self-destruct their hideout, but Company 08 regroups and retreats just in time to sending Shinra to the ER to repair his wounds. And Dr. Stone has Senku successfully recruiting the Ishigami Village into the Kingdom of Science, as he has them rebuilding the village after Homura's attack before their defenses against Tsukasa's empire. The first of which would be to create the founding pieces in the creation of cellular devices.
On Twitter, #Toonami would trend in the United States, along with all but four shows on the schedule. Meanwhile, on Tumblr, #Toonami would trend along with My Hero Academia and JoJo's Bizarre Adventure. The full list, including statistics and tweet counts from the Twitter app and Amr Rahmy's Fan Screening analytics app, can be seen below.
---

This week, ToonamiFaithful.com released its tenth interview from Anime Expo 2019, as I talked with Jennifer Losi, the voice of Rinko Kojiro (Kayaba's girlfriend) in Sword Art Online, Reiko (one of Yuya Fungami's girls), and Shinobu Kawajiri (Hayato's mom) in JoJo's Bizarre Adventure.
VIZ Media this week released the fifth volume of the JoJo's Bizarre Adventure Blu-ray sets; containing episodes 21-39 of Diamond is Unbreakable. The set can be picked up at major anime selling retailers for $69.99 MSRP.
Can the cast of JoJo's Bizarre Adventure: Diamond is Unbreakable tell the difference between a real and fake 『STAND』? ゴゴゴゴ pic.twitter.com/vpT7kEAJJl

— VIZ (@VIZMedia) January 28, 2020
Tune in next week for the season finale of Fire Force, among other great moments. See you again next week, and I do want to take this moment to join everyone in saying rest in peace to Kobe Bryant, his daughter Gianna, and all those who unfortunately lost their lives on Sunday. Thank you for inspiring the fans over the years, and we hope to see you on the other side.
---
Legend: The shows listed are ordered based on their appearance on the schedule. Show trends are listed in bold. The number next to the listed trend represents the highest it trended on the list (not counting the promoted trend), judging only by the images placed in the rundown. For the Twitter tweet counts, the listed number of tweets are also sorely based on the highest number shown based on the images on the rundown.
United States Trends:
#Toonami [#3]
#SwordArtOnline [#28]
#FireForce [#24]
#FoodWars [#8]
#DemonSlayer [#27]
#JoJosBizarreAdventure [#5]
#Shippuden [Trended with #Toonami]
#ThePromisedNeverland [#25]
Tweet Counts:
#Toonami [8,124 tweets]
#DrStone [3,998 tweets]
#SwordArtOnline [2,816 tweets]
#FireForce [2,461 tweets]
#FoodWars [2,415 tweets]
#JoJosBizarreAdventure [3,888 tweets]
#ThePromisedNeverland [1,004 tweets]
Fan Screening Counts:
#MyHeroAcademia [#8 with 2,242 tweets]
#DrStone [#7 with 2,162 tweets]
#SwordArtOnline [#12 with 1,756 tweets]
#FireForce [#15 with 1,566 tweets]
#FoodWars [#14 with 1,602 tweets]
#DemonSlayer [#10 with 2,025 tweets]
#KimetsuNoYaiba [#20 with 972 tweets]
#BlackClover [#25 with 875 tweets]
#JoJosBizarreAdventure [#18 with 1,489 tweets]
Tumblr Trends:
#Toonami
#BNHA
#JoJo's Bizarre Adventure
Notes and Other Statistics:
Special thanks to @Journeyman15, @MikeMorse1017, and others I forgot to mention for spotting some of the trends on this list.
Only Toonami on [adult swim] on Cartoon Network.
Toonami Tweets of the Night for January 25-26, 2020