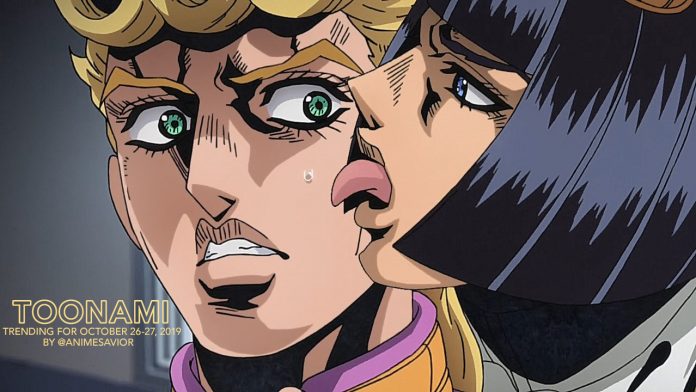 "I learned this year that Dio may have fathered a child. I needed to uncover the truth. I had to know whether Giorno Giovanna was Dio's son, and if he was, how much he took after his father."
–          Jotaro Kujo, JoJo's Bizarre Adventure: Golden Wind (Ep. 01)
The Toonami Trending Rundown for Oct. 26-27, 2019. The JoJo's Bizarre Adventure (JoJo's) franchise makes its return to Toonami for the fourth time as Part V in Golden Wind makes its English Dub premiere.
Among the notable moments of the night, One-Punch Man showcases Garou going on a rampage against the top ranked heroes, but when he got to Saitama, he stood no chance to the surprise of no one. Meanwhile, Black Clover sees a major reveal as Vangeance, the leader of the Golden Dawn, tells Julius (the Wizard King) that he has a second soul within his body. That soul being Licht, the leader of the Eye of the Midnight Sun. And JoJo's begins Part V as Koichi is sent to Naples, Italy, to investigate a teenager who was possibly spawned from Jonathan Joestar's body during Dio's exploits in Part III. And after being mugged at the airport, Koichi realizes that the person responsible, Giorno Giovanna, just might just be that person they are looking for.
On Twitter, every show with the exception of Demon Slayer and the rerunning shows would successfully trend in the U.S. And in addition to JoJo's trending for its premiere, the hashtags #JOJOsBizzareAdventure and #GoldenWind and Koichi also trended. Meanwhile on Tumblr, Toonami would trend alongside Kimetsu no Yaiba. The full list, including statistics and tweet counts from the Twitter app and Amr Rahmy's Fan Screening analytics app, can be seen below.
---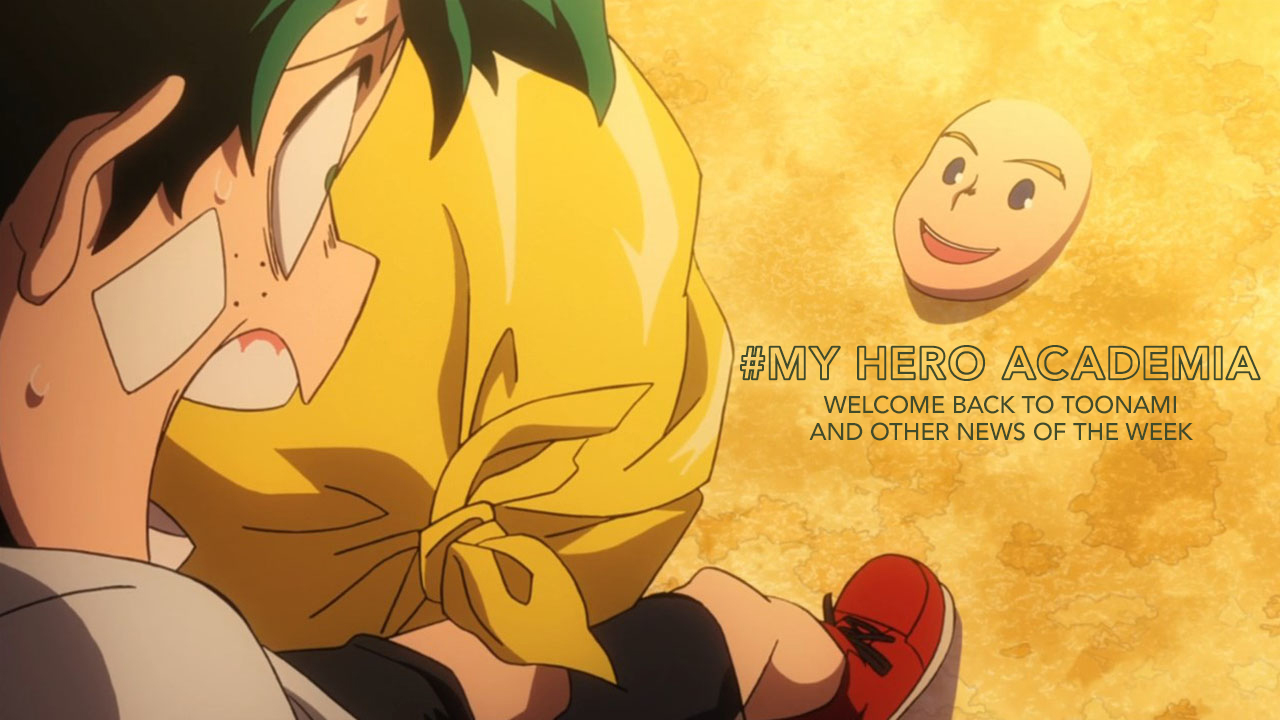 This week, Toonami released the trailer for the upcoming Total Immersion Event, The Forge. The six-week event will begin on Nov. 9 and run weekly through Dec. 14. You can check it out below.
Adult Swim also released a behind the scenes look into the creation of the upcoming anime adaption of Junji Ito's 1998 hit Uzumaki. The video features interviews with some of the production staff, including Ito himself, director Hiroshi Nagahama, Shogakukan editor Sayuri Kinjo, and scriptwriter Aki Itami.
AT&T and Warner Media revealed some of their plans for the upcoming HBO Max streaming service. Among the content that will be available at launch that is of interest to Toonami viewers, the service will include titles from the libraries of Cartoon Network, Adult Swim, DC, Crunchyroll, and Rooster Teeth (such as the premiere of gen:LOCK's second season) as well as Studio Ghibli films. It is yet to be revealed if Toonami will have any involvement in HBO Max as of now, although AT&T does plan on merging AT&T TV NOW (formerly known as DIRECTV NOW) with HBO Max in 2021, which will give cord cutters an option to continue watching the linear networks, Cartoon Network included. HBO Max is scheduled to launch in May 2020 for $14.99 per month.
Finally, it's been an announcement fans have been anticipating for the past few months. Last Friday, Toonami made it official. Starting on Nov. 9, the same night The Forge premieres, My Hero Academia will once again lead off the better cartoon show at 11 p.m. with the U.S. television premiere of the highly anticipated fourth season. In anticipation for the arrival of the fourth season, we covered the My Hero Academia panel back at Anime Expo, where they showed a special screening of Episode 65. The highlights can be seen at my Anime Expo report article.
Not much else to say other than have a Happy Halloween and we'll see you again next week as always.
---
Legend: The shows listed are ordered based on their appearance on the schedule. Show trends are listed in bold. The number next to the listed trend represents the highest it trended on the list (not counting the promoted trend), judging only by the images placed in the rundown. For the Twitter tweet counts, the listed number of tweets are also sorely based on the highest number shown based on the images on the rundown.
United States Trends:
#Toonami [#8]
#OnePunchMan [#27]
#DrStone [Trended with #Toonami]
#FireForce [Trended with #Toonami]
#FoodWars [#7]
#BlackClover [Trended with #Toonami]
#JoJosBizarreAdventure [#20]
#JOJOsBizzarreAdventure [Trended with #Toonami and #JoJosBizarreAdventure]
#GoldenWind [Trended with #Toonami and #JoJosBizarreAdventure]
Koichi (From JoJo's Bizarre Adventure) [#18]
#Shippuden [#23]
#LupinThe3rd [#22]
Tweet Counts:
#OnePunchMan [2,330 tweets]
#FoodWars [2,417 tweets]
Koichi (From JoJo's Bizarre Adventure) [3,290 tweets]
Fan Screening Counts:
#DragonBallSuper [#24 with 427 tweets]
#OnePunchMan [#7 with 1,866 tweets]
#DrStone [#4 with 2,195 tweets]
#FireForce [#11 with 1,482 tweets]
#FoodWars [#14 with 1,706 tweets]
#DemonSlayer [#4 with 3,852 tweets]
#KimetsuNoYaiba [#4 with 4,712 tweets]
#BlackClover [#21 with 985 tweets]
#JoJosBizarreAdventure [#8 with 2,391 tweets]
#MyHeroAcademia [#16 with 1,654 tweets]
Tumblr Trends:
#Toonami
#Kimetsu no Yaiba
Notes and Other Statistics:
Special thanks to @MikeMorse1017, @sdurso5 and others I forgot to mention for spotting some of the trends on this list.
Only Toonami on [adult swim] on Cartoon Network.
JoJo's Bizarre Adventure: Golden Wind Premiere
Toonami Tweets of the Night for October 26-27, 2019