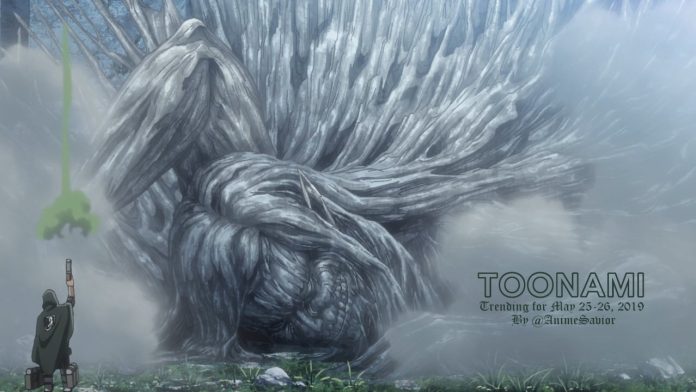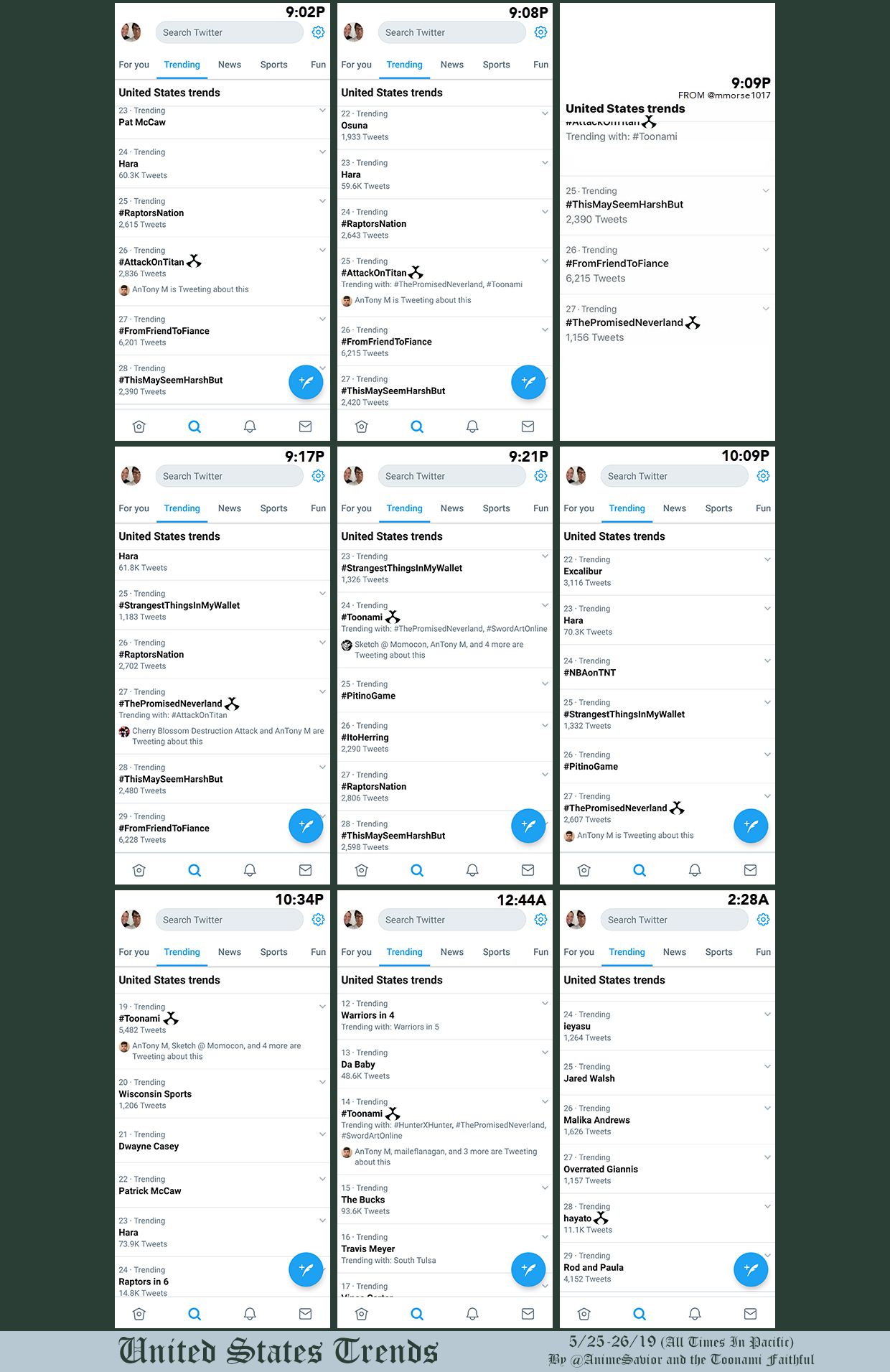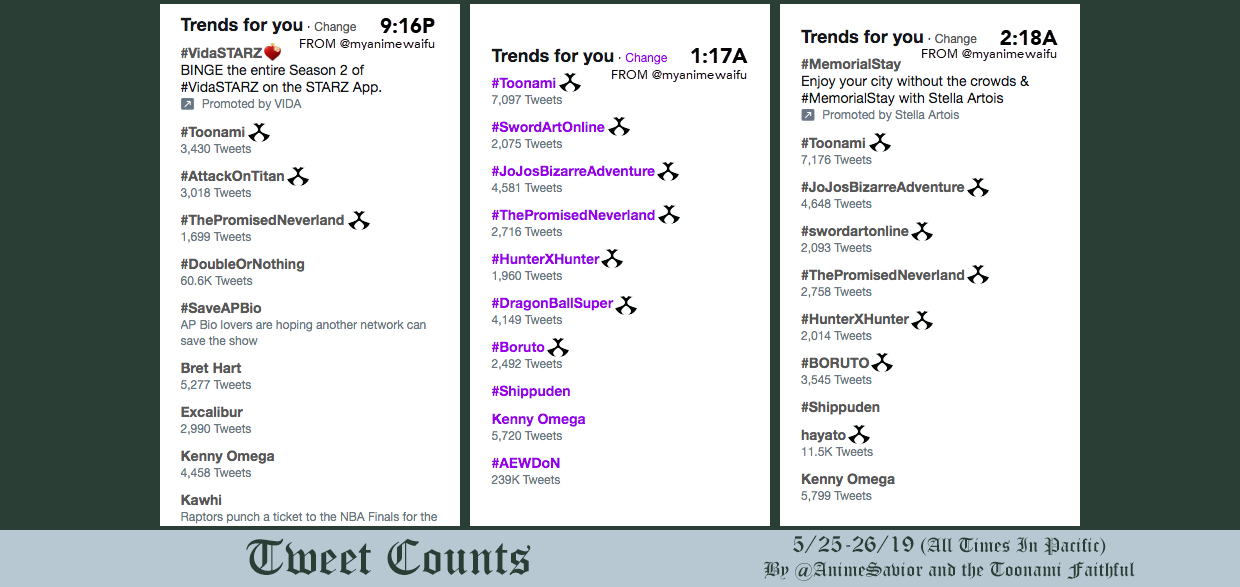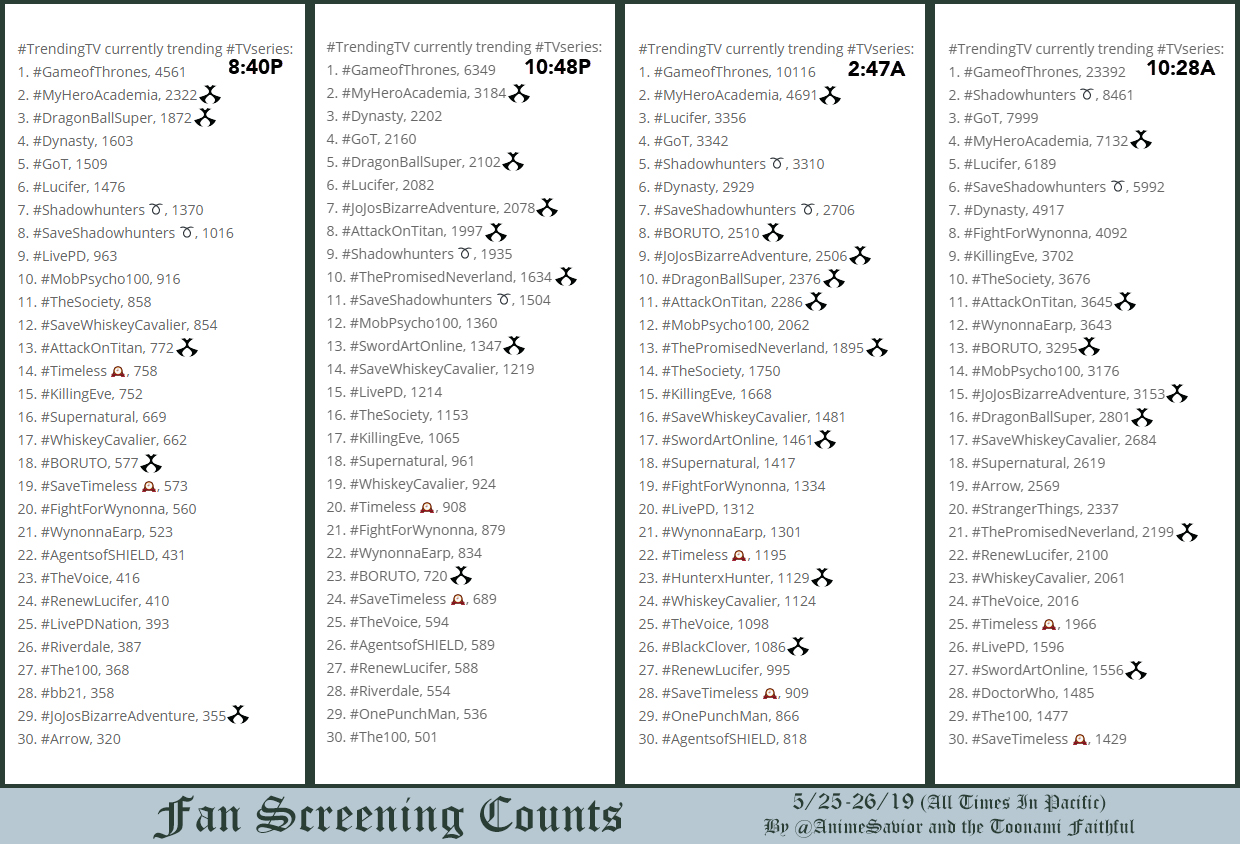 "I can do this. No, we can do this. Because we're special for no other reason than the fact that we were born. We will Live Free!"
–         Eren Jaeger, Attack on Titan (Ep. 50)
The Toonami Trending Rundown for May 24-25, 2019. It's been 7 years since Toonami returned to the air and on this Memorial Day Weekend, Attack on Titan would return to continue season 3 after a 6 month hiatus as the Scouts begin an operation to retake Shiganshina. Meanwhile, Hayato gets Kira to fess up his true identity, while Kirito is forced to team up with Alice to prevent themselves from falling to their deaths, and Emma and co. now have to deal with Sister Krone knowing about the secret of Grace Field House, among other moments.
Attack on Titan would be welcomed back with open arms as it trended in both the US on Twitter and on Tumblr, along with #SNK on tumblr. In regards to the other shows, Toonami trended in the US on Twitter along with The Promised Neverland, Sword Art Online, Hayato from JoJo's, and Hunter x Hunter, while #Toonami would trend along with #BNHA and #JJBA on tumblr. The full list including statistics and tweet counts from the twitter app and Amr Rahmy's Fan Screening analytics app can be seen below.
---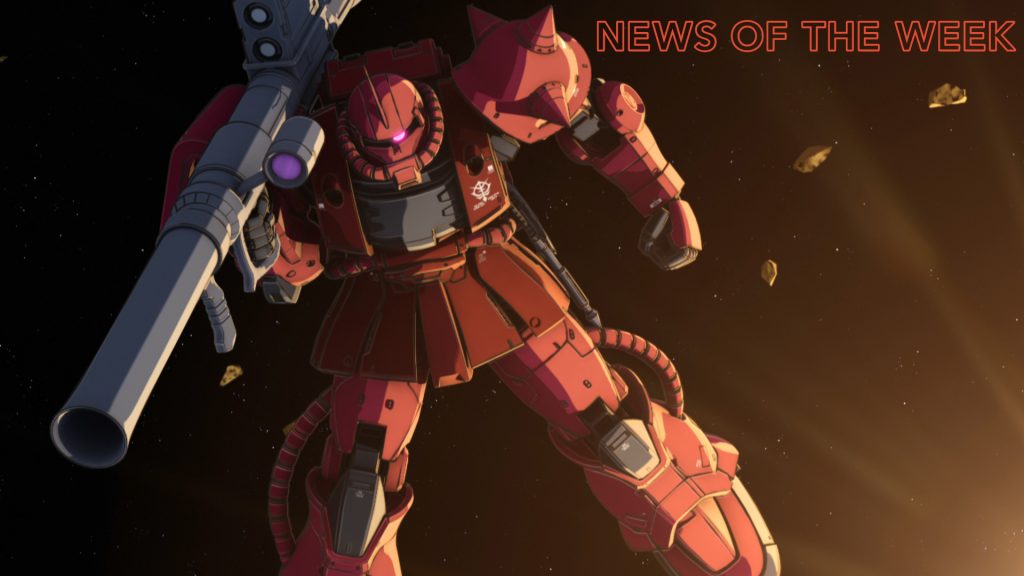 During the Toonami Pre-Flight Panel on Momocon 2019, the Toonami crew made some big announcements for the block. If you missed the news:
Toonami has released the premiere date for the next Total Immersion event, The Forge, will be on November 9 and will run for 6 weeks. The first episode was previewed during the panel, and the trailer was also released at the panel and shown on this week's Toonami, which you can see below.
On July 7th, the Gundam franchise will be making its return to Toonami after a year hiatus with The Origin series. Based on the manga written and illustrated by Yoshikazu Yasuhiko and published by Kadokawa Shoten from 2001-2011, Origin is a 6 episode OVA series that is a prequel to the original 1979 Mobile Suit Gundam television series and was released between 2015 and 2018. The OVAs have been converted into a 13 episode series for television broadcast, which is what we will be seeing on Toonami.
Toonami also showcased a new trailer for the upcoming return of Lupin the Third for Part V, which you can see below. Jason DeMarco would later reveal that Lupin's return announcement was supposed to be held off until Momocon, but due to an accidental leak, was forced to announce the show earlier.
As part of Toonami's new partnership with Crunchyroll, all 12 episodes of both FLCL Progressive and Alternative are now available to stream subbed in Japanese on Crunchyroll's streaming service.
During the panel, two other shows have been announced to be coming to the better cartoon show in the near future. However, on request of the show's distributors, the show names and release dates are not to be announced at this time.
Other notable news for the week include:
---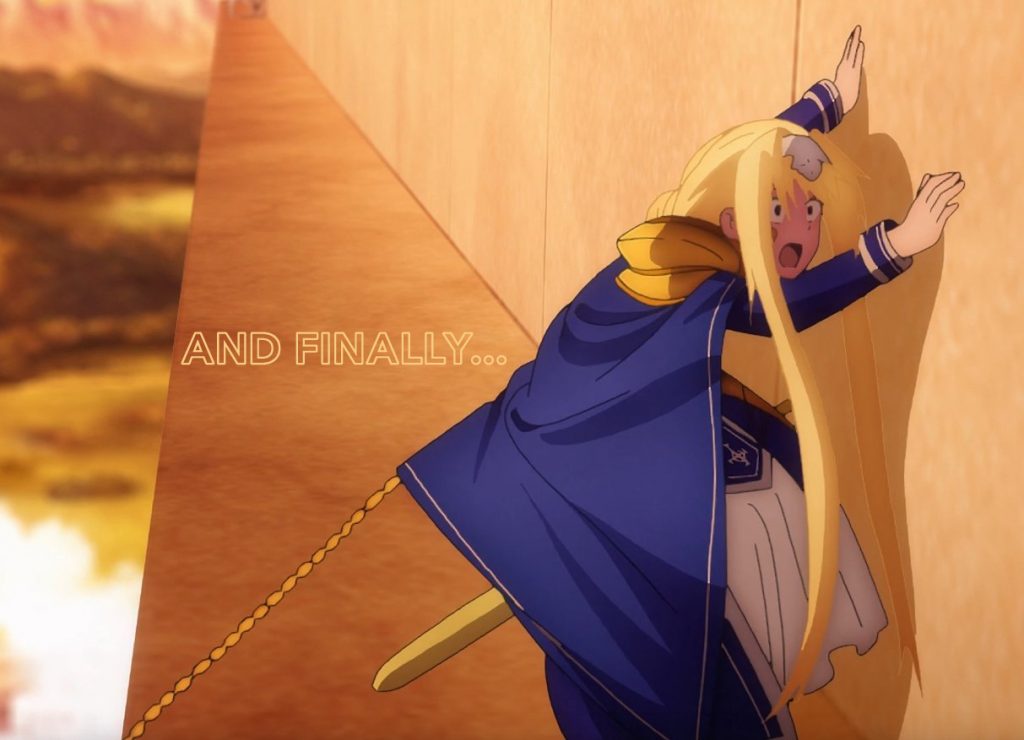 Next week, I'll be headed to Anime Conji to check things out and get some interviews for you guys, and I can confirm now that I will be talking to Laura Stahl (who plays Ray in The Promised Neverland and Hayato in JoJo's) and Maureen Price (who plays Quinella in SAO and Amane and the bubblegum girl in Hunter x Hunter). If you got any questions you'd like me to ask them, respond in this twitter thread or just give me a heads up, and if you're in the San Diego area and attending, I'll see you around the convention halls.
Not much else to say other than we'll see you again next week for another round of the better cartoon show. Later.
---
United States Trends:
#Toonami [#14]
#AttackOnTitan [#24]
#ThePromisedNeverland [#27]
#SwordArtOnline [Trended with #Toonami]
Hayato (From JoJo's Bizarre Adventure) [#28]
#HunterXHunter [Trended with #Toonami]
Tweet Counts:
#Toonami [7,176 tweets]
#DragonBallSuper [4,149 tweets]
#AttackOnTitan [3,018 tweets]
#ThePromisedNeverland [2,758 tweets]
#SwordArtOnline [2,093 tweets]
#JoJosBizarreAdventure [4,648 tweets]
Hayato (From JoJo's Bizarre Adventure) [11.5k tweets]
#Boruto [3,545 tweets]
#HunterXHunter [2,014 tweets]
Fan Screening Counts:
#MyHeroAcademia [#2 with 7132 tweets]
#DragonBallSuper [#3 with 2801 tweets]
#AttackOnTitan [#8 with 3645 tweets]
#ThePromisedNeverland [#10 with 2199 tweets]
#SwordArtOnline [#13 with 1556 tweets]
#JoJosBizarreAdventure [#7 with 3153 tweets]
#BlackClover [#26 with 1086 tweets]
#Boruto [#8 with 3295 tweets]
#HunterXHunter [#23 with 1129 tweets]
Tumblr Trends:
#Toonami
#BNHA
#Attack on Titan
#SNK
#JJBA
Notes and Other Statistics:
Special thanks to @mmorse1017, @myanimewaifu and others I forgot to mention for spotting some of the trends on this list.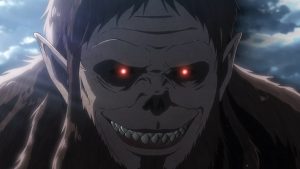 Only Toonami on [adult swim] on Cartoon Network.
Toonami Tweets of the Night for May 25-26, 2019