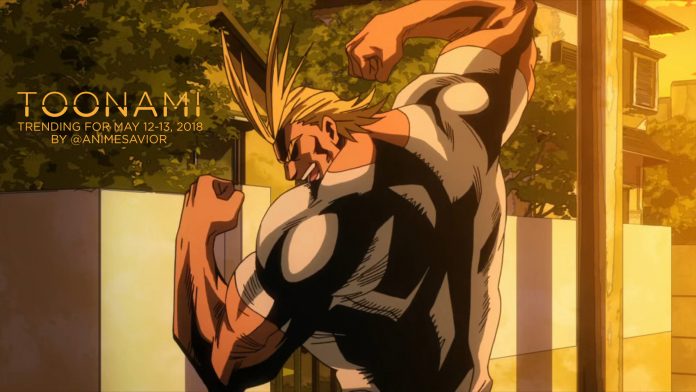 "There are stories about every hero. How they became great. Most have one thing in common…their bodies moved before they had a chance to think. Almost on their own. And today, that's what happened to you [Izuku]. Young man, you too can become a hero."
–          All Might, My Hero Academia (Ep. 02)
The Toonami Trending Rundown for May 12-13, 2018. It's another fine week for action as Goku and Vegeta head back to the future for a third round against Black and Zamasu, while Hol Horse teams up with Mondatta after his rebellion against Dio fails, and Asta takes on Rades Spirito, who unleashes an army of zombies on the capital, among other great moments.
On Twitter, only Toonami and #CowboyBebop would successfully trend in the US. My Hero Academia would produce its first character trend in All Might as he decides to mentor Izuku. Meanwhile on Tumblr, #Toonami would trend alongside #BNHA and JoJo's Bizarre Adventure.
---
This week's feature was part 3 of a Behind the Scenes look into FLCL's production, featuring some of the English Voice Actors. Due to time constraints, an extended version of the video was posted on Adult Swim's YouTube page, which you can see below.
Other notable Toonami-related news this week include:
Announcement: Saitama's back! VIZ is set to bring One-Punch Man Season 2 to fans. We're not pulling any punches! pic.twitter.com/dlrdqq6wvK

— VIZ @ ACEN (@VIZMedia) May 16, 2018
Ichigo and Lirin are duty bound to battle the Bount!

Order #Bleach, Set 4 on Blu-ray ➡️ https://t.co/5thjTm2GL1 pic.twitter.com/V5jHuPLbE9

— VIZ @ ACEN (@VIZMedia) May 16, 2018
With the Toonami run of Iron Blooded Orphans now finished, FUNimation and Sunrise are presently working on the Blu-ray and DVD sets for the second season, set to be released on August 7. The season will be split into 2 parts, with both part 1 and part 2 retailing with a $64.98 MSRP each. A limited collector's edition will also be available, which contains all 25 episodes of the season, an HG 1/144 Gundam Bael Metallic Gloss model kit, and a 25 page art book, retailing for $149.99.
FUNimation is also working on releasing part 1 of the Black Clover Blu-ray and DVD sets, which will contain the first 10 episodes of the series. This set will be released on August 7 with a $54.98 MSRP and will also include a free Asta key chain.
And finally, Cartoon Network and Warner Bros. Animation have announced that a ThunderCats reboot is in the works, titled ThunderCats Roar. The new reboot is set to air on regular CN in 2019, and will be animated by Studio Yotta, who also worked on O.K. K.O. Let's be Heroes. Compared to the original series and the 2011 reboot that both aired on Toonami, Roar will have an action-comedy approach in a similar vein to Teen Titans Go.
ThunderCats Ho! Lion-O and the #ThunderCats are back in "ThunderCats Roar" Coming soon to @cartoonnetwork #ThunderCatsRoar https://t.co/bxhYjWq8WB

— Warner Bros. TV (@warnerbrostv) May 18, 2018
---

This Saturday, Toonami will showcase the finale of FLCL's pre-season 2 encore run, and as that episode will have a 45 minute length, every show after will be temporarily shifted back by 15 minutes. No shows will be pre-empted, but for those recording on their DVRs, you might want to keep this in mind and adjust your recordings accordingly if needed. And of course, for those wanting to binge watch season 1 of FLCL, the following week will be Memorial Day Weekend, so Toonami will marathon all 6 episodes of FLCL in a row beginning at 10:30 pm EDT/PST and again at 1:45 am on the night of May 26.
Until then, have a Happy late Mother's Day, a Happy Ramadan for those celebrating, and see you again on Saturday for another round of the better cartoon show. Later.
---
Legend: The shows listed are ordered based on their appearance on the schedule. Show trends are listed in bold. The number next to the listed trend represents the highest it trended on the list (not counting the promoted trend), judging only by the images placed in the rundown. For the Twitter tweet counts, the listed number of tweets are also sorely based on the highest number shown based on the images on the rundown.
United States Trends:
#Toonami [#8]
#CowboyBebop [#6]
Tweet Counts:
#Toonami [4,210 tweets]
#DBZKai [1,212 tweets]
All Might (From My Hero Academia) [32.1k tweets]
#FLCL [1,927 tweets]
#JoJosBizarreAdventure [1,622 tweets]
#HunterXHunter [1,737 tweets]
Tumblr Trends:
#Toonami
#BNHA
#JoJos Bizarre Adventure
Notes and Other Statistics:
Special thanks to @JMB_70056, @myanimewaifu, and others I forgot to mention for spotting some of the trends on this list.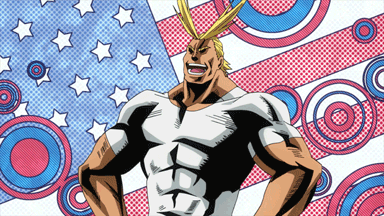 Only Toonami on [adult swim] on Cartoon Network.
Toonami Tweets of the Night for May 12-13, 2018