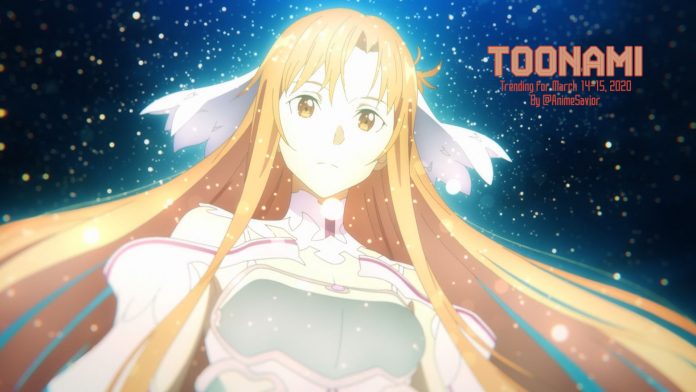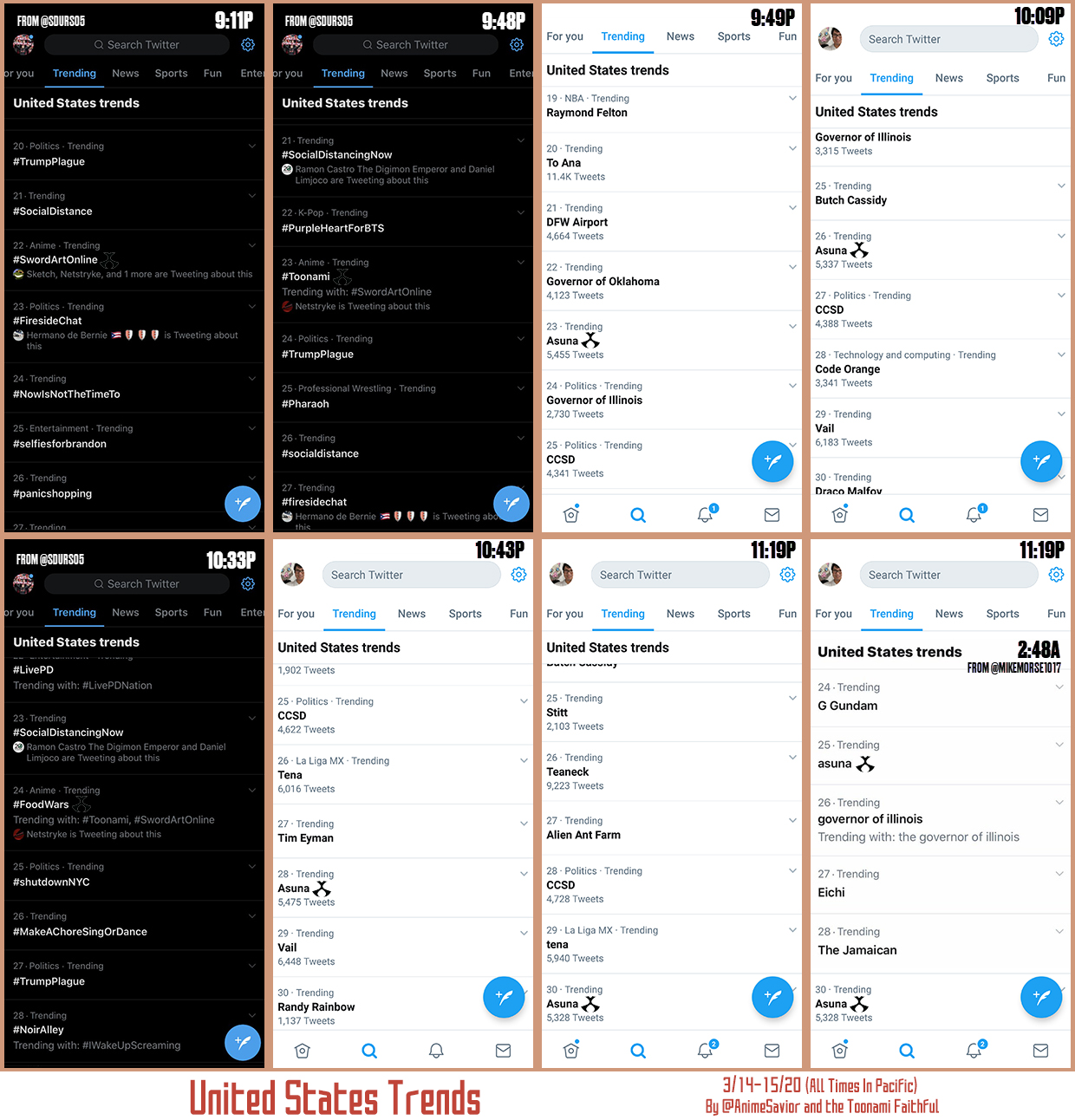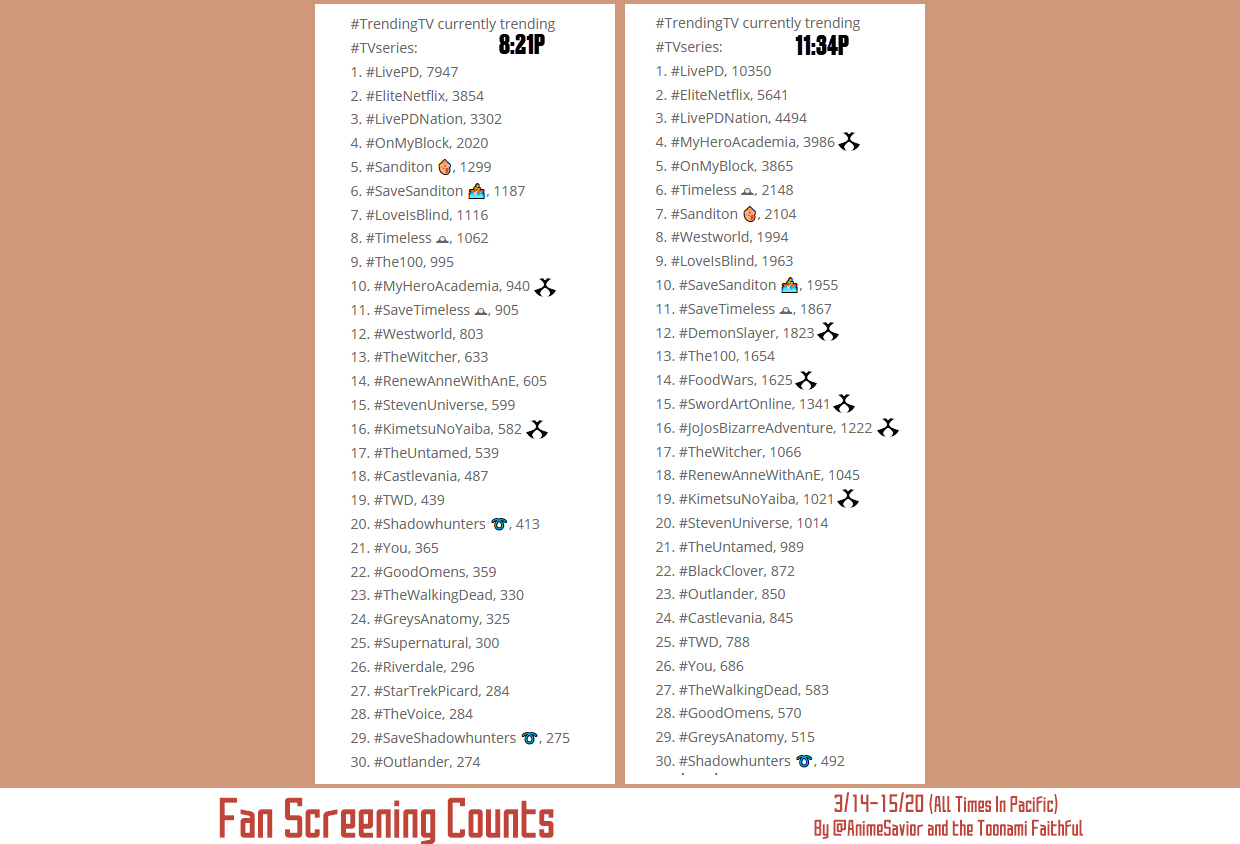 "Is that…Lady Stacia?"
–          Ronye Arabel, Sword Art Online: Alicization (Ep. 33)
"Holy crap, you gotta be kidding me? Same hair, same face…it's her. The Killer Queen of the Knights of the Blood Oath. Lightning Flash."
–        Vassago Casals
The Toonami Trending Rundown for March 14-15, 2020. Right now, the world is forced to stay indoors due to the recent coronavirus (COVID-19) pandemic, with many events canceled in its wake. Fortunately, Toonami continues to entertain, unite, and inspire fans during these tough times.
Among the notable moments of the night, My Hero Academia saw Bakugo, Todoroki, Inasa, Camie, and others take classes to retake their Provisional Hero License exam. Their next test would be to try and befriend a group of kids whose teacher has been unable to get them to calm down. Despite their best efforts, the younglings have been convinced that the age of heroes is over. This sentiment leads to Bakugo and company facing off against the kids. Sword Art Online would see Ronye uncover Vassago trying to sneak up on the Knight's supply core and call for backup, but Vassago brought a vast army of goblins that was going to overwhelm them. Fortunately, Goddess Stacia, or Asuna, arrived just in the nick of time to shut down Vassago's efforts. And Black Clover saw Finral take on Ratri, the elf who possessed the body of his brother Langris, as he was going berserk. Despite not being on good terms, Langris would hear Finral's cries to him, giving him enough empathy to fight back. This small break of Ratri's control allowed Finral to save his brother with a single punch.
On Twitter, #Toonami would trend in the United States alongside Sword Art Online and Food Wars. Sword Art Online saw a character trend in Asuna as she finally enters the game world of the Underworld. Meanwhile, on Tumblr, #Toonami would trend alongside My Hero Academia and JoJo's Bizarre Adventure. The full list, including statistics and tweet counts from the Twitter app and Amr Rahmy's Fan Screening analytics app, can be seen below.
---

This week's feature was a video game review of Spirit of the North, a single-player, 3rd-person adventure game by Infuse Studio, which is available to play on the PlayStation 4. It received a score of 7.5 out of 10.
While the measures put in place to try and slow the spread of COVID-19 hasn't directly affected Toonami's broadcasting yet, Funimation has publicly noted fans to expect delays in SimulDub releases as they try to adjust to having their dubbing cast and crew working from home. We will continue to monitor the situation and report if any Toonami series are affected by the recent coronavirus.
As health experts and governments emphasize social distancing, the events have forced conventions in the U.S. and around the world to postpone or cancel. Events we here at ToonamiFaithful.com planned on covering like Tora-Con, Anime Boston, A-Kon, among others have been canceled. Momocon has also been postponed to a later date which could change down the line. So far, Anime Expo and San Diego Comic-Con are still planned to take place as scheduled, but the organizers are keeping an eye in the event they have to postpone or cancel. Toonami had a panel scheduled during Momocon weekend, but due to COVID-19, they decided to call off their event this year.
In more positive news, fans uncovered in the pages of Weekly Shonen Jump Issue #17, that Bleach will finally be getting a final season. After eight long years, the hit series will cover the Thousand Year Blood War story arc. Shueisha plans on formally announcing the Bleach final season in a live stream on Shonen Jump's Youtube page this Saturday, March 21 at 9:45 a.m. JST (Friday night at 8:45 p.m. EDT/5:45 p.m. PDT Stateside). This announcement was originally scheduled to be presented in a panel during AnimeJapan 2020 to commemorate Bleach's 20th anniversary but was canceled due to the recent coronavirus outbreak.
UPDATE: According to Weekly Shonen Jump Issue #17, #Bleach's Thousand Year Blood War arc will be receiving an anime adaptation. pic.twitter.com/aWbEhPnrL4

— Toonami News (@ToonamiNews) March 18, 2020
As Sword Art Online is down to the final three episodes of the third cour of Project Alicization, Aniplex has revealed that the fourth and final cour of the season will stream on Crunchyroll, FunimationNow, HiDive, and Hulu beginning on April 25. The fourth cour will be 11 episodes long. It has yet to be announced when the dub will be airing on Toonami as of now.
#NEWS It's official! The final season of Sword Art Online Alicization War of Underworld arrives to @Crunchyroll @FUNimation @hidive and @hulu beginning April 25th! pic.twitter.com/LzfmT6Q21f

— Sword Art Online (@SwordArtUSA) March 19, 2020
---

Reminder to make sure to help stop the spread of COVID-19 and to protect others by following your local health advisories, practice social distancing by staying home unless you have to, and wash your hands thoroughly for at least 20 seconds regularly. Not much else to say other than we'll see you again next week as always.
---
Legend: The shows listed are ordered based on their appearance on the schedule. Show trends are listed in bold. The number next to the listed trend represents the highest it trended on the list (not counting the promoted trend), judging only by the images placed in the rundown. For the Twitter tweet counts, the listed number of tweets are also sorely based on the highest number shown based on the images on the rundown.
United States Trends:
#Toonami [#23]
#SwordArtOnline [#22]
Asuna (From Sword Art Online) [#23]
#FoodWars [#24]
Tweet Counts:
Asuna (From Sword Art Online) [5,475 tweets]
Fan Screening Counts:
#MyHeroAcademia [#4 with 3,986 tweets]
#SwordArtOnline [#15 with 1,341 tweets]
#DemonSlayer [#12 with 1,823 tweets]
#KimetsuNoYaiba [#16 with 1,021 tweets]
#FoodWars [#14 with 1,625 tweets]
#JoJosBizarreAdventure [#16 with 1,222 tweets]
Tumblr Trends:
#Toonami
#MyHero Academia
#JoJo's Bizarre Adventure
Special thanks to @MikeMorse1017, @sdurso5, and others I forgot to mention for spotting some of the trends on this list.
Crazy Like a Fox. Only Toonami on [adult swim] on Cartoon Network.