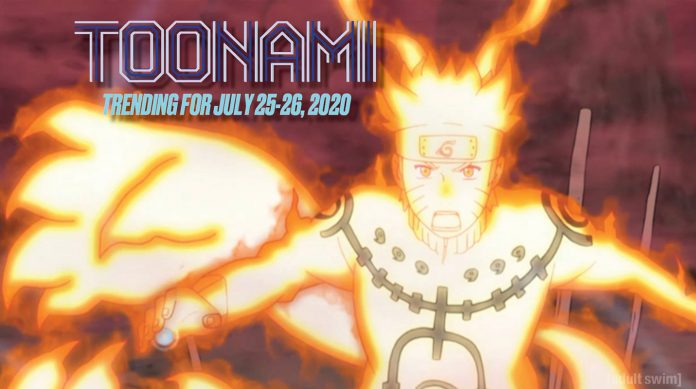 A report on the social media buzz and news from the Toonami broadcast of July 25-26, 2020.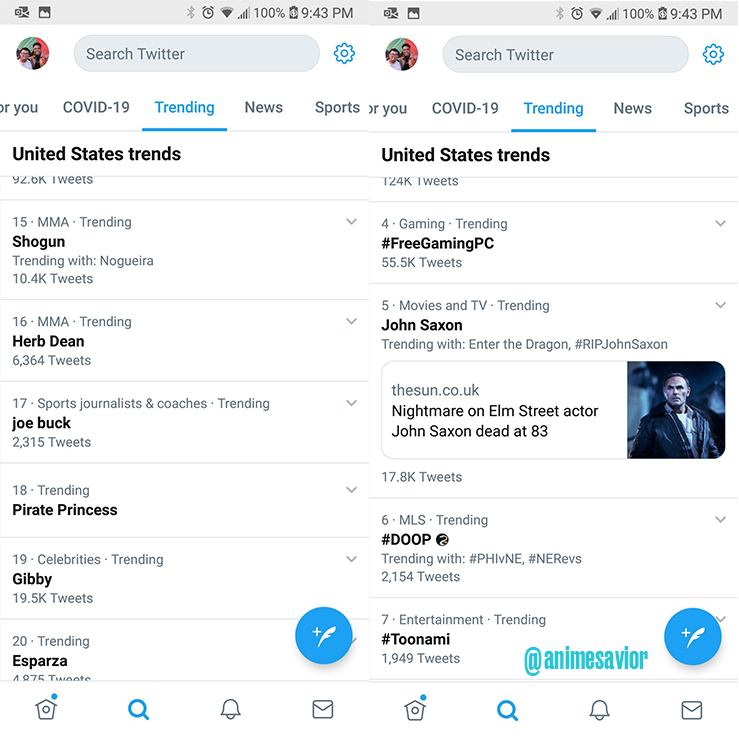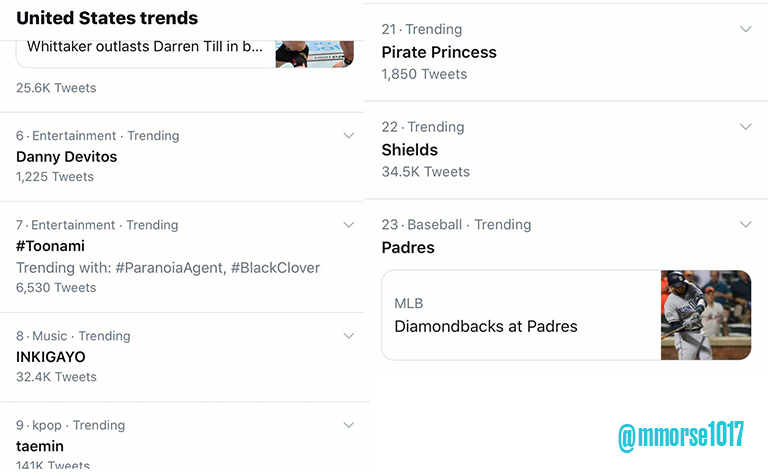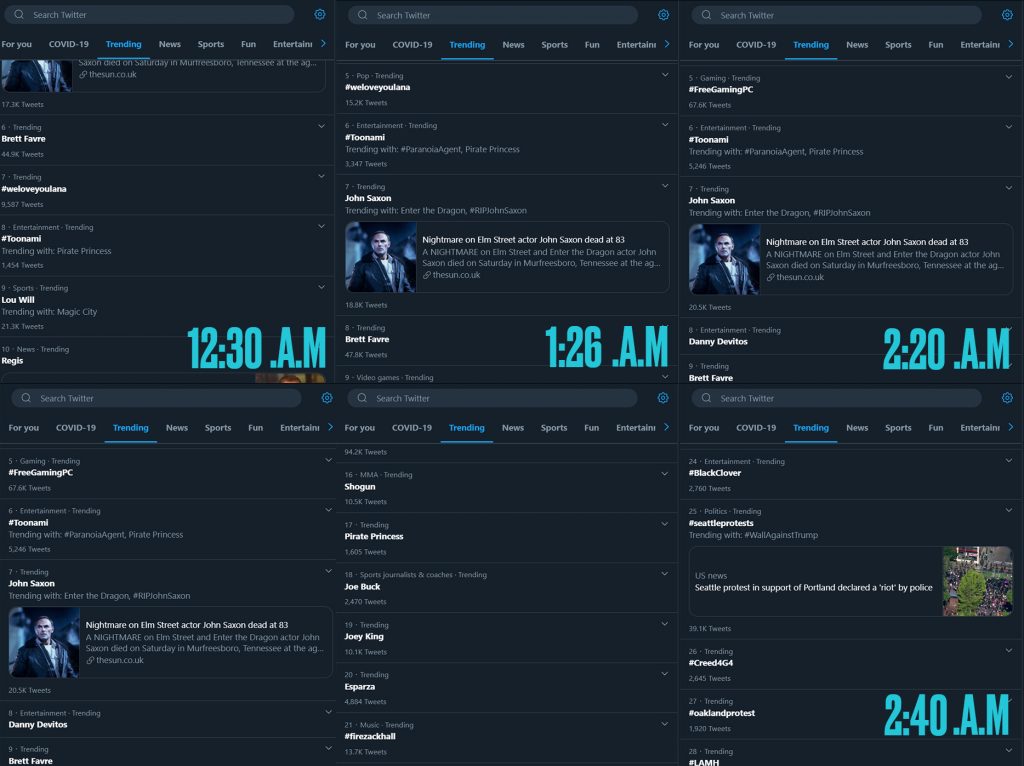 This week Toonami took part in the festivities of Adult Swim Con with a special broadcast featuring trailers for Toonami's co-productions with Production I.G. and Crunchyroll, interviews with directors, musical performances, and more. A full rundown of the Toonami-related highlights from the con is available here.
On July 25-26, #Toonami consistently trended high in the Entertainment category on Twitter's Explore page in the U.S., and it would later trend with #ParanoiaAgent and #BlackClover. The phrase "Pirate Princess" trended after the Fena: Pirate Princess trailer premiered on the block.
#Toonami [8, 7, 6, 5]
#BlackClover [24]
Pirate Princess [18, 17, 21]


Rejoice, JoJo fans! Toonami revealed on their schedule that JoJo's Bizarre Adventure: Golden Wind will return on August 4, 2020 at 12:30 a.m., replacing Paranoia Agent.
The official Twitter account for the Uzumaki anime tweeted photos of the cast's scripts and the recording booth to give fans a sneak peek into the process of recording dialogue.
Toonami announced on the official Facebook page that Fire Force Season Two will premiere on Toonami on Oct. 24. Season One is also returning to the block, starting with episode 15 on Aug. 8 at 1:00 a.m. to replace Mob Psycho 100 after its conclusion this weekend.

The Grandmaster reveals that "Anything Goes" is the rule for Zeno Expo, which means that items and strategies typically considered cheats in a martial arts tournament on Earth, such as the strength enhancer Basil uses in his battle against Buu, are fair game to use. Buu wins the match, setting the stage for Gohan's and Lavender's battle in Dragon Ball Super. Detective Ikari, Inspector Maniwa, and Tsukiko face Li'l Slugger, who is now a monstrous mountain of moving ooze, to stop him from destroying the city in the season finale of Paranoia Agent. Director Satoshi Kon delivers a poignant gut punch as Tsukiko witnesses her dog Maromi die again. Instead of allowing Li'l Slugger to be born from her sorrow and fear as she did years before, she embraces the puppy in her arms. She apologizes for her mistake, accepting the reality that Maromi's death was ultimately her fault. Li'l Slugger disappears, leaving behind a city in ruins. Reigen arrives at Claw's hideout to rescue Mob in Mob Psycho 100. He manages to talk Mob down from fully unleashing his psychic powers against Ishiguro and other members of Claw's upper echelon. That is, until a high-ranking member of Claw attacks him, seemingly killing Reigen before Mob's very eyes. Black Clover took a turn toward romantic comedy with Charlotte avoiding Yami at every turn, embarrassed by their physical closeness when he broke through the magic of her curse. Eventually she realizes that she is in love with the captain and confesses her feelings to the other squad members. Ballmastrz: 9009 paid homage to the classic Vampire Hunter D anime when Gaz is turned into a blood-sucking slave by a date she picked up in a dive bar. DeeDee calls upon her skills from her previous career in the occult as a pest control exterminator to save Gaz and destroy her new vampire master. The battle against the Sound Four continues in Naruto: Shippuden, as the enemy ninja reveal that Orochimaru chose them as samples for the Reanimation Jutsu because their newfound powers would be fueled further by his curse marks and a desire for vengeance.
As always, do your part to prevent the spread of COVID-19 by following advisories from your local health authorities, practicing social distancing, not touching your face, washing your hands for at least 20 seconds, and wearing a mask whenever possible. Don't have one yet? Grab a Toonami Faithful mask. Proceeds from the masks go to funding the website and the podcast. Until next week, stay safe and stay gold.

Did you enjoy this week's Toonami? Let us know by commenting below or directly on our social media. Be sure to follow us on @ToonamiNews on Twitter, and @ToonamiFaithful on Facebook and Instagram. You can listen to the Toonami Faithful podcast on Soundcloud, iTunes, or Spotify for interviews, discussions, and breaking news updates. This week, Sketch, Paul, Duelist, and Caboose recap the Toonami edition of Adult Swim Con and celebrate JoJo's return to the block: