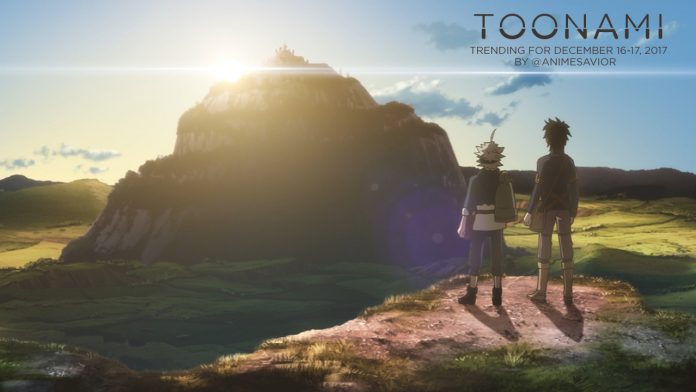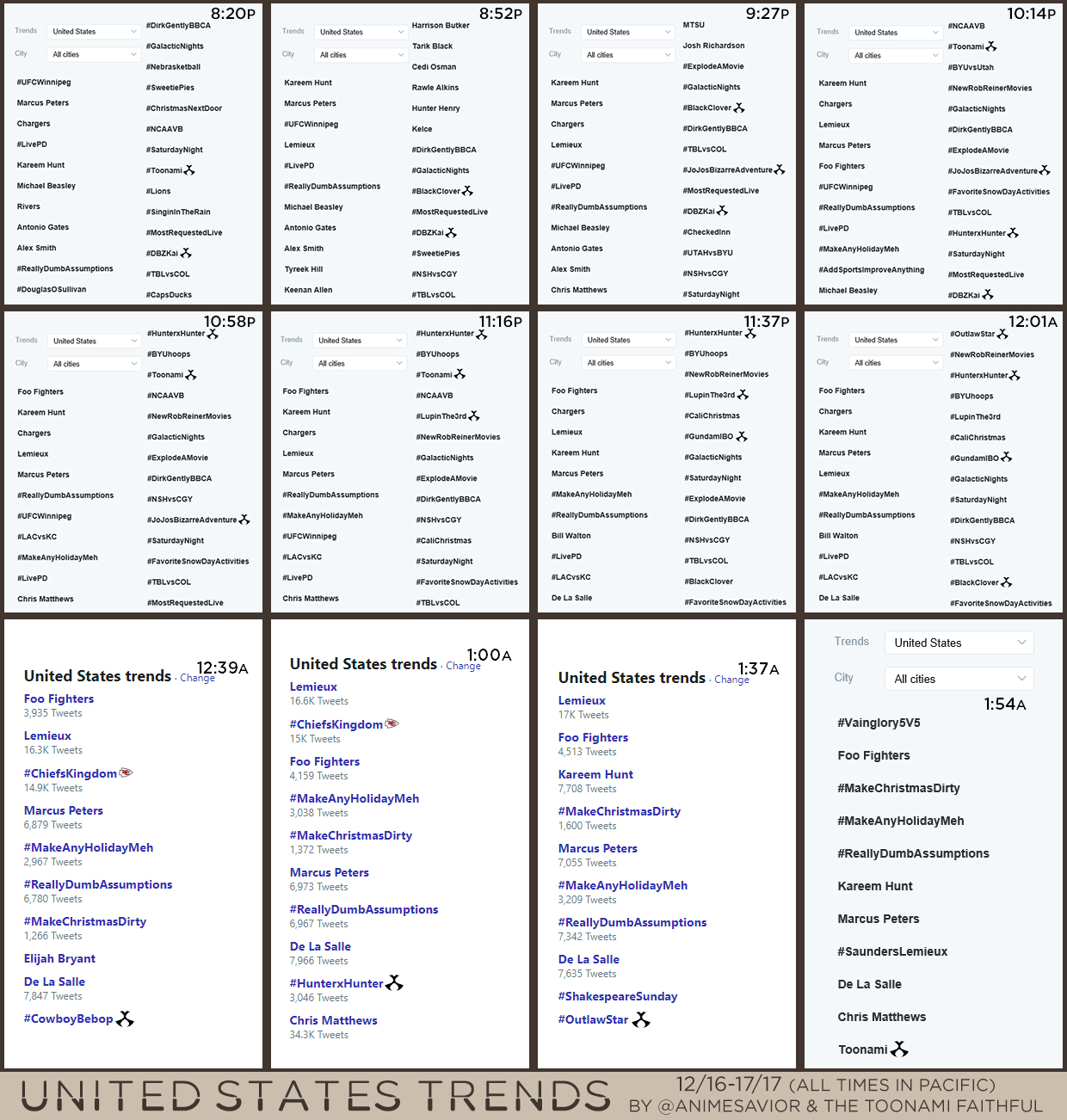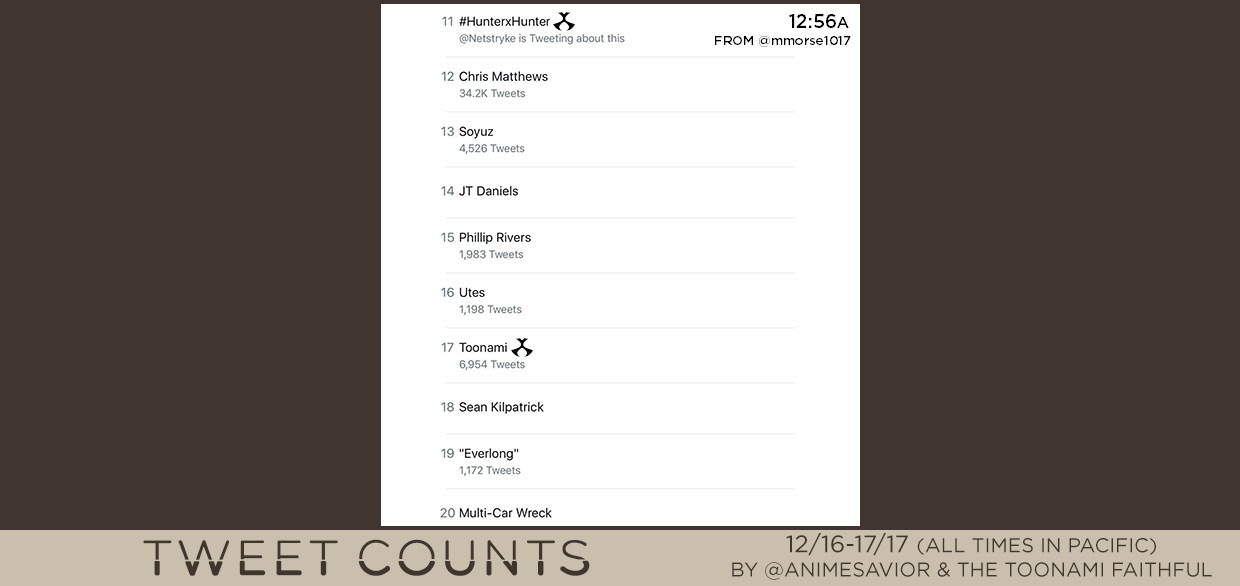 "Yuno and Asta, it's strange to watch them leave. I can't believe how much they've grown. Asta's always had that boundless energy from the day we met. Yuno may not like to admit it, but Asta changed him. Made him stronger, more determined. Good luck, boys. We're proud of you."
–          Sister Lily, Black Clover (Ep. 03)
The Toonami Trending Rundown for December 16-17, 2017. It's the final regularly scheduled Toonami of the year as Goten and Trunks find their way on Monaka's delivery ship (and training to fight Buu in Kai), while Asta and Yuno head on their way to the capital for the Magic Knight's entrance exam, and the Joestars trek through the middle eastern deserts, having to fight a scorching stand, so to speak along the way, among other moments.
On twitter, 7 out of 11 shows including all shows from DBZ Kai to Lupin, Outlaw Star, and Cowboy Bebop would successfully trend in the US during the East Coast airing, while Black Clover and Hunter x Hunter also trend during the West Coast airing. #DragonBallSuper did however, trended on Tumblr alongside #toonami.
---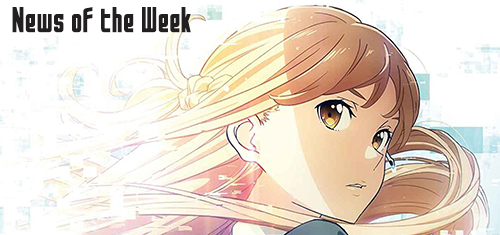 This week, Toonami showcased a game review of the Adult Swim-published brawler and puzzle game Battle Chef Brigade for the Nintendo Switch and Steam. It received an 8.5 out of 10 score.
Good news for Sword Art Online fans this week as for those who have been wanting to see Ordinal Scale but couldn't attend one of the limited theatrical screenings back in the spring, and/or just want to add this to their collections, Aniplex and RightStuf on Tuesday began releasing the Blu-rays and DVDs of the SAO movie in US shores.
Besides the film both dubbed and subbed, the limited edition boxset includes a music CD, an art booklet, a limited edition card from the Weiss Schwarz card game, and another episode of Sword Art Offline. In addition, the disc version of the film will include some content not seen in theaters, including some…dare I say…unrated material involving Asuna in the hot tubs. No such thing as bad publicity, I guess. With a MSRP of $79.98, this box set can be purchased exclusively at Right Stuf with a $10 discount.
With high ratings and sales from the film and the previous two seasons, Sword Art Online still remains as one of the biggest anime and light novel franchises this decade, love it or hate it, and with this as well as Season 3 and Alternative GGO in the works, these next few years is expected to be big for this franchise and will be one to watch for in regards to a potential return to Toonami ahead. We'll keep you posted on these developments, and as with all potential Toonami shows, if you wish to see SAO return to the block to air these new installments, continue supporting the show, Toonami, and the anime industry overall and let the Toonami crew and Aniplex know.
Meanwhile, Shueisha had their annual Jump Festa last week and Shonen Jump showcased some of their new and continuing franchises, some of which we also may see on the better cartoon show down the line. Some of the Toonami-related news include:
Finally of note, those watching last week's Dragon Ball Super may have noticed a familiar voice that was voicing the cloned blob Vegeta, as Brian Drummond, the voice of Vegeta in the Ocean Group dub back in the 90's, has made a return to Dragon Ball voice-over. Personally sure brings back some old memories.
---

To end off the year, Toonami will once again opt for holiday encore run marathons, with episodes 1-11 of Cowboy Bebop airing tonight on December 23, followed by episodes 32-43 of Dragon Ball Super on December 30. For those falling behind on any Toonami shows, feel free to watch those marathons as well as utilizing DVR and on-demand services for the other shows. Otherwise, we'll see you again in the new year.
Until then, have yourself a Merry Christmas, a Happy Kwanzaa, and May the Force be with you.
---
Legend: The shows listed are ordered based on their appearance on the schedule. Show trends are listed in bold. The number next to the listed trend represents the highest it trended on the list (not counting the promoted trend), judging only by the images placed in the rundown. For the Twitter tweet counts, the listed number of tweets are also sorely based on the highest number shown based on the images on the rundown.
United States Trends:
Toonami/#Toonami [#11]
#DBZKai [#21]
#BlackClover (Also during the West Coast airing) [#16]
#JoJosBizarreAdventure [#19]
#GundamIBO [#17]
#HunterXHunter (Also during the West Coast airing) [#9]
#LupinThe3rd [#15]
#OutlawStar [#10]
#CowboyBebop [#10]
Tweet Counts:

Tumblr Trends:
#toonami
#dragon ball super
Notes and Other Statistics:
Special thanks to @mmorse1017, @myanimewaifu, and others I forgot to mention for spotting some of the trends on this list.
Edit 12/23 @ 9:15 pm PST: Added tweet counts submitted late by @myanimewaifu.
Who's Hungry? Only Toonami on [adult swim] on Cartoon Network.
Toonami Tweets of the Night for December 16-17, 2017