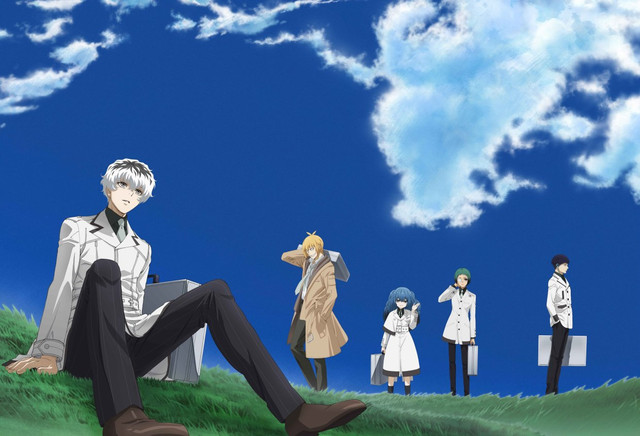 Back on October 5th, Shonen Jump had announced that a new season of Tokyo Ghoul, an adaptation of the Tokyo Ghoul:re manga, is presently in production. During the Jump Festa 2018 event on Saturday, Studio Pierrot released some new information regarding the new series, including a new trailer for the upcoming season. Pierrot also announced that the new season is set to premiere in Japan on April 2018.
Tokyo Ghoul:re will introduce a new set of characters, known as the Quinx Squad, whose Japanese voice actors are:
Kaito Ishikawa as Kuki Urie
Yūma Uchida as Ginshi Shirazu
Natsumi Fujiwara as Tōru Mitsuki
Ayane Sakura as Saiko Yonebayashi
Natsuki Hanae will return to voice the series protagonist Ken Kaneki/Haise Sasaki.
The new season will see some changes in the managerial level, with Atsuko Nakajima is replacing Kazuhiro Miwa as character designer. Chūji Mikasano will return as the series composition and script writer.
The summary for volume 1 of the Tokyo Ghoul:re manga is as follows (via Viz Media):
Haise Sasaki has been tasked with teaching Qs Squad how to be outstanding investigators, but his assignment is complicated by the troublesome personalities of his students and his own uncertain grasp of his Ghoul powers. Can he pull them together as a team, or will Qs Squad first assignment be their last?
As Tokyo Ghoul root A significantly diverged from the main storyline, it is not yet know how they will address this.
No word yet on what FUNimation's plans will be regarding licensing and simulcasting, or if a broadcast dub is in the cards. Toonami previously ran the Tokyo Ghoul anime as well as its sequel in root A this year from March 25 to September 30. It is unknown whether Toonami will bring the series back to broadcast the new season, but we'll keep you posted.
As with all potential Toonami shows, if you do wish to see Tokyo Ghoul return to the block for :re, we do recommend that you continue giving your support to the show and Toonami overall, and to send your show recommendations to their Facebook and Tumblr message boxes as well as letting FUNimation know in their respective outlets.
(Source: Anime News Network)
What are your thoughts on the recent news? Let us know by commenting blow or directly on our social media.