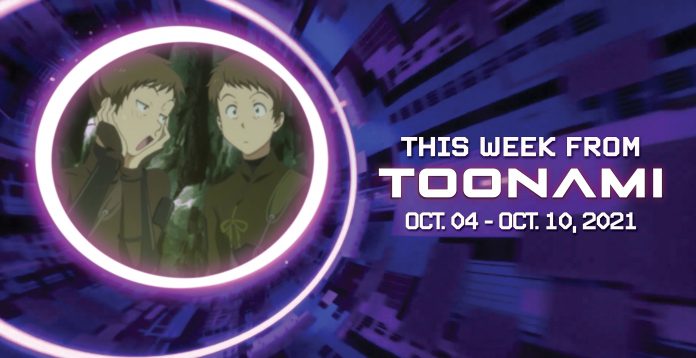 Welcome back to another installment of This Week From Toonami, where we bring you up to speed on the latest news related to the Better Cartoon Show. This past weekend, panels at New York Comic-Con gave us insight into not one but TWO Toonami originals that are currently in production. Read on to learn more!

During Toonami's broadcast this Saturday, Hulu subscribers had difficulty watching the block, instead receiving a graphic saying that Cartoon Network would return at 6:00 a.m. Many were tweeting about the issue during the premiere of episode ten of Fena: Pirate Princess. Hulu responded that they are investigating the cause since they received many reports about the issue. They sent out a link for those who might have missed Fena: Pirate Princess due to the technical error.
Toonami gave us two new promos for the DC films that are joining the block to celebrate DC FanDome, one for Batman Ninja and one for Batman: Under the Red Hood received the trailer t. Next Saturday, it will be exciting to check these movies out (due to how much praise we've seen online). If you're wondering how the schedule will look on Oct. 16, we have you covered! Fena: Pirate Princess will still air at midnight, but the rest of the series will take the week off!
A lot of news came out from New York Comic-Con (NYCC) this past weekend. Of note, two Toonami originals were highlighted at the convention giving fans more insight into what to expect for the future. And surprise, we now have a premiere date for Blade Runner: Black Lotus! The 12 episode series will debut on Nov. 13, and it is confirmed from Jason DeMarco that it will get a double-feature premiere much like Fena: Pirate Princess did. Of course, a few series will be ending before we get to Blade Runner: Black Lotus and Toonami Faithful will keep you up to date and keep track of every scheduling change that comes! At the panel, fans were treated to some new promotional stills, a trailer, and key artwork to help get everyone excited for the new original to make its home on Toonami!
News about the Toonami co-production Shenmue the Animation dropped at NYCC! The series will debut sometime in 2022, and Adult Swim premiered a new trailer to give fans a taste of the animated adaption of the classic games created by Yu Suzuki. At the panel, Suzuki and anime director Chikara Sakurai discussed adapting the video games story not only for current fans to enjoy but also to make the story of Shenmue more accessible for a new audience.
Toei Animation gave fans a brand new clip of the film Dragon Ball Super: Super Hero! Toei also provided more information about the film, revealing that Piccolo and Pan would have significant roles to play in the movie, including training sequences for the young granddaughter of Goku. They also revealed that the antagonists in the film are after Goku, Vegeta, and Pan for a mysterious reason. Curious about what else happened at the panel? FUNimation released a complete write-up about the panel which you can read here!
Also announced at NYCC, the final film in the Eureka Seven: Hi Evolution series–Eureka: Eureka Seven Hi Evolution–will have limited screenings in the United States, Canada, Australia, and New Zealand next year. Eureka takes place ten years after the events of the previous film, Eureka Seven Hi-Evolution: Anemone, and follows an adult Eureka Thurston who is now a military operative and no longer has her power to control the Scrub Coral. She is charged with protecting Iris, a young girl born from Scrub Coral who wields powers much like Eureka did in her youth while also trying to achieve peace between the people of Earth and the people from the Scrub Coral world. At this time, specific dates for the screening are not currently available.
We reported before that Japan would be seeing Demon Slayer television specials adding new content that fans haven't seen from the first season. Well, U.S. fans are in luck because this week, FUNimation announced that they would be streaming all five specials on their streaming service FUNimationNow. For those curious, here's what you can expect from these specials courtesy of Anime News Network.
"The two specials are recompilations of the first season's Asakusa and Tsuzumi Mansion arcs with new footage. In addition, the company is streaming the first three recompilations for the Sibling's Bond, Mt. Natagumo, and the Hashira Meeting arcs with updated additional footage."
So if you're a Demon Slayer fan, these specials are a MUST WATCH. And hopefully, our friends over at the Demon Slayer Podcast will do an episode to talk about the added goodies with what fans might have missed or want to know about with the new content that's broadcast!
More anime films are coming to the U.S. This time, it's One Piece's turn to join the fray, thanks to Fathom Event! The popular movie One Piece: Strong World is returning to theaters on Nov. 7 and 9, along with an animated short! On Nov. 7, fans will be treated to the English dub version of the film and subtitled on the ninth.
Talk about an interesting combination in the works. A new collaboration pack came for Tales of Arise fans, with the beloved franchise teaming up with Sword Art Online. Players can fight Kirito and Asuna, get new outfits for Alphen, Shionne, and Law, obtain Kirito's weapons, and unlock an exclusive Mystic Arte. In the trailer below, you'll get to hear the characters in English and duke it out in a stunning video! It looks like something both Tales and Sword Art Online fans will find fun to add to their collection!
And finally, more Prince of Tennis anime is on the way! Announced this weekend, fans will get to see Prince of Tennis: U-17 World Cup in 2022, making this the first Tennis TV anime to air since 2005. At this time there are no licensors confirmed to stream the series for simulcast, but that may change as we get closer to the premiere date.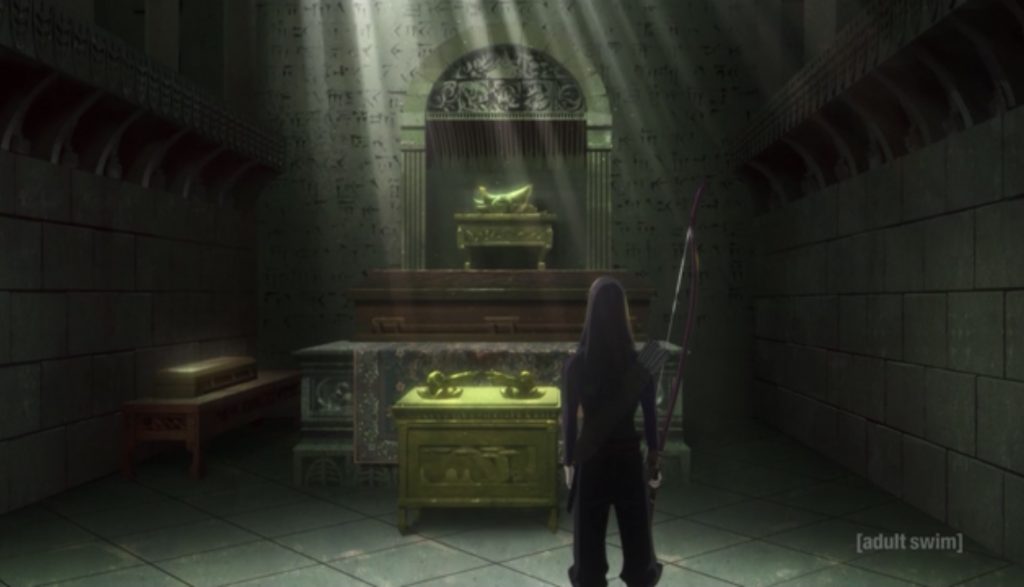 Fena and the Goblin Knights set sail for Eden, and Abel isn't far behind in Fena: Pirate Princess. Using the new coordinates that they discovered in Fena's song lyrics, the Bonito II arrives just as a large island emerges from the depths of the ocean. The crew goes ashore and wanders into a large cave, where they find a massive stone door. On the other side lies a room full of treasures worldwide and across ages in history. As the knights sift through the trinkets (and the twins go for a swim), Fena and Yukimaru continue wandering until they reach a large stage. Fena recognizes it as the lattice stage her father told her about when she was a child, and she begins to dance while Yukimaru watches in awe. When Fena stops dancing, a large stone staircase rises from the stage one step at a time, revealing Eden's true entrance. The League of Villains continues to hold off the Meta Liberation Army in My Hero Academia. Twice tends to Himiko's wounds, and Spinner tries to prevent Hanabata from using his amplification quirk. Shigaraki confronts Re-Destro while a Twice double flees with Giran in tow. Re-Destro enlarges himself using his quirk and restrains Shigaraki, telling him that the destructive nature of his quirk has doomed him from the start. However, he doesn't notice until it's too late that Shigaraki has touched him with two of his fingers and activated his decay quirk. Re-Destro quickly throws Shigaraki off of him, but he quickly realizes that Shigaraki is experiencing an Awakening that will enhance his decay power. Shigaraki is overwhelmed by a flood of emotions and memories from his childhood, from his father's abusive parenting to his mother's love, the first time his decay quirk activated, and the first time he used it to kill.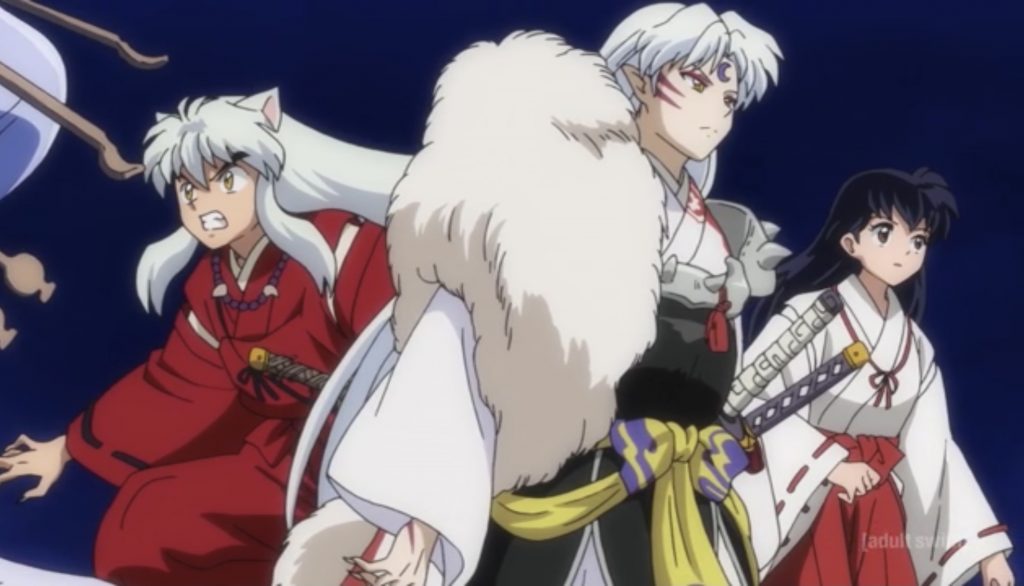 Riku leads us on a trip to the past in Yashahime: Princess Half-Demon, eighteen years before the princesses' journey. He meets with the demon jeweler Hosenki II to create a black pearl using Izayoi's tear-soaked rouge to create a path to her deceased husband's gravesite. Later, Hosenki brings the pearl to Inuyasha, who puts it into his eye for safe-keeping. Four years later, Riku meets Kagome while she's pregnant with Moroha, and he warns her about the fragment of the Grim Comet hurtling toward the Earth that Inuyasha and Sesshomaru must destroy. On the same night, Rin gives birth to Towa and Setsuna beneath a lunar eclipse. Meanwhile, Zero tells Sesshomaru that Kirinmaru will kill his children if he discovers their existence, so the dog demon lord takes his children to hide them. Joka attacks him on the way, but he cuts off her arms and takes her gold and silver pearls. After giving the pearls to the twins, Jaken declares that he will protect them and erects a barrier around them using his Staff of Two heads. Sesshomaru meets Inuyasha at his mother's palace, where they destroy the comet fragment together. Later, Kirinmaru asks Sesshomaru to accompany him to kill Inuyasha to prevent the Shikon jewel's prophecy from coming true. Kagome gives baby Moroha to Hachi so he can take her to safety. Sesshomaru steals the black pearl from Inuyasha's eye and seals both the half-demon and Kagome within it. The fourth round of the regimental food war continues as Rindo and Takumi go head to head in Food Wars! The Fourth Plate, using spear squid as their theme ingredient. Azami Nakiri declares himself a judge and brings class one officers from the World Gourmet Organization–Decora and Courage–to replace the current judges. However, Anne insists that she stay on the judging panel due to her class one officer status. Takumi and Rindo finish their dishes just in time for a simultaneous presentation to the judges. They sample Takumi's calamari ripieni first, which is so delicate yet robust in flavor and texture that Courage and Decora liken it to the qualities of lingerie. Rindo's prowess as an exotic ingredient shines in her spear squid casa, a burger influenced by South American cuisine not only in its spices but also in its use of arapaima, a fish that lives in the Amazon River basin. Ultimately, the judges declared her the winner. After that, Isshiki and Tsukasa both prepare their wild rabbit dishes, with Isshiki saying that he will make a meal that embodies the spirit of Japanese cuisine. His classmates question his decision, given rabbit meat's strong odor. While he cooks, Nene berates Isshiki for always seeming to be good at everything he does and having no care for the craft. However, she is moved to tears when Isshiki tells her that he not only believes her cooking to be beautiful but that it also inspired him to become a better chef.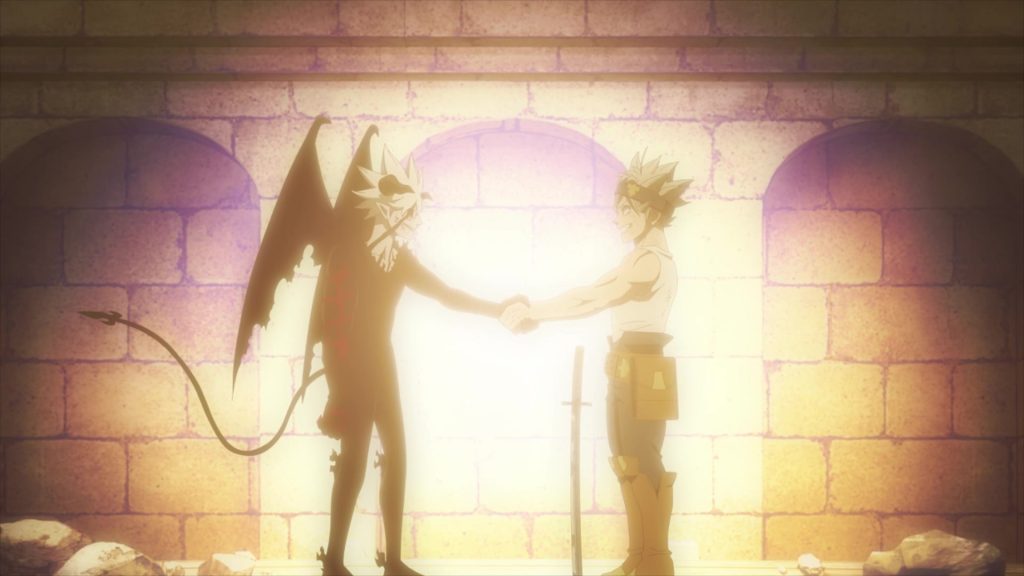 Noelle, Nero, and their friends awaken in Elysia, surrounded by former members of the Eye of the Midnight Sun in Black Clover. Patolli explains that the Black Bulls survived the curse explosions set by Vanica because of their increased stamina from training for the past six months. Nero realizes that the young children present are the children of Licht and Princess Tetia, whom she saved years ago. After Noelle pleads with him, Patolli agrees to teach the Black Bulls how to use Ultimate Magic. Meanwhile, Nacht and Asta begin the devil-binding ceremony to help Asta better harness devil power, although the ceremony uses forbidden magic. During the ceremony, Asta comes face to face with his devil. Liebe. He thanks the devil for sharing his power in previous battles. At first, Liebe tries to fight Asta, but then the memory of a young woman with silver hair gives him pause. Asta learns that, like himself, Liebe could not use magic. Due to his inability, Liebe could pass through the seal to the human world without being summoned. There, he met a young woman named Licita, who adopted him as her son. One day, a high-ranking devil possessed Liebe's body and threatened to use it to enter the human world completely. Licita tried to drain the devil's mana, and she declared that she would never let go of someone she loved again while a memory of leaving a baby at a church flash before her eyes. The devil impales her stomach and then retreats to the devil world. Licita used the last of her living strength to seal Liebe into a five-leaf clover grimoire to protect Liebe. At last, Asta feels that he understands Liebe's true feelings about humanity. As they continue to duel, Asta reflects on the people he has met on his journey to become the Wizard King and how they influenced him not just as a fighter but also as a person. After proving his strength to Liebe, Asta proposes they enter a pact as equals with the ultimate goal of becoming the devil's friend. Upon realizing that Asta is Licita's child, after all, Liebe agrees.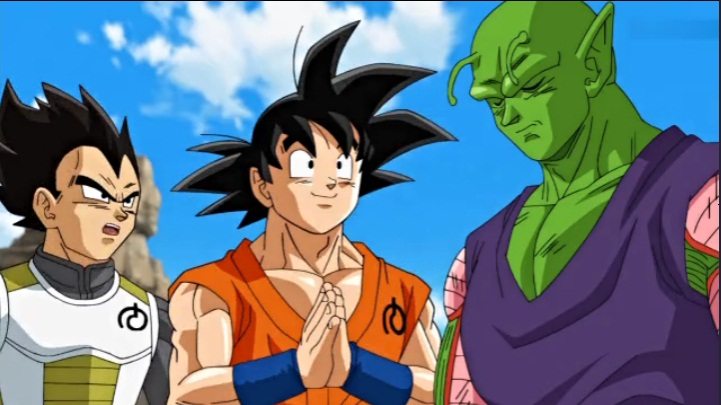 Senku and his friends decide to use the Steam Gorilla to break Chrome out of his bamboo prison in Dr. Stone. However, Chrome quickly realizes that Tsukasa has set a trap for Senku, and he resolves to break out before his friends can arrive. He secretly gathers materials when the guards take him out for bathroom breaks, none of which immediately seem helpful. In the middle of the night, a mysterious figure returns the metal battery to him, which Chrome uses to create a solution that burns through the ties on the bamboo bars. He attempts to escape but is stopped by Yo Uei, a former corrupt police officer pre-Petrification. Chrome fakes coughing up blood using an acid and sorrel mixture and pretends to spew pneumonia germs on Uei before running away. Goku and Vegeta search for team members to join their tournament in Dragon Ball Super. First, they approach Krillin and Majin Buu, though Buu hesitates to participate because he hates Beerus. However, he finally agrees when Goku promises him a wish using the Super Dragon Balls. Goten and Trunks volunteer to join the team, but Vegeta denies them because their fusion power is illegal to use in the tournament. Later, they find Piccolo and Gohan training, so they invite them to join the team. Gohan politely declines because of an appointment scheduled on the day of the tournament, but Piccolo accepts. Meanwhile, Beerus and Whis contemplate the events leading up to Frieza's demise, as well as what Champa's true intention for hosting the tournament may be.

On the latest episode of the Toonami Faithful Podcast, host Paul Pescrillo is joined by Andrew "Sketch" Hingson and CJ Maffris as they do some speculation as to what Toonami will do next. The schedule will be looking vastly different in the coming weeks, and the gang discusses all the avenues Toonami could go to help fill that time. Strategies include getting a new world premiere, finding some hidden gems that the cast mentioned, possible new long-running anime, commission an anime dub, condense or lengthen the schedule, reruns, you name it, they thought of everything! If you're curious about any of the series that the panelist mentioned (stuff like Re:Zero, Grimoire of Zero, Re:Creators, etc.), you'll have to listen to find out which other ones were mentioned!
Toonami Faithful had the opportunity and pleasure to interview the English voice of Fena, Brittany Cox. Hosted by Sketch and joined by CJ Maffris, the three talk everything and anything about Fena: Pirate Princess. Topics that arise were the amount of buzz the series has received, the excitement the cast exudes every Saturday night (and beyond), and dissecting how character-driven this series has become. And of course, due to CJ's obsession with Genshin Impact, he threw in a question about Brittany's time providing the voice for the playable character Fischl. It was a fun interview to have, and the gang learned all kinds of nifty little quirks that went on in dubbing Fena: Pirate Princess!
Editor-in-Chief CJ Maffris has been busy, but he still managed to find some time to deliver another Fena: Pirate Princess review! This week was challenging for him as he explains that this episode felt like you were watching two in one. Both halves of the series felt like stand-alone episodes, and a lot was thrown at you. We learn about Abel's backstory involving Helena and how the two seemed to love each other dearly. And how a childhood song that Fena and Yukimaru remembered became the key to figuring out where Eden is located. If you're curious about a more detailed look at this episode, you'll want to read CJ's review here!
As many of you are probably aware, Black Clover finished its run of 170 episodes on Toonami this past Saturday. So to celebrate this occasion, Editor-in-Chief CJ Maffris wrote a special send-off article talking about how he believes this series is an era-defining one on the Adult Swim version of Toonami. CJ has been very high on Black Clover since it began airing on the block and felt it would be best to write down every reason this series has a special place in the hearts of many Toonami fans! If you love Black Clover, this is a piece you'll have to read!

Did you enjoy this week's Toonami? Let us know by commenting below or directly on our social media. You can follow us on Twitter, Instagram, and Facebook. You can listen to the Toonami Faithful Podcast on Soundcloud, iTunes, Spotify, etc. for interviews, discussions, and breaking news updates. Listen at the link below or on your podcast platform of choice:
C.J Maffris is the Editor-in-Chief at Toonamifaithful.com. He also produced and directed the Toonami documentary, What Toonami Means To Me. Feel free to follow CJ on Twitter @SeaJayMaffris
Celia Rose is the Director of Social Media for ToonamiFaithful.com. Feel free to follow Celia Rose on Twitter @planetstwinkle.