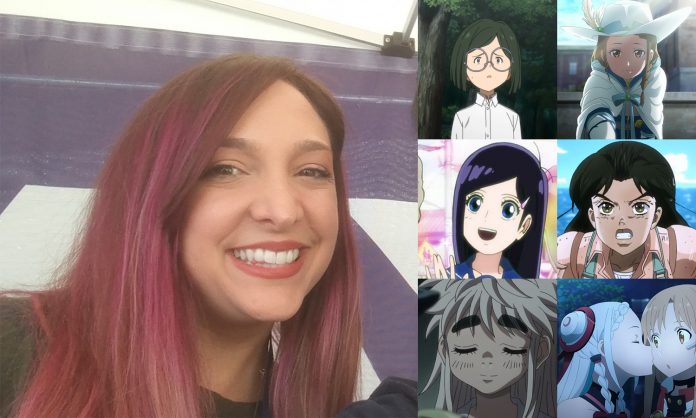 In the seventh installment of our 13-part series of interviews from Anime Expo 2019, CJ Maffris and I got the chance to talk with voice actress Ryan Bartley. Ryan has become a familiar voice on Toonami the past few years, and we discussed her Toonami-related roles at the time.
We first discuss her role of Tsubomi in Mob Psycho 100, including her favorite aspects about the show and why it's among her favorite shows that she has worked on this year. While Tsubomi isn't a prominent character in the series, her presence has helped shape Mob to who he is, and she discusses what it's like to be Mob's crush and the mystery around her.
We then moved on to what is considered her breakout role as the voice of Yuna in Sword Art Online. She had the honor to be a part of one of the most prominent anime franchises this decade (although her story in the Ordinal Scale film has yet to air on Toonami). And what it was like to be a virtual idol created by the memories of Eiji's girlfriend who was tragically killed during the events of Aincrad. Not to mention how technology can affect the human experience for better or for worse.
Next, we discussed her Toonami debut as the voice of the bratty but determined Anne in JoJo's Bizarre Adventure, looking into her bringing a bit of a "spitfire" and youthful flair to the Joestar crew during their Journey to Egypt.
We then talked about her acclaimed role as Komugi in Hunter x Hunter, including how emotionally difficult but fulfilling it was providing her voice to such a blind and frail, but kind personality who wants to play Gungi during the grim-dark aspects of the Chimera Ant arc. Especially considering how she turned a cold and overpowered character like Meruem into a more fragile and caring person.
And we finished off by talking about Gilda in The Promised Neverland, including her initial thoughts on her character, the twists and turns of the show's plot  and being in a situation of kids being raised to become demon food.
Since we did this interview, Ryan has also revealed that she played the characters Makomo and Hanako Kamado in Demon Slayer. She also became the third voice of Rei Ayanami for the Netflix re-dub of Neon Genesis Evangelion.
We also learned about her upbringing in the voice acting industry, growing up as an anime fan, and being a Toonami Faithful. Plus, there's a funny exchange at the end where C.J was hoping that her subject matter on her Instagram involved four-legged friends.
Let us know what you think about this interview at the comments below or directly on our social media. If you missed it, also check our interviews with Antonio Canobbio, Jason Marnocha, Deneen Melody, Erika Harlacher, Marissa Lenti, Jackie Lastra, as well as one where Jen Losi interviews us regarding AX this year. Stay tuned for the other interviews from Anime Expo 2019 coming soon. For those interested in seeing early access, the interviews are available to view for those who subscribe to the Toonami Faithful Pass on the podcast's Pateron page.