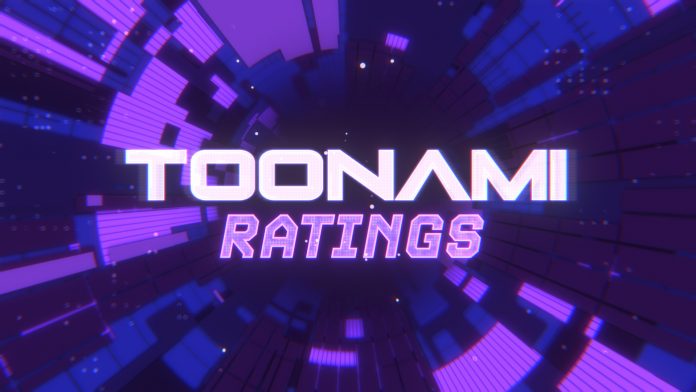 Greetings, Toonami Faithful! Please stick with me because this will be a different article from what I usually write.
Let me start this off by saying I love doing the ratings post. It's what I do for Toonami Faithful, but I have always loved knowing how the shows were/are doing on the block on a deeper level. Or, as deep as fans on the outside can get, but that's a different conservation for another time.
Many of our fans might have noticed that I haven't done a post in two weeks about the traditional rating numbers. So allow me to explain the current situation.
I first started these posts back in 2013 (yes, it's been that long) after people kept railing on Tenchi Muyo GXP being bad. I wanted to figure out how each show was doing in the actual, official numbers used by the networks. This quest for knowledge led me to ToonZone (which is now the Anime Superhero Forum) and the Toonami sub-forums, where I was able to find the numbers and transcribe them onto the Toonami Faithful forum posts along with my spreadsheet. Eventually, that had Toonami Faithful offering me a spot on their staff (that I honestly didn't expect). That eventually led me to Douglas Pucci (@SonOfTheBronx) and TV Media Insight (now Programming Insider) for most of my time getting ratings data every week.
Much like many of us at Toonami Faithful, I mostly did this because I REALLY liked Tenchi Muyo GXP and felt that the show, while not as good was still satisfactory ratings-wise. Going back, yes, I was wrong though I think people reacted WAY too quickly back then. Regardless, it was an enjoyable process since fans, and I would get to play the wonderful "what won the slot," as I liked to call it.
"On Saturday night's popular TOONAMI block, Space Dandy (12:30 a.m.) ranked #1 in its time period among adults 18-34 and all targeted men. Naruto: Shippuden(1 a.m.) also ranked #1 in its time period among men 18-24 & 18-34, while One Piece(1:30 a.m.) ranked #1 in its time period among adults 18-24 and men 18-24 & 18-34. Overall, all TOONAMI new episode premieres grew targeted audiences by double and triple digits among adults/men 18-24 & 18-34."
While all of this data isn't much, it still revealed a decent amount of how the shows did and how even some "minor" issues can cause massive changes, such as the reruns of Attack On Titan. While I wish I could have gotten more information outside the small bits revealed in interviews, I (and others) at least had some bits of information to help us understand some decisions Toonami made throughout the years.
Fast forward nearly a decade, and the landscape has changed massively. Streaming is far more prominent, Twitter is used as a data point, and TV viewing has gone down significantly. If anyone remembers 2015 and looks at the numbers now, you know what I'm saying. I believed this was always going to happen, but I guess what surprised me the most is how the networks just took the ball and left as of March (this is more speculation on my end as there might have been things behind the scenes to combat the decreasing traditional ratings numbers). However, severe delays of these numbers had been occurring since February.
While this was a setback, I knew of another site that I had used prior, ShowBuzz Daily, that was still posting the numbers. So I used their data for a few weeks before this happened:
A massive, severe site crash where they are still recovering now with no known date of a restart, if at all. From what I can tell, I'm guessing it's likely over, but if any updates occur, my Twitter will probably be blowing up alongside the missing posts/data.
As you can imagine, I'm bummed out about this development. Having the ratings, in any form, allowed us as fans to have a little understanding of how each show was doing on a fundamental level. And if possible, try to understand whatever rational Adult Swim programming had for the decisions they make. Not knowing how My Hero Academia is doing from a traditional ratings standpoint is torture on my end since I genuinely do not want them to go back to relying on Dragon Ball in any form.
Those originals coming to Toonami later in the year will not have any data for those curious about how it performs? No data. Newer shows? No data. Nothing to show us how well beyond what Adult Swim tells us.
Hopefully, someone can begin posting that data up again cause until that happens, fans on the outside have nothing to go on anymore. And while we never did get the full picture, there was some solace in knowing something, even it it was five percent of the picture. But as of now, that's completely changed.
And that's what scares me most.
Don't forget to listen to the Toonami Faithful Podcast