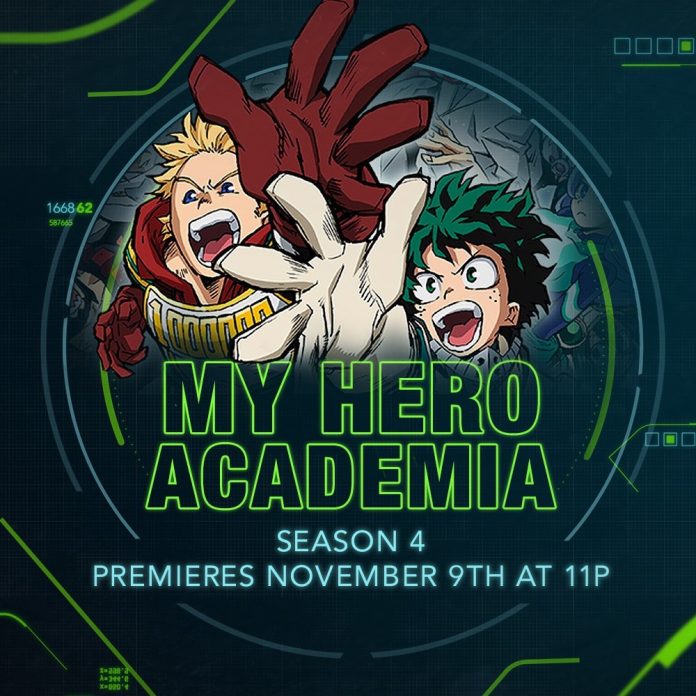 Toonami announced on Facebook that the fourth season of the fan-favorite My Hero Academia will air on the block this year. The series will debut new episodes at 11 p.m. starting Nov. 9. Due to how massively popular this franchise has been, this latest news shouldn't come as a surprise to any.
BREAKING NEWS: Season 4 of #MyHeroAcademia is coming to #Toonami November 9 at 11 PM. pic.twitter.com/bLgk1dCVHU

— Toonami News 🥇🌬️ (@ToonamiNews) October 25, 2019
While the new episodes airing on Toonami isn't a surprise, many fans were pleased to see the new season would be airing earlier than the series was previously at 4 a.m. When the shift later to the block happened, quite a few fans voiced their displeasure at the move. Some speculate that since Toonami is airing season four so close to its Japanese broadcast that it'd make sense to air new episodes at the start of the night.
My Hero Academia will also once again lead off Toonami with the new schedule that begins on Nov. 9 since Dragon Ball Super has been rerunning at the same time in what appears to have been a placeholder to give Toonami time to pick up the fourth season. The new schedule reads as follows straight from Toonami's Facebook.
November 9th Lineup:
11:00p: My Hero Academia (Season 4 premiere)
11:30p – One Punch Man
12:00a – Dr. Stone
12:30a – Fire Force
1:00a – Food Wars!
1:30a – Demon Slayer
2:00a – Black Clover
2:30a – JoJo's Bizarre Adventure: Golden Wind
3:00a – Naruto: Shippuden
3:30a – Lupin the 3rd part 5
4:00a – Attack on Titan
The first two English dubbed episodes of the series have been released on FUNimation's streaming service FUNimationNow as of this announcement.
In a related schedule note, Attack on Titan will replace My Hero Academia's old timeslot rerunning at 4 a.m. It is unclear as to what episode Toonami will start with starting Nov. 9.
NEWS: #AttackonTitan takes over #MyHeroAcademia's spot at 4 AM starting on Saturday, November 9. We are reaching out to find out what episode they are starting with. pic.twitter.com/dW9l1RjGW1

— Toonami News 🥇🌬️ (@ToonamiNews) October 25, 2019
How do you feel about new episodes of My Hero Academia leading the block once again? Tell us in the comment section below!