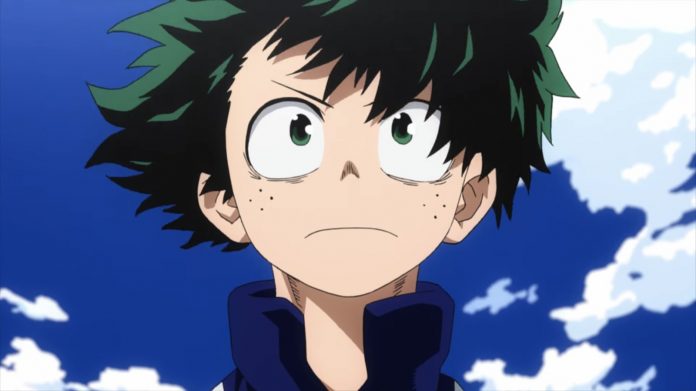 Toonami is going for a huge play as they announced that My Hero Academia will be joining the lineup May 5. This move is huge considering how immensely popular the title has become. It's impressive because before now, this series hadn't had the typical television exposure that big anime series has had (like Dragon Ball Z, Sailor Moon, Naruto, etc.) I have lauded as to how fantastic this series is and how it can become legendary in the future. The manga is a must read, and My Hero Academia continues to top the streaming charts when it comes to one of the most watched simulcasts. For what has felt like years, fans like myself have begged and pleaded for Toonami to give this show a shot considering I think it can become a massive show for a younger demographic. It can fit on any television channel geared to many people due to the subject of becoming a hero. It's something we all had some interest in when we were younger. So now Toonami has a chance to bring something truly special to television.
💥🔥#MYHEROACADEMIA IS COMING TO #TOONAMI 🔥💥

5/5, 11:30pm ET pic.twitter.com/esZnjXJHKP

— Funimation (@FUNimation) April 19, 2018
I think this will be the eye test as to a favorite show does not necessarily equate huge ratings. Media consuming is so different from what it was back when Dragon Ball Z became the iconic franchise it is. There weren't any streaming options to see what Japan had cooked up, and the only place to see anime was either Toonami (Saturday Morning blocks), or videos at Blockbuster. I talk about how this show is the best and soon to be legendary, but I understand that the market has changed. Maybe people will stay up more, and perhaps those who have watched (or are caught up in the series) will show up to watch it with those who haven't seen it. But I'm not expecting My Hero Academia to break the bank when it comes to traditional viewing numbers. I do think the DVR numbers are going to be higher for a bit because of how popular this show is. And it is popular.
Back at Anime Expo 2017, I asked Jason about My Hero Academia as it could be a big show for the block to acquire. He understood where I was coming from, and said that he (and probably the rest of his team) wanted to see if the fandom of the show would die or would it become stronger. Just like with Hunter x Hunter (which was requested a ton before it aired), the team wanted to know just how popular this show was and would fans be willing to watch after it finished it's airing in Japan. After all the first season for My Hero Academia (believe it or not) had mixed reviews due to the pace of it. At the time we weren't sure if a second season was going to happen until the final episode of season one finished airing. It took a bit for the anime to pick up the fandom especially with the Sports Festival and Stain arc. So can fans be patient with the slow burn that the first season offers? Because this is an easy target for those, who feel that Toonami does nothing right to point at how My Hero Academia is underperforming (in traditional ratings) and how the block is still doomed even after it picks up what was probably the most requested show. A silly line of thinking, but it will happen.
I am curious as to how fans will feel about the acquisition because it is another shōnen. I've heard so many times as to how some fans are tired of the genre. For me, it is the most appeal genre out of anime, but I don't mind variety and can understand the frustration. People are tired of the same tropes over and over. However, all I can say is that My Hero Academia does things in a way that breaks through those tired tropes many fans fear. I don't mind a lot of the stuff we see in shōnen anime because this show is just that good. It's easy to root for Izuku Midoriya (Deku) as well as being inspired by the world's symbol of peace All Might. You get to watch as all these heroes in training try to become the best hero they can be, and that's a story we all can relate too (because the story becomes a lot bigger than the two characters I mentioned).
What changed for Toonami now being able to get the rights to air this show. Before now, Hulu was airing the English dub and was said to have the rights for season's two and three. Jason has answered questions on Twitter and said how there were things that were preventing them from acquiring the show a while back. So what changed? Knowing the friendship that Toonami and FUNimation have, I wonder if they did Toonami a solid to have it air on the block. FUNimation still values a television audience considering not everyone has a Hulu or FUNimationNow account. Now, this is a chance for My Hero Academia to get not only an online audience but a television audience and try to grow the fandom to heights that's rarely seen. Many fans have even come to me asking if the show will ever air on television or if they should check it out. Now they have a way to see it without pirating!
But the question is, did My Hero Academia need the Toonami audience? I'd say no. It already had become a huge hit due to the push FUNimation gave it when they first acquired the rights, and with how much the streaming audience loves it. It's a testament as to how good it is. It didn't warrant a television audience especially with how media is consumed now. However, if the chance came where Toonami could air this insanely popular show, why not take it? It's famous for a reason and why is it a bad thing for Toonami to try and gain some of that notoriety as well? If a show is popular, Toonami should try to air it, otherwise what's the point? I'm not looking forward to having my favorite show under the microscope of the very harsh Toonami fans, but I'm confident as to how it will be received. But even if it doesn't bust down doors as some will hope for, My Hero Academia will be fine since it has an established audience already.
This is the best news I could ask for, due to how I've pitched this series a ton. I think it's something that fans will come to love. Its Western superheroes combined with Japan shōnen to which I feel turns into something that's the best of both worlds. The action is something that fans are going to love from memorable fights, to amazingly animated moments. Not to mention that the heroric music feels so perfect when you are watching the series. Fans will learn as to why those who are familiar with the show chant for Deku and All Might, and now the Toonami audience will see why. You will get the chance to see as to why many felt this belong on the block (from fans and industry people alike). Now all that's left is to watch the show unfold and to leave people astonished as I have been since season one debuted.
(Plus now we can all say Plus Ultra to each other).
I want this generation of kids to look up to All Might & Deku as my father's generation did with Super Man #MyHeroAcademia pic.twitter.com/yWNkqRVoOe

— Soldier 24 CJ Maffris (@SeaJayMaffris) April 14, 2017
I'm excited for My Hero Academia to air on Toonami as it was long overdue. Will it be able to capture back fans who are watching season three now? That's to be determined, but I do think the Toonami audience has been craving for a great shounen series that doesn't annoy many to air. This show is more liked than others, and I think that will play out as the show progresses on the block. I'd taper expectations on traditional viewing numbers, but I do think a lot of people will be joining to check it out (who wouldn't enjoy My Hero Academia with the Toonami packaging). It's a show that fans have been requesting IN DROVES, so it only makes sense for Toonami to pick it up. I'm surprised at this development and hope that it becomes the hit that I think it can be.
C.J Maffris is an editorial writer for Toonamifaithful.com. Feel free to follow C.J on Twitter @SeaJayMaffris