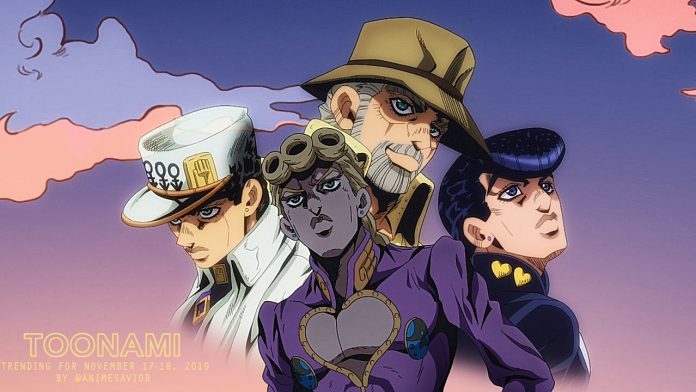 "Mr. Jotaro, in the beginning, I wasn't sure about him. I'd guess I'd be lying if I said I didn't think Giorno was insane for having such lofty aspirations. But now I feel it in my bones. He truly has a heart of gold. I'm absolutely certain of it. I watched three generations of Joestars fight for good all the way back in Morioh. It was as if their righteous hearts became their life energy, their motive to carry on. I witnessed the same fire in his eyes. I have no doubt the blood coursing through his veins holds the determination of the Joestars. And that's why it's only right I honor his wish and keep his secret and confidence. He deserves that much. I promised to protect that Golden Dream with everything I've got."
–          Koichi Hirose, JoJo's Bizarre Adventure: Golden Wind (Ep. 04)
The Toonami Trending Rundown for Nov. 16-17, 2019. It was another good night for the faithful with some big moments from the night were sprinkled throughout the entire lineup. The events of My Hero Academia's fourth season truly began as Deku asks All Might and Mirio if he can get an internship with Sir Nighteye. All Might was initially hesitant to let him do so as he feels that he isn't ready; not to mention All Might's own relationship with Sir Nighteye has soured as of late. In the end, he lets Mirio (who works for Nighteye) take Deku in for an interview. Convincing Sir Nighteye to hire him however, is an entirely different matter. Meanwhile, Kimetsu no Yaiba sees Tanjiro going on his first mission as a certified Demon Slayer, as he helps Kazumi find and stop a demon who has kidnapped and eaten his girlfriend as well as many 16-year-old girls like her. And Lupin the Third sees Ami, Lupin, and the gang launch a DDOS assault on PeopleLog and break in their headquarters in their attempt to get back Fujiko. The CEOs however, anticipated this, and uses Goemon's personal information to get him to turn on Lupin.
On Twitter, #Toonami would successfully trend in the United States except for My Hero Academia, Demon Slayer, Black Clover, and the encore run of Attack on Titan. Meanwhile, on Tumblr, #Toonami trended alongside #BNHA. The full list, including statistics and tweet counts from the Twitter app and Amr Rahmy's Fan Screening analytics app, can be seen below.
---

This week's feature was the second episode of The Forge. You can check it out below:
For the fifth installment of our 13-part series of interviews from Anime Expo 2019, CJ Maffris caught up with Marissa Lenti, an ADR Director, ADR Writer, and voice actress whom is best known among Toonami fans for voicing Cocotte in Dragon Ball Super.
Anime NYC took place this past weekend, and we received some news of interest for Toonami viewers:
During the Megalo Box panel, it was announced that a second season of the hit anime series, titled Megalo Box 2 is in production. According to Director Yo Moriyama and Producer Minako Fujiyoshi, the sequel will take place seven years after Joe's bout against Yuri. A release date for the sequel is yet to be announced, but according to Moriyama and Fujiyoshi, the production crew is aiming to have the new season premiere in Japan around late-summer 2020 – early 2021. Given the reception of the first season Megalo Box II will be a big odds-on favorite for Toonami to air down the line. As with any potential Toonami show, if you wish to see Megalo Box return to the block for its second season, we recommend sending your show requests to Toonami's Facebook page, or by directly messaging Jason DeMarco through his Ask.fm page or Twitter (@Clarknova1). We also recommend letting Viz Media know through their respective social media outlets.
Aniplex revealed their plans for their Blu-ray release of the first season of The Promised Neverland, which will include all 12 episodes, bonus content and a deluxe booklet. The boxset is scheduled to be released on Mar. 31, 2020, and is available for preorder exclusively on Rightstuf for $129.98.
Aniplex also announced their Blu-ray release for the first half of Sword Art Online: Alicization. The boxset, which is scheduled to be released on Apr. 21, 2020, will include all 24 episodes in addition to special features such as a special booklet, illustration card set, original soundtrack CD, and a Bushiroad Weiss Schwarz promotional card. For those interested, it's available to preorder exclusively on Rightstuf for $249.98.
Good news for Funko Pop collectors. On Thursday, Toonami and Funko announced that they are producing a Pop! of TOM 1. Sales for the newest addition to the highly popular toy line is scheduled for launch on Jan. 6 and is available for pre-order exclusively at GameStop. No word yet on when we will see TOMs 2-5 pops as of now, but as Jason DeMarco has said, "If enough people buy this, you will see more TOM units, so tell a friend!"
It's sooo weird to see a character you created turned into a mass market toy. Never in a million years did I ever think our little packaging block would come so far. You did this, #toonami faithful!💖

— SPIRAL CURSE DEMARCO (@Clarknova1) November 21, 2019
For those who have been waiting for a Blu-ray box set of FLCL Progressive and Alternative, @WTK has revealed the boxset for the upcoming release, which you can see below. The set containing all 12 episodes of the sequels by Production IG and Toonami is scheduled to be released on Feb. 4. Additional details including the price are still to be announced.
FLCL: Progressive & Alternative Blu-ray. February 4. pic.twitter.com/s6UKXNm37Y

— WTK (@WTK) November 22, 2019
There was breaking news today that will be of interest for Lupin the Third fans. On Dec. 14 at 3 a.m. ET, just a week after Toonami is scheduled to complete Lupin the Third Part V, the block will air the Lupin OVA Is Lupin Still Burning? As the special is 45 minutes in length with commercials, Naruto Shippuden will have the night off to make way, and the final 15 minutes of the hour will be filled with an encore run of Scavengers. This OVA was included in the limited edition of the first Japanese Blu-ray and DVD volume of Part V. TMS previously premiered the OVA stateside subbed at Anime NYC 2018. Is Lupin Still Burning? is described as this:
In "Is Lupin Still Burning?" Lupin receives an invitation from his old nemesis Mr. X to a race that's collected past rivals and even Inspector Zenigata. Despite the suspicion that he's walking into a trap, Lupin decides to participate. As Jigen and Goemon spectate, Lupin is mysteriously sent to the past, forever altering the course of Lupin and his gang's history.
Finally, for those wondering what Toonami has planned for Thanksgiving weekend, Toonami will be showcasing an encore marathon of Episodes 12-20 of Food Wars from 12 a.m. – 4 a.m. Eastern. New episodes of My Hero Academia and One-Punch Man will still air at their regularly scheduled timeslots to begin the block, as with Episode 04 of The Forge. So, for those who take the night off watching during marathon nights, make sure not to miss the 11 p.m. hour, or at least set your DVRs if needed.
Tune in tomorrow night for the third part of The Forge, among other great moments. Until next week, stay gold as always.
---
Legend: The shows listed are ordered based on their appearance on the schedule. Show trends are listed in bold. The number next to the listed trend represents the highest it trended on the list (not counting the promoted trend), judging only by the images placed in the rundown. For the Twitter tweet counts, the listed number of tweets are also sorely based on the highest number shown based on the images on the rundown.
United States Trends:
#Toonami [#3]
#TheForge [Trended with #Toonami]
#OnePunchMan [#17]
#DrStone [Trended with #Toonami]
#FireForce [Trended with #Toonami]
#FoodWars [#9]
#JoJosBizarreAdventure [#22]
#Shippuden [#16]
#LupinThe3rd [#15]
Tweet Counts:
#Toonami [7,765 tweets]
#TheForge [1,007 tweets]
#OnePunchMan [2,397 tweets]
#DrStone [3,531 tweets]
#FireForce [2,367 tweets]
#FoodWars [1,909 tweets]
#BlackClover [1,823 tweets]
#JoJosBizarreAdventure [2,557 tweets]
#goldenwind [2,051 tweets]
Tumblr Trends:
Notes and Other Statistics:
Special thanks to @myanimewaifu and others I forgot to mention for spotting some of the trends on this list.
Only Toonami on [adult swim] on Cartoon Network.
Toonami Tweets of the Night for November 16-17, 2019