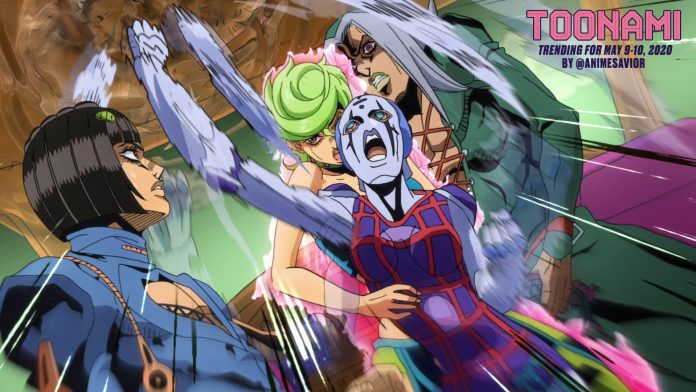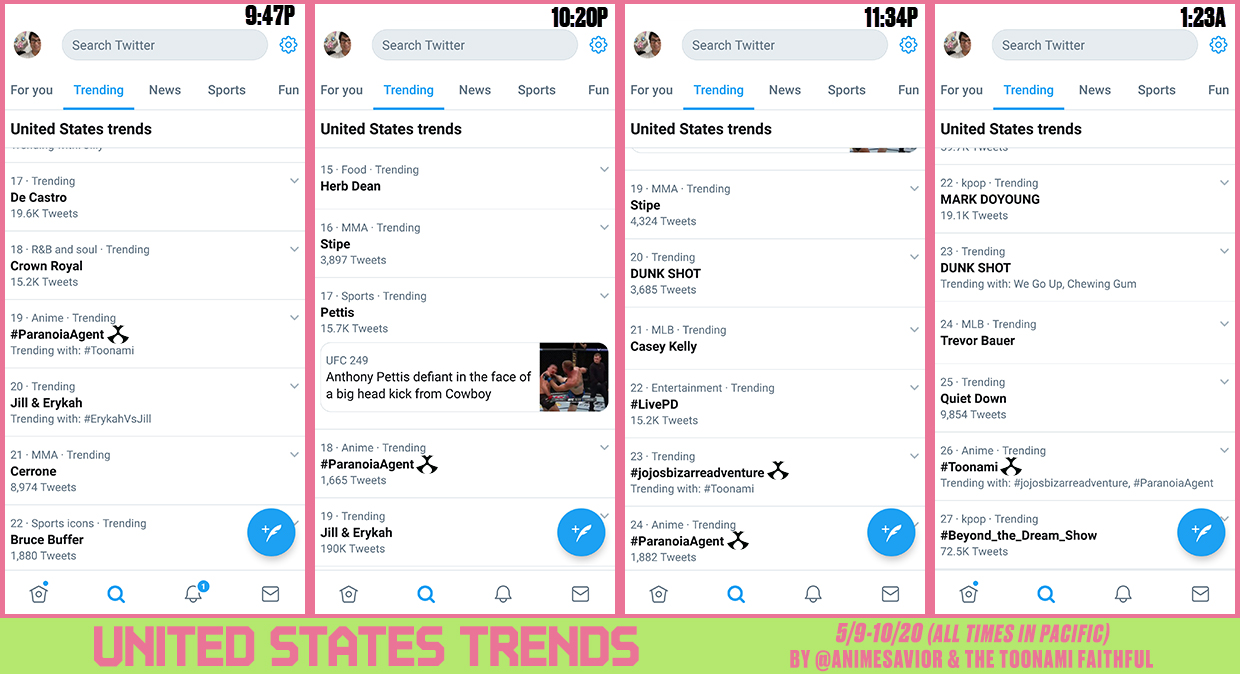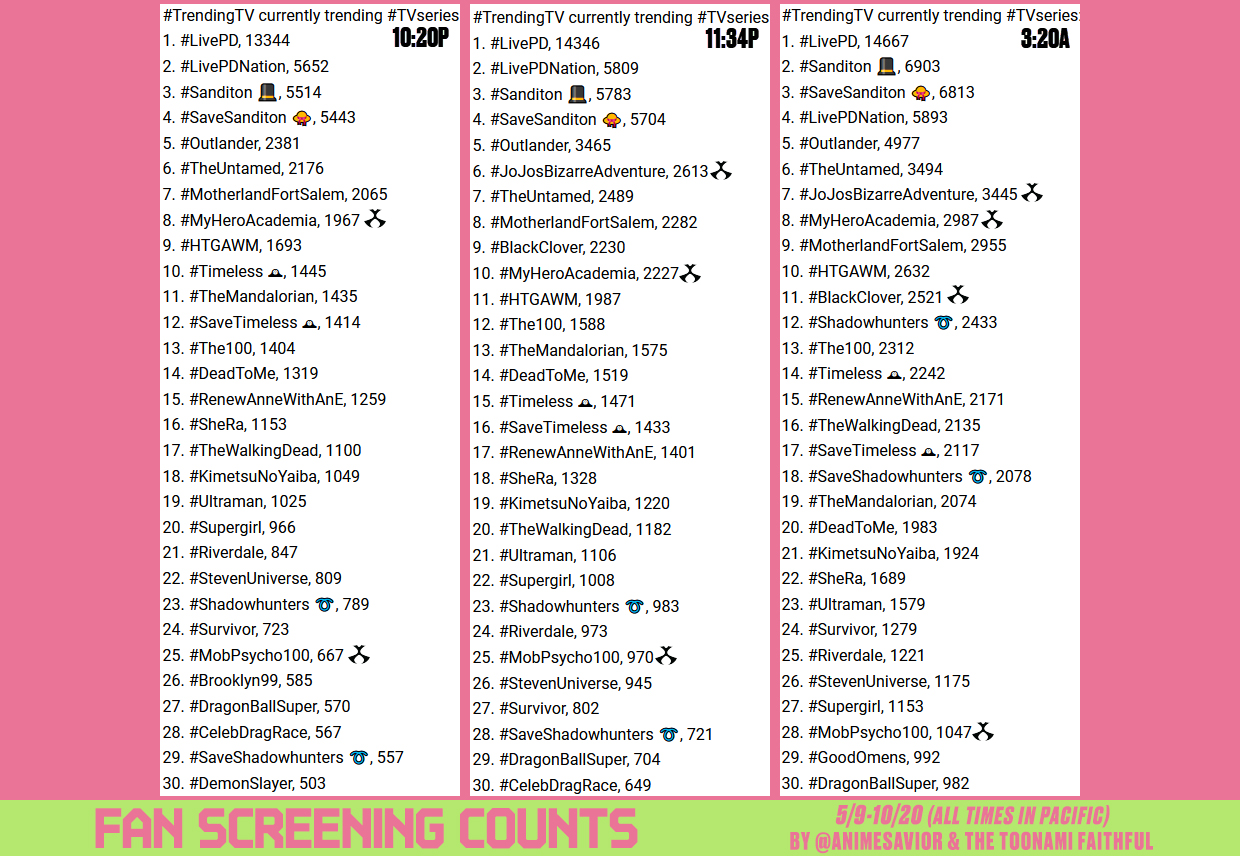 "Now, let's pull our own disappearing act and unmask this bastard boss. Whatever he's hiding, we're going to find him."
–          Trish Una, JoJo's Bizarre Adventure: Golden Wind (Ep. 25)
The Toonami Trending Rundown for May 9-10, 2020. With COVID-19 continuing to delay anime and entertainment productions, Toonami had to improvise with filling the schedule. As last week's episode of My Hero Academia reran due to delays in production, and Mob Psycho 100 returned to the lineup for an encore run of its first season.
Fans still had plenty to enjoy with among the highlights of the night, Black Clover saw Asta and Yuno stop Patry (who is possessed by the Kotodama Devil), in his tracks with the help of Nozel. With Asta wanting to retake Vangence's body back from Patry, he taps into Patry's inner consciousness and memories. Seeing memories of Patry's war against humans, Asta tries to convince Patry that he is allowing a cycle of hate to repeat itself with this war. Upon realizing this, Patry breaks free from the possession and teams up with Asta to stop Kotodama Devil. JoJo's Bizarre Adventure saw Trish, in an act of desperation, fend off the stand Notorious B.I.G, by using her stand Spice Girl for the first time. Using her newfound powers, she played a crucial role in stopping the enemy stand and rescuing the crew to escape the damaged plane. And Naruto Shippuden had the conclusion of the Power arc, as Naruto tries to stop the Ama no Hoko while attempting to control his still-incomplete Nine-Tails power.
On Twitter, #Toonami would trend in the United States alongside Paranoia Agent and JoJo's Bizarre Adventure. Meanwhile, on Tumblr, #Toonami would trend alongside JoJo's Bizarre Adventure, My Hero Academia, and Mob Psycho 100. The full list, including statistics and tweet counts from the Twitter app and Amr Rahmy's Fan Screening analytics app, can be seen below.
---

During last week's airing of Black Clover, fans noticed that the post-credits scene for episode 85 was accidentally cut from the broadcast, including a short but important scene involving Nero's character development (first reported by Toonami Squad). After being informed about the error, Adult Swim officials rectified the issue by posting the scene on Toonami's Facebook page and will air the scene prior to next week's scheduled episode of Black Clover. You can check it out below.
This week's feature was a video game review of the newest installment to the Doom franchise, Doom Eternal. It received a score of  8.5 out of 10.
Great news for InuYasha fans this past week, as it has been announced that the hit franchise by Rumiko Takahashi has a sequel series in production, titled Yashahime: Princess Half-Demon. Similar to what we've seen with Boruto, YashaHime will follow the journey of Towa and Setsuna, Sesshomaru's daughters, and Moroha, Inuyasha's daughter. Yashahime is scheduled to premiere in Japan in October. Viz Media, the North American distributor of the InuYasha franchise, has announced that they have licensed the new series for distribution stateside.
As with any series that could potentially air on Toonami, if you do wish to see the InuYasha franchise return for this new installment, let Toonami know on their Facebook page, Viz Media on their respective social media outlets, and you can ask Jason DeMarco directly on his Twitter and Ask.fm.
Announcement: Yashahime: Princess Half-Demon – a brand new anime set in the Inuyasha universe!

Learn more:

— VIZ (@VIZMedia) May 9, 2020
And on Wednesday, Junji Ito spoke with Crunchyroll to give us an update on the production of the upcoming adaptation of Uzumaki. The world premiere is scheduled to air on Toonami later this year and will be simulcast on Crunchyroll. You can check it out below.
Tune in next week as My Hero Academia showcases the finale of the U.A. School Festival Arc, while Naruto continues its canon storyline with The Seven Shinobi Swordsmen arc, among other great moments. Until next week, stay gold, and make sure you do your part to stop the spread of COVID-19 and to protect others by following your local health advisories. Practice social distancing by staying home unless you have to, and wash your hands thoroughly for at least 20 seconds.
---
Legend: The shows listed are ordered based on their appearance on the schedule. Show trends are listed in bold. The number next to the listed trend represents the highest it trended on the list (not counting the promoted trend), judging only by the images placed in the rundown. For the Twitter tweet counts, the listed number of tweets are also sorely based on the highest number shown based on the images on the rundown.
United States Trends:
#Toonami [#26]
#ParanoiaAgent [#19]
#JoJosBizarreAdventure [#23]
Tweet Counts:
#ParanoiaAgent [1,882 tweets]
Fan Screening Counts:
#MyHeroAcademia [#8 with 2,987 tweets]
#MobPsycho100 [#25 with 1,047 tweets]
#JoJosBizarreAdventure [#6 with 3,445 tweets]
Tumblr Trends:
#Toonami
#My Hero Academia
#Mob Psycho 100
#JoJo's Bizarre Adventure
Hurts So Good. Only Toonami on [adult swim] on Cartoon Network.
Did you enjoy this week's Toonami? Let us know by commenting below or directly on our social media. And be sure to follow us on @ToonamiNews and subscribe to our podcast on Soundcloud for future content and breaking news updates. This week, Paul Pescrillo and Sketch had a chat with Alex von David, ADR Director for Sword Art Online, regarding their thoughts of Project Alicization so far. Check it out in the player below. Also, C.J Maffris and VLordGTZ at the Demon Slayer Podcast talk with Bryce Papenbrook regarding voicing Inouske.