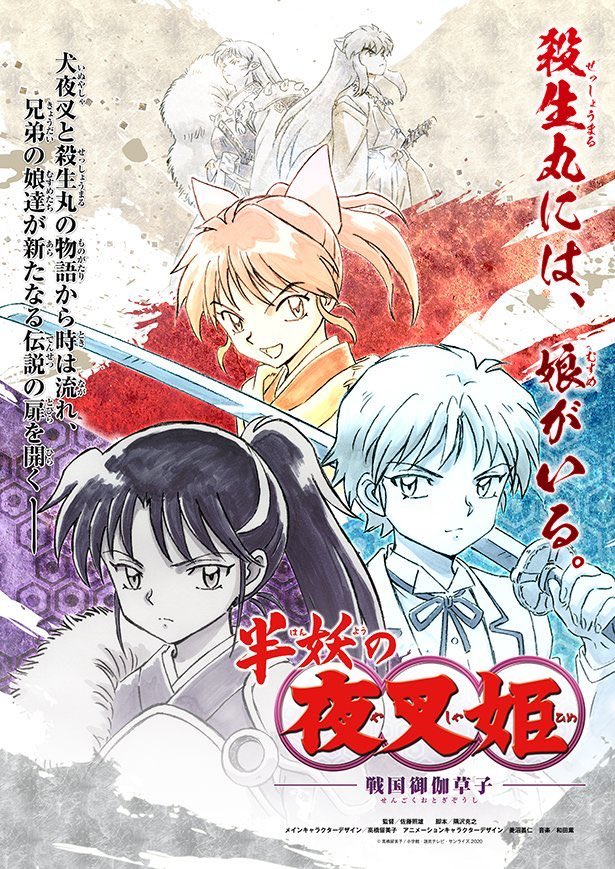 A ton of news has been made public after a sequel Inuyasha series was announced. Little was known about what to expect, but more and more information has come out, leaving Toonami Faithful up to the task to bring fans the latest news about the beloved Adult Swim series.
For those who might have missed the initial announcement, Toonami Faithful reported earlier that a sequel series is in the works which were first made aware by both Weekly Shougakukan Edition and @RanobeSugoi. All the information in the previous article will be embedded below. For a synopsis of what fans could expect was that this property was to follow the daughters of both Inuyasha and Sesshomaru after the events of the first series and Inuyasha: The Final Act. Rumiko Takahashi would be the lead character designer, and Kaoru Wada would be involved with the music. Fans were also given the full Japanese title as well (Hanyo no Yashahime: Sengoku Otogi Soshi).
Then at 11 p.m. EST, VIZ Media announced that they received the license for the new Inuyasha property, giving many fans hope that an English dub is all but certain to happen. VIZ Media also provided the English title of the project (Yashahime: Princess Half-Demon), giving fans a little more information to add to their excitement. VIZ Media also sent out a press release, giving fans a synopsis of the new series, which can be found below.
In Yashahime: Princess Half-Demon, the daughters of Sesshomaru and Inuyasha set out on a journey transcending time. Set in feudal Japan, half-demon twins Towa and Setsuna are separated from each other during a forest fire. While desperately searching for her younger sister, Towa wanders into a mysterious tunnel that sends her into present-day Japan, where she is found and raised by Kagome Higurashi's brother, Sota, and his family.
Ten years later, the tunnel that connects the two eras has reopened, allowing Towa to be reunited with Setsuna, who is now a demon slayer working for Kohaku. But to Towa's shock, Setsuna appears to have lost all memories of her older sister. Joined by Moroha, the daughter of Inuyasha and Kagome, the three young women travel between the two eras on an adventure to regain their missing past.
Later that same night, the official Twitter account was made public and gave fans more reasons to be excited. We now know that this project will be an anime series, and it will debut in Japan this fall. That's right! In 2020, a new Inuyasha series will happen. The same account announced the main staff on their page, as well as giving character bios for who viewers will see in the future (which can be seen below).
For more updates, I'd highly recommend following their Twitter page to stay up to date on this series.
Now, inevitably a lot of Toonami fans are going to be asking when the English dub will be a thing. I urge fans to be patient as this project was just announced today. Typically, VIZ Media provides English dubs for their anime titles, and this new series should be no exception. As for when or if it'll air on Toonami, all fans can do it wait. If you do want it on Toonami, make sure to request it on Toonami's social media page, or Jason DeMarco's ask.fm page. Still, the excitement is palpable, as many cannot wait to see how everything in Inuyasha has changed since The Final Act ended.
Are you excited about the recent explosion of news about the sequel Inuyasha series? Would you want the series on Toonami? Tell us how you feel in the comments below or on our social media pages!
Don't forget to check out the Toonami Faithful Podcast!