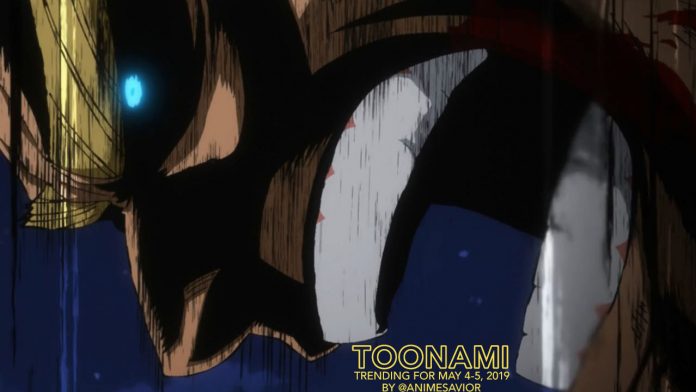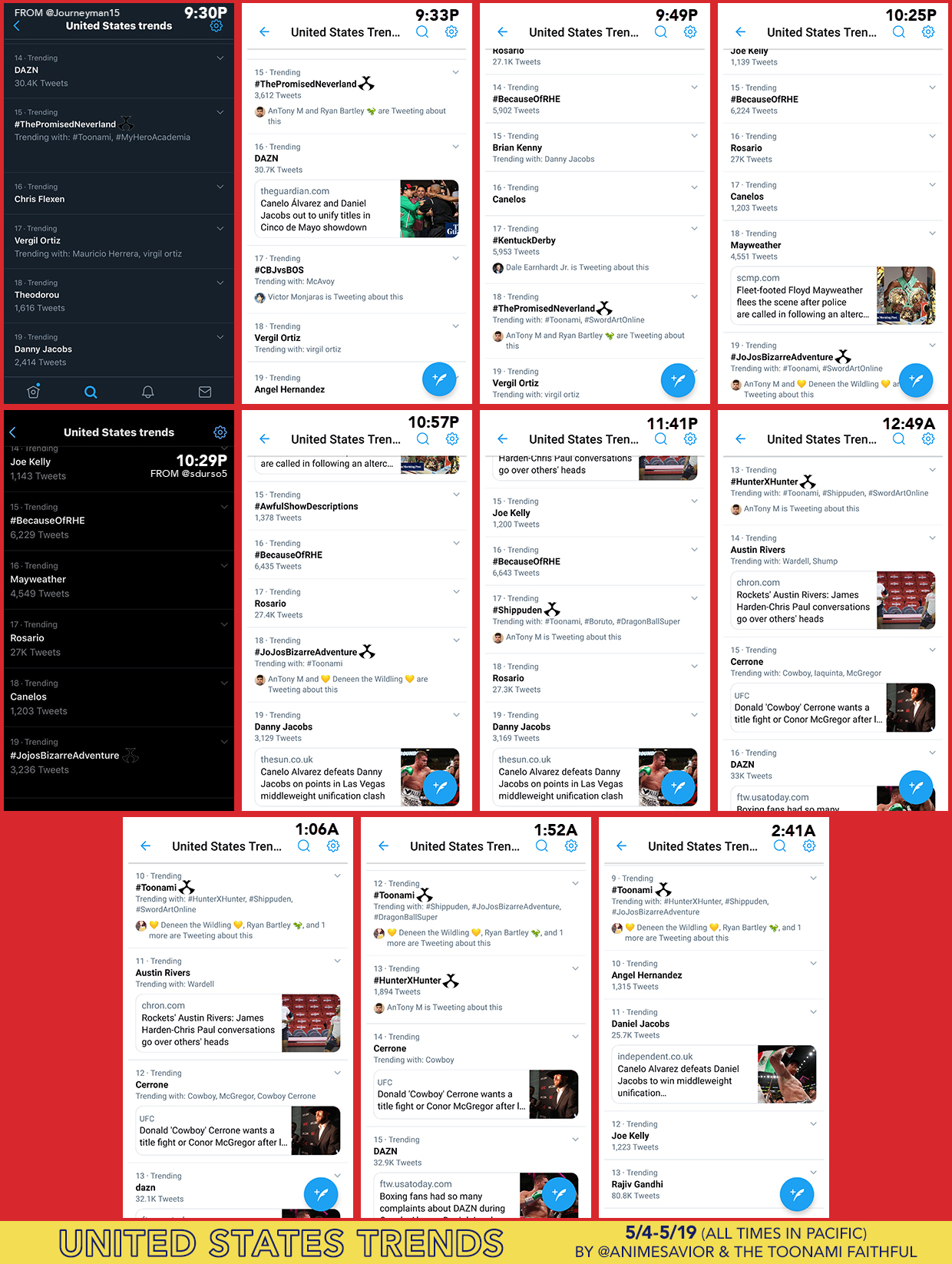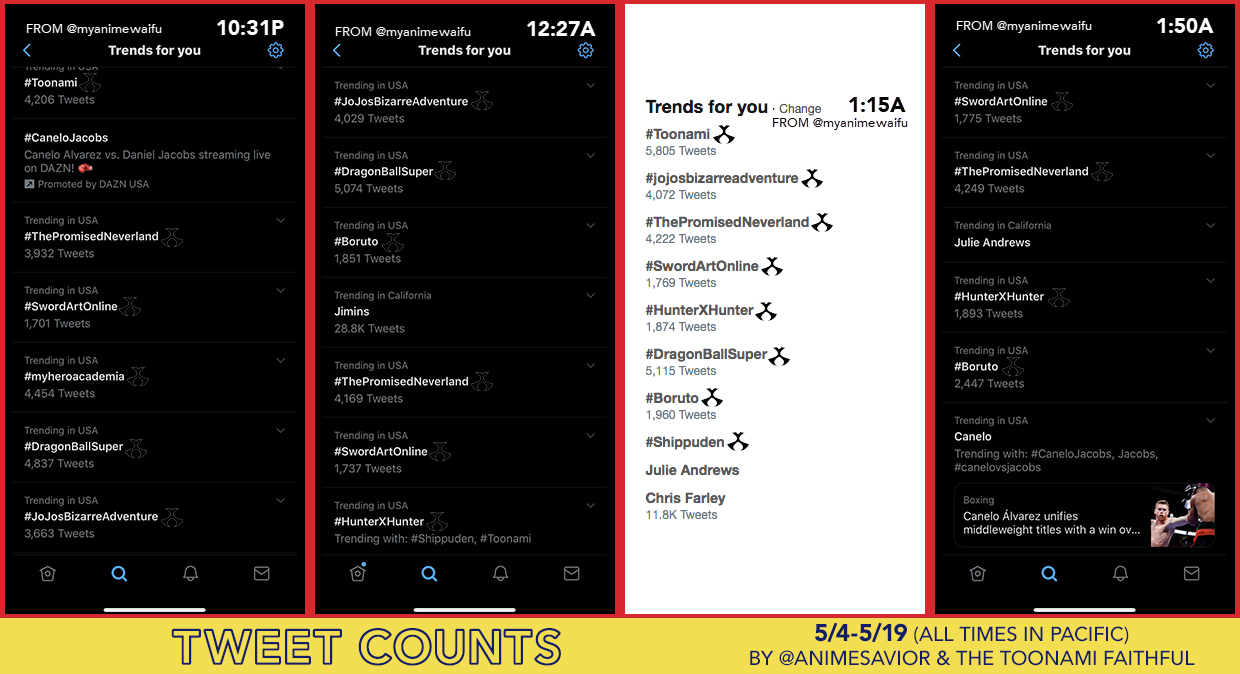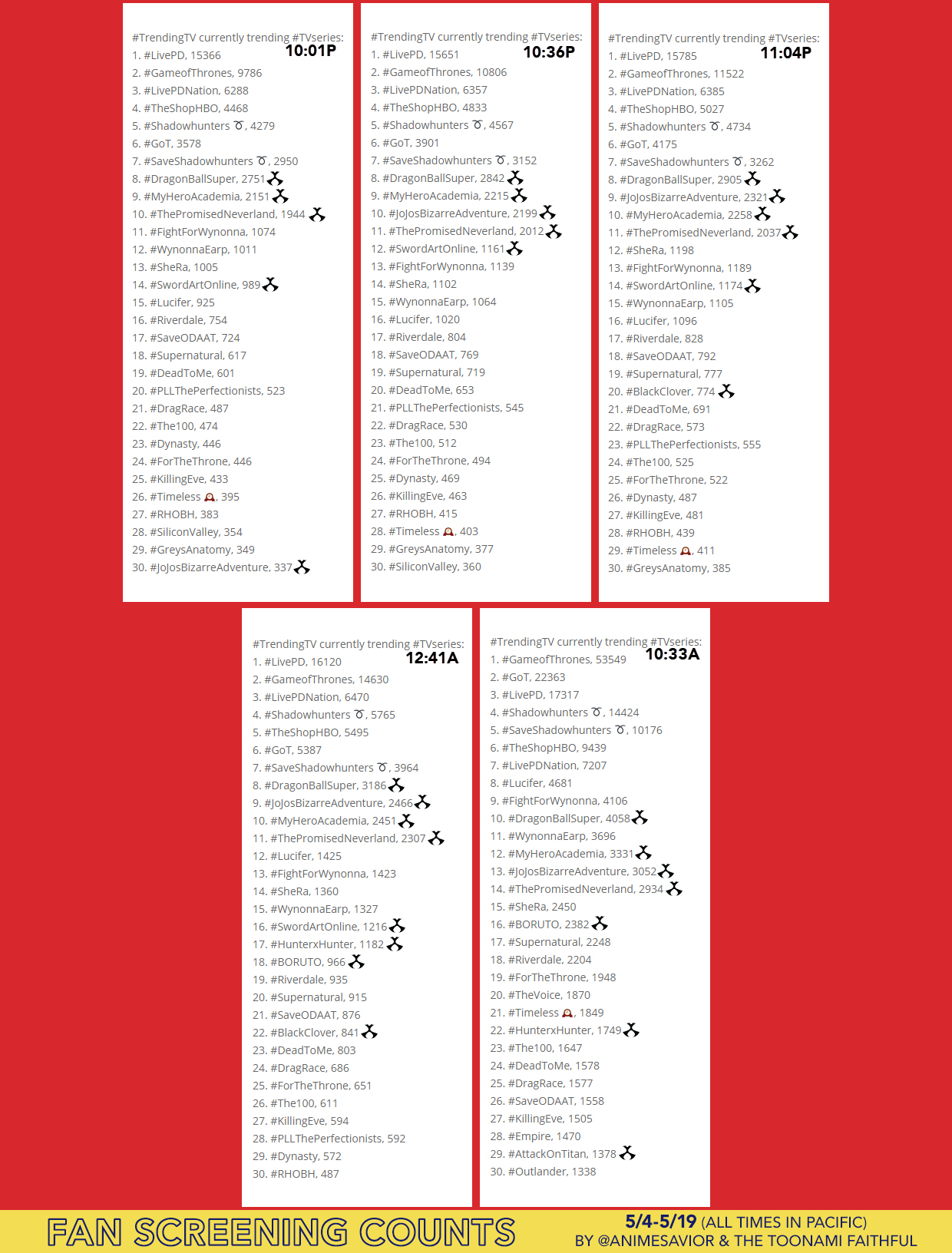 "You shut up [All for One]. Always toying with people, probing their weaknesses. You still break them, manipulate and discard them. You scoff at innocent people who are just trying to live happy lives. This cannot continue. I won't let it!"
–          All Might, My Hero Academia (Ep. 48)
The Toonami Trending Rundown for May 4-5, 2019. It's a big night for epic moments and cliffhangers, as All Might battles All for One in his (and Deku and co.'s) attempt to get Bakugo back, whiel Emma, Norman, and Ray investigate a potential spy helping mom among the kids, and Goku begins his epic fight against Jiren, among other great moments.
On Twitter, Toonami would trend along with The Promised Neverland, JoJo's, Shippuden, and Hunter x Hunter. Dragon Ball Super, My Hero Academia, Sword Art Online, and Boruto also trended alongside these shows, but not outright. Meanwhile on tumblr, Toonami would trend alongside TPN and Shingeki no Kyojin. The full list including statistics and tweet counts from the twitter app and Amr Rahmy's Fan Screening analytics app can be seen below.
---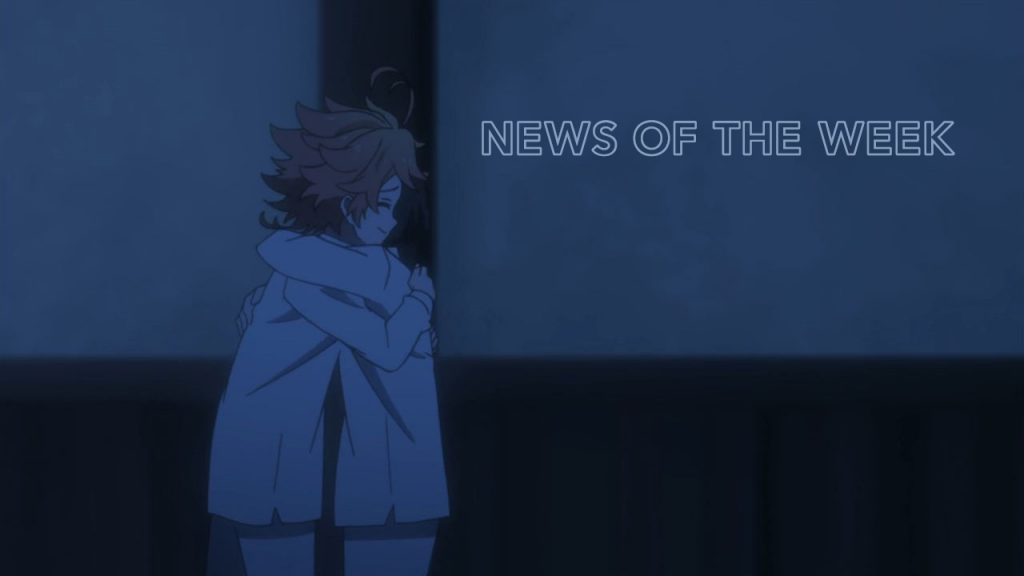 This week, Toonami showcased a new music video titled "Mariah" by Lilbootycall. You can check it out below.
Viz Media unveiled their home release plans for the 4th set of the JoJo's Bizarre Adventure, which will include the first part of Diamond is Unbreakable. Alongside the standard edition which retails for $29.99, there will be a limited-edition Blu-ray retailing for $59.99 which will include various extras. The Blu-ray/DVD set will be out this July. On a related note, for those who have been wanting to check out the manga, Shonen Jump has made the first 3 arcs available in their Shonen Jump Digital Vault app.
Viz also unveiled that the Blu-ray and DVDs of MegaloBox are presently up for preorder, with a release date set for June 25. The set can be preordered at Rightstuf, with the DVD retailing for $35.99, the Blu-ray retailing for $40.48, and a limited edition set retailing for $69.96.
An Adult Swim classic over a decade ago, Code Geass is making a comeback with the newest installment to the franchise in the film Lelouch of the Re;surrection. For those interested, Funimation will be showcasing the film in select theaters dubbed on May 7th and 8th.
---
Tune in next week as Goku unveils a new Super Saiyan form in his attempt to stop Jiren, among other moments. We wish everyone celebrating a Happy Ramadan and we'll see you again next week for another round of the better cartoon show. Later.
---
Legend: The shows listed are ordered based on their appearance on the schedule. Show trends are listed in bold. The number next to the listed trend represents the highest it trended on the list (not counting the promoted trend), judging only by the images placed in the rundown. For the Twitter tweet counts, the listed number of tweets are also sorely based on the highest number shown based on the images on the rundown.
United States Trends:
#Toonami [#9]
#DragonBallSuper [Trended with #Toonami and #Shippuden]
#MyHeroAcademia [Trended with #ThePromisedNeverland]
#ThePromisedNeverland [#15]
#SwordArtOnline [Trended with #Toonami, #ThePromisedNeverland, #JoJosBizarreAdventure, and #HunterXHunter]
#JoJosBizarreAdventure [#18]
#Boruto [Trended with #Shippuden]
#Shippuden [#17]
#HunterXHunter [#13]
Tweet Counts:
#Toonami [5,805 tweets]
#DragonBallSuper [5,155 tweets]
#MyHeroAcademia [4,454 tweets]
#ThePromisedNeverland [4,245 tweets]
#SwordArtOnline [1,775 tweets]
#JoJosBizarreAdventure [4,072 tweets]
#Boruto [2,447 tweets]
#HunterXHunter [1,893 tweets]
Fan Screening Counts:
#DragonBallSuper [#8 with 4058 tweets]
#MyHeroAcademia [#9 with 3331 tweets]
#ThePromisedNeverland [#10 with 2934 tweets]
#SwordArtOnline [#12 with 1216 tweets]
#JoJosBizarreAdventure [#9 with 3052 tweets]
#BlackClover [#20 with 841 tweets]
#Boruto [#16 with 2382 tweets]
#HunterXHunter [#17 with 1749 tweets]
#AttackOnTitan [#29 with 1378 tweets]
Tumblr Trends:
#Toonami
#The Promised Neverland
#Shingeki no Kyojin
Notes and Other Statistics:
Special thanks to @Journeyman15, @myanimewaifu, @sdurso5, and others I forgot to mention for spotting some of the trends on this list.
Only Toonami on [adult swim] on Cartoon Network.
Toonami Tweets of the Night for May 4-5, 2019