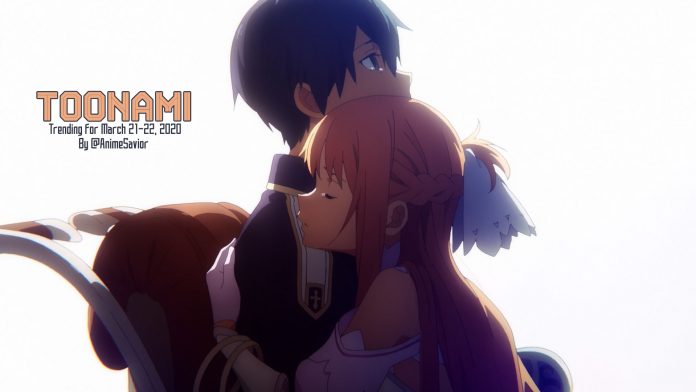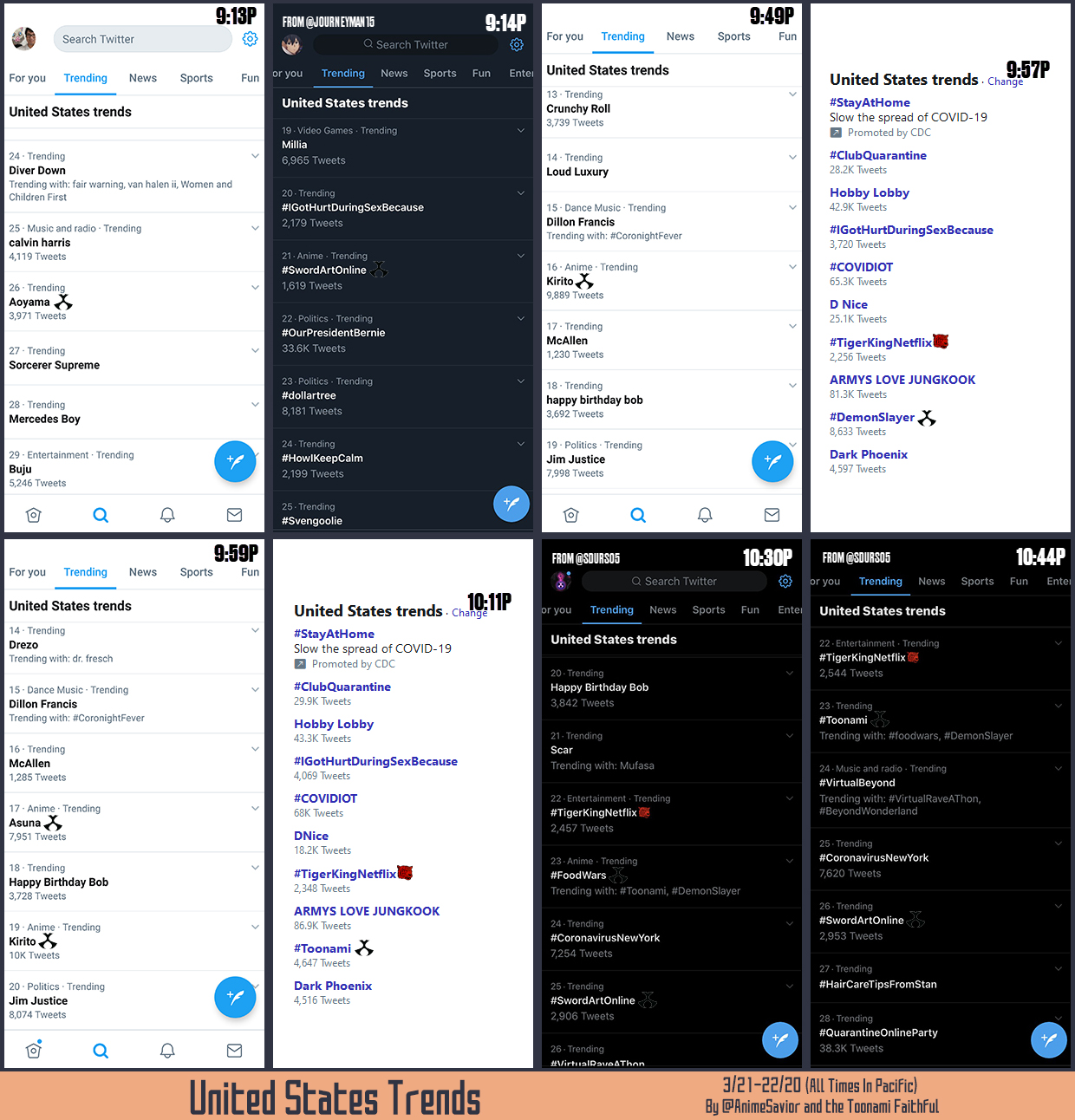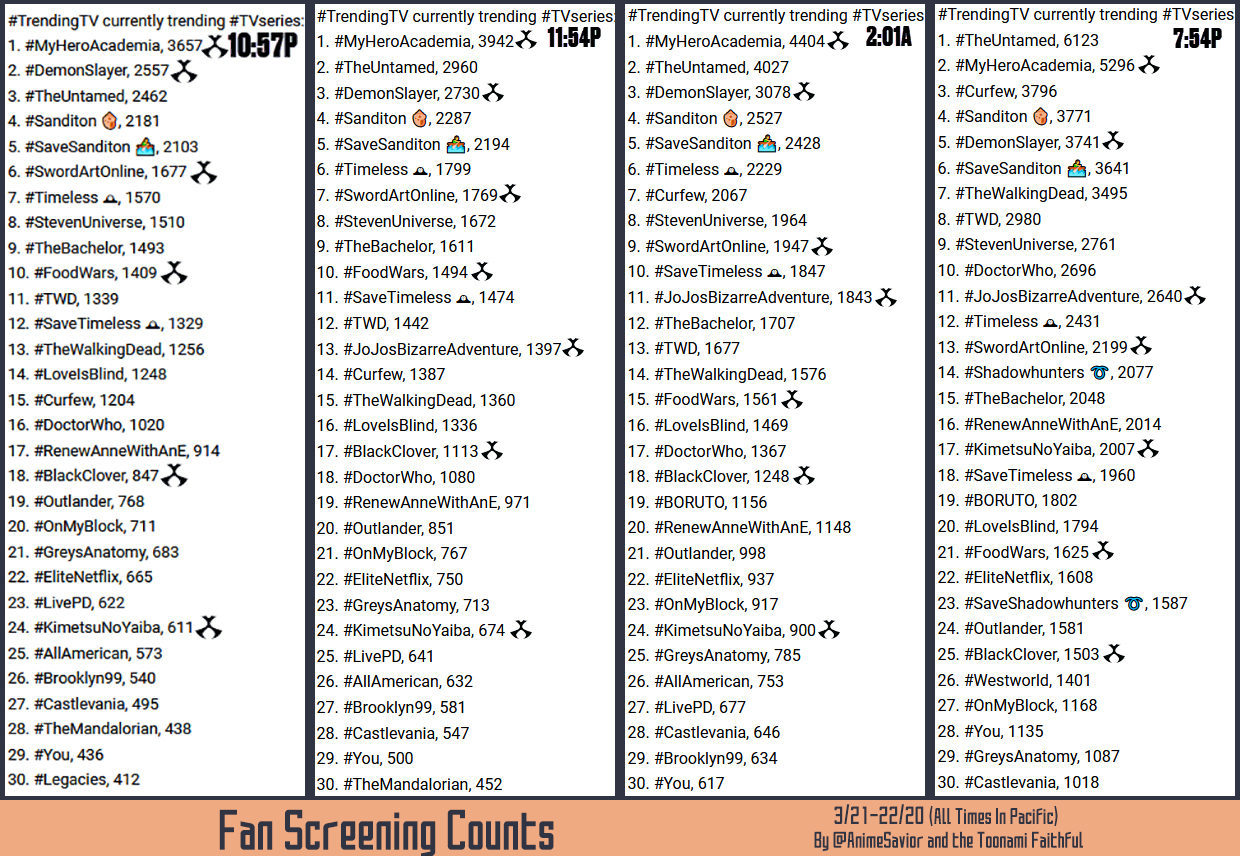 "It's alright, Kirito. I'm here now."
–          Asuna Yuuki, Sword Art Online: Alicization (Ep. 34)
The Toonami Trending Rundown for Mar. 21-22, 2020. After two long in-game years (or just a couple days due to the accelerated fluctlight mechanic), Sword Art Online saw Asuna enter the Underworld and reunite with Kirito for the first time since Johnny Black stabbed him.
Among the notable moments of the night, Kirito breaks down in tears from Asuna's embrace; reacting for the first time since being rendered comatose. Asuna later informs the knights of her intentions to help Kirito get back up from his coma while taking Alice to safety from Gabriel. Alice, however, is not too pleased as she wishes to help the humans fight the Dark Territory to the end. And that's not even getting into her displeasure of Asuna getting close to Kirito, despite being his fiance. And despite learning that Alice, Sortilena, and Ronye each formed a pretty close relationship with Kirito while she was away, Asuna took it in stride as she and the other girls help take care of Kirito. Demon Slayer saw Rui and his family fall with the help of Giyu coming in as backup while Tanjiro and Nezuko were injured during the battle. However, Shinobu and Kanao, who also came as backup, were not too keen that they were letting Nezuko run free, and tried to take her down. That was until the Demon Slayer corps told them to stop. And Food Wars had the finale of the Fall Selection as the judges struggled to choose a winner between Soma, Akira, and Ryou with their top-class saury fish dishes. They ultimately chose Akira as their winner on the grounds of "whether or not the dish served the essence of the chef,"in the words of Senzaemon Nakiri.
On Twitter, #Toonami would trend alongside Sword Art Online, Demon Slayer, and Food Wars. There were also character trends for Aoyama in My Hero Academia, as well as both Kirito and Asuna in Sword Art Online. Meanwhile, on Tumblr, Toonami would trend alongside #BNHA. The full list, including statistics and tweet counts from the Twitter app and Amr Rahmy's Fan Screening analytics app, can be seen below.
---
This week's feature was a new "Criminal Threats"/"Building You a Better Cartoon Show" promo. You can check it out below.
Bleach fans enjoyed some big news over the weekend, as it was officially announced during a Shonen Jump live stream that for the franchise's 20th anniversary, the anime will finally have its final story arc adapted. Bleach creator Tite Kubo is also creating a spinoff series titled Burn the Witch. It was originally created as a one-shot manga in 2018, and the story follows two witches named Noel Niihashi and Nini Spangle, who work in the Western Branch of Soul Society in London. Their story will be realized as a full-blown manga series in Weekly Shonen Jump starting in Summer 2020, as well as an anime film animated by Studio Colorido planned to be released in the fall.
Viz Media has yet to release any word regarding the distribution of the final season of Bleach stateside. In terms of Toonami potentially renewing the dub premiere rights, Jason DeMarco said: "Who knows if we will be able to, but I'd sure like to." As with any potential Toonami show, if you wish to see Bleach return, feel free to send your show requests to Toonami's Facebook page, or by directly messaging Jason DeMarco through his Ask.fm page or Twitter (@Clarknova1). We also recommend letting Viz Media know through their respective social media outlets.
Last week, Funimation warned fans to expect delays in their SimulDub productions as everyone adapts to working from home due to the COVID-19 epidemic. On Wednesday, during a Q&A on his Twitter, Jason DeMarco let fans know to expect some contingencies for alternative programming in the near future. This would include Toonami airing classics, marathons, and reruns, as new and returning acquisitions that were planned for the near future (as well as some current shows) could potentially be seeing delays. The first of such will be a DBZ Kai marathon on April 11, which will be on Easter Weekend and a week after Sword Art Online Alicization completes its third cour. How long this will last and to what extent we'll be seeing is still to be determined, but Jason has told fans that they are still working on the block from their homes, and they will try to keep the block as fresh as they can. On the bright side, Jason has mentioned that the productions of both Uzumaki and Blade Runner: Black Lotus are still going well despite these recent events. The premiere dates for both series are yet to be announced.
GKids Films announced today that they had received the North American distribution rights to the CGI Lupin the Third film: The First. The film premiered in Japan on Dec. 6, 2019, and is planned to be released in U.S. theaters both dubbed and subbed sometime this year.
Get ready for our next heist. 💎

GKIDS is proud to announce the acquisition of the North American rights to LUPIN THE 3RD: THE FIRST. #LupinIII #MonkeyPunch #ルパン三世 #TakashiYamazaki pic.twitter.com/7101WIrkCl

— GKIDS Films (@GKIDSfilms) March 26, 2020
A few anime video games were announced this week, as Shueisha and Oasis Games released a Bleach free to play mobile game titled Immortal Soul. You can check it out on the Apple App Store or the Google Play store. Aniplex and CyberConnect2 also announced that they are developing a new Demon Slayer video game, titled Hinokami Keppuutan. The game is scheduled for release exclusively for the PlayStation 4 in Japan in 2021, with a release in the west still to be determined.
Speaking of Sword Art Online, there are only two episodes left of the third cour of Project Alicization, and eyes will soon be shifting towards the upcoming fourth and final cour scheduled to premiere in Japan and on streaming services beginning on April 25. Aniplex this week released a new preview trailer for the upcoming fourth cour, which you can see below. Spoiler warning for those who are following the show via the Toonami broadcasts.
At @SAO_Wikia, we have translated the PV for #SwordArtOnline #Alicization #WarOfUnderworld Part 2, featuring the Opening by ReoNa "ANIMA"!#sao_anime #SwordArtOnlineAlicization pic.twitter.com/gbOUI7X6Mq

— Gamerturk #StayHome (@gamerturk95) March 22, 2020
Not much else to say other than a reminder to make sure you do your part to stop the spread of COVID-19 and to protect others by following your local health advisories. Practice social distancing by staying home unless you have to, and wash your hands thoroughly for at least 20 seconds regularly. We'll see you again next week as always.
---
Legend: The shows listed are ordered based on their appearance on the schedule. Show trends are listed in bold. The number next to the listed trend represents the highest it trended on the list (not counting the promoted trend), judging only by the images placed in the rundown. For the Twitter tweet counts, the listed number of tweets are also sorely based on the highest number shown based on the images on the rundown.
United States Trends:
#Toonami [#8]
Aoyama (From My Hero Academia) [#26]
#SwordArtOnline [#21]
Asuna (From Sword Art Online) [#17]
Kirito (From Sword Art Online) [#16]
#DemonSlayer [#8]
#FoodWars [#23]
Tweet Counts:
#Toonami [4,647 tweets]
Aoyama (From My Hero Academia) [3,971 tweets]
#SwordArtOnline [2,953 tweets]
Asuna (From Sword Art Online) [7,951 tweets]
Kirito (From Sword Art Online) [10k tweets]
#DemonSlayer [8,633 tweets]
Fan Screening Counts:
#MyHeroAcademia [#1 with 3,741 tweets]
#SwordArtOnline [#6 with 2,199 tweets]
#DemonSlayer [#2 with 5,296 tweets]
#KimetsuNoYaiba [#17 with 2,007 tweets]
#FoodWars [#10 with 1,625 tweets]
#BlackClover [#17 with 1,503 tweets]
#JoJosBizarreAdventure [#11 with 2,640 tweets]
Tumblr Trends:
Notes and Other Statistics:
Special thanks to @Journeyman15, @sdurso5, and others I forgot to mention for spotting some of the trends on this list.
Only Toonami on [adult swim] on Cartoon Network.