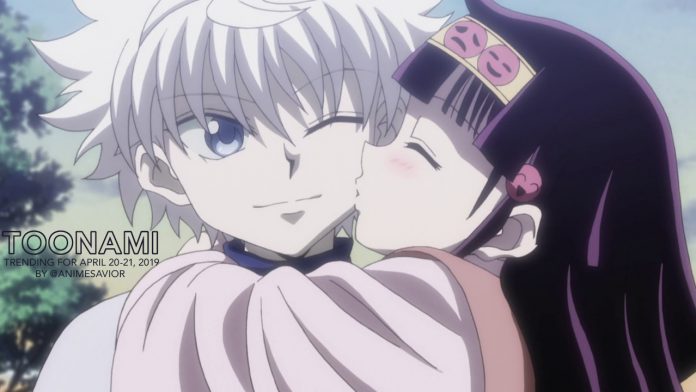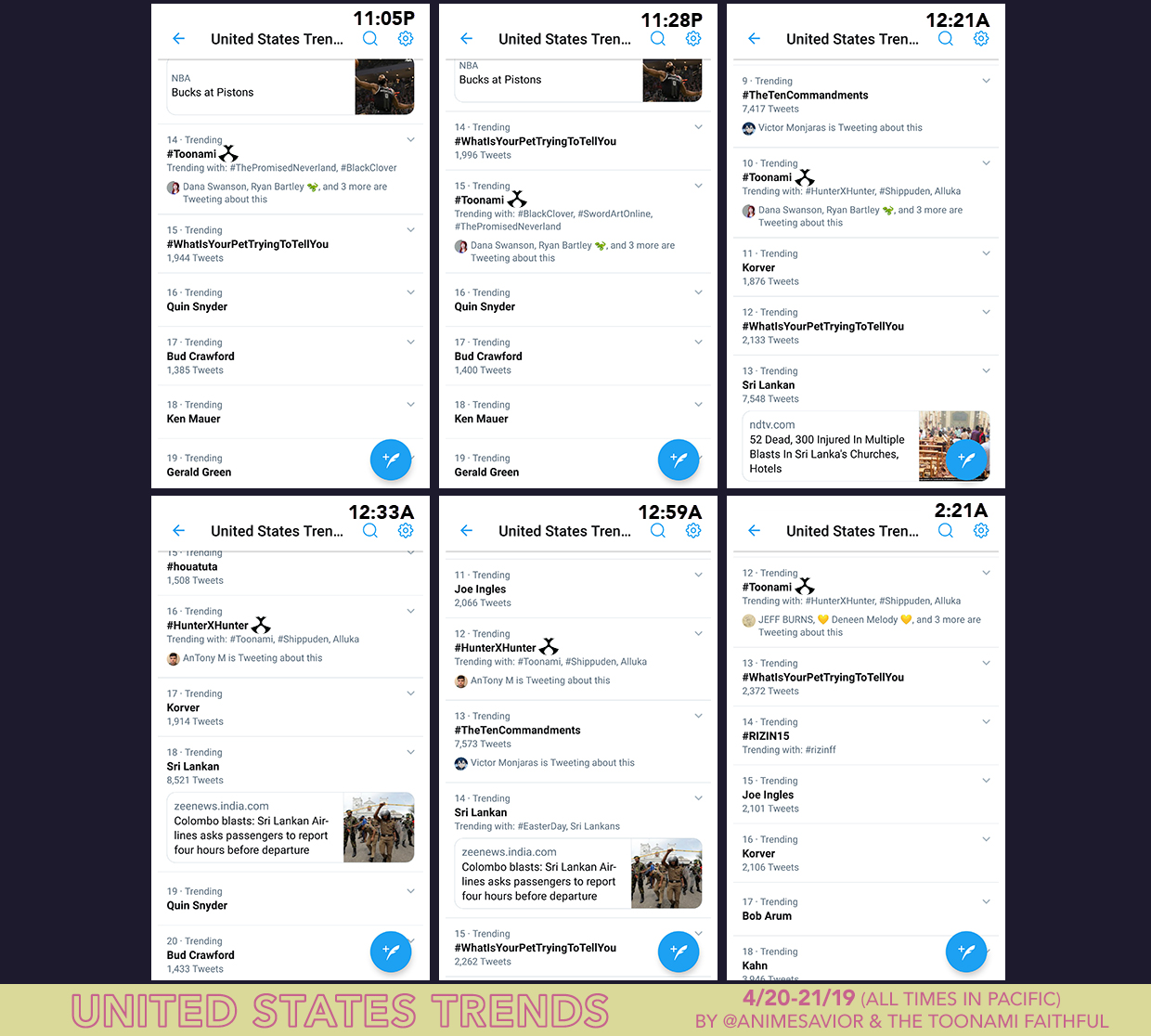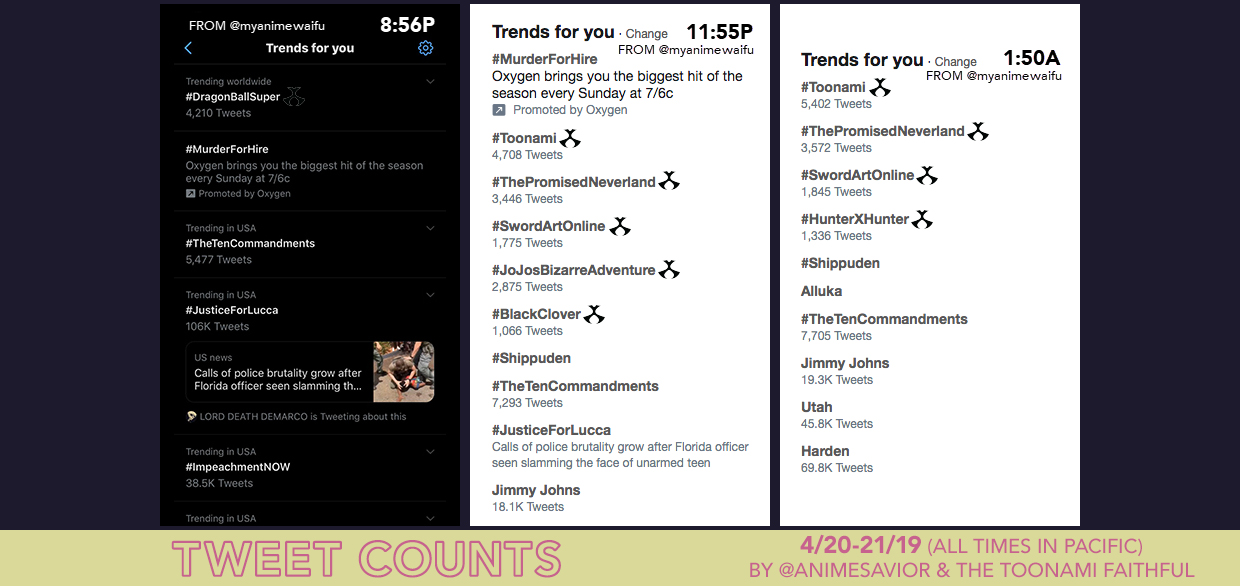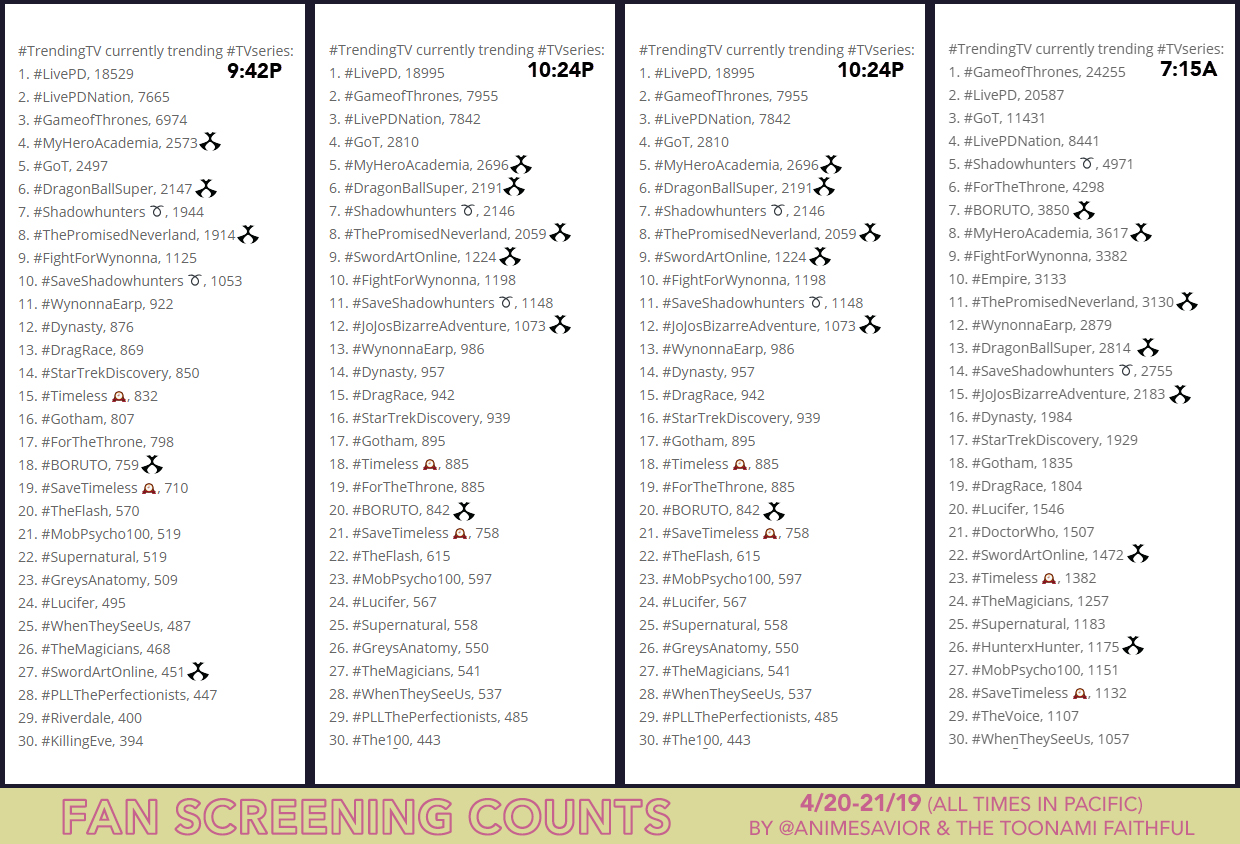 "I'll save Gon…and Alluka too."
–          Killua, Hunter x Hunter (Ep. 139)
The Toonami Trending Rundown for April 20-21, 2019. It was a night of blazing as Emma and Norman begin to figure out how to escape from Grace Field House, while the remnants of the "Blood Mist Village" try to pick a fight with Boruto's class, and Killua asks Alluka's assistance in trying to save Gon from his injuries.
On Twitter, #Toonami and #HunterXHunter would trend in the US, while The Promised Neverland, Sword Art Online, Black Clover, and #Shippuden also trended alongside these shows, but not outright. Hunter x Hunter also produced a character trend in Alluka, as we learn the consequences of using her powers and why she has been locked away, but Killua decides that it is worth the risk.
On Tumblr, Toonami would trend alongside #BNHA, The Promised Neverland, and #JJBA. The full list including statistics and tweet counts from the twitter app and Amr Rahmy's Fan Screening analytics app can be seen below.
---
Before we get to the big news of the week, here are some of the notable news of note for Toonami fans…
On Tuesday, Sean Schemmel and Chris Sabat had a rematch of the Super Saiyan Showdown. While Sean came more prepared this time around, Chris remained on top as he kept the belt with a 2-1 victory.
After many years of being in licensing hell, Discotek is planning a Blu-ray release of all 51 episodes of Cyborg 009: The Cyborg Soldier, the first time this classic has had a full release in the English-speaking world. The set is scheduled for release on June 25 retailing for $69.95 (or $45.47 on RightStuf).
In yet another example that you can't win em all, while it has been announced that Mob Psycho 100 season 2 will indeed have a dub, it is looking like Toonami will not be among those premiering the dub of the new season as it has been announced that the dub will be exclusive to Funimation and Crunchyroll for now. We're not sure what happened here, though theories have ranged from whether it was because someone at Funimation or Crunchyroll had veto power, or if Crunchyroll's previous contract with Funimation prevents Toonami joining in as well despite the present growing relationships between Toonami and Crunchyroll, or Toonami were "caught with their pants down" when Mob was offered, and they couldn't accept it at the time. Since Toonami didn't get to premiere Mob previously as with Season 1 and had trouble getting the show until last October, it's pretty safe to guess they don't have some kind of right of first refusal for the sequels, unlike what we have seen with the likes of Attack on Titan, JoJo's, One Punch Man, and SAO. Regardless of the reason, much like the situations with Blue Exorcist and Tokyo Ghoul among others, it looks like we're going to have to wait for Mob and his crew to rejoin the better cartoon show. Hopefully it won't be for long this time around.
While we press F to pay respects to Mob, Lupin fans meanwhile got themselves a big W this week…
---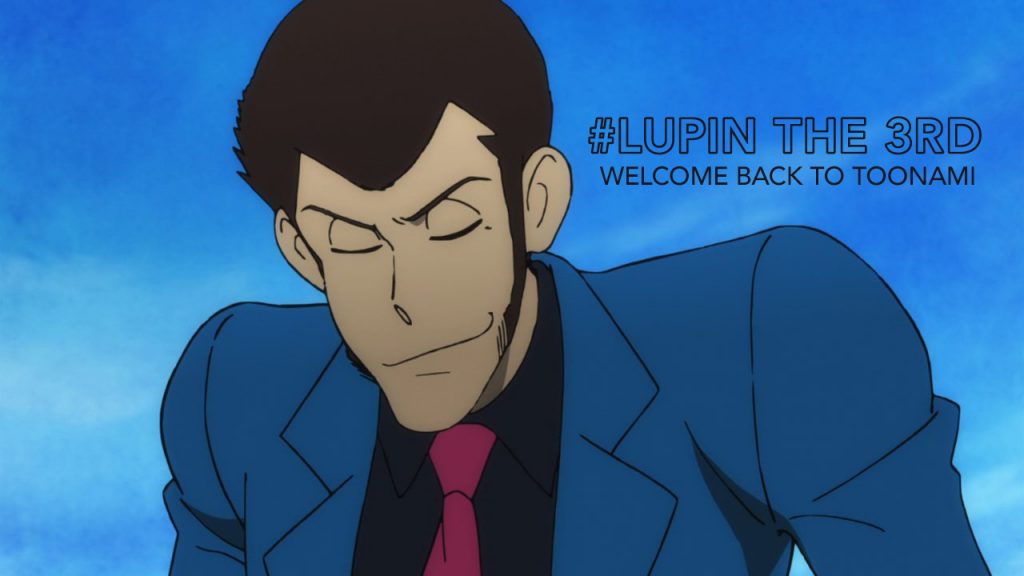 We've been waiting for this announcement since the new season was announced last year, and the legacy of Monkey Punch will continue to live on as Toonami and TMS have announced that Lupin the Third will be returning for Part V beginning on June 15. Its position on the schedule is to be determined, though it should be noted that JoJo's Bizarre Adventure is scheduled to complete the Diamond is Unbreakable arc a week before and Hunter x Hunter will be completing its run the week after.
This season, Lupin and the gang will be headed off to France, as Lupin, Jigen, Goemon, and Fujiko continue to do what they do best and dodge Zenigata along the way. They will also be joined this season by Ami Enan, who's voice actor is to be announced. As with previous seasons and films released recently by Discotek, the original cast will reprise their roles.
Not much else to say other than we'll see you again next week for another round of the better cartoon show. Later.
---
Legend: The shows listed are ordered based on their appearance on the schedule. Show trends are listed in bold. The number next to the listed trend represents the highest it trended on the list (not counting the promoted trend), judging only by the images placed in the rundown. For the Twitter tweet counts, the listed number of tweets are also sorely based on the highest number shown based on the images on the rundown.
United States Trends:
#Toonami [#10]
#ThePromisedNeverland [Trended with #Toonami]
#SwordArtOnline [Trended with #Toonami]
#BlackClover [Trended with #Toonami]
#Shippuden [Trended with #Toonami and #HunterXHunter]
#HunterXHunter [#12]
Alluka (From Hunter x Hunter) [Trended with #Toonami and #HunterXHunter]
Tweet Counts:
#Toonami [5,402 tweets]
#DragonBallSuper [4,210 tweets]
#ThePromisedNeverland [3,572 tweets]
#SwordArtOnline [1,845 tweets]
#JoJosBizarreAdventure [2,875 tweets]
#BlackClover [1,066 tweets]
#HunterXHunter [1,336 tweets]
Fan Screening Counts:
#DragonBallSuper [#6 with 2814 tweets]
#MyHeroAcademia [#4 with 3617 tweets]
#ThePromisedNeverland [#8 with 3130 tweets]
#SwordArtOnline [#9 with 1472 tweets]
#JoJosBizarreAdventure [#9 with 2183 tweets]
#BlackClover [#24 with 659 tweets]
#Boruto [#7 with 3850 tweets]
#HunterXHunter [#26 with 1175 tweets]
Tumblr Trends:
#Toonami
#BNHA
#The Promised Neverland
#JJBA
Notes and Other Statistics:
Special thanks to @myanimewaifu and others I forgot to mention for spotting some of the trends on this list.
Only Toonami on [adult swim] on Cartoon Network.
Toonami Tweets of the Night for April 20-21, 2019