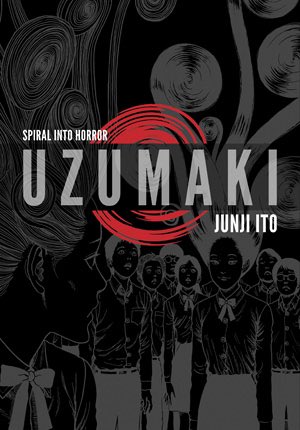 Just announced today at Crunchyroll Expo, acclaimed horror manga artist Junji Ito will be partnering up with Production IG and Toonami to create a four-episode anime adaptation of his hit work, Uzumaki. The mini-series will see its world premiere on Toonami in 2020.
Uzumaki, which is Japanese for "Spiral"; will be based on a three volume supernatural horror manga of the same name created by Junji Ito in 1998. The manga is licensed for publication in North America by Viz Media. Despite the name, Uzumaki has nothing to do with Naruto Uzumaki or the Naruto franchise.
Uzumaki is the third original production announced for Toonami in the modern era, after FLCL Progressive and Alternative and Blade Runner: Black Lotus. Uzumaki will be the third (or fourth, if Blade Runner is released sooner) world premiere by Toonami since its 2012 revival, after Space Dandy, and the FLCL sequels.
Anime News Network describes Uzumaki as this:
"Kirei lives in a town that lately has odd occurrences, and each one somehow is connected to a spiral. Soon the spiral occurrences spread to infect even the bodies of people, which suddenly turns the everyday events in her life into chaos and horror."
Junji Ito is partnering up with @MakiTerashima with Production I.G and @Clarknova1 of AdultSwim/Toonami, to bring you Uzumaki, a brand new mini-horror series! pic.twitter.com/isrVW2Tc6S

— Toonami Squad @ CRX2019 (@ToonamiSquad) August 30, 2019
The Uzumaki anime will premiere in US on Toonami/Adult Swim – before Japan! "We went to the temple to get blessings, so we wouldnt get cursed for showing this (even on a late night slot) on a kids' cartoon network" pic.twitter.com/xbgeDn2q9C

— Deb Aoki (@debaoki) August 30, 2019
Following the announcement, Jason DeMarco released this statement in a series of tweets.
"That's right! Premiering in 2020, the next #toonami original series will be UZUMAKI- a 4 episode adaptation of Junji Ito's horror classic, dir. by Hiroshi Nagahama (Mushishi) and scored by Colin Stetson (Hereditary). I'm beyond thrilled to be working with one of my favorite mangaka of all time, Ito-sensei. His support has been instrumental in getting this made and it's been a joy to work with him! And yes, before you ask: the whole series will be in black and white. 😎 Also: Nagahama is a MASSIVE Ito fanboy, so rest assured he is doing his absolute most to do the story justice. We are very lucky to have such a talented director who is willing to let this be exactly what it needs to."
What are your impressions of Uzumaki? Let us know by commenting blow or directly on our social media.