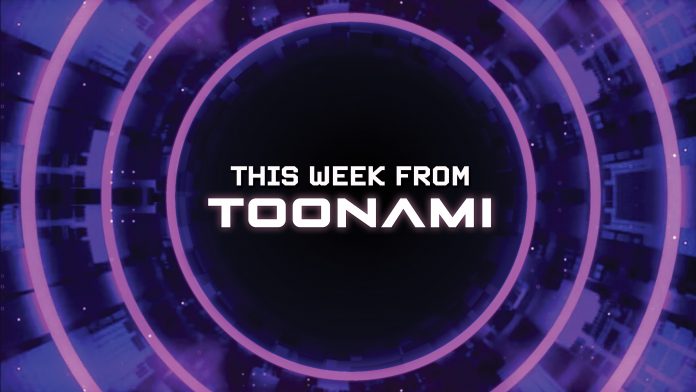 Toonami surprised everyone this week with not one but two announcements involving the future of the block. The fans got to say welcome back to One Piece, while others anticipate the beginning of a new original (Shenmue the Animation) that now has a premiere date. However, it wasn't all great news, as a series many expected to see on Toonami won't be happening (at least not any time soon for now). Curious about all the happenings this week? Well, you came to the right spot to find out everything that happened this week about Toonami!

In one of the most shocking developments we've seen from Toonami, the series One Piece was announced to join the block once again starting Jan. 22. After a nearly five-year-long vacation away from Adult Swim, Luffy and the Star Hat Pirates can call Adult Swim home for the third time. Things to note of this recent return, Toonami will air two episodes of the series per Saturday (thank you), broadcast two episodes per Saturday, and have it air at 1:30 a.m. (before Naruto Shippuden). It's still hard to believe that the series rejoined, but Jason DeMarco answered some questions from the co-founder of Toonami Faithful, Paul Pescrillo, about the sudden turnaround for One Piece. Toei Animation wanted it back on television, which immensely helped, and with the television landscape drastically different now, new factors possibly came into play. Regardless, it's a welcomed sight to see one of the most recognizable anime return to the best place for action cartoons!
On the same day that One Piece was announced to join the block, a new full-length trailer for Shenmue the Animation dropped on Adult Swim's YouTube page. We hear more of the English cast, which was announced alongside when the trailer debuted (headlined by Austin Tindle as Ryo Hazuki). The series will be joining Toonami on Feb. 5 at 12:30 a.m., right as the final episode of Blade Runner: Black Lotus airs. Many wonder if it'll move to midnight when Blade Runner: Black Lotus ends or if a more popular series (Attack on Titan is speculated the most) will take that slot over when the English dub is ready. Still, the trailer looks fantastic, and fans should be excited to re-explore or learn for the first time the world of Shenmue as it quickly approaches its premiere!
Crunchyroll's Anime Awards voting period is almost over! And, you still have some time to vote for your favorite series, best girl, and everything under the sun. However, a category that caught our attention was the best performance on the English side, where Brittany Cox was nominated for her rendition of Fena from Fena: Pirate Princess. While the last couple of episodes has been met with mixed reviews, no one has had issues with the cast's performance, headlined by Cox, who did a fantastic job as Fena. Hopefully, Toonami fans show up in full force to give her the boost she needs to win the fan vote at the Anime Awards!
In a bit of sad news for Toonami fans, those who were speculating that the English dub of the second season of Demon Slayer would air on Toonami had to put that dream to bed (for now). FUNimation announced that the acclaimed second season would premiere new dubbed episodes on their streaming service FUNimationNow. DeMarco has hinted before that acquiring this series has been more complex, and it has led to some rather dangerous speculation about the relationship between Adult Swim and FUNimation. Let me ease the tension a bit, as I can still see the two sides working together. After all, Assassination Classroom is a FUNimation series that recently joined the block. That also counts One Piece, even if you'd want to give more credit to Toei Animation for making it happen (which ultimately could be true). The second season of Demon Slayer could see the same release schedule Yashahime: Princess Half-Demon had where Toonami had to wait until the English dub finished its original run online. So the series could still find a way on the block, or it might suffer the same fate as the second season of Mob Psycho 100. We don't know since we are on the outside looking in. And reporting about a possible fracture should be viewed with a grain of salt compared to absolute fact. When it comes to topics like this, it's best to look at Jason DeMarco's Twitter before jumping to conclusions. This development isn't the best news, but let's not go overboard with reactions.
VIZ Media launched their official Shonen Jump store where fans can get all kinds of merch of their favorite titles from the publication. After causing a bit of a stir to some speculating on an NFT announcement, the company showcased the type of products you can get from the store. Specifically, the One Piece and Bleach items feature black-and-white artwork from the manga that can be seen in the article linked here! Prices range to $20, $40, and $90, depending on what item you're interested in buying. If you're a fan of Weekly Shonen Jump titles, this is a great place to start to look for some new swag to showcase your fandom!
As many of our readers know, a few of our staff members enjoy playing mobile games (looking at you, CJ). And this week, news was released about KLab acquiring the rights to distribute a new JoJo's Bizarre Adventure mobile game. Information about the game was first announced in August 2020, as the Shanghai-based Shengqu Games plans to release it worldwide. Not much else is known about this game, but we will keep you updated on any developments as they become available!
Are you a fan of giant robots? What about models of giant robots? Well, if you love Big O, you're in luck as a new Moderoid of Big O was announced this week. In the tweet below, you can see the details on this latest toy and how many fans of the series might want to preorder it when they get the chance.

The latest Toonami Faithful Podcast was dropped, and this week, CJ Maffris returns to hosting duties. He's joined by Andrew "Sketch" Hingson, Happy Kuro Kitty, and Celia Rose as they gush about Netflix's hit series Arcane. The gang discusses how this series has gained critical acclaim worldwide and what Toonami might learn to try and emulate similar success with their originals. Typically, we don't spend much time on a Netflix series. But, due to Jason DeMarco's commentary about how inspirational and fantastic the series is, we felt it necessary to talk about it at length. Arcane is an incredible series, and hearing our experts talk about Riot Games' relationship with the studio Fortiche and how well they present their products in videos and their esports is a must-listen for any adult animation fan.
In the last episode of Blade Runner: Black Lotus, viewers were given a glimpse into Joseph's past. We are shown to Joseph's previous job as a Blade Runner, as he is asked to murder a replicant singer at this bar he's frequenting. Sadly it would appear that Joseph has fallen in love with the replicant, and Marlowe shows up to force Joseph's hand. He ends up killing her, giving fans the reason as to why Joseph isn't a Blade Runner anymore and why he is helping Elle. To piggyback from that, thanks to Joseph's assistance, Elle can paint a picture of her missing boyfriend (pixel by pixel) and reveals to everyone that Wallace Jr. is the mysterious man she was with poolside. Staff writer, Umeko Long, gives fans an in-depth look at how impressed she is about the level of trauma both Elle and Joseph fight through and is excited about what will happen next. It's a review you'll need to check out to stay in the know for Blade Runner: Black Lotus.
A new podcast episode was released from our sister podcast, the Demon Slayer Podcast! Host Varun "VLordGTZ" Gupta talks about episodes six and seven of the Entertainment District arc. Joined by Bryan "Laser Kid" Johnson, Meowth900, and JMac, the group feels these episodes are the strongest of the new season so far and cannot stop raving about it. The series has been picking up where it left out as fanfare continues to grow over the latest season, so you'll want to hear what the experts had to say on this latest episode!

Did you enjoy this week's Toonami? Let us know by commenting below or directly on our social media. You can follow us on Twitter, Instagram, and Facebook. You can listen to the Toonami Faithful Podcast on Soundcloud, iTunes, Spotify, etc. for interviews, discussions, and breaking news updates. Listen at the link below or on your podcast platform of choice:
C.J Maffris is the Editor-in-Chief at Toonamifaithful.com. He also produced and directed the Toonami documentary, What Toonami Means To Me. Feel free to follow CJ on Twitter @SeaJayMaffris