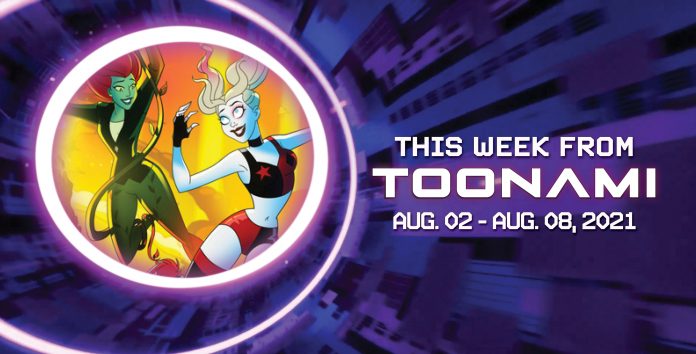 Can you smell the sea salt yet? Feel the wind in your face? This week we eagerly await the premiere of Fena: Pirate Princess, especially after the special first look presented at the Crunchyroll Expo. Toonami fans were also treated to a marathon to celebrate the release of the new Suicide Squad film on HBO Max! Plus, news about upcoming installments of JoJo's Bizarre Adventure, Yashahime: Princess Half-Demon, and more. Read on to find out what happened this week with Toonami!

There was a mishap at the end of the Harley Quinn marathon during Toonami this week when the fourth episode accidentally replayed instead of the season finale. It is a bit reminiscent of a few times before, a prime example being Sword Art Online. We are unsure why that happened or what led to the mistake, and for those hoping for another chance to see Toonami air the finale, Jason DeMarco took to Twitter to say it is doubtful for that to happen. The reality is that mistakes happen. Fortunately, the season finale and the rest of the Harley Quinn animated series are available on HBO Max.
This week Crunchyroll Expo streamed online Aug. 5 – 7. Two panels caught our attention were about the upcoming originals Fena: Pirate Princess and Blade Runner: Black Lotus. Fans who attended the virtual panel for Fena: Pirate Princess got a sneak peek at the first five minutes of the first episode (subtitled). On Aug. 14, the first two episodes will air on Toonami as fans are hitting critical mass for the debut! Thankfully, social media manager Steven Oz watched the entire panel and has all the highlights you might have missed if you couldn't check it out!
It's like a fantasy manga and something both boys and girls can read with "Love romance" in it.
While the story is fictitious, the world has real locations as they they wanted to portray the fantasy world's accuracy, and even visited real-world locations for inspiration and research.
Fena was born in Shangri-La
They chose Fena to be a woman because shojo anime is so beautiful.
Production I.G. asked more female designers to give input on Fena's design.
The most challenging part is that this is an original anime. So there's no background/manga to reference, making the creation of story and strategy challenging.
There is action and adventure, but this is basically a love story.
Director Kazuto Nakazawa had fun making this show and it really shows. Nakazawa creates "hardcore" characters but they were astonished by the level shojo love.
The production is a different storyboard-to-animatic process. They would show what was happening and let the voice actor go wild, prioritizing matching the voice to the animation.
Composer Yuki Kajiura (Sword Art Online, .hack//Sign, Demon Slayer) composed a score based on the seeing part of anime in her free time.
There is no CG or Special Effects, only traditional cel animation. (Note: This is HUGE, by the way. It's rare to not incorporate CG into animation production these days.)
COVID-19 prevented them from being a team but they still got the job done. There were a lot of difficulties that stopped them for safety purposes. They would love to travel to the U.S. to see the fans of this anime at some point.
More Blade Runner: Black Lotus goodies were promoted this week at Crunchyroll Expo as well! Fans were treated to a new key visual and the opening for the series, which features Alessia Cara! She wrote the song "Feel Me Now," and it has been stuck in our heads since the trailer dropped. The opening video itself looks fantastic and continues to provide excitement about the project as fans wait till this fall for the premiere.
There's good news and bad news. The good news is that a JoJo's Bizzare Adventure (JoJo) stream took place last night and announced the debut date of the acclaimed sixth arc of the franchise, Stone Ocean. The trailer looked beautiful and has Jojo fans talking. It's an arc that many at Toonami Faithful were excited to see adapted. However, the property will be debuting on Netflix, which we assume will keep it away from airing on Toonami for the time being. DeMarco even shared a similar sentiment on Twitter. Fans should know that doesn't mean there's no chance, but knowing the types of practices Netflix has when it comes to their anime, this announcement feels like the end of an era for JoJo and Toonami. It was a fantastic run–five seasons worth–and, we cannot thank Adult Swim enough for airing one of the most beloved titles in anime today.
Fans of Food Wars! knows how there have been a few OVA's that didn't air on Toonami. What made that troubling was that some of them included essential details to the franchise's overall story and could have anime-only viewers feel a bit confused. What made it harder was that there was no legal way to see these OVA's, that is until now! Crunchyroll announced that they will be streaming the Food Wars! Shokugeki no Soma: Takumi's Downtown Competition OVA and Food Wars! The Third Plate: Erina at Polar Star Dormitory OVA (those are a mouthful)! Crunchyroll also mentioned that they will add the other three Food Wars! OVA's in the future, so be on the lookout for those when it happens.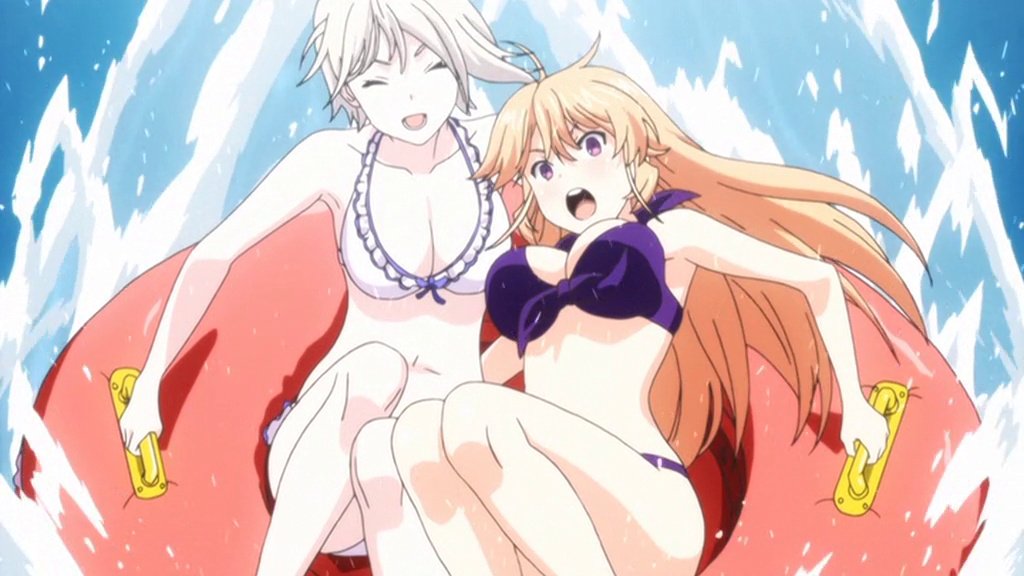 The next installment is set for Yashahime: Princess Half-Demon as fans saw a new key visual and trailer for The Second Act! The official website also announced a new character named Rion, who is revealed to be antagonist Kirinmaru's daughter. The idol group NEWS will perform the opening theme, and Little Glee Monster will sing the ending theme. For those ahead of the Toonami viewing, we can report that FUNimationNow, Crunchyroll, and Hulu will be streaming the second season when it debuts on Oct. 2. (If you haven't watched the first season, please avoid the trailer below as it contains spoilers).
The newest My Hero Academia film, World Heroes' Mission, premiered in Japanese cinemas this weekend and earned 310 million yen (approx. $2.8 million) on its opening day. Those marks are higher than the second movie, according to an article from Anime News Network. It will be interesting to see how the film performs if it has a theater release in the US, especially the previous My Hero Academia film had successful US screenings in 2019, and Demon Slayer: Mugen Train has since set an a high bar for earnings.
As previously reported, Hideaki Anno's Rebuild of Evangelion films are coming to Amazon Prime Video on Aug. 13, including the final film Evangelion: 3.0+1.0 – Thrice Upon a Time. Because the first three films were previously licensed and dubbed by Funimation and the TV series received a new dub with an all-new cast on Netflix, fans speculated over what the dub for Thrice Upon a Time would sound like when available. According to a post from EvaMonkey, Amazon's English dub cast has already been revealed in Japan, and select other countries who already have the films on Prime Video. Spike Spencer, Tiffany Grant, Allison Keith-Shipp, and John Swasey will reprise their respective roles as Shinji, Asuka, Misato, and Gendou from the 1997 ADV and Funimation English dubs. Amanda Winn-Lee also returns to voice Rei Ayanami once again. The remaining roles have been recast with new actors, including fan-favorite Kaworu Nagisa, who will now have a sixth actor since the Evangelion anime first came to the U.S.
With in-person conventions happening again (like Otakon, for example), Anime NYC announced that they will have to wear a mask and bring proof that they were vaccinated for anyone to participate in the festivities. And this is not limited to the general public either; guests, staff, artists, everyone will have to follow these guidelines. Since Toonami Faithful has been to Anime NYC before, we wanted to keep those updated, especially considering how much people miss going to conventions.
Surprisingly, some interesting stories came out of the Tokyo 2020 Olympic Games involving some of the shows that have aired on Toonami. There have been multiple Sailor Moon references, an animated video involving Katie Ledecky, and a hilarious moment where the BBC accidentally called a Gundam a Transformer. Additionally, there were many One Piece references made by gold medal recipients that got the attention of the One Piece staff. It's a pleasant reminder of how much the anime community has grown and changed from a niche community that was not always accepted by others, to a global phenomenon proudly on display at the Olympic Games. It's a sight to behold and one that will be remembered forever.
It has been said many times before on episodes of the Toonami Faithful Podcast, bless Discotek! At long last, the dub of Samurai Troopers (aka Ronin Warriors) will be available for purchase! It has been something we've been waiting for, and finally, an older series that was aired on the block is getting the home media release it so rightly deserves. Through Jose Argumedo's Twitter account, fans could see the long and challenging process it took to have this become a reality. He was able to make it happen with the help of Adult Swim, and we cannot express our gratitude enough!
Inuyasha merch? Yes, please! The titular character joins Banpresto's Q Posket toy line starting August 4. There are two versions available: Inuyasha's half-demon form and his human form when his demon powers recede on the night of a new moon. These cute statues are a must-have for Inuyasha fans!

For the highlights this week, Toonami ran the entire first season of Harley Quinn (with a minor mishap at the end). If you are curious about the series and didn't watch it when it was broadcast on Adult Swim, here's a review to find out why fans were excited about the showcase!

On the Toonami Faithful Podcast episode this week, the co-creator of Toonami Faithful, Jose Argumedo, joined Sketch and Varun "VLordGTZ" Gupta to talk about Blade Runner after the trailers and key art have been published. All three are massive fans, and all seem excited with how Blade Runner: Black Lotus will look. Also included in the episode is Bryan "LaserKid" Johnson joining Sketch and VLord to talk about all the schedule changes that are coming to Toonami's way!
Director of Social Media Celia Rose is an ambassador and social media manager for Los Angeles-based convention Super Dimension Convention, North America's largest Macross and robot anime event. In the past, the convention has celebrated titles such as Super Dimensional Century Orguss, Macross, Robotech, and more with events like the Macross Idol cosplay contest; the Nyan Nyan Maid Cafe; live performances by singer/songwriter Mari Iijima. The event also features panels from guests like mechanical designer & illustrator Hidetaka Tenjin, voice actress Run Sasaki, and the localization team from Creative Sphere, Inc. who worked on subtitles for the Macross Delta television series and Passionate Walkure! film. It's the perfect event for fans of retro anime and idol culture! Registration is currently open and starts at $15 per person.
During the weekend staff members, VLordGTZ and Sakaki (alongside guest contributor LumRanmaYasha) went to Otakon! If you are curious about all the happenings from one of the bigger conventions in the U.S., give them a follow to see all the news and fun stuff they could do!

Did you enjoy this week's Toonami? Let us know by commenting below or directly on our social media. You can follow us on Twitter, Instagram, and Facebook. You can listen to the Toonami Faithful Podcast on Soundcloud, iTunes, Spotify, etc. for interviews, discussions, and breaking news updates. Listen at the link below or on your podcast platform of choice:
C.J Maffris is the Editor-in-Chief at Toonamifaithful.com. He also produced and directed the Toonami documentary, What Toonami Means To Me. Feel free to follow CJ on Twitter @SeaJayMaffris
Celia Rose is the Director of Social Media for ToonamiFaithful.com. Feel free to follow Celia Rose on Twitter @planetstwinkle.