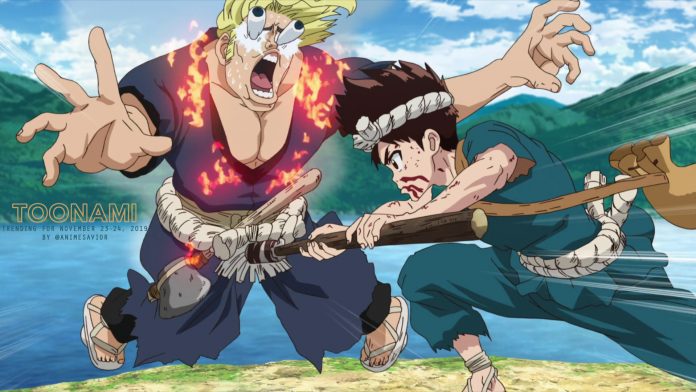 "I'm going to save Ruri. [With] Senku's computer science Gen's magic and my tenacity, with our strengths combined, we will succeed. The light will start a fire."
–          Chrome, Dr. Stone (Ep. 14)
The Toonami Trending Rundown for Nov. 23-24, 2019. The week before Thanksgiving brings us Episode 03 of The Forge.
Among some of the highlights of the night, My Hero Academia saw Deku having an interview with Sir Nighteye. Unimpressed by his humor, Sir Nighteye challenges Deku to take his signature stamp within three minutes with any means necessary. While he fails to do so, Nighteye found his commitment and effort good enough to let him on the team. Meanwhile, Black Clover sees Licht successfully gathering all the magic stones to turn many of the Clover Kingdom's knights and populous into elves, as they all vow revenge against the humans. And Lupin the Third saw Lupin and Goemon arrested by Zenigata with the help of DeadSec, but not before Jigen bails them out, and they disappear for a month. Lupin and the gang spend the time to turn the app's features against them, as they release documents of many of the world's controversial and evil deeds, causing tension between DeadSec and the world's governments. However, Fujiko is still in a cage, and Ami has to deal with a souring relationship with her father, DeadSec's CEO.
On Twitter, every show except for My Hero Academia, Demon Slayer, and Attack on Titan, would successfully trend in the US. Meanwhile, on Tumblr, #Toonami would trend alongside My Hero Academia.The full list, including statistics and tweet counts from the Twitter app and Amr Rahmy's Fan Screening analytics app, can be seen below.
---

This week's feature was Episode 03 of The Forge. You can check it out below.
After holding it off for several years to focus on Shin Godzilla, Hideaki Anno is returning to direct the fourth Rebuild of Evangelion film, Evangelion: 3.0+1.0. According to IGN, the film is scheduled to premiere in Japanese theaters on Jun. 2020.
A reminder for what the block has planned for Thanksgiving weekend, Toonami will be showcasing an encore marathon of Episodes 12-20 of Food Wars from 12 a.m. – 4 a.m. Eastern. New episodes of My Hero Academia and One-Punch Man will still air at their regularly scheduled timeslots to begin the block, as with Episode 04 of The Forge. So, for those who take the night off watching during marathon nights, make sure not to miss the 11 p.m. hour, or at least set your DVRs if needed. And of course, if you so wish, this is a good week to catch up on your favorite shows if you're falling behind.
Tune in next week for the fourth part of The Forge, among other great moments. Until next week, we wish everyone a Happy Thanksgiving and stay gold.
---
Legend: The shows listed are ordered based on their appearance on the schedule. Show trends are listed in bold. The number next to the listed trend represents the highest it trended on the list (not counting the promoted trend), judging only by the images placed in the rundown. For the Twitter tweet counts, the listed number of tweets are also sorely based on the highest number shown based on the images on the rundown.
United States Trends:
#Toonami [#4]
#TheForge [#26]
#OnePunchMan [#17]
#DrStone [Trended with #Toonami and #OnePunchMan]
#FireForce [Trended with #Toonami]
#FoodWars [#17]
#BlackClover [#17]
#JoJosBizarreAdventure [#9]
#GoldenWind [#23]
#Shippuden [#15]
#LupinThe3rd [#8]
Tweet Counts:
#Toonami [8,903 tweets]
#OnePunchMan [3,172 tweets]
#DrStone [3,717 tweets]
#FireForce [2,705 tweets]
#FoodWars [2,167 tweets]
#BlackClover [1,780 tweets]
#JoJosBizarreAdventure [2,909 tweets]
#LupinThe3rd [1,116 tweets]
Fan Screening Counts:
#MyHeroAcademia [#5 with 3,660 tweets]
#OnePunchMan [#9 with 2,559 tweets]
#DrStone [#7 with 2,658 tweets]
#FireForce [#13 with 1,812 tweets]
#FoodWars [#17 with 1,256 tweets]
#DemonSlayer [#3 with 8,370 tweets]
#KimetsuNoYaiba [#4 with 7,860 tweets]
#BlackClover [#20 with 967 tweets]
#JoJosBizarreAdventure [#18 with 2,548 tweets]
Tumblr Trends:
#Toonami
#MyHeroAcademia
#BNHA
Notes and Other Statistics:
Special thanks to @Kisuru, @myanimewaifu, @TheNextHokage, and others I forgot to mention for spotting some of the trends on this list.
Only Toonami on [adult swim] on Cartoon Network.
Toonami Tweets of the Night for November 23-24, 2019