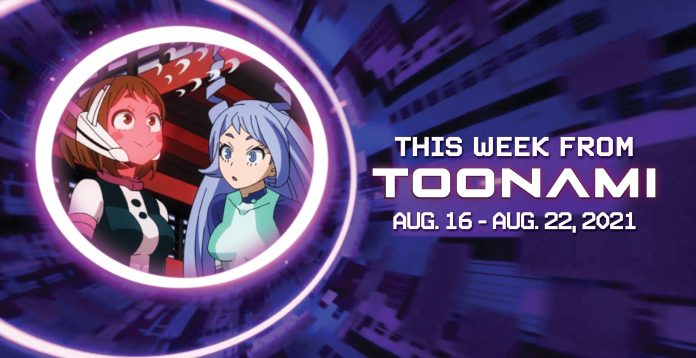 What a time to be a fan of Toonami! This past week has been full of announcements and celebrations, from a new lineup promo to the release date for the rest of Attack On Titan's final season to an official live stream of a Sailor Moon musical; we've got you covered for all things Toonami. Read on to learn more!

On the broadcast this week, Toonami debuted a new lineup promo showcasing what fans should expect on the block in the coming weeks. It's always nice to see a new video posted from Adult Swim, and it's one you'll want to see to make sure you know when and where your favorite series will be airing!
Fans now know when the continuation of Attack on Titan will begin. January 2022 is when fans should expect a conclusion to the ever-popular series. While we are unsure about an episode count or how long this continuation will go on, Toonami Faithful will keep fans covered as more information becomes available.
While The Promised Neverland's second season has an infamous reputation, those who might have missed out on its Toonami screening are now in luck. Fans can now find the English dub on FUNimation's streaming service (FUNimationNOW), where fans can relive all the twists and turns the new season brought. While many manga fans are saddened at the direction, the new season took, those who aren't familiar might want to check out what everyone has had an opinion on since it debuted.
In surprising news, the new season Lupin The Third Part VI was licensed by Sentai Filmworks! It's a bit shocking considering how other license companies typically pick up the property (Discotek Media); it is interesting to see Sentai Filmworks jump into the fray. This development makes many wonder how the English dub will sound or if Sentai Filmworks will use new actors and actresses. And let's not forget a possible Toonami broadcast, as many fans will probably suggest the new season find a home on Adult Swim. And Lupin The Third continues to be in the news, revealing that a new spin-off manga is in the works. And oddly enough, the magazine Young Champion Retsu hints that this new work will have an isekai premise. For those interested, Yōsuke Saeki will author the piece, and Keyaki Uchi-Uchi will be the artist for it. We aren't sure how this will work, but it's Lupin; we are confident he can figure out a way to make this story fascinating.
JoJo's Bizarre Adventure reached a milestone this week with the manga's eighth arc (JoJolion) wrapping up its story. Author Hirohiko Araki informed fans that while taking a bit of a break, a ninth part is in the works tentatively named JOJOLANDS (we already want to go there). But the reveals didn't stop there. Araki also mentioned how the series would be getting spinoff manga this winter with Kouhei Kadono writing the story and Tasuku Karasuma is drawing the manga. JoJo fans continue to get fantastic content coming their way, and it has to be so exciting that another story arc will be coming in the future!
If you can't get enough of Towa, Setsuna, and Moroha, look no further! Takashi Shiina will be adapting the Yashahime: Princess Half-Demon as a manga starting Sep. 25 in the magazine Shonen Sunday S. Shiina drew a unique illustration for the announcement, featuring the three princesses and the main characters from his recently completed manga Zettai Karen Children. There isn't any news yet on whether the new manga series will be released in English, but we will be sure to report if an English publisher decides to license it.
Some anime films are made for watching on the silver screen. This week Bandai Namco Arts announced that IMAX theaters in Japan and the U.S. will hold simultaneous screenings of the 4K remastered version of Mamoru Oshii's Ghost in the Shell film on Sep. 17. Oshii's film is famous for straying entirely from the original manga by Shiro Masamune, and its neo-noir cyberpunk atmosphere that would set the bar for later Ghost in the Shell adaptions Stand Alone Complex, Arise, and SAC: 2045. Despite being nearly 27 years old, the animation in Ghost in the Shell has aged beautifully, and seeing it in the theater will be an unforgettable cinematic experience. When writing this article, none of the 76 theater locations designated for a screening have been revealed, or how to buy tickets.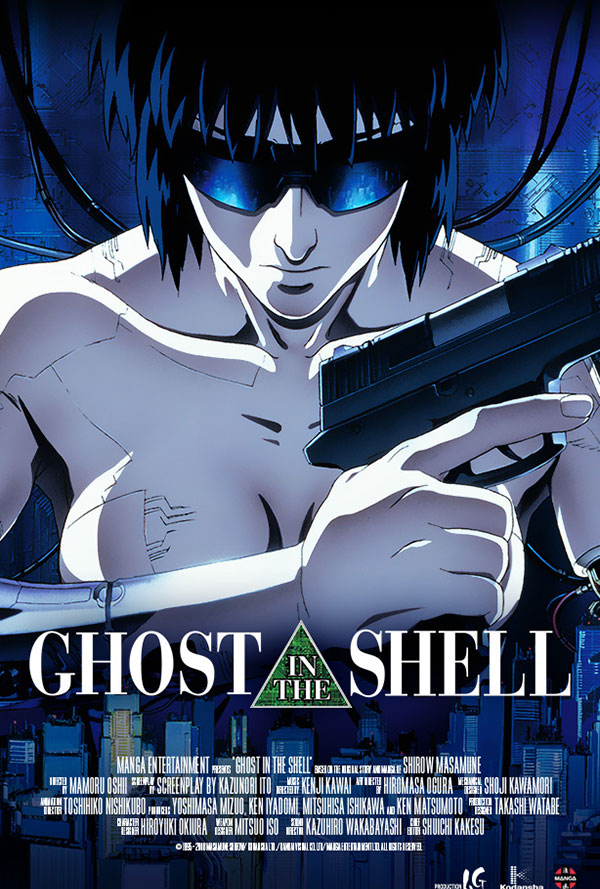 The latest My Hero Academia film (World Heroes' Mission) has earned an astronomical 1.6 billion yen in the first ten days since debuting in Japan. And while it did drop a spot (from second to third) at the Japanese box office, this movie continues to earn a ton of revenue for the property. What's been a pleasant surprise is how well this film has been doing compared to the previous one and has rekindled a spark for My Hero Academia and more films of the series. It's only a matter of time before it makes its way to the U.S., which is an exciting prospect for fans. And for gamer fans of My Hero Academia, a new character was announced in the My Hero One's Justice 2 video game. Fan-favorite Shinso Hitoshi was revealed to be the latest DLC character. Below is a small trailer to showcase him for those curious about whether or not to purchase the mind-controlling hero.
Anime stage plays and musicals are fun forms of entertainment that are rarely distributed outside of Japan, so Sailor Moon fans in the United States are in for a real treat! The 2019 Pretty Guardian Sailor Moon: the Musical stage play performed by idol group Nogizaka46 will be available for streaming online. Tickets are $15, and online screenings will be available from Aug. 20 through Aug. 26, with an encore stream on Aug. 29. Check your timezone and get your tickets ASAP!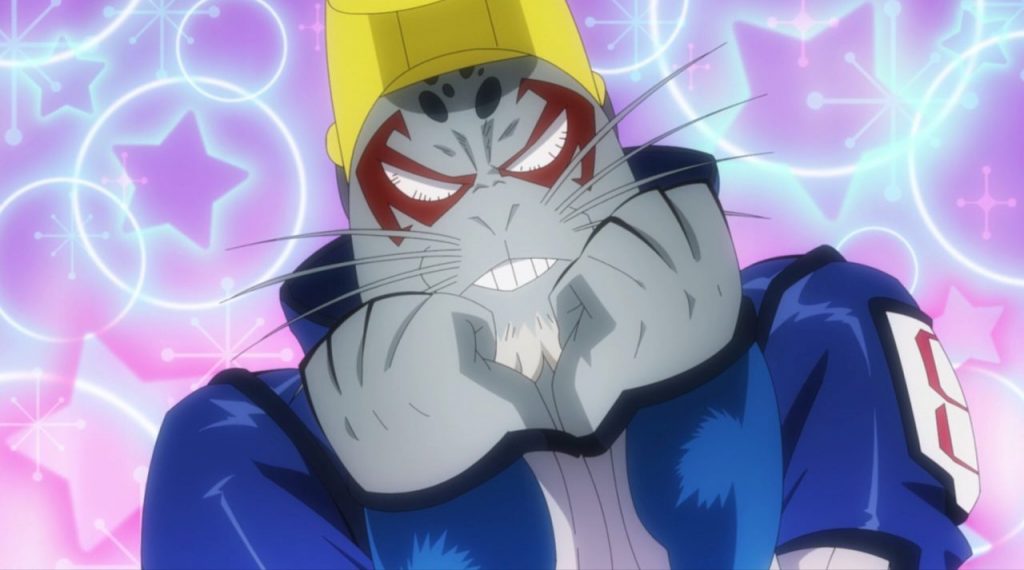 Fena and her companions stop at the free city of Bar-Baral to gather supplies for their journey in Fena: Pirate Princess. Tsubaki, Karin, Shitan, and Makaba (reluctantly) go looking for medical supplies, while Enju, Kaede, and Fena are tasked with gathering provisions. Meanwhile, Yukimaru is left to watch the ship with Brule. The twins take Fena shopping for new clothes, and along the way, she finds a clear stone in a shop that looks just like the one given to her by Yukihisa. After successfully haggling for the stone, Fena and the twins run into the nobleman who attempted to purchase Fena as a slave and is hell-bent on taking her back. They try to escape, but the pirates he brought with him prove to be formidable opponents. Suddenly, Yukimaru appears to rescue Fena while the twins hold off their assailants. Don't forget to check out Editor-in-Chief CJ's review of the episode here! Midoriya, Bakugo, and Todoroki aren't the only students from Class 1-A starting their internships in My Hero Academia. Pro Hero Ryukyu welcomes Uraraka, Nejire, and Tsuyu to their work-study with a small banquet of sweets at her agency. However, work quickly begins when Ryukyu reports a fire started at an illegal drug facility that manufactures Trigger, which boosts a user's Quirk abilities. The chemicals used to make the drug have gone missing. Shortly after, pro hero Selkie requests that Ryukyu and her interns team up with his crew to determine the location of a suspicious ship they've been pursuing. He reports that a member of the vessel used Trigger on himself before the ship vanished. Selkie and Tsuyu search for the boat underwater at sunset and report the message back to Sirius and the others via morse code echolocation. The criminals on the ship realize they've been spotted and attempt to disappear again, but Selkie and Tsuyu climb aboard first. Suddenly, a large cargo plane stowed on the ship takes off, its cargo hull full of the missing chemicals. After the other heroes' failed attempts to stop the aircraft, Sirius launches Uraraka via harpoon onto the plane. While Nejire and Ryukyu use their Quirks to help slow the plane's descent, Uraraka takes control and uses her Quirk to stop the plane from crashing into the water. Side note: this episode is intended as a tie-in to the recently released World Heroes' Mission film.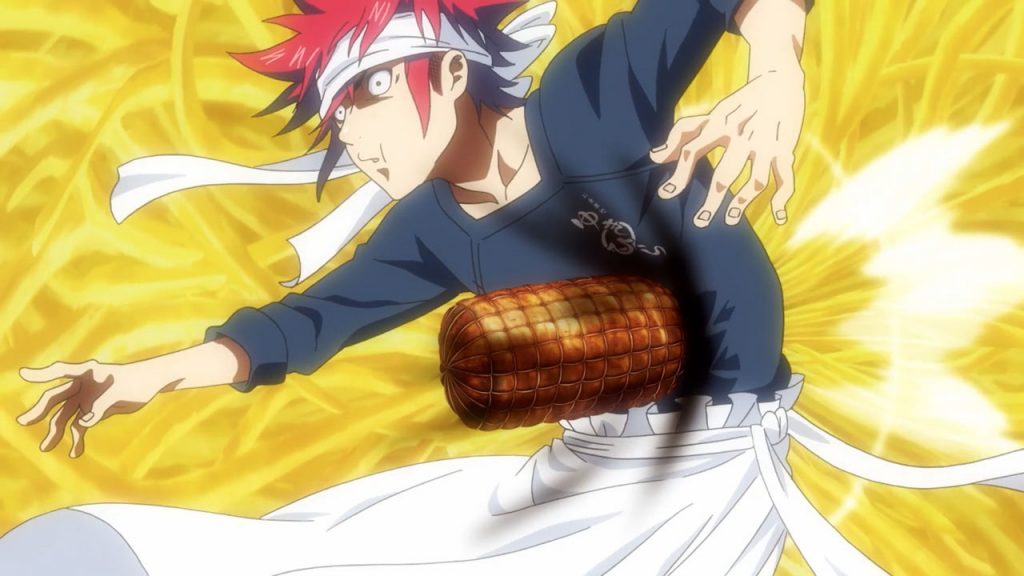 Towa, Takechiyo, Setsuna, and Moroha pursue the demon Yotsume after escaping from the deputy shogun's estate in Yashahime: Princess Half-Demon. The owl demon unwittingly leads the girls to Kyuki, one of the Four Perils who serves Lord Kirinmaru and possesses the purple rainbow pearl. She loans the pearl to Yotsume, who uses it to amplify his power and cast a sleep spell. While Moroha, Towa, and Takechiyo dream of memories from their past under Kyuki's scrutinizing eye, Setsuna single-handedly strikes down Yotsume, which breaks the spell. Kyuki reveals she modified her rainbow pearl to absorb demon energy, rendering Moroha and Towa attacks inert. She then morphs into her proper form, a giant winged tiger, and Moroha quickly remembers that Towa can absorb stolen demon energy. Towa attacks the rainbow pearl in Kyuki's mouth and absorbs the demon energy from it. However, even with the energy boost from the pearl, Towa is unable to defeat Kyuki. In desperation to save her sister, Towa summons enough demon energy to attack using the Azure Dragon Wave, inherited from her father, Sesshomaru. Riku suddenly appears and takes the rainbow pearl for himself, while Takechiyo presents the girls with a bag of gold as a reward for defeating Kyuki. Food Wars returns to Toonami with a new season, The Fourth Plate, and cranks up the heat as the regimental food war continues between the rebels of Kyokusei Dorm and Central. The second bout features themed ingredients for each pair, starting with cayenne pepper for Rindou and Megishima. Rindou reveals that her special skills lie in rare, exotic ingredients by declaring that she will use alligator meat in her dish, and then she skillfully filets the tiny beast, much to her classmates' horror. Megishima decides to use cayenne pepper for cooking African ramen, and he remembers when Soma approached him to join the regimental food war. Back then, Megishima insisted he would not participate in favor of protecting local ramen shops until Soma challenged him to a food war-making ramen. Soma's determination moves Megishima, and he decides to join the fight.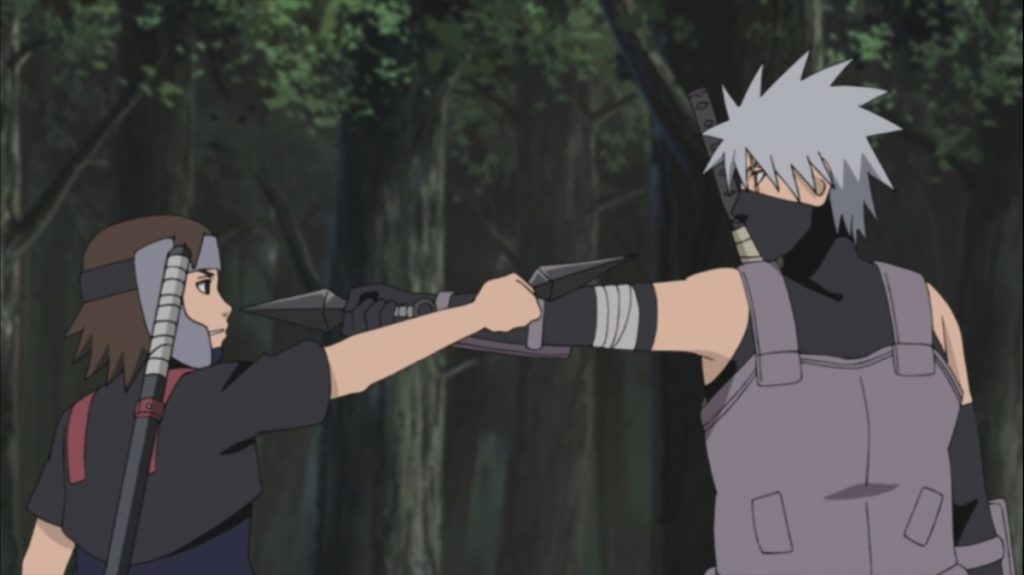 The Dark Triad begin to reach beyond their borders in Black Clover, starting with Vanica, who makes her way to the Heart Kingdom with the intent to wreak havoc. Dante arrives at the Black Bulls' hideout looking for Yami and begins attacking the fortress. Asta and his friends attempt to hold off Dante's assault, but even their improved power levels are no match for the Dark Triad member, who is using only 10 percent of his power from the devil living inside of him. Dante attacks and impales Gauche with a giant sword to coax malice from the Black Bulls, which Dante believes to be humanity's actual state. Enraged, Asta awakens his own Devil magic, but it comes with an unforeseen cost. Asta's improved abilities allow him to use more of his Devil magic, but he becomes more easily overwhelmed by the devil's malice. As he struggles to control his Devil, Asta unlocks the faint memory of a woman calling his name. Kakashi catches up to Kinoe and Yukimi after they've escaped in Naruto: Shippuden. Kakashi demands that they return, but Kinoe refuses and begins to fight the young ANBU ninja. Having reflected on everything Orochimaru did to help her village, Yukimi stops the fight and decides to return after all. However, upon returning to the town, Yukimi finds several of her relatives dead, one of whom is eaten by Orochimaru himself. Shortly after that, Kinoe and Kakashi arrive at Orochimaru's hideout, but Yukimi is nowhere to be found. They follow smoke trails to Orochimaru and attack him to save Yukimi, but they are too late. As she turns to smoke, Kinoe uses his wood release to keep it from escaping, as the smoke from her deceased clan members form a tree around Yukimi. She emerges, still alive, and the two decide to part ways.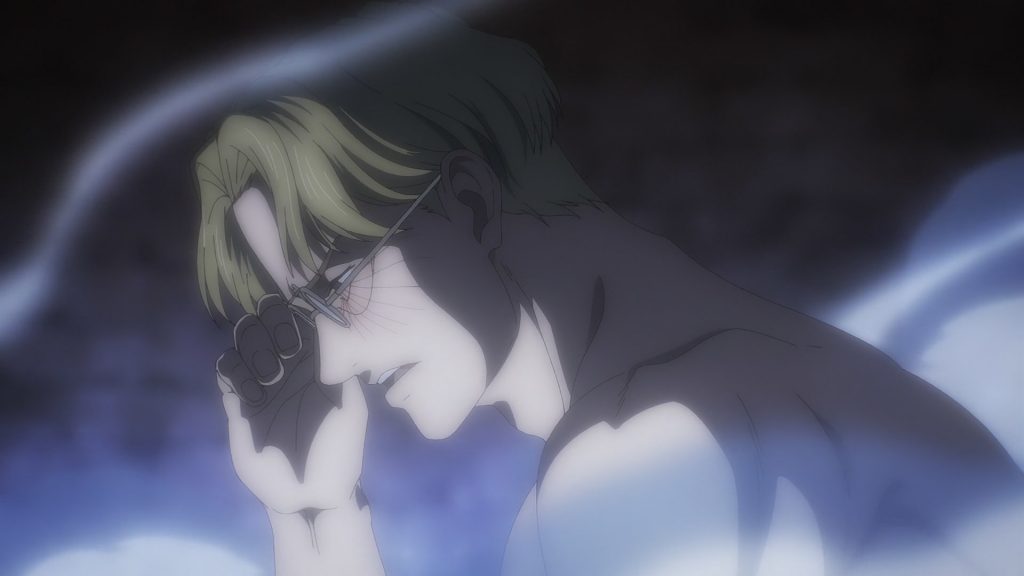 Attack On Titan delves into Zeke Jaeger's past as a young Eldian growing up in Marley with only one episode remaining. From the beginning, Zeke was torn between supporting his parents' cause and maintaining the façade of being loyal to Marley. This divide only widened as Zeke's father, Grisha, treated him as a means to an end rather than a son. Zeke finds comfort in his afternoon talks with Tom Ksaver, the keeper of the Beast Titan power, which Zeke would eventually inherit from him as a young adult. Zeke goes on to connect with his long-lost brother Eren over their mutual resentment for their father's methods, and the rest is history. You can read editorial writer Umeko's in-depth review of this heart-breaking episode here. Vegeta and Goku reach the end of their limit in Dragon Ball Super, but with the fate of their universe in the balance, neither are ready to give up yet. Vegeta buys time for Goku to recharge his energy by provoking Jiren to attack him, even though he is so beaten that he can barely stand. In his heart, Bulma's voice calls to him and demands that he keep going forward for the sake of their family and friends. He remembers his children waiting for him at home, and that's when he realizes what he must do. He attacks Jiren, who knocks the Saiyan prince out of the arena. As he floats away, Vegeta sends a ball of ki to Goku, telling him not to waste his gift. Thinking an easy victory is at hand, Jiren attacks Goku, but the Saiyan dodges him with ease. Vegeta's gift gave Goku just what he needed to active Ultra Instinct once more so that he can defeat Jiren at last.

On this week's episode of the Toonami Faithful Podcast, host Andrew "Sketch" Hingson is joined by Paul Pescrillo, Darrell Maddox, Varun "VLordGTZ" Gupta, and Happy Kuro Kitty as they discuss Jason DeMarco's new position as the SVP of Anime and Action Animation development at both Warner Bros. Animation and Cartoon Network Studios. However, once that discussion ended, Pescrillo had to bow out, which led the rest of the group to lament the second season of The Promised Neverland. Who had nice things to say about the last season, and who felt that the choices made in Japan were a disaster? You'll have to listen to find out!
Fena: Pirate Princess has taken over Adult Swim, Toonami, and Toonami Faithful! So to commemorate the occasion, Toonami Faithful has decided to have another sister podcast station titled Fena Cast. We plan to have a side podcast episode to discuss all things Fena: Pirate Princess, and so we debuted our first episode where host Sketch is joined by VLord, Happy Kuro Kitty, and Byran "LaserKid" Johnson! The gang gives their first impressions of the series and what they are looking forward to seeing in the following episodes! It's a side project from Toonami Faithful you do not want to miss!
Curious about the latest episode of Fena: Pirate Princess? Thankfully CJ Maffris has you covered as he writes about his impressions from the third episode. He goes on about how he enjoyed the subtle plot points hinted at throughout the episode and loved getting to see Fena's crew engage in more activity. And did you notice the fight scenes? They looked fantastic and something Toonami fans probably enjoyed. Our Editor-in-Chief calls Fena: Pirate Princess must-watch television and breaks it all down in his latest weekly review.
Director of Social Media Celia Rose, Chad from the Macross Mecha Manual, and EXO from Macross Fan Central have started a new series, "You Can (Not) Rewatch," where the trio rewatch and discuss Hideaki Anno's Rebuild of Evangelion films, leading up to the highly anticipated finale, Evangelion: 3.0+1.0 – Thrice Upon a Time. This episode covers the first movie, You Are (Not) Alone, and there are spoilers aplenty, so listen with caution!

Did you enjoy this week's Toonami? Let us know by commenting below or directly on our social media. You can follow us on Twitter, Instagram, and Facebook. You can listen to the Toonami Faithful Podcast on Soundcloud, iTunes, Spotify, etc. for interviews, discussions, and breaking news updates. Listen at the link below or on your podcast platform of choice:
C.J Maffris is the Editor-in-Chief at Toonamifaithful.com. He also produced and directed the Toonami documentary, What Toonami Means To Me. Feel free to follow CJ on Twitter @SeaJayMaffris
Celia Rose is the Director of Social Media for ToonamiFaithful.com. Feel free to follow Celia Rose on Twitter @planetstwinkle.