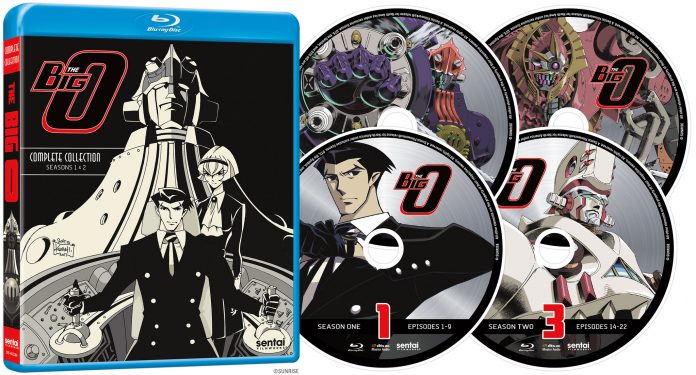 Sentai Filmworks has finally released Big O on Blu-ray and thanks to them we were able to get a copy of it to review. How does this Blu-ray stand up? Lets break it down and find out.
Let's talk about the series itself for those that have never seen it. The Big O is about a man named Roger Smith. Roger is a negotiator in Paradigm City, known as the city of amnesia because forty years ago an incident occured that erased the memories of the people living there. He gets paid to negotiate problems among those people. When those problems become too big, such as giant robot trying to attack him, he calls his own giant robot, a megadues named Big O. Much of the series has Roger unraveling some of the mysteries of Paradigm City and battling other megadeus. Roger is assisted by his butler Norman and an android named Dorothy. Roger and Dorthy make for a rather amusing dynamic in particular. The first season of The Big O ran on American television on the Cartoon Network version of Toonami and reran uncensored on Adult Swim while the second season was co-produced by Turner and premiered and reran on Adult Swim in their action block and subsequently reran during Toonami once it became part of Adult Swim.
The visual style of The Big O takes a lot of pages from American animation and film noir. The series is both a tribute to Japanese super robot series and American films. Its visual flair easily sets it apart from other mecha series from the late 90s and early 2000s and The Big O has plenty of substance to go along with its style. It is sure to engage fans of mysteries, giant robots and crime serials. There is nothing else out there quite like it.
Now lets discuss Sentai Filmwork's Blu-ray set itself starting with the picture and sound. Each episode is now in 1080p HD with a 4.3 pillar box. The picture is clear and crisp and the sound is great. I have no issues with the picture. Some may want the picture in widescreen or even full screen (since it's original run on tv was full screen), but in my opinion it doesn't take away from the show. No big issues here.
Next let's talk about the packaging. I have to say Sentai did a good job with the packaging. All 4 discs look good and I feel they took care when designing the Blu-ray. Along with that, the menu on each disc is very simple. You have the option to watch it with Japanese audio with English subtitles and of course the English dub is present and sounds great. Again, no big issues here.
Lastly is the extras. The extras are included on the second and fourth disc of the Blu-ray. On Disc 2 of the Blu-ray, as you can see below, the extras include a clean closing and the Japanese ads for season 1. This also includes an interview with the Japanese cast as previously seen on the Bandai DVDs for The Big O.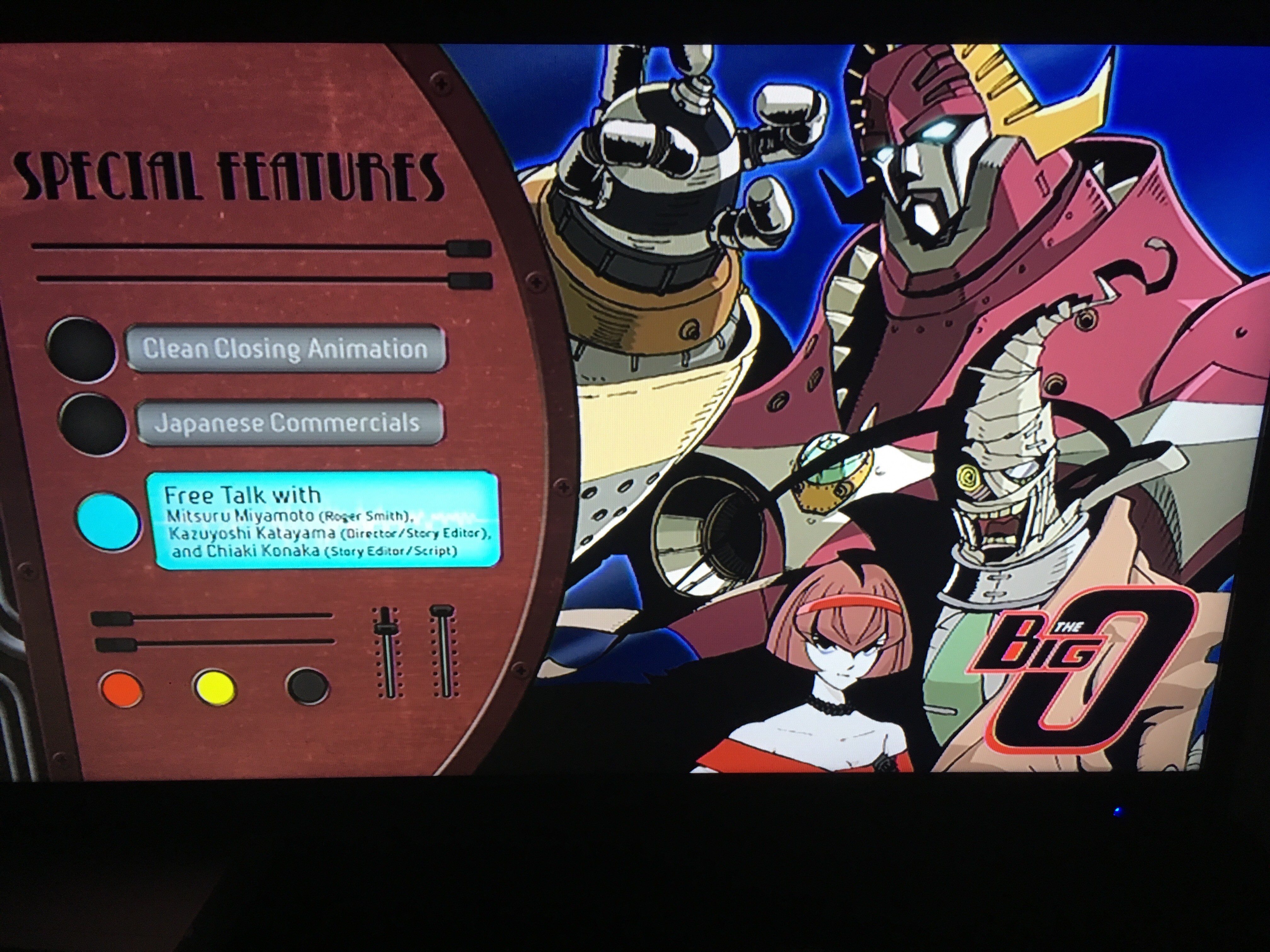 On Disc 4 of the Blu-ray, as you can see below, the extras include the clean intro and outro of the episodes and Japanese promos for season two and a couple of trailers for some of Sentai's future releases.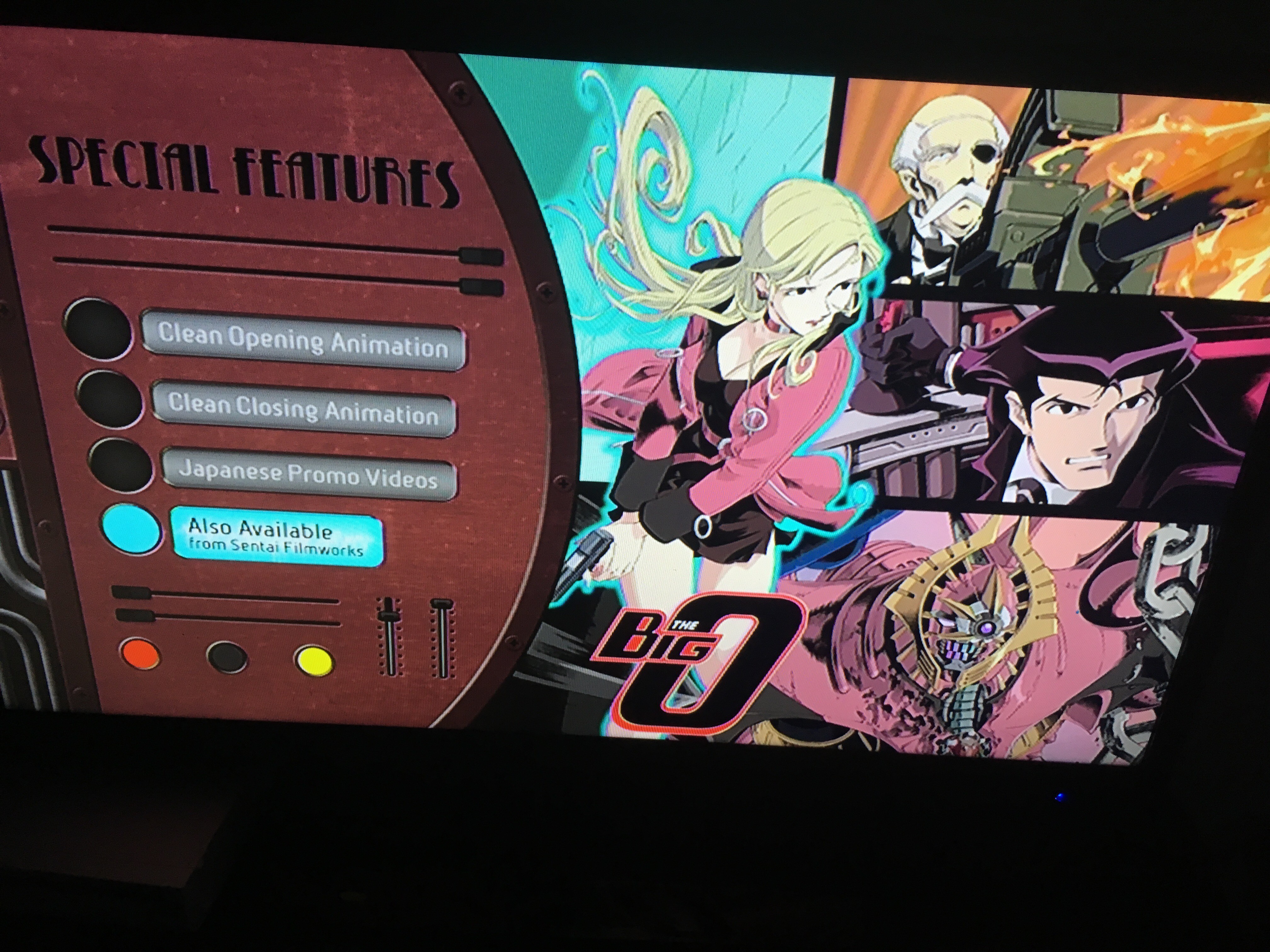 This is where a problem arises, however, as Sentai was not able to use the original intro song for Big O. Apparently, the intro music has come under scrutiny for plagiarism. It has been replaced twice and current releases use the third opening. Click here for more info on that.
Personal note: With this being on Toonami I would have liked to see them put those promos on the Blu-ray along with the Adult Swim ones for Season 2. Such as the the long promo Toonami did shown below:
https://youtu.be/BK_HTdn3NPE.
It is what it is but it would have been nice to see this.
All in all this Blu-ray is worth the buy and I recommend you buy it especially if your fan of the series. I give Big O: The Complete Collection Blu-Ray an 8 out of 10.