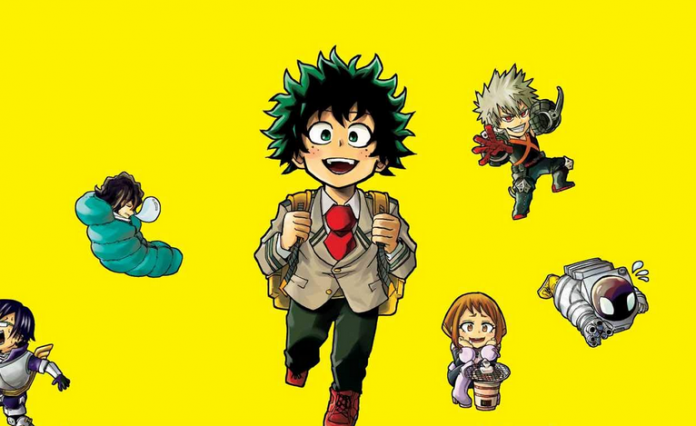 My Hero Academia has been around for over five years now, and it's safe to say that it's become a worldwide hit. Both the anime and manga are incredibly successful and are still bringing in new fans into the community. This popularity has caused My Hero Academia to expand beyond just its original work and into spin-offs catered towards its fanbase. Among these is Viz Media's newly released My Hero Academia: Smash!! by Hirofumi Neda, serving as a comedy-focused take on the series. So, let's find out whether this spin-off lives up to the original's reputation.
Caption this! pic.twitter.com/Ctkp4UAXqL

— VIZ (@VIZMedia) August 6, 2019
My Hero Academia: Smash!! is a 4-koma gag manga that re-frames the series as a comedy. Each four-panel strip focuses on a different situation with its own respective punchline. This formula leads to the comedy to be  fast-paced, and the characters are altered to reflect that. The traits of My Hero Academia's cast are amplified to ridiculous proportions. Deku's obsession with quirks becomes even more hyper-detailed, and All-Might heroic behavior becomes even more over-the-top. While this could come off as needless humor, Smash is fully aware of what readers enjoy about the series and its characters. Every primary cast member is showcased, and even minor fan-favorite characters such as Mt. Lady get their own dedicated gags. The series understands the type of humor that My Hero Academia fans will enjoy while still respecting its source material.
As opposed to the main series, Smash uses a more simple and chibi art style. That being said, the designs are crafted to fit the series' fast-paced humor. Hirofumi Neda's previous experience as My Hero Academia creator Kohei Horikoshi's assistant shines through at every opportunity, especially as the gags get more abstract and crazy. You can also tell that Neda is just as big of a fan of My Hero Academia as the readers themselves. And he even showcases his own custom My Hero Academia designs in-between chapters. There's a clear attention to detail and love put into every panel, and hardcore My Hero Academia fans are sure to notice it.
PLUS ULTRA! My Hero Academia: Smash!!, Vol. 1 is now available in print and digital.

Read a free preview: https://t.co/djpXejG0Sv pic.twitter.com/Ha3c2bq99u

— VIZ (@VIZMedia) August 6, 2019
My Hero Academia: Smash!! is an excellent addition to the My Hero Academia franchise, providing some solid humor to its readers. Viz Media's release of Volume 1 is available now, and Volume 2 will be out this October. If you love My Hero Academia and are looking to have a good laugh, this series is definitely worth the read.
Rating: 7/10
Pros: Fast-paced comedy, appealing artwork, and a fun take on My Hero Academia.
Cons: The manga is aimed at existing fans of My Hero Academia, making its humor less accessible for new readers.
Varun Gupta (VLordGTZ) is an editorial writer for Toonamifaithful.com and All-Comic.com. Feel free to follow Varun on Twitter @VLordGTZ