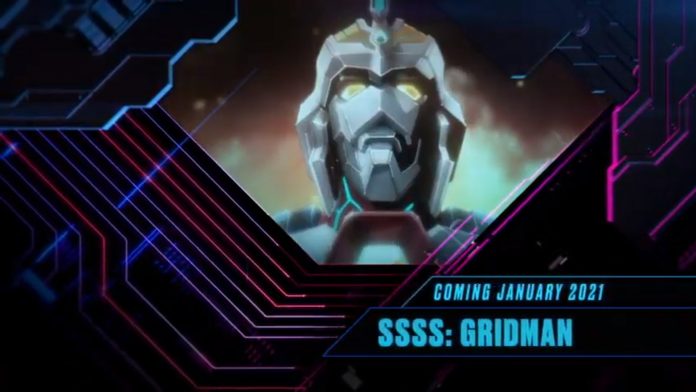 Last Saturday, Adult Swim had a special Toonami Panel that would take fans right up to the iconic block at midnight. During the final episode of Pre-Flight, Jason DeMarco and Gill Austin announced that SSSS.Gridman would air on Toonami in January 2021 (still no definitive date yet). The 12-episode series that debuted back in 2018 will bring back the old mantra about Toonami and giant robots.
SSSS.Gridman is a collaboration between Studio Trigger and Tsuburaya Productions (a company responsible for Ultraman and the 1993-94 Gridman series). The beloved Studio Trigger will grace the block once again, which hasn't happened since the hit series Kill la Kill made waves joining Toonami. Many anime fans enjoy the properties handled by Studio Trigger due to their distinct animation style, thus creating a ton of fanfare once the mecha series was announced to be joining Adult Swim soon.
For those who haven't seen this series, here's a synopsis from Anime News Network:
Yuta Hibiki awakens with amnesia and the ability to see things that others cannot. He first encounters a Gridman in the reflection of his friend Rikka Takarada's computer and it tells him to "Remember his calling," but Yuta doesn't understand what this means. Later, in the distance, he sees an extremely large monster but it doesn't move. It's only when Yuta gets to school that the two sightings make sense: a monster attacks and the hero Yuta saw in the computer screen pulls him within the computer and transforms Yuta into a giant hero named Gridman.
Interestingly enough, SSSS.Gridman had a special world premiere during Anime Expo back in 2018, which Toonami Faithful covered! And it has been announced that another series SSSS.Dynazenon will be a continuation of SSS.Gridman (but no release date has been mentioned as of this writing).
Safe to say, those within the industry and Toonami Faithful are pumped to see SSSS.Gridman gets a chance to shine on a block that has given the spotlight to so many mecha series.
How do you feel about the news of SSSS.Gridman joining Toonami? Tell us on our social media pages or comments down below!
Don't forget to listen to the Toonami Faithful Podcast!