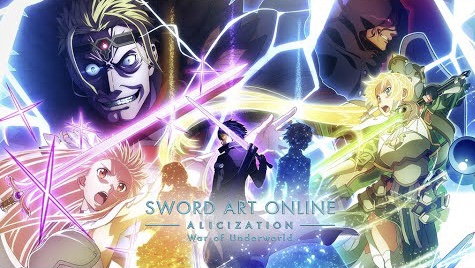 Fans were curious about what programming Toonami would bring in after JoJo's Bizarre Adventure (Golden Wind) finished, and the iconic cartoon block will bring in a couple of highly anticipated series in the upcoming month. Both Sword Art Online: Alicization (War of Underworld) and the second season of Fire Force will debut on Adult Swim starting Nov. 7. Sword Art Online will begin at 12:30 a.m., and Fire Force will shift from 2 a.m. to 1 a.m. The tweet below shows what Toonami's full schedule will look like starting November and can be found on the block's Facebook page.
Despite earlier reports about Fire Force's second season airing on Oct. 24, Toonami decided to push this premiere after The Promised Neverland Halloween marathon. Nov. 7 will now have three series debut new episodes on the block.
This latest announcement also confirms that Gemusetto Machu Picchu: Deathbeat(s) will air at 2 a.m., after initially Toonami saying it would debut at 1 a.m. With these latest additions, Toonami will have five premieres airing on the block, which should be a welcome sight for fans.
Toonami Faithful also heard rumors that the English dub for Sword Art Online is much further along compared to series that are on a SimulDub schedule. This could mean that there might not be any interruptions through its run, excluding marathons.
Are you excited for the new schedule Toonami will air this fall? Let us know by commenting below or directly on our social media. Also, follow us on @ToonamiNews and subscribe to our podcast on Soundcloud for future content and breaking news updates.