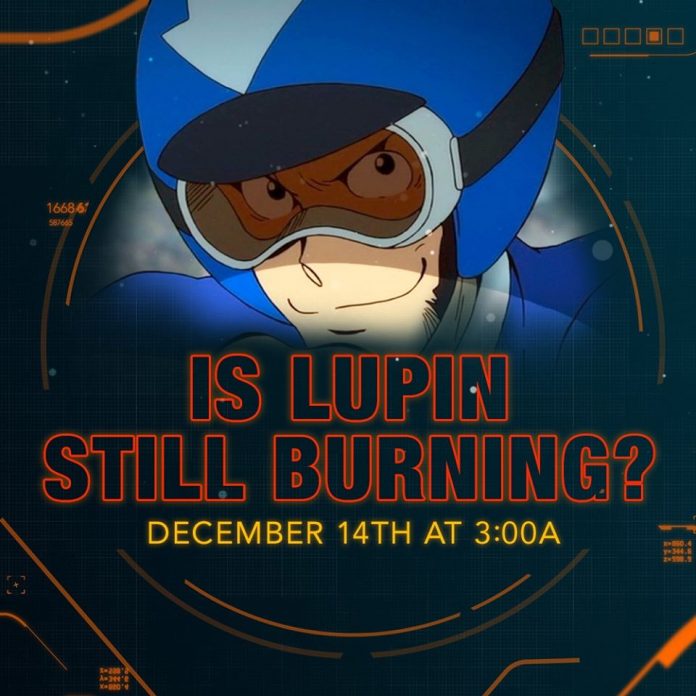 Toonami's Facebook page revealed that on Dec. 14th, the block will air the Lupin the 3rd OVA Is Lupin Still Burning?. The 27-minute OVA will air from 3 – 3:45 a.m., followed by an airing of Scavengers from 3:45 – 4 a.m.
BREAKING NEWS: #Toonami will playing the #LupinThe3rd OVA Is Lupin Still Burning on December 14 at 3 AM. Here's the info: https://t.co/qKIfHHiy7b pic.twitter.com/0n94mwrsyj

— Toonami News (@ToonamiNews) November 22, 2019
The night's schedule reads as follows straight from Toonami's Facebook.
Toonami Lineup 12/14 – Lupin OVA Special:
11p: My Hero Academia
11:30p: One Punch Man
12a – Dr. Stone
12:30a – Fire Force
1a – Food Wars
1:30a – Demon Slayer
2a – Black Clover
2:30a – JoJo's Bizarre Adventure: Golden Wind
3a – Lupin the 3rd Special
3:30a – Lupin the 3rd Special continued
3:45a – Scavengers
4a – Attack on Titan
Is Lupin Still Burning? was released last year in Japan to celebrate the Lupin franchise's 50th anniversary. Additionally, Lupin the Third creator Monkey Punch served as chief director on the project. TMS Entertainment USA previously debuted the OVA subtitled in the US at Anime NYC 2018, and has since bundled it with purchases of Lupin the 3rd Part V on digital platforms. The OVA's title is a reference to the first episode of Lupin the 3rd Part I "Is Lupin Burning…?!"
I saw this OVA at Anime NYC last year, and it's fantastic! Definitely make sure to tune in! https://t.co/Cj2YxGRfYx

— VLord The Pro Manga Addict (@VLordGTZ) November 22, 2019
Are you excited about more Lupin on Toonami? Let us know on our social media pages or in the comments below!