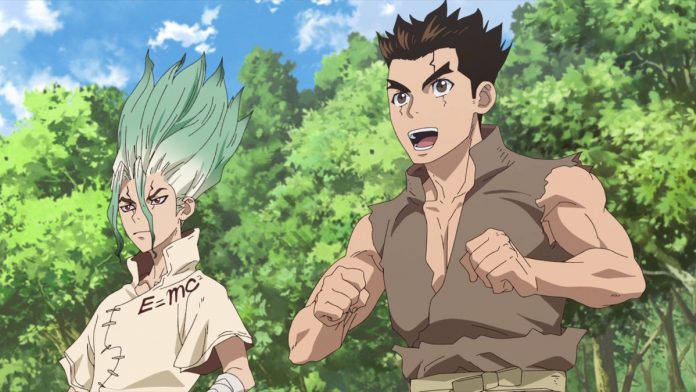 (TMS Entertainment)
Toonami has recently premiered Dr. Stone, and it has taken the anime world by storm as it became a fan-favorite with Toonami viewers. It's a unique series compared to the typical battle-shounen series like Black Clover and Fire Force, and Senku feels more calm and collected than rash and bold. Along with Senku's evil personality, I find the music of the series to be the unsung hero as to why the series is so popular. As someone who participated in a band back in middle school, instrumental music is always appreciated in an anime that I watch. I have a musician's brain, so when awesome music begins, I become elated.
My overall happiness with the amazing music is thanks to the composers of the show Tatsuya Kato, Yuki Kanesaka, and Hiroaki Tsutsumi. If one of the names sound familiar to you, it might be because earlier this year, Kanesaka was at Crunchyroll Expo for a Dr. Stone panel. While Dr. Stone has been well received by Toonami fans, it's Kato and his music who viewers are more familiar with. Kato is the only one of the three who has had an anime on Toonami that expressed his musical prowess with Food Wars joining the block earlier this year. While the scrumptious food and voluptuous fanservice may be the most notable aspect of the series, the music as Soma (or any lead character) creates a masterful dish for the ears as much as it does for the stomach. On the other side, fans might not be familiar with the final composer Kanesaka. He is a fairly new composer in the anime industry. His work was previously showcased in Blood Blockade Battlefront during episodes one, seven, and 11. And while he isn't as well known as the others I've mentioned earlier, I like his style of music a lot. It's exotic with Japanese flair, but the use of percussion makes it feels familiar at the same time. Tsutumi (the third composer) has not composed for any action anime series, instead, he composed on various slice of life series. A popular series that aired a couple of years ago is named Orange, an excellent series of time travel and romance. The music for Orange pulls you in emotionally and creates a tone throughout the series that cannot be understated. All three bring in an exciting prospect of sound to a series that I think greatly deserves the attention it has received.
When looking for Kanesaka's work on Dr. Stone, it's more challenging to track down. but there are some samples I found on Spotify. The service can host many different anime OSTs and the occasional idol songs. The first song that comes to mind when Dr. Stone is mentioned is, "My Boy Goes Funny!"This song could be viewed as the signature theme of Dr. Stone. People might think of a science fiction anime instead of a prehistoric one, but the beauty of Dr. Stone is that it can bring both together that creates a wonderful combination. Right at the start, we get a fast-playing flute, some drums, and a quick keyboard stroke. This sound provides an excellent start to show when we get to see crazy characters in action. You can imagine Senku and his friends building something cool or Chrome trying to show off his intellect to everyone. The use of all these instruments is thoroughly impressive. Overall this single has a bouncy feel that can make the characters feel like they're alive.
The second sample we'll look at is titled "Gen's Mood" which has a much different tone compared to the first. The song is a bit reserved. The music showcased an intense cymbal crashes, and then a piano chord hits. The hits are a call and response with a quick run of xylophone keys going up and down its major scale. The music does a fine job of establishing a threatening tone. It is the perfect sound considering the topic of the piece is the character Gen Asagiri, who is a bit mysterious for those that are experiencing Dr. Stone for the first time.
Surprisingly, the music that Kanesaka composes all have a unique flair to it. I'd love to hear it in more series, and glad that Dr. Stone will get the chance to add a special type of flair few projects have. The music in Blood Blockade Battlefront has similar elements that we hear in Dr. Stone. The song "Slice and Dice" has a nice snappy ring to it. I grew fond of the faint xylophone sounds in the background, along with a cool bell ringing in between the awesome rapping by Bose. I enjoy the use of intense drums and maracas alongside the rapping as the taps and shakes emphasize the beats of the epic lyrics.
Kanesaka also has another noteworthy single with  "Gill Breathing Blues" (in episode seven). There's a gentle pace of rhythm with the drumset, keyboard, and singing of Ashwin Sheynoy. It's difficult to describe in words, but it sounds like an excellent combination of many jazz songs that is heavenly to the ears. It reminds me of the old school jazz tracks that I've heard in my life, I personally was into Dizzy Gillespie. There's also an element to this song that reminds me of the classic Cowboy Bebop, which Toonami fans would get a kick out of hearing if they haven't seen Blood Blockade Battlefront. Jazz music has found a home in the hearts of anime fans, so it's special to see that genre used.
Onwards for we must discuss Hiroaki Tsutsumi, who has a larger music composition catalog than Hanesaka. There haven't been many "action" series he's been a part of, as his previous works have been featured in slice-of-life anime. This background, however, should explain his style of music in Dr. Stone as well as any other series. I figured this simple song titled "Senku and Taiju" would be a good example to showcase his work (which you can hear in this clip below).
The use of brass and drums here settles the mood. The brass feels like Senku's scientific sass in action. The slow ascends and descends of the trombones and saxophones ooze how Senku thinks about science in his sarcastic demeanor. It also makes you imagine Senku trying to think of some grand plan for his scientist army to come out on top. The drums and strings with the background xylophone sound also add to the spunky side of Taiju. The drums sound like Taiju asking Senku about science and how it can be explained to him (as well as the audience). The xylophone and string melodies showcase Taiju, either moving his arms around or jumping to get Senku's attention while Senku is deep in thought. Once both of these instrument groups begin harmonizing, it feels like Senku is suggesting different objects Taiju can gather in the wilderness. Or Taiju running off at an extreme speed to grab them. The way these instruments play against and alongside each other beautifully shows the character's relationship together despite their conflicting personalities. Senku requires Taiju's insane strength for survival, and Taiju needs Senku's remarkable intelligence for survival. Such a beautiful friendship.
The third composer is Tatsuya Kato and he is the composer with the largest backlog. He's also the composer for another Toonami favorite Food Wars as well as beloved anime of mine, Free!. Kato's song "Contrariety" is easily one of my favorite pieces from Dr. Stone. This song starts off with a great use of mallet percussion via a vibraphone that I greatly appreciate hearing. The vibes are constantly moving up and down a scale with a marimba swinging beside it can be soothing to the ears. It's joined by a triangle, a ratchet, and the occasional jingle bells that add a nice touch to make the song come together. There are also drums, cymbals, and other fun percussive effects surrounding this epic assortment of music. Funny how a simple anime series can have so much in one track, but it works well (which is why it's a favorite of mine). This song makes me think of a large world to explore. A truly big adventure is underway when you hear it, and I love it.
There's an appreciation for Dr. Stone's anime adaptation with not only the colors, animation, and voices but also with the music. In the clips provided in this piece, you can tell how much the music enhances the viewing of this series. The three composers with different backgrounds all coming together to make a glorious soundtrack which should not be ignored. Whether it's Kanesaka's exotic forte, Tsutumi's subdued tone, or Kato's explosively bombastic sound there's just nothing quite like Dr. Stone's rocking tunes.
You can listen to Dr. Stone's OST on Spotify in America.
You can also buy the CD on CDJapan.
You can also buy it digitally on iTunes.
This was a guest article written by Meowth900. Feel free to follow Meowth on Twitter @Meowth900