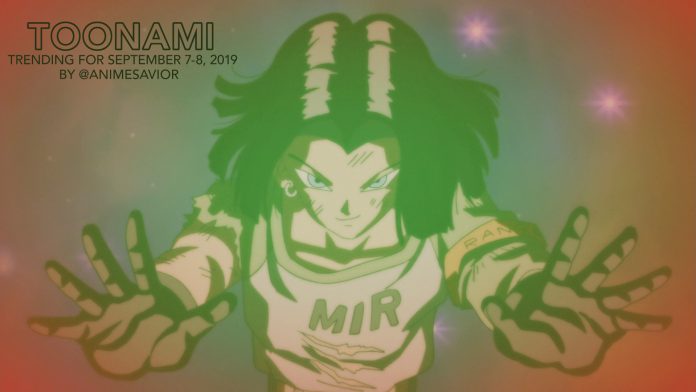 "Sacrificing myself to help other people. Look at me, being all human."
–          Android 17, Dragon Ball Super (Ep. 127)
The Toonami Trending Rundown for Sept. 7-8, 2019. As students head back to school after summer break, and the football season in full swing, it's another regular night for the better cartoon show.
Among some of the big highlights from the night, Dragon Ball Super comes down the stretch of the Tournament of Power, as Jiren is the last opponent standing and biggest obstacle left to tackle from Universe Seven winning the whole thing. Meanwhile in Dr. Stone, Senku and Taiju successfully revive Yuzuriha, but now have to deal with Tsukasa on a murdering crusade from not seeing eye-to-eye on who should be revived; and Boruto completes the Byakuya Gang arc with Boruto and Shikadai trying to stop Ryogi and Gekko from running out of town with Katasuke's Scientific Ninja Tool's scroll.
In terms of this week's social media buzz, #Toonami along with seven of the 11 shows managed to trend in the U.S. on Twitter, while #Toonami also trended on Tumblr. The full list, including statistics and tweet counts from the twitter app and Amr Rahmy's Fan Screening analytics app, can be seen below.
---

This week, Toonami showcased a new music video for "Giants of the Earth" by Julien Mier. You can check it out below.
Prior to the start of Toonami, Jason DeMarco announced a new TOM themed Black Zip Up Hoodie from Daylight Curfew. For those interested, it's available to purchase from their site for $89.
Despite having a rather rough beginning, Black Clover has continued to impress fans as the anime showcased its 100th episode this week in Japan. Going to its third year of broadcast, the train doesn't look to be stopping anytime soon as according to a Japanese promo shared by Yonkou Productions,"Black Clover continues into Fall with episodes 103+."
We have four episodes of Dragon Ball Super (DBS) left to go before we reach the hiatus, and as the finale will be airing at the same week as NYCC (New York Comic Con). Funimation will host a panel that will screen the final episode of the Tournament of Power arc. Jiren's voice actor, Patrick Seitz, will be among the panelists. The panel will take place on Sunday Oct. 6 from 2:45 P.M. – 3:45 P.M. at Room 1A10.
The fight to end all fights.

If you're attending #NYCC, you won't want to miss the Dragon Ball Super: Ultra Instinct Goku VS Jiren Finale Screening and Panel, hosted by @Seitz_Unseen! 🤜🏽💥🤛🏽

More info: https://t.co/RIV1jJ6m6F pic.twitter.com/M5uHpIf2nI

— Dragon Ball Super (@dragonballsuper) September 8, 2019
On a related note, as the finale is scheduled to air on Oct. 5, Toonami will broadcast an encore marathon of episodes 121-130 of DBS a week before on Sept. 30 following the broadcast premiere of the penultimate episode at 11 p.m.
We are a month away before My Hero Academia premieres its fourth season in Japan, and Funimation released a new key visual for the upcoming season, which you can see below.
JUST IN: Check out the BRAND NEW key visual for My Hero Academia Season 4!! #PLUSULTR4 pic.twitter.com/13jRQxOZp8

— Funimation 👹 (@FUNimation) September 7, 2019
Tune in next week as Boruto begins the Versus Momoshiki arc, which is an adaptation of Boruto: Naruto the Movie, as Boruto and company take the Chūnin Exams. In addition, Black Clover will begin the Reincarnation arc, and gen:LOCK showcases the penultimate episode of season one, among other great moments. Until next week, stay gold as always.
---
Legend: The shows listed are ordered based on their appearance on the schedule. Show trends are listed in bold. The number next to the listed trend represents the highest it trended on the list (not counting the promoted trend), judging only by the images placed in the rundown. For the Twitter tweet counts, the listed number of tweets are also sorely based on the highest number shown based on the images on the rundown.
United States Trends:
Toonami/#Toonami [#6]
#FireForce [Trended with #FoodWars]
#DrStone [#18]
#FoodWars [#10]
#Boruto [#22]
#Shippuden [#19]
#GundamTheOrigin [#10]
#LupinThe3rd [#10]
Tweet Counts:
#Toonami [6,579 tweets]
#DragonBallSuper [4,563 tweets]
#genLOCK [1,260 tweets]
#FireForce [2,957 tweets]
#DrStone [3,678 tweets]
#FoodWars [2,433 tweets]
#Boruto [1,827 tweets]
Fan Screening Counts:
#DragonBallSuper [#9 with 2521 tweets]
#DrStone [#11 with 2217 tweets]
#FireForce [#12 with 1815 tweets]
#FoodWars [#12 with 1711 tweets]
#BlackClover [#18 with 608 tweets]
#Boruto [#12 with 2373 tweets]
#MyHeroAcademia [#22 with 1032 tweets]
Tumblr Trends:
Notes and Other Statistics:
Special thanks to @MikeMorse1017, @myanimewaifu, @sdurso5 and others I forgot to mention for spotting some of the trends on this list.
Only Toonami on [adult swim] on Cartoon Network.
Toonami Tweets of the Night for September 7-8, 2019