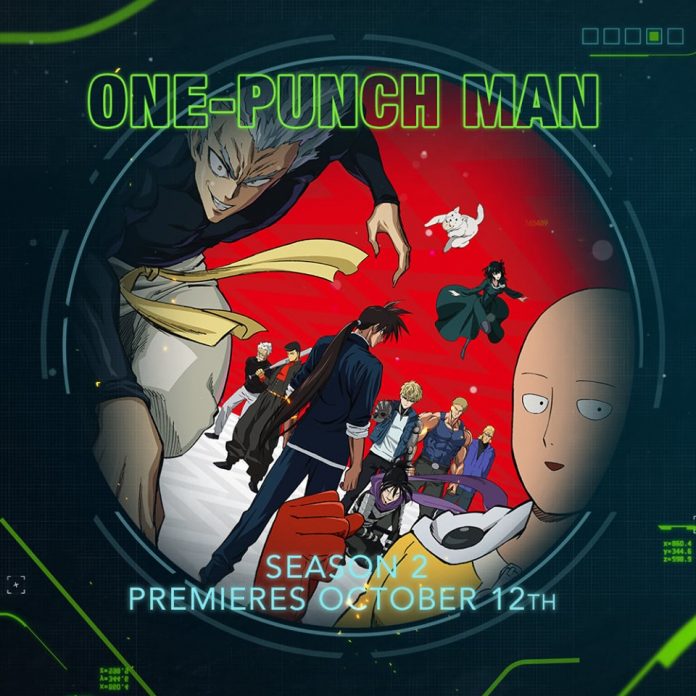 *This article was a collaboration between Daniel Limjoco and C.J Maffris
After a three-year wait, the much-anticipated return of One-Punch Man will happen this year. The anime series will join Toonami's lineup beginning on Oct. 12 (so far no time was given as to when the series will air). Fans across the country will get to hear Saitama, Genos, Mumen Rider, and a bevy of new characters in the long-awaited English dub (which will be first heard on Toonami).
What came as a huge surprise to many, the original studio (Madhouse) and director (Shingo Natsume) did not work on the second season. Instead, J.C. Staff took the mantle from Madhouse and had Chikara Sakurai direct the series. It created a lot of buzz in the anime world, leaving many fans worried about how the final product would look. It will no doubt become a talking point amongst the Toonami fans as the series airs.
Season Two premiered in Japan and on Hulu from Apr. 9 – July 2, 2019, giving fans a total of 12 episodes. An OVA (titled episode 12.5) premiered in Japan a week before the season premiere on Apr. 2. It is not yet known if Toonami will air this episode as well.
The first season of One-Punch Man previously premiered its English dub on Toonami from July 16 – Oct. 8, 2016, and was a huge success. It quickly became one of the more significant titles to air on the block. And one that many were hoping would return for a second season.
Anime News Network describes the newest season of One-Punch Man as this:
An increase in villain activity has the Hero Organization worried that the "Earthdoom prophecy" will soon come to pass. In an effort to alleviate the overworked heroes, they turn to villains themselves for help. The decision looks ill-advised as at least one villain is more interested in helping the prophecy along than preventing it.
BREAKING NEWS: Another announcement from #Toonami. It's back. #OnePunchMan Season 2 premieres October 12. pic.twitter.com/5MsRgTMQHX

— Toonami News 🇺🇲 (@ToonamiNews) September 11, 2019
https://t.co/C7Aw0aIB0h pic.twitter.com/Jl0nme5nUJ

— SPIRAL CURSE DEMARCO (@Clarknova1) September 11, 2019
I just wander over to the Toonami Facebook to look at comments regarding the DBS marathon and see this. xD pic.twitter.com/yoXCZ6NHSk

— Sketch (#PrayForKyoAni) (@Sketch1984) September 11, 2019
ONE PUNCH!!!!!!!!!!!!!!!!!!!!!!!!!!!!!!!! pic.twitter.com/tORJOl3zLB

— Knight King CJ Maffris (@SeaJayMaffris) September 11, 2019
Jesus. @Clarknova1 and the #Toonami crew throwing announcements out today. Wonder if there's more this week. 🤔

— Paul Pescrillo (@PaulPescrillo) September 11, 2019
What are your thoughts on One-Punch Man's return to Toonami? Let us know by commenting blow or directly on our social media.