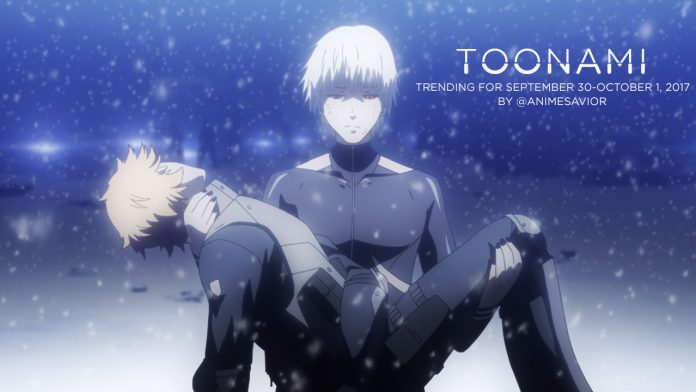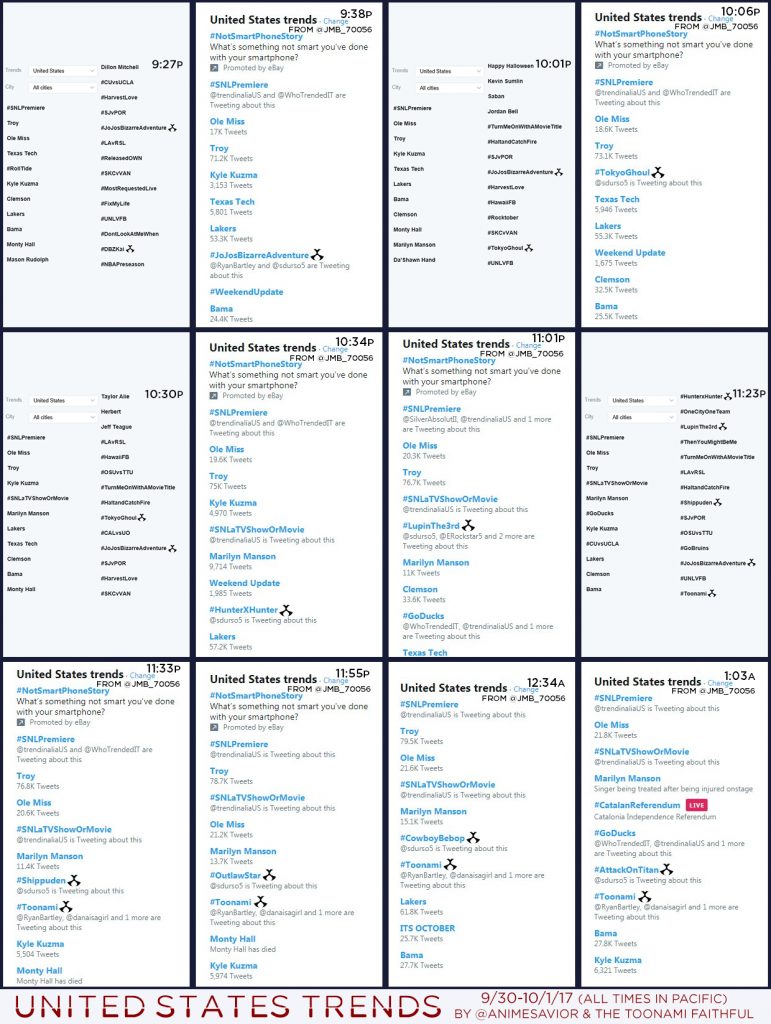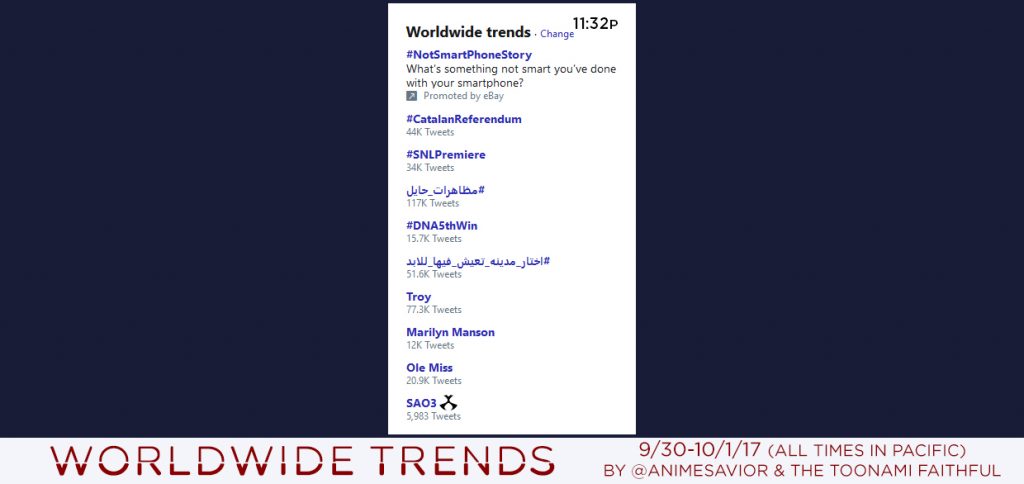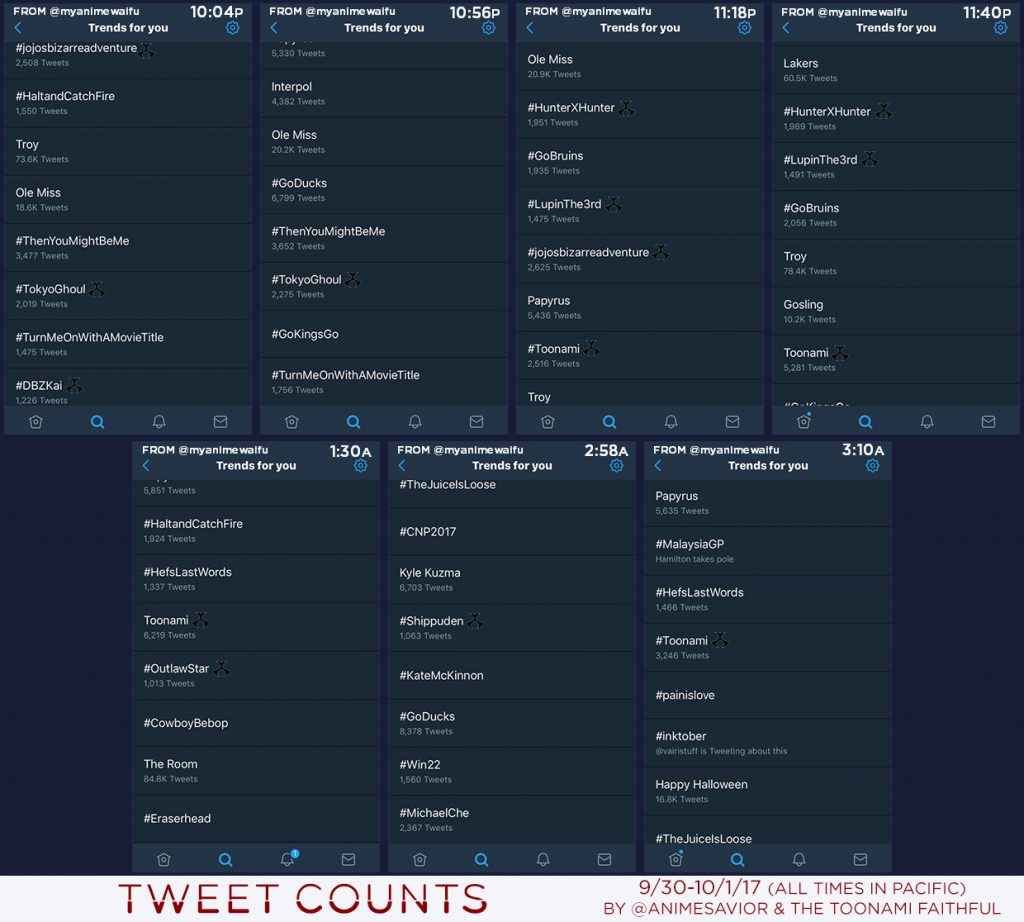 "There was something about the folks at Anteku. Everyone was full of life, you know. Always smiling. And you fit right in with them. You finally found a place where you belonged. You were happy, I wanted to do what i could to keep you that way. I tried to protect you guys, i really did. But who would've thought it would end up like this? I wanted to help so you wouldn't take the burden all by yourself. You see, you don't always have to be the hero, Kaneki."
–          Hideyoshi Nagachika, Tokyo Ghoul √A (Ep. 12)
The Toonami Trending Rundown for September 30-October 1, 2017. The times are a-changin' for several shows as Tokyo Ghoul showcases the finale of √A, while Zenigata manages to lock up Lupin, but has difficulty in throwing away the key, and Naruto wraps up the Pains Assault arc as Nagato stands down to Naruto, among other great moments.
On Twitter, Toonami as well as every show would successfully trend in the US during their respective East Coast airings. Meanwhile on Tumblr, Toonami would trend as well as JoJo's Bizarre Adventure and Hunter x Hunter.
Unfortunately, Dragon Ball Super would come up short this week, failing to trend in some capacity this week or getting on Nielsen Social's top 5 list, ending a streak that has lasted (holiday marathon nights aside) since June 17.
---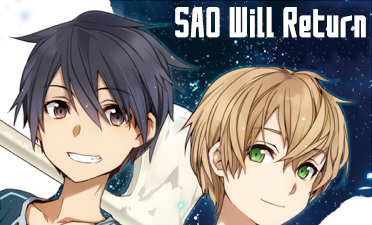 Huge news for Sword Art Online this week for those that haven't heard. Just as Toonami was beginning in the East Coast, Aniplex had announced that a season 3 of the series is indeed in the works. And after a 3 year hiatus from television (2 since it last aired on Toonami), SAO is coming back in a big way.
Season 3 will be fully focused on one story arc, titled "Project Alicization", which takes place shortly after the events of Mother's Rosario that ended season 2 as well as the events of the Ordinal Scale film (which takes place in between). Alicization runs from Volume 9-19 of the original light novels, and considering that  the previous 2 seasons covered the first 8 volumes in total (with roughly 2 volumes max per story arc), this will be the longest story arc in the franchise to date. It is presently unknown how many episodes there will be or if Alicization will required to be split into several cours (as was seen with Durarara x2, Gundam IBO, and My Hero Academia for instance) due to its length.
This new story arc will take place in a new fictional video game titled "Underworld" and will feature two new characters to the story, Eugeo, and Alice. For obvious spoiler reasons, I can't say much story-wise until the time comes, but you'll likely be hearing much more about those two and this upcoming story during the show's run-up in the months to come.
There's more to it. Aniplex has also announced that a side story to the series, "Sword Art Online Alternative Gun Gale Online" is also in the works. Based off the light novel originally published in 2014 and written by Keiichi Sigsawa of Kino's Journey fame, as the title suggests, this new series is directly related to the Phantom Bullet story arc seen during the first part of season 2. However, instead of following Kirito and Sinon in their mission to stop Death Gun, this side story will introduce a new crew in GGO.
No word yet on when these two new additions to the franchise will premiere, but given the success of Sword Art Online seasons 1 and 2 previously on the better cartoon show, no doubt these new additions to the franchise will be ones to watch for to Toonami to potentially air at some point ahead. We'll keep you posted on the developments ahead, but as with all potential shows, if you do wish to see Sword Art Online return to the block for Project Alicization, Alternative GGO, and perhaps even Ordinal Scale as well, continue supporting the show and the block overall as always and let Toonami and Aniplex know (ex. Toonami's Facebook and Tumblr message boxes, among other places).
In terms of trending, SAO 3 would trend worldwide as a result of the announcement.
---
Ever since the original manga made its debut on Weekly Young Jump back in 2011, Sui Ishida's Tokyo Ghoul would go on to make a big impact on the anime and manga scene, becoming a regular best seller on both sides of the Pacific, with 25 volumes combined and counting. Tokyo Ghoul would be adapted into a anime series by Studio Pierrot, with part 1 airing in Japan from July 4 to September 19, 2014, and part 2: √A or Root A airing from January 9 to March 27, 2015, which also helped the series reach new heights in terms of popularity.
Given the show's success, it came at no surprise that Tokyo Ghoul would regularly be among the most requested shows for Toonami to eventually acquire. Despite this, it would take several more years before it would get its shot on the better cartoon show, and on March 10th, 2017, Toonami announced that it finally would beginning on March 25th. However, this airing would come with a catch. The catch that One Piece's Toonami run would have to be canceled to make way.
Of course, Tokyo Ghoul isn't the reason One Piece was booted, as I mentioned during the OP retrospective 26 weeks ago, declining ratings combined with the high costs of airing the show and fans wanting a shakeup to the block made its continuation on the better cartoon show unsustainable, and Tokyo, Ghoul was just merely next in line to air, so to speak. Understandably, One Piece fans were very upset at this move, and some have questioned Tokyo Ghoul's presence on the better cartoon show, with critics arguing that the anime's quality being not up to par to the manga, among other things. Nonetheless, One Piece's downfall and Tokyo Ghoul's rise as Toonami shows, combined with Sword Art Online's continued success, and Naruto's resilience, may well be defining examples (Toonami-wise) that acclaim doesn't mean much if you don't have the ratings to back it up, and perhaps vindicates something Toonami head Jason DeMarco has said: "television is a democracy and people vote with their eyeballs". We always hate it when something like this happens, but the moral of the story is to support your favorite shows, or watch them leave as well.
During the show's 24 episode run, the show would successfully trend on Twitter in some capacity during all 12 weeks of part 1's run, including in the US during 11 weeks as well as worldwide during week 1. Things were a little slower during Root A on the other hand, with the show trending in the US for 6 out of 12 weeks. The show would also trend on tumblr for 9 weeks of its run (8 of them during Part 1), including during the week before its run as the show was being promoted.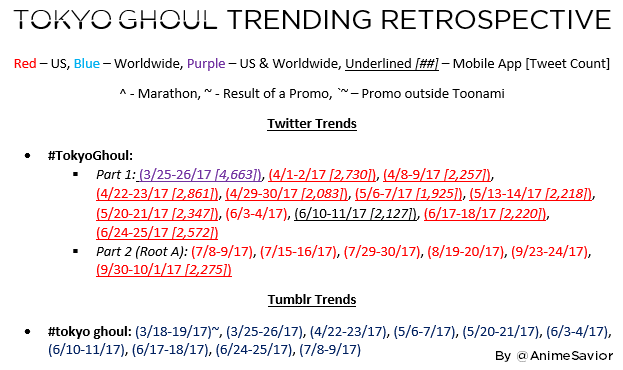 As those that have read the manga would tell you, the anime has made quite a few notable changes from the original material, with Tokyo Ghoul Root A diverging from the manga by around Volume 6. The manga continues on to this day with 12 volumes total of Tokyo Ghoul, as well as its sequel series in Tokyo Ghoul:re with 13 volumes/143 chapters and counting. For those interested, Viz Media has translated and released part 1 in US shores and is currently working on releasing Tokyo Ghoul:re, with the first volume set for release on October 17.
In addition, there's a brand new live action film adaptation, which premiered during Anime Expo and released in Japan on July 29th. Funimation will be showcasing the new Tokyo Ghoul live action film from October 16-22 in select theaters. Click here for more information.
But that's not all. There has been some developing news released this week regarding a continuation or reboot of the anime, with the announcement of an adaptation of Tokyo Ghoul:re in the works, set to premiere sometime next year. Before this announcement was made on Thursday, publisher Young Jump has announced that they will have plans to reveal new information regarding what is next for Tokyo Ghoul on October 12, and assuming that this wasn't the announcement released in advance, we may hear more regarding this new series then.
It is currently unknown how the creators will address the previously mentioned diverging of the story from the manga, whether the show will just start off from the Root A ending and work their way back to following the manga, much like a Shonen Jump long runner returns to canon, or follow a similar path several other Toonami shows took when they were continued, such as restarting from the beginning much like FMA Brotherhood, or have Root A "retconed", similar to Blue Exorcist when episodes 18-24 of the original series were ignored from the canon when the Kyoto Saga began. Of course, this is all just speculation at the moment, but it will be interesting to see how the story continues with this in mind.
Nonetheless, as I mentioned with Attack on Titan, One Punch Man, and Sword Art Onilne among potentially many others, given the show's success, I think it is safe to say that Tokyo Ghoul will be a potential candidate to make a return to the better cartoon show for this new series. Assuming Funimation and Toonami can successfully negotiate and pull off a broadcast dub, Tokyo Ghoul may likely make a return as early as next year. Of course, it's too early to say anything on this matter, but as with all potential shows, if you do wish to see Tokyo Ghoul:re on the better cartoon show, continue supporting the show and the block as always, and let Toonami and Funimation know.
Regardless of what happens, Tokyo Ghoul was a pretty interesting ride, for better or for worse, and given recent news and its continued support, I doubt we will be hearing the last from Kaneki, Touka, Hide, and the Anteku. What happens next should be an interesting one, and we'll keep you posted.
---

Of course, we haven't heard the last from Mikazuki and the Tekkadan, as Mobile Suit Gundam: Iron Blooded Orphans makes its return to the better cartoon show for Season 2 tonight at 12:30am Eastern, while Naruto Shippuden will begin the Past Arc: The Locus of Konoha story arc, and Lupin the Third continues the 2nd half of Part 4, among other great moments.
We'll see you again then as always, but we do wish a Happy 25th anniversary to Cartoon Network. From all the good times and despite the bad times, From the Cartoon Cartoons and later the Cartoon Network originals, to [adult swim], Boomerang, and Toonami, CN has brought fans both young and old many great shows and allowing us to enjoy the great medium that is animation. Thanks for the memories, and here's to many more.
---
Legend: The shows listed are ordered based on their appearance on the schedule. Show trends are listed in bold. The number next to the listed trend represents the highest it trended on the list (not counting the promoted trend), judging only by the images placed in the rundown. For the Twitter tweet counts, the listed number of tweets are also sorely based on the highest number shown based on the images on the rundown.
United States Trends:
Toonami/#Toonami [#7]
#DBZKai [#24]
#JoJosBizarreAdventure [#7]
#TokyoGhoul [#4]
#HunterXHunter [#8]
#LupinThe3rd [#5]
#Shippuden [#6]
#OutlawStar [#6]
#CowboyBebop [#6]
#AttackOnTitan [#7]
Worldwide Trends:
Tweet Counts:
Toonami [6,219 tweets]
#Toonami [3,246 tweets]
#DBZKai [1,226 tweets]
#JoJosBizarreAdventure [2,625 tweets]
#TokyoGhoul [2,275 tweets]
#HunterXHunter [1,989 tweets]
#LupinThe3rd [1,491 tweets]
#Shippuden [1,063 tweets]
#OutlawStar [1,013 tweets]
Tumblr Trends:
#jojos bizarre adventure
#hunter x hunter
Notes and Other Statistics:
Special thanks to @JMB_70056, @myanimewaifu and others I forgot to mention for spotting some of the trends on this list.
Only Toonami on [adult swim] on Cartoon Network.