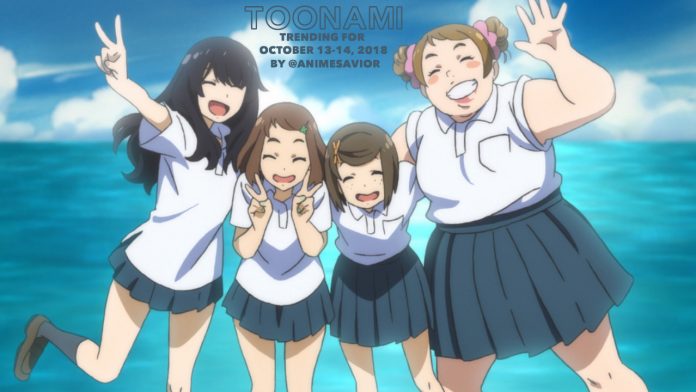 "Every day just drifts off into a pink light. It's too bright for my eyes that are swollen from crying all night and my head really hurts from it. But familiarity can be a novelty, so even if tomorrow is just a gathering of yesterdays cracked and tangled, in this city, I will…"
–          Kana, FLCL Alternative (Ep. 06)
The Toonami Trending Rundown for October 13-14, 2018. The story of Kana and her pals comes to a close as the finale of FLCL Alternative aired on this night. And among other great moments, the Z Fighters assemble their squad for the Tournament of Power, while the Scouts rescue Eren and Historia from Kenny and Rod Reiss, and Koichi has to deal with Yukako harassing him to say the least.
On Twitter, Hunter x Hunter managed to trend briefly in the US (alongside a few tweet counts for FLCL, Attack on Titan, and JoJo's including Koichi) while on Tumblr, Toonami would trend alongside Attack on Titan.
---

Following the broadcast of Episode 12 of Attack on Titan season 3 in Japan, it has been announced that the series will go on a 24 week off-season, with the second cour premiering in Japan sometime in April 2019. With only 4 episodes left until the dub reaches this mid-way point, the mid-season finale is expected to air on Toonami on November 17, assuming the regular schedule takes the week off for Halloween weekend on October 27. No word yet on what  Toonami and Funimation's plans will be for Attack on Titan going forward, or if another show will join the lineup during the show's hiatus as of this time, but we'll keep you posted.
My Hero Academia fans came out in full force during the theatrical screenings of The Two Heroes, as Funimation announced that the film earned a total of $5,768,366 during its limited run in US and Canadian theaters, making it the #10 highest-grossing domestic anime film of all time.
---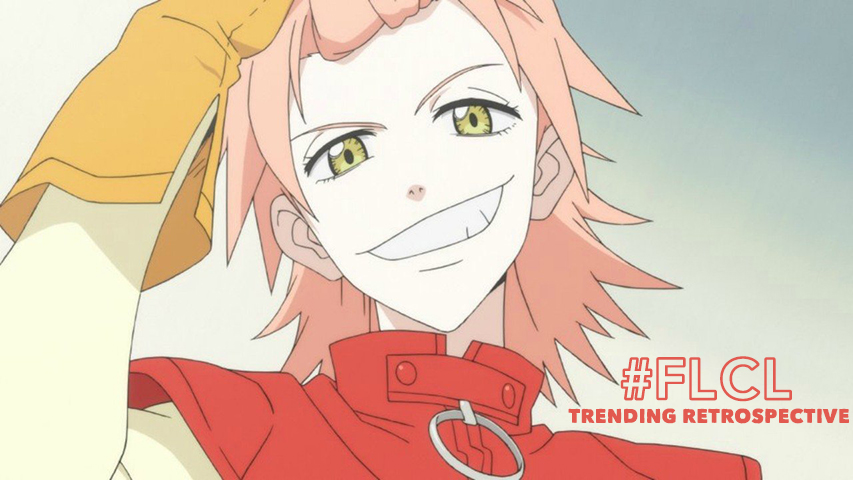 Ever since its debut on Adult Swim in 2003, FLCL has been widely praised with its unique story, superb art style, and its enjoyability to this day, among many other things. Mike Lazzo and Jason DeMarco among others at Adult Swim have seen it as among their favorite anime series of all time, so much so that they even looked into creating a sequel to Naota's story. However, Gainax wasn't interested at the time.
Years later, Gainax eventually sold the rights to create a sequel to Production IG, and with Toonami's assistance, they eventually created the stories of Hidomi and Kana. No doubt Production IG and Toonami have a lot of shoes to fill, and whether you were inspired by these new takes on FLCL's coming-of-age story or you were just as confused as you were when you first saw FLCL back in the day, or you dismissed it as a "moeshit cash grab", we'll, I'll let you decide on that.
12 weeks of Hidomi and Ide trying to mend a relationship and Kana and co. learning the transition into adulthood, and this generation of FLCL's run is in the books. During FLCL 2's run, #FLCL trended in some capacity during all 6 episodes of its run, including in the US in the first 4 episodes. #FLCLProgressive also trended during 4 of those weeks and #FLCL 2 during 2 weeks. FLCL 3 Alternative had it a bit harder during the Great Trending Drought of 2018, as #FLCL trended during its Surprise April Fools (including #FLCL Alternative) airing as well as 2 of 6 weeks of its regular run. And during both premiere nights, the show would successfully trend on Tumblr.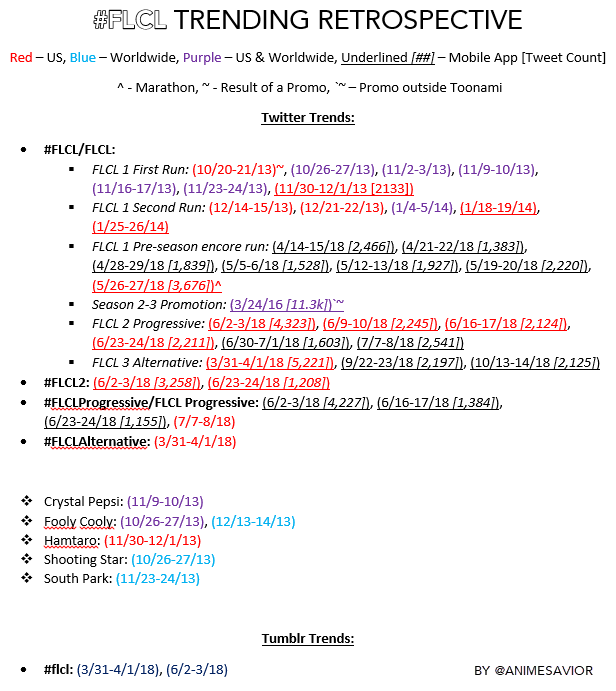 Whether we can see a FLCL 4 and beyond or a continuation of these stories, I'm not sure, but personally it was great to see the return of this great franchise, more music from The Pillows, and Kari Wahlgren getting to reprise her most memorable role, among other things. All I can say is thanks for the memories, Haruko.
---
For those who want to re-watch FLCL Alternative again, it will begin an encore run beginning next Saturday at 11:30 pm. And for those wondering what's replacing Bebop with its current run coming to an end, the final hour of Toonami will see a doubleheader of Samurai Jack in the interm.
Not much else to say other than we'll see you again for another round of the better cartoon show. Later.
---
Legend: The shows listed are ordered based on their appearance on the schedule. Show trends are listed in bold. The number next to the listed trend represents the highest it trended on the list (not counting the promoted trend), judging only by the images placed in the rundown. For the Twitter tweet counts, the listed number of tweets are also sorely based on the highest number shown based on the images on the rundown.
United States Trends:
#HunterXHunter [#18. #Toonami and #JoJosBizarreAdventure were related trends.]
Tweet Counts:
#Toonami [5,897 tweets]
#FLCL [2,125 tweets]
#AttackOnTitan [1,948 tweets]
#JoJosBizarreAdventure [2,943 tweets]
Koichi (From JoJo's Bizarre Adventure) [3,236 tweets]
#HunterXHunter [1,621 tweets]
Tumblr Trends:
#Toonami
#Attack on Titan
Notes and Other Statistics:
Special thanks to @myanimewaifu and others I forgot to mention for spotting some of the trends on this list.
Only Toonami on [adult swim] on Cartoon Network.
Bang.
Toonami Tweets of the Night for October 13-14, 2018