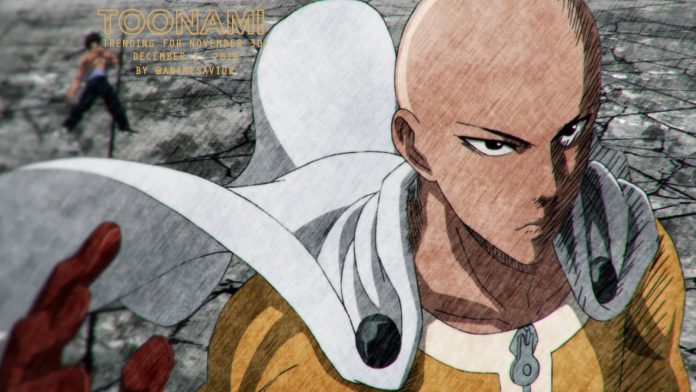 "[Who am I]? Just a hero. I heard you calling out for help, Suriyu. You fought hard on your own. Let me take care of the rest."
–          Saitama, One Punch Man (Season 02, Ep. 09)
The Toonami Trending Rundown for Nov. 30 – Dec 1., 2019. It's the beginning of the holiday season with Thanksgiving, so Toonami took most of the night off to air a Food Wars marathon. However, the first hour still showcased new episodes of My Hero Academia and One-Punch Man on their regular scheduled times, as well as The Forge with its fourth episode.
Among the highlights of the night, Deku runs into Overhaul in My Hero Academia, who is having a bit of a family dispute with Eri. Despite the desolate appearance she had, Deku is forced to let them go for now as there is little evidence to warrant an arrest and separate Eri from Overhaul. Deku also learns that All Might may not have much time left in this world due to his chronic injuries as Sir Nighteye's foresight quirk predicts. Meanwhile, in One-Punch Man, Suriyu wins the martial arts tournament, but his celebration is short-lived as monsters try to force all of the entrants to join their side or die. Suriyu was among those that refused and was beaten to a pulp until Saitama arrived.
On Twitter, Toonami would trend in the United States alongside The Forge, One-Punch Man and Food Wars. Meanwhile, on Tumblr, Toonami would trend along with #BNHA. The full list, including statistics and tweet counts from the Twitter app and Amr Rahmy's Fan Screening analytics app, can be seen below.
---

This week's feature was the fourth part of The Forge. For those who couldn't make it due to Thanksgiving weekend, you'll want to check it out as it plays a significant role in TOM and SARA's storyline. You can check it out below.
This week, Viz Media released the fifth edition of the Bleach Blu-ray box-sets which contains episodes 112-139. The set can be purchased at major anime selling retailers for $54.97 MSRP.
In Dragon Ball news, it was revealed by Bandai Namco that Johnny Yong Bosch, best known for voicing the likes of Ichigo Kurosaki and Vash the Stampede, will be taking over as the voice of Broly beginning in the upcoming DLC pack for Dragon Ball FighterZ.
During the week, Jason DeMarco revealed some interesting information regarding the block. When it comes to viewership demographics, he revealed that according to Nielsen Research, around 55% of Toonami's viewership is female, while 45% are male viewers. He also added that the audience is mostly millennials as well. This data is compared to the rest of Adult Swim; in which viewership demographics skew 55% Male to 45% female.
Jason also mentioned a few other tidbits, including that the Toonami crew was serious in pursuing the critically acclaimed Yuri on Ice!! for the block, alongside the likes of Revolutionary Girl Utena, Ranma 1/2, and Magic Knight Rayearth. Despite having good relationships with Crunchyroll and FUNimation, various issues prevented a possible broadcast from happening at least anytime soon. While it is disappointing for fans of those shows as well as those who would like to see more variety, it does show that the Toonami crew are willing to give different anime a chance.
Finally, on the note of marathons, Toonami has revealed their plans for Christmas week on Dec. 21, as they will reair the first 10 episodes of One-Punch Man's second season before ending off the night with that week's regularly scheduled Attack on Titan. As of this writing, we have four episodes left this season, so assuming Toonami also does a marathon on New Years' week, the season finale is scheduled to air on Jan. 11.
Tune in next week for the fifth part of The Forge, the finale of Lupin the Third Part V, and the first of the last two regular scheduled Toonami nights of the year. Until next week, stay gold as always.
---
Legend: The shows listed are ordered based on their appearance on the schedule. Show trends are listed in bold. The number next to the listed trend represents the highest it trended on the list (not counting the promoted trend), judging only by the images placed in the rundown. For the Twitter tweet counts, the listed number of tweets are also sorely based on the highest number shown based on the images on the rundown.
United States Trends:
Toonami [#23]
#TheForge [#22]
#OnePunchMan [#19]
#FoodWars [#18]
Tweet Counts:
#Toonami [3,358 tweets]
#TheForge [1,593 tweets]
#OnePunchMan [2,063 tweets]
#FoodWars [2,213 tweets]
Fan Screening Counts:
#MyHeroAcademia [#9 with 2691 tweets]
#OnePunchMan [#14 with 1250 tweets]
#FoodWars [#17 with 1440 tweets]
Tumblr Trends:
Special thanks to @MikeMorse1017, @myanimewaifu, and others I forgot to mention for spotting some of the trends on this list.
Only Toonami on [adult swim] on Cartoon Network.
Toonami Tweets of the Night for November 30-December 1, 2019