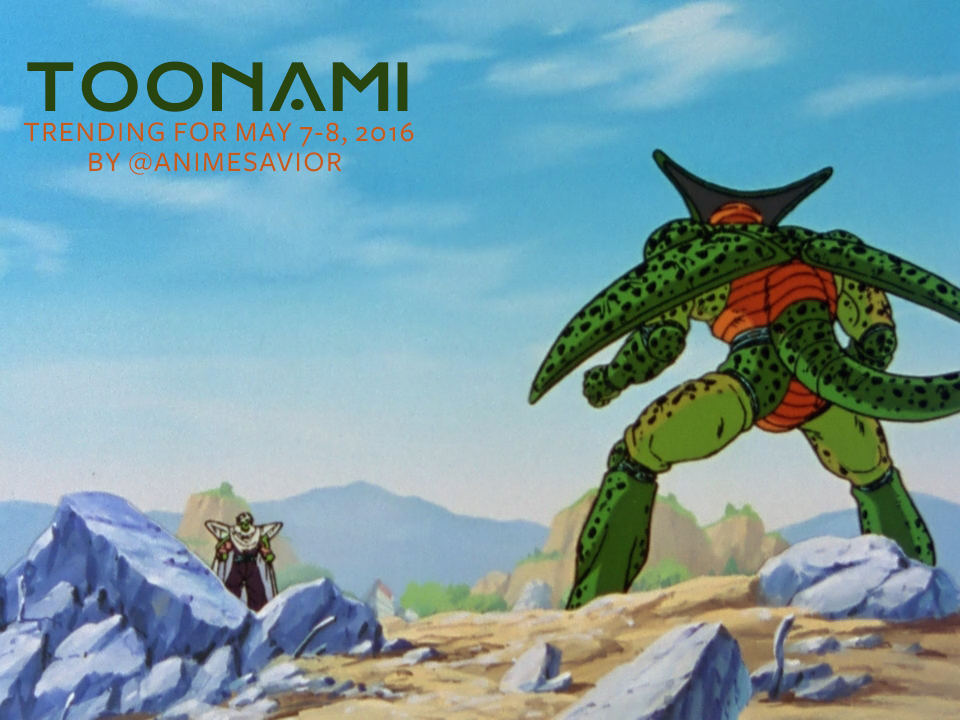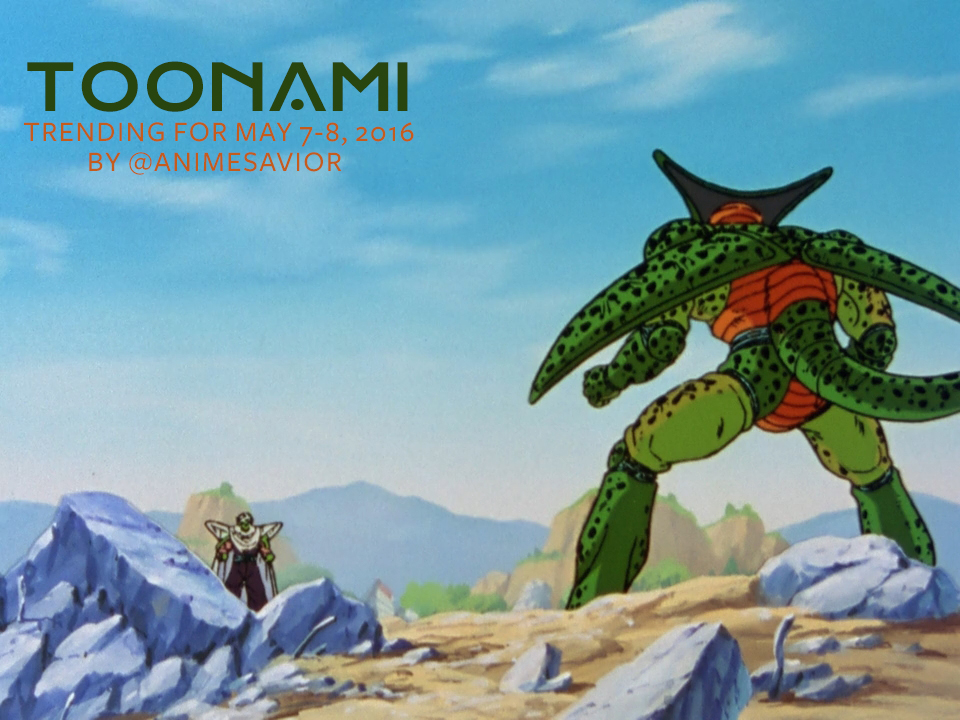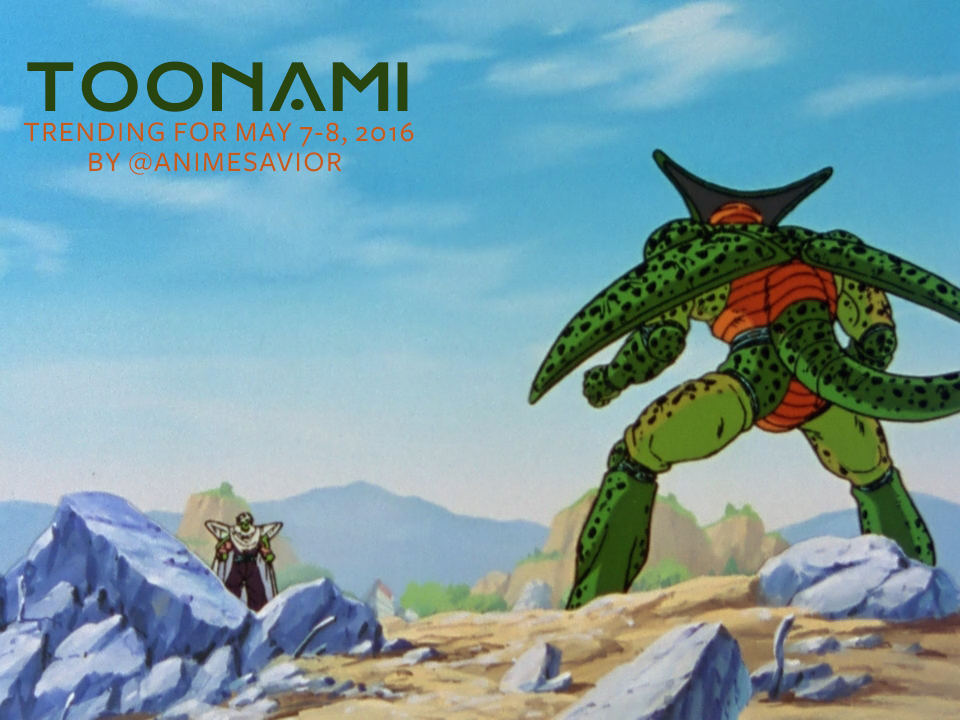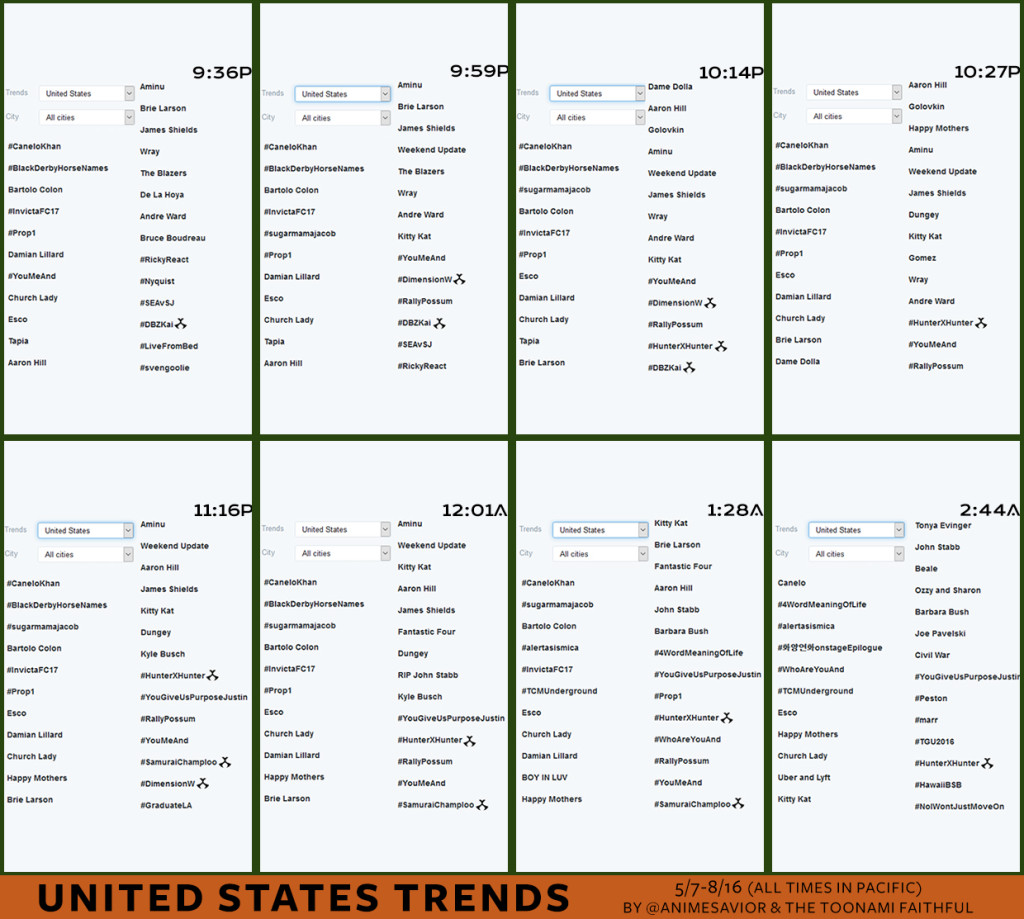 Piccolo: "Before you add me to your collection, you're at least gonna tell me this: What sort of abomination are you? You've got Goku's and Frieza's, all of our energies. Even the Kamehameha."

Cell: "Hmm, alright. I will tell you before I feed. I am Cell, and I am an android."
–     Dragon Ball Z Kai (Ep. 69)
The Toonami Trending Rundown for May 7-8, 2016. Decent night for trending all things considered as the first 4 shows had successfully trended in the East Coast airing, in addition to Hunter x Hunter during its respective West Coast airing. No character or in-show content trends to report this week.
Little note that unlike recent new acquisitions which have had their Toonami announcements 2 weeks before its premiere or earlier, we have yet to receive word on what Dimension W's replacement will be. According to Jason, Toonami hasn't been allowed to announce it just yet and will do so once they get the clearance to. As they say, good things come to those who wait, and I'm sure it will be worth it real soon.
Tune in next week for the finale of Dimension W as well as the finale of Naruto's Three Tails Appearance arc, among other great moments. Until next week, have a Happy Mother's Day, a Happy Goku/Piccolo Day, congratulations to Leicester City on their miraculous Premier League championship, and stay gold as always.
[divider]
Legend: The shows listed are ordered based on their appearance on the schedule. Show trends are listed in bold. The number next to the listed trend represents the highest it trended on the list (not counting the promoted trend), judging only by the images placed in the rundown. For the Twitter tweet counts, the listed number of tweets are also sorely based on the highest number shown based on the images on the rundown.
United States Trends:
#DBZKai [#23]
#DimensionW [#21]
#HunterXHunter (Also during the West Coast airing) [#19]
#SamuraiChamploo [#23]
Tweet Counts:
#Toonami [3,589 tweets]
#DBZKai [2,206 tweets]
#DimensionW [2,174 tweets]
#HunterXHunter [4,227 tweets]
#SamuraiChamploo [1,476 tweets]
Let's Roll. Only Toonami on [adult swim] on Cartoon Network.