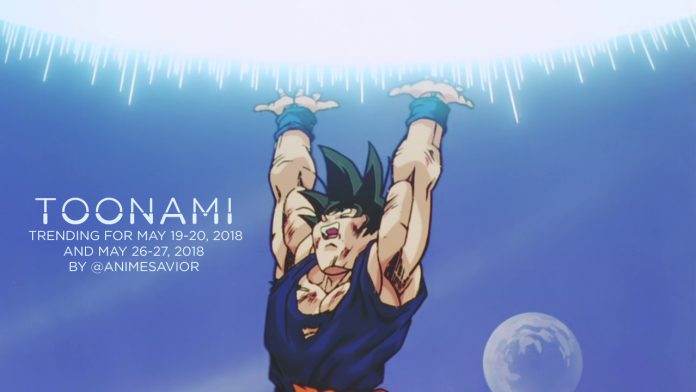 "Nice work, Mr. Satan. You may be the savior of the world, after all."
–          Goku, Dragon Ball Z Kai (Ep. 163)
This week's Toonami Trending Rundown for the nights of May 19-20, 2018 as well as May 26-27, 2018, as we reach the final countdown to FLCL's revival. And among other great moments, we saw Goku and co. attempt to persuade the world to lend them their energy for the spirit bomb, while Deku enters the UA Academy exams, and Sasuke vows vengeance on the Kages.
On Twitter, only #Toonami would successfully trend in the US, while on Tumblr, #Toonami would trend along with Boku no Hero Academia. The following week was Memorial Day Weekend, so with FLCL Progressive's premiere just a week away, Toonami aired all 6 episodes of FLCL twice in anticipation. #FLCL would trend in the US on Twitter in the later hours as a result.
---

Among the notable news from the past 2 weeks, Toonami released the premiere trailer for FLCL 2 Progressive, which you can see below. As FLCL 2 is an original production, Adult Swim has pulled out all the stops for promotion including showcasing this promo during Game 7 of the Western Conference finals as well as several billboards across several major cities.
For those who skipped last week's Toonami due to Memorial Day festivities, Toonami showcased Part 4 of their Behind the Scenes look into FLCL's production, this time featuring The Pillows, the band made famous by their musical contributions to this show. You can check it out below.
And speaking of The Pillows, this upcoming July, the band will be making a concert tour through 6 major cities in the US to commemorate the series revival. The dates for the concerts are as follows:
Tue July 10 – Boston, MA – Royale
Thu July 12 – New York, NY – Gramercy Theatre
Sun July 15 – Seattle, WA – Neptune THEATRE
Mon July 16 – Portland, OR – Hawthorne Theatre
Wed July 18 – San Francisco, CA – August Hall
Thu July 19 – Los Angeles, CA – The Regent Theater
While Adult Swim is attempting to secure bigger venues due to high demand, tickets are going by fast, so if you're interested, check out www.adultswim.com/presents/pillows-tour/ for more information.
Finally for those wanting to know what's replacing Ghost In The Shell as it has now completed its run, Toonami has announced that they will be doing an encore run of Lupin the Third Part IV to close out the block at 3:30am ET. With Part V presently airing in Japan and potentially on the horizon for Toonami in the near future, if you wish to watch Lupin again or were late to the party, now's your chance.
Sleep is for the weak. #LupinThe3rd Part IV is back on Toonami starting June 2nd at 3:30am! Directed by @RichardEpcar & @ellynstern!

If you are weak, we've still got you covered: https://t.co/SG9Myeiy4T https://t.co/0l3Yqgjjuy

— 💿 Discotek Media 💿 (@discotekmedia) May 20, 2018
Tune in Saturday as FLCL Progressive has its world premiere debut at 12:00 am Eastern, among other great moments. Until next week, stay gold.
---
Legend: The shows listed are ordered based on their appearance on the schedule. Show trends are listed in bold. The number next to the listed trend represents the highest it trended on the list (not counting the promoted trend), judging only by the images placed in the rundown. For the Twitter tweet counts, the listed number of tweets are also sorely based on the highest number shown based on the images on the rundown.
May 19-20, 2018 Trends
United States Trends:
Tweet Counts:
#Toonami [4,485 tweets]
#DBZKai [1,494 tweets]
#FLCL [2,220 tweets]
#JoJosBizarreAdventure [1,634 tweets]
#HunterXHunter [1,999 tweets]
Tumblr Trends:
#Toonami
#Boku No Hero Academia
May 26-27, 2018 Trends
United States Trends:
Tweet Counts:
#Toonami [1,496 tweets]
#FLCL [3,676 tweets]
Special thanks to @JMB_70056, @myanimewaifu, @TheNextHokage, and others I forgot to mention for spotting some of the trends on this list.
Guess that's what they call Adolescence. Only Toonami on [adult swim] on Cartoon Network.
Toonami Tweets of the Night for May 19-20, 2018