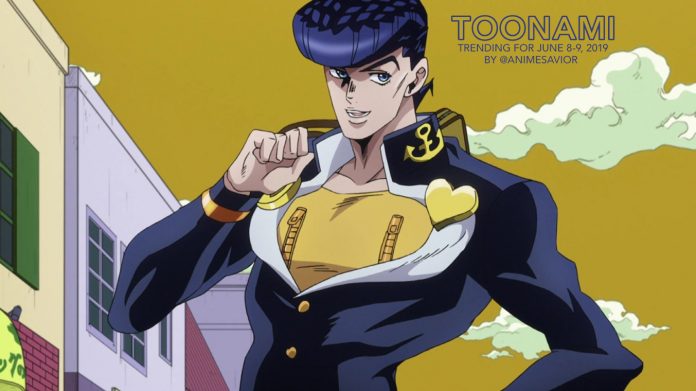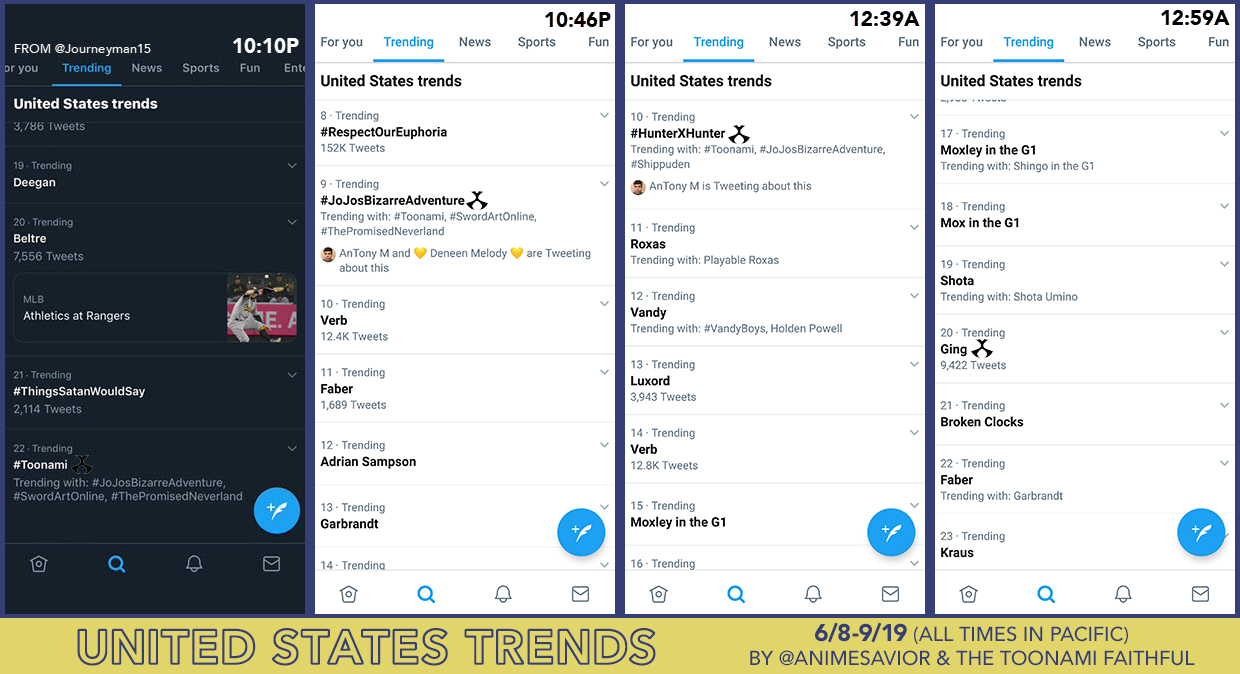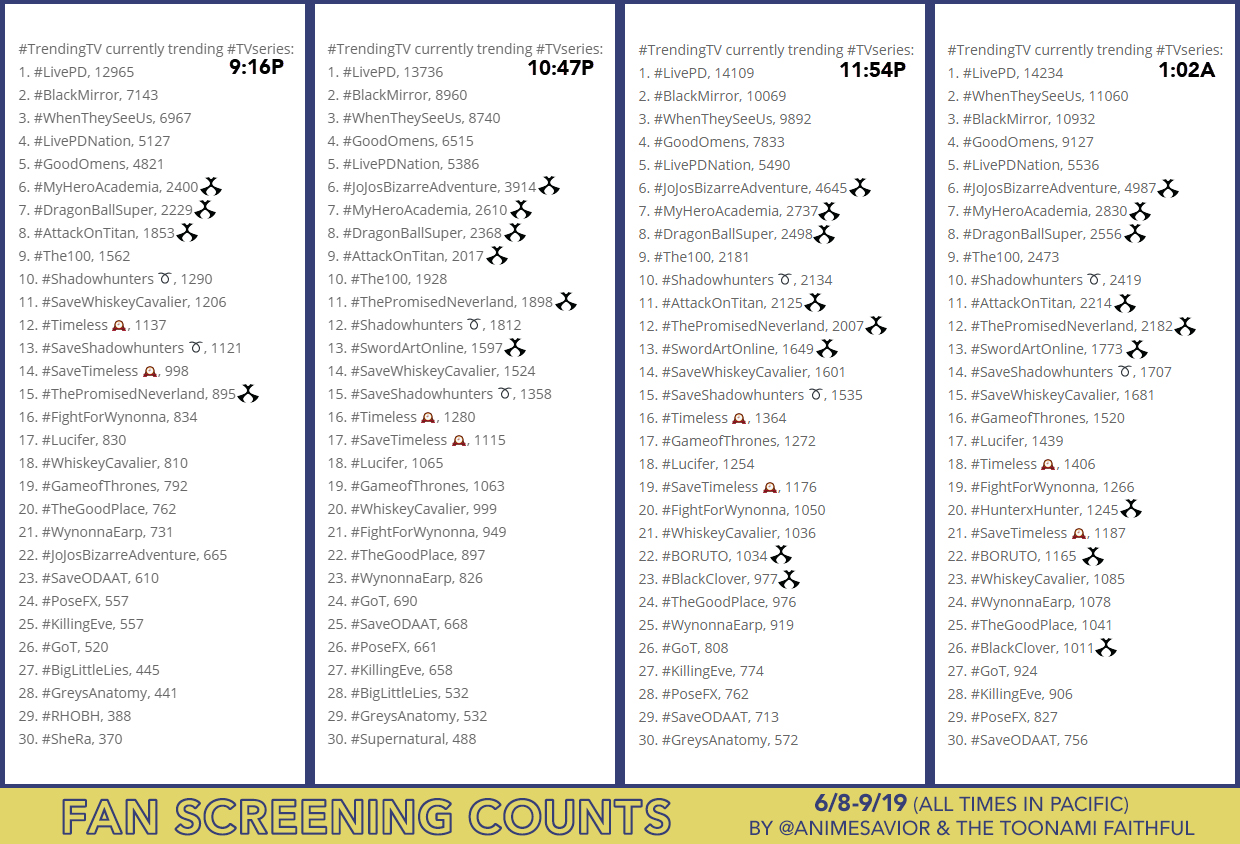 "How bout it, Jotaro. Are you worried about what might happen when we leave this place? Because of all of this, we've had the chance to see how capable Josuke and his friends are. And there's one thing I can say with absolute certainty: the young people living in this town are heroes, one and all, and each one of them possesses a heart of gold. They've the same righteous hearts we witnessed on our journey to Egypt. They carry a spirit of radiance that will fight for true justice above all else. I see it in Josuke, as well as the others. Morioh's in and good hands with them. As long as they're here we have nothing to worry about."
–          Joseph Joestar, JoJo's Bizarre Adventure: Diamond is Unbreakable (Ep. 39)
The Toonami Trending Rundown for June 8-9, 2019. We reach the finale of Diamond is Unbreakable as the Joestars finish the fight against Yoshikage Kira. Meanwhile, Quinella woos Eugeo to be brainwashed to join her side, Gon is finally healed from his injuries during his fight with Neferpitou, and Black Clover begins the Royal Knights arc, among other great moments.
JoJo's Bizarre Adventure would complete Part 4 with a bang as the show trended in the US on Twitter and on Tumblr. Toonami and Hunter x Hunter would also trend in the US on Twitter and on tumblr. The Promised Neverland, Sword Art Online and #Shippuden would also trend alongside them, but not outright. And Hunter x Hunter also saw a character trend in Ging as Gon finally meets his father for the first time after a lifetime of being ignored by him.
The full list including statistics and tweet counts from the twitter app and Amr Rahmy's Fan Screening analytics app can be seen below.
---

This week's feature was the promo trailer for part 5 of Lupin the 3rd. You can check it out below.
In case you missed it, this week, I have just posted my interview with Laura Stahl and Maureen Price at Anime Conji, as I talk to them regarding The Promised Neverland's Ray and JoJo's Bizarre Adventure's Hayato and Sword Art Online's Quinella and  Hunter x Hunter's Amane respectively. You can check it out by clicking here.
We're less than 3 weeks away from Anime Expo, and me and my colleagues at ToonamiFaithful.com will be hard at work trying to get you all the news, interviews, and events from LA next month. Some of the notable events of significant interest to Toonami viewers that has been released so far include:
Aniplex will be hosting a panel on Friday at 1:30 pm for The Promised Neverland as Erica Mendez, Jeannie Tirado, and Laura Stahl will be joined by series director Mamoru Kanabe as well as their Japanese counterparts, Sumire Morohoshi, Maaya Uchida, and Mariya Ise.
On Saturday at 10 am, Funimation will be showcasing a special premiere of the Season 4 premiere episode of My Hero Academia, with Kaori Nazuka, David Matranga, Patrick Seitz, and Ricco Fajardo. Due to high demand, Anime Expo officials will be requiring fans to line up for admission wristbands to gain entry, similar to what was done with the Two Heroes Premiere last year.
Later on Saturday, Aniplex will host an SAO panel at 4:00 pm to commemorate the completion of the first half of Project Alicization and look into a preview of the 2nd half. Bryce Papenbrook, Cherami Leigh, and Alex von David will be joined by series director Manubo Ono and character designer Shingo Adachi as among the panelists.
---
As the wait for Golden Wind begins, tune in tonight as Lupin the 3rd returns to the better cartoon show at 1 am Eastern with the premiere of Part 5. Until then, stay gold as always.
---
Legend: The shows listed are ordered based on their appearance on the schedule. Show trends are listed in bold. The number next to the listed trend represents the highest it trended on the list (not counting the promoted trend), judging only by the images placed in the rundown. For the Twitter tweet counts, the listed number of tweets are also sorely based on the highest number shown based on the images on the rundown.
United States Trends:
Toonami/#Toonami [#22]
#ThePromisedNeverland [Trended with #Toonami and #JoJosBizarreAdventure]
#SwordArtOnline [Trended with #Toonami and #JoJosBizarreAdventure]
#JoJosBizarreAdventure [#9]
#Shippuden [Trended with #HunterXHunter]
#HunterXHunter [#10]
Ging (From Hunter x Hunter) [#20]
Tweet Counts:
#Toonami [4,337 tweets]
#ThePromisedNeverland [3,133 tweets]
Ging (From Hunter x Hunter) [9,472 Tweets]
Fan Screening Counts:
#MyHeroAcademia [#6 with 2830 tweets]
#DragonBallSuper [#7 with 2556 tweets]
#AttackOnTitan [#8 with 2214 tweets]
#ThePromisedNeverland [#11 with 2182 tweets]
#SwordArtOnline [#13 with 1773 tweets]
#JoJosBizarreAdventure [#6 with 4987 tweets]
#BlackClover [#23 with 1011 tweets]
#Boruto [#22 with 1165 tweets]
#HunterXHunter [#20 with 1245 tweets]
Tumblr Trends:
#Toonami
#JJBA
#Hunter X Hunter
Notes and Other Statistics:
Special thanks to @Journeyman15, @myanimewaifu and others I forgot to mention for spotting some of the trends on this list.
Because It's Exciting. Only Toonami on [adult swim] on Cartoon Network.
Toonami Tweets of the Night for June 8-9, 2019