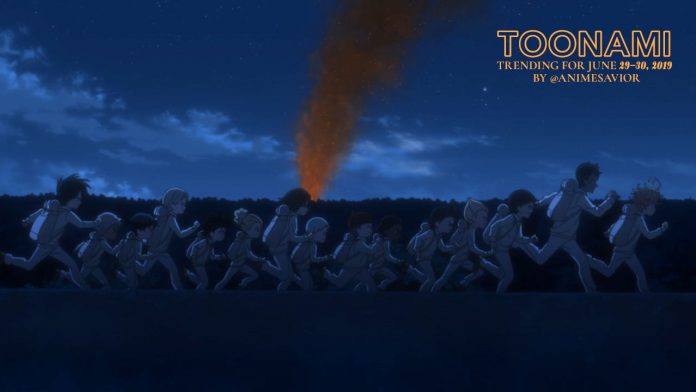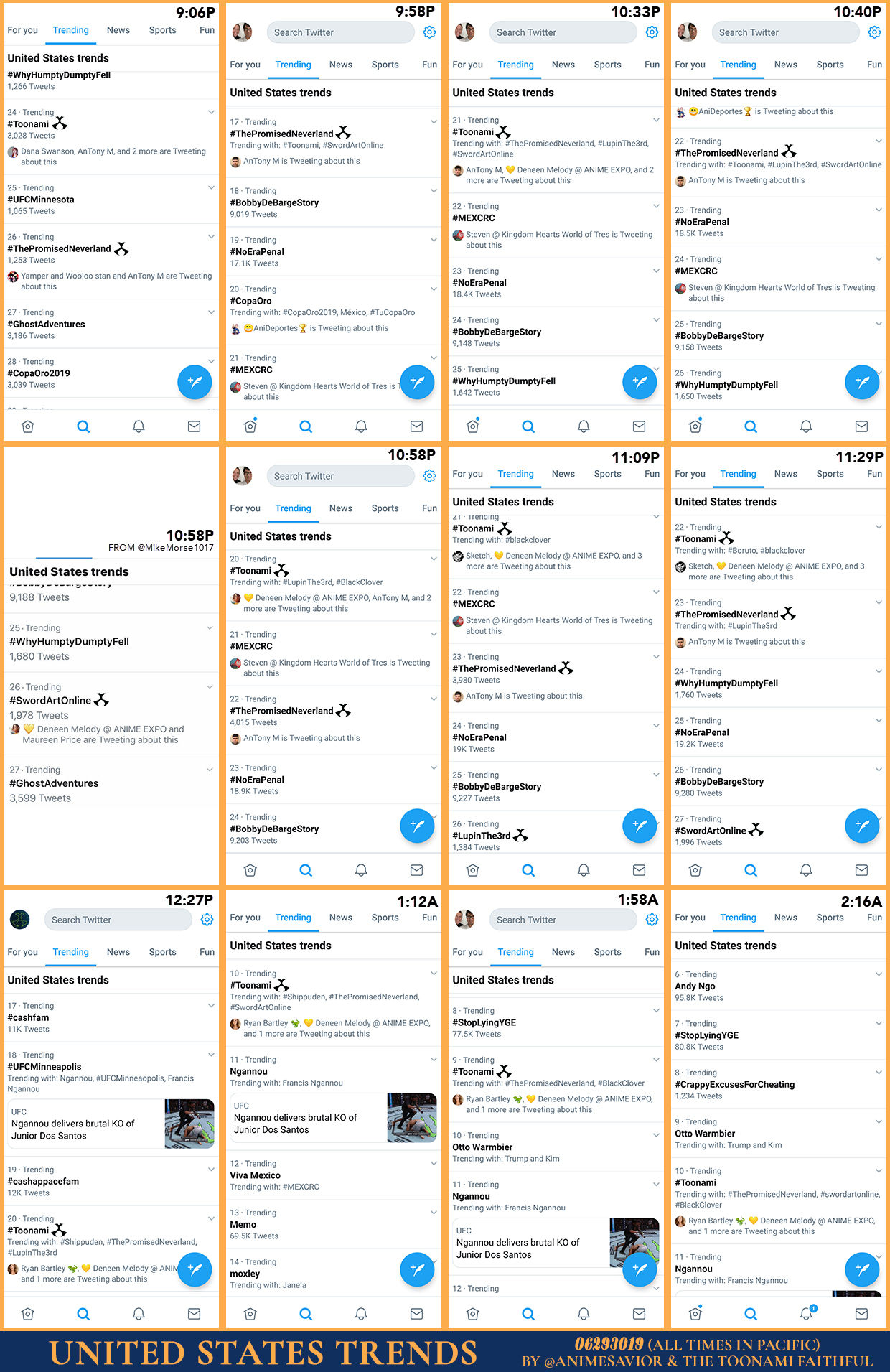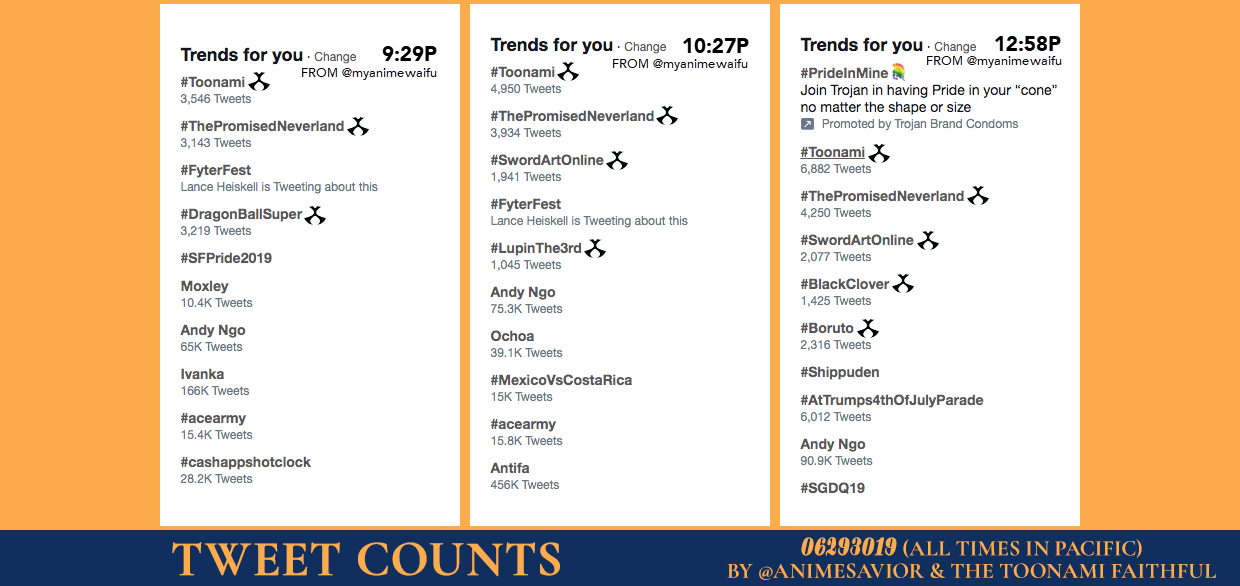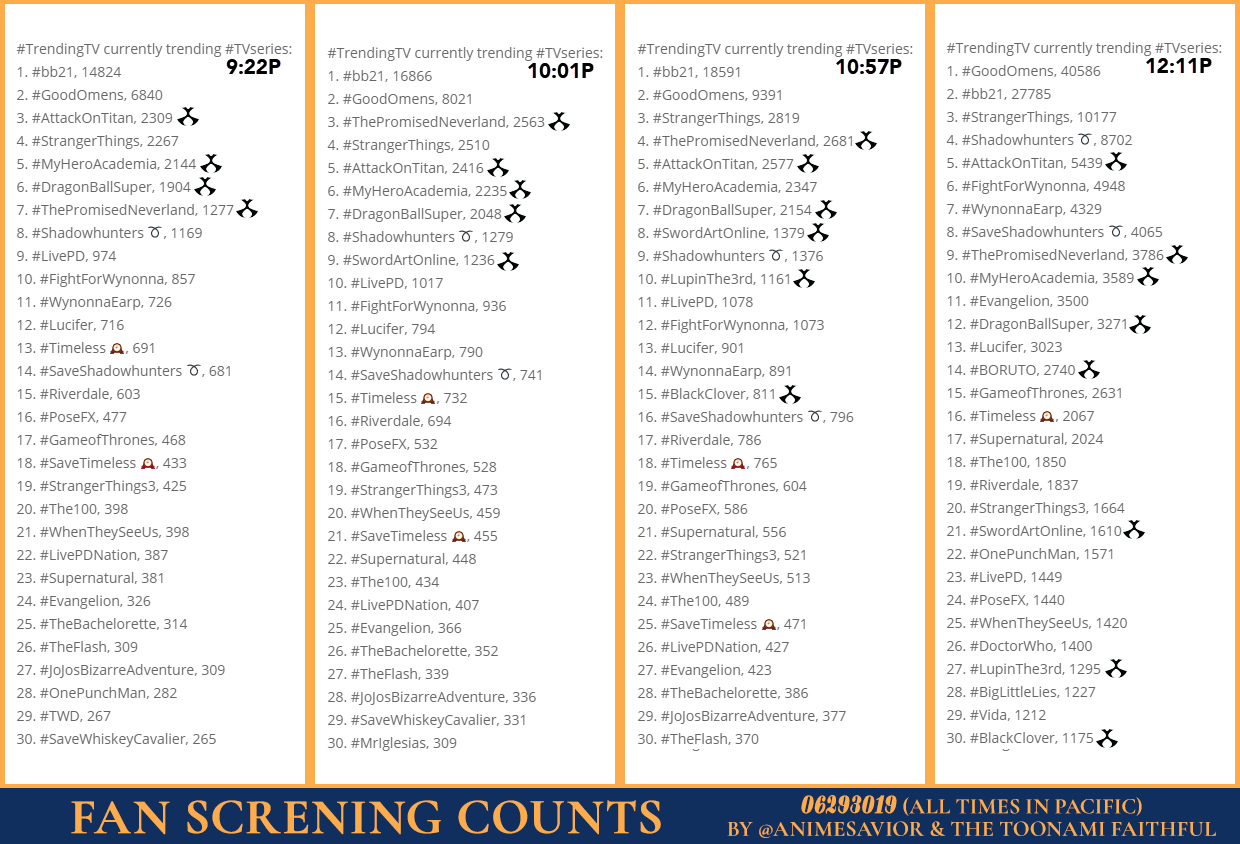 "I guess that's it then. It looks like I've lost. Run children, and be careful. I pray that one day, you can find true happiness and light."
–          Isabella, The Promised Neverland (Ep. 12)
The Toonami Trending Rundown for June 29-30, 2019. We reach the season finale of The Promised Neverland as the kids of Grace Field House implement their big escape. Meanwhile, among other great moments, Kirito, Eugeo, and Alice begin their big battle against Quinella, while Levi has to choose between saving Armin or Erwin, and Kakashi tests Boruto and his class with his famed bell exam.
On Twitter, #Toonami would trend in the US along with The Promised Neverland, Sword Art Online, and Lupin the 3rd. Black Clover, Boruto, and Shippuden also trended alongside these shows, but not outright. On tumblr, #Toonami trended alongside The Promised Neverland and Attack on Titan (including SNK). The full list including statistics and tweet counts from the twitter app and Amr Rahmy's Fan Screening analytics app can be seen below.
---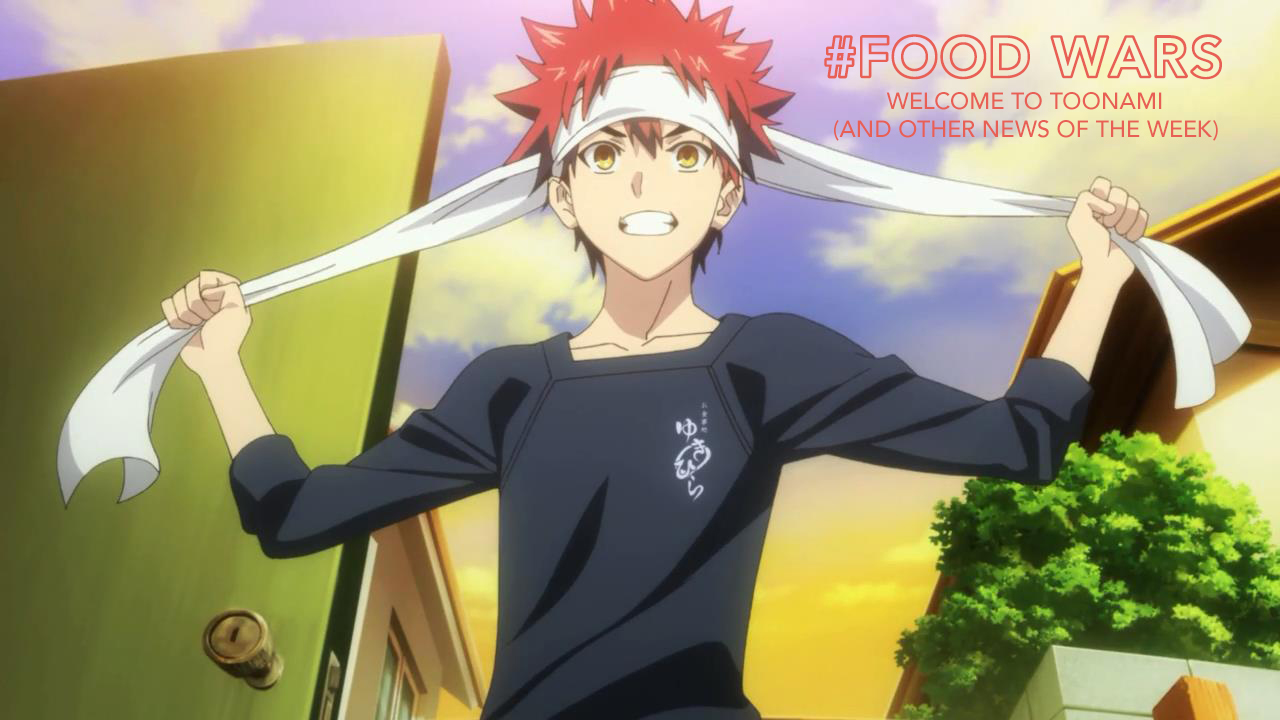 To showcase that Toonami is indeed serious with airing more genres of anime, Toonami announced on Thursday that they have partnered up with Sentai once again, this time to bring in the hit anime series Food Wars, also known as Shokugeki no Soma, beginning next Saturday June 6 at 1:00 am Eastern. This will be Sentai's third licensed franchise that has aired on the better cartoon show, and the first since Parasyte completed its run on April 9, 2016.
Based on the hit Shonen Jump manga series by Tsukuda Yuto and Saeki Shun, and well known for its food recipes and fanservice, Food Wars has become a hit manga and anime series with 315 published chapters and counting, and 3 seasons, with a 4th incoming this fall. The first two seasons have already been dubbed, and we can assume Toonami will be airing those seasons at the very least, though there is the possibility that Toonami could be dub-premiering seasons 3, 4, and beyond once Sentai gets to them.
Food Wars' addition and Gundam's return will come with yet another schedule change, which you can see below. The change did come with come controversy, as My Hero Academia went from going from the start of the block, to the end, which is quite a jarring shift to say the least. Although with AOT and SAO both headed into their respective off-seasons within the next few weeks, don't be surprised to see more schedule changes ahead.
11:00PM – Dragon Ball Super
11:30PM – Attack on Titan
12:00AM – Sword Art Online: Alicization
12:30AM – Lupin the 3rd Part V
1:00AM – Food Wars
1:30AM – Black Clover
2:00AM – Boruto: Naruto Next Generations
2:30AM – Naruto: Shippuden
3:00AM – Mobile Suit Gundam: The Origin
3:30AM – My Hero Academia
During this week's Toonami broadcast, the trailer for Food Wars was revealed, which you can see below.
During the season finale airing of Attack on Titan in Japan, with Hajime Isayama beginning to wrap up the series pretty soon, it has been announced that the 4th season of Attack on Titan will be the series last. The fourth season is set to premiere in fall 2020. Of course, we still have 4 more weeks to go until we reach the season 3 finale, which is scheduled to air on July 27. We'll see where this franchise goes ahead.
TVアニメ「進撃の巨人」The Final Season
NHK総合にて2020年秋 放送予定!#shingeki pic.twitter.com/UoJDfCTiFC

— アニメ「進撃の巨人」公式アカウント (@anime_shingeki) June 30, 2019
---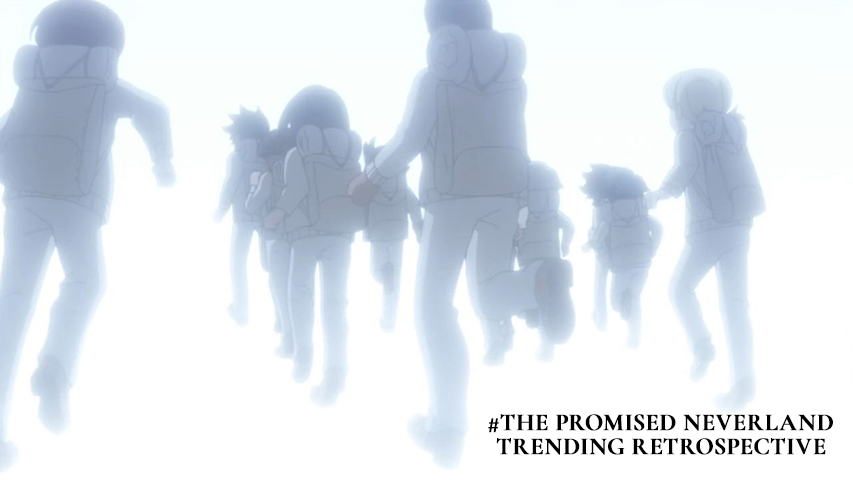 One of Toonami's first ventures into airing anime outside of the battle shonen/seinen demographics, The Promised Neverland is not your ordinary Shonen Jump title. In a world where demons rule and humans are raised in a farm to be eaten, Emma, Norman, and Ray's quest to use their wits and escape from this fate and break the cycle has been quite the journey.
Despite being a huge hit during the Winter 2019 anime season and a highly requested show for Toonami to air, some thought The Promised Neverland wasn't destined for Toonami with its aesthetics being possibly off-putting to viewers, and the thoughts at the time that Aniplex's relationships with Toonami were deteriorating. But as Aniplex made its return to the better cartoon show with the return of Sword Art Online, TPN's hopes of returning to Toonami looked more and more likely, and on March 28, Toonami and Aniplex announced that The Promised Neverland would indeed be headed to the better cartoon show, which it began its run on April 13, running 12 straight weeks through last Saturday.
During the show's run, #ThePromisedNeverland trended on Twitter during all 12 weeks of its run, including reaching the top 30 in the US 11 times, and showed up on Amr Rahmy's Fan Screening counts list all 12 weeks. The show also trended on tumblr during 8 weeks of its run.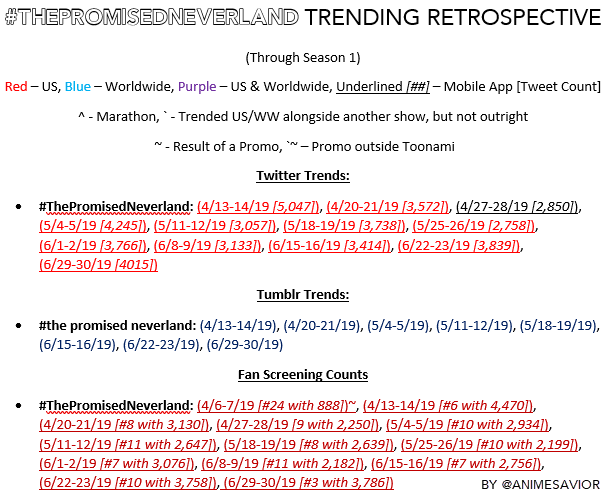 This won't be the end of Emma, Norman, and Ray's journey, as Aniplex and CloverWorks are already hard at work creating the 2nd season of The Promised Neverland, which is scheduled to air in 2020. And as manga readers will tell you, it's gonna be quite a journey ahead.
---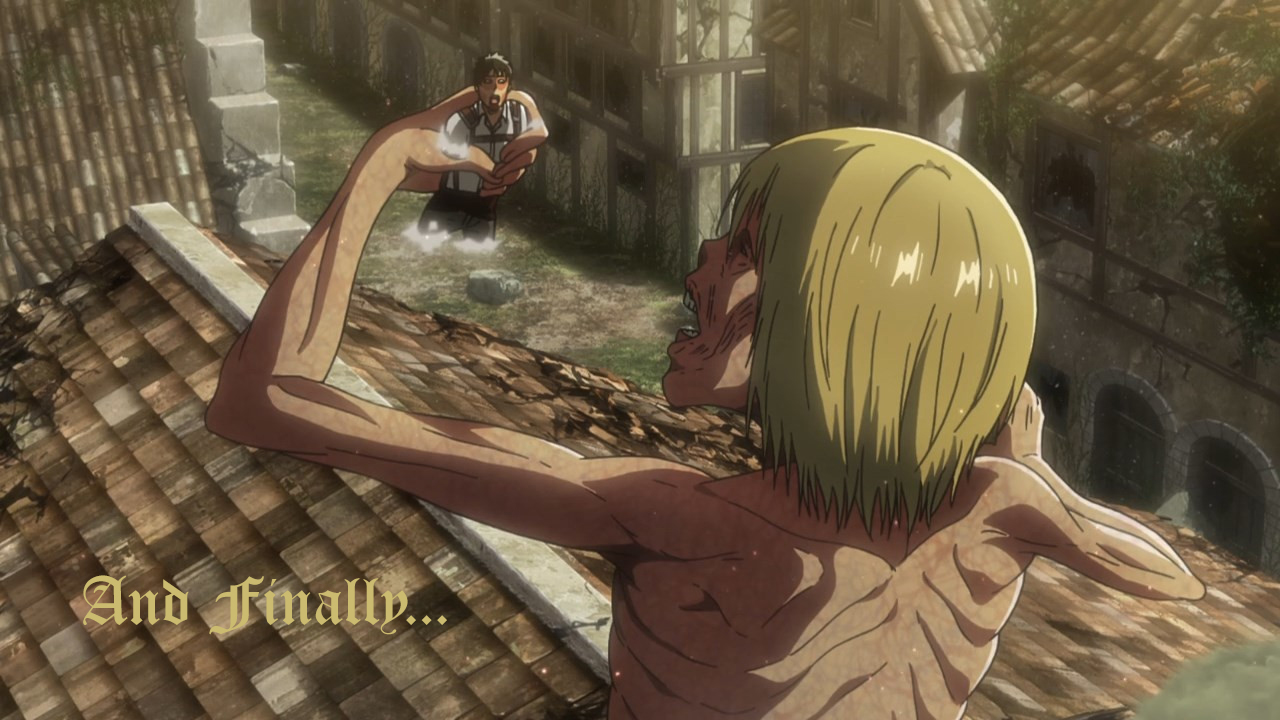 Next week, I'll be at Anime Expo with other members of the Toonami News crew to help you get the news and events of all things Toonami. With a big schedule planned, I just released the schedule of what to watch for in regards of events of interest for the Toonami Faithful to enjoy and to look out for in regards to what could be next for the better cartoon show. For those also going to the LACC this week, I hope to see you around the convention halls. And of course, tune in next week for the premieres of Food Wars and Gundam The Origin, as well as the penultimate episode of part 1 of Sword Art Online Alicization, among other great moments. Until next week, have a Happy 4th of July and stay gold.
---
Legend: The shows listed are ordered based on their appearance on the schedule. Show trends are listed in bold. The number next to the listed trend represents the highest it trended on the list (not counting the promoted trend), judging only by the images placed in the rundown. For the Twitter tweet counts, the listed number of tweets are also sorely based on the highest number shown based on the images on the rundown.
United States Trends:
Toonami/#Toonami [#9]
#ThePromisedNeverland [#17]
#SwordArtOnline [#26]
#LupinThe3rd [#26]
#BlackClover [Trended with #Toonami]
#Boruto [Trended with #Toonami]
#Shippuden [Trended with #Toonami]
Tweet Counts:
#Toonami [6,882 tweets]
#DragonBallSuper [3,219 tweets]
#ThePromisedNeverland [4,250 tweets]
#SwordArtOnline [2,077 tweets]
#LupinThe3rd [1,045 tweets]
#BlackClover [1,425 tweets]
#Boruto [2,316 tweets]
Fan Screening Counts:
#MyHeroAcademia [#5 with 3589 tweets]
#DragonBallSuper [#6 with 3271 tweets]
#AttackOnTitan [#3 with 5439 tweets]
#ThePromisedNeverland [#3 with 3786 tweets]
#SwordArtOnline [#8 with 1610 tweets]
#LupinThe3rd [#10 with 1295 tweets]
#BlackClover [#15 with 1175tweets]
#Boruto [#14 with 2740 tweets]
Tumblr Trends:
#Toonami
#Attack on Titan
#SNK
#The Promised Neverland
Notes and Other Statistics:
Special thanks to @MikeMorse1017, @myanimewaifu and others I forgot to mention for spotting some of the trends on this list.
Only Toonami on [adult swim] on Cartoon Network.
Toonami Tweets of the Night for June 29-30, 2019