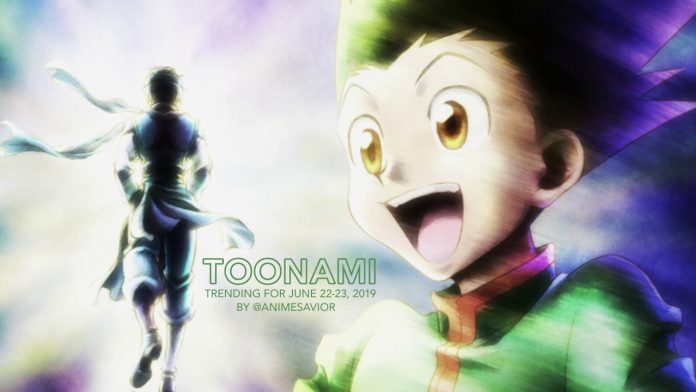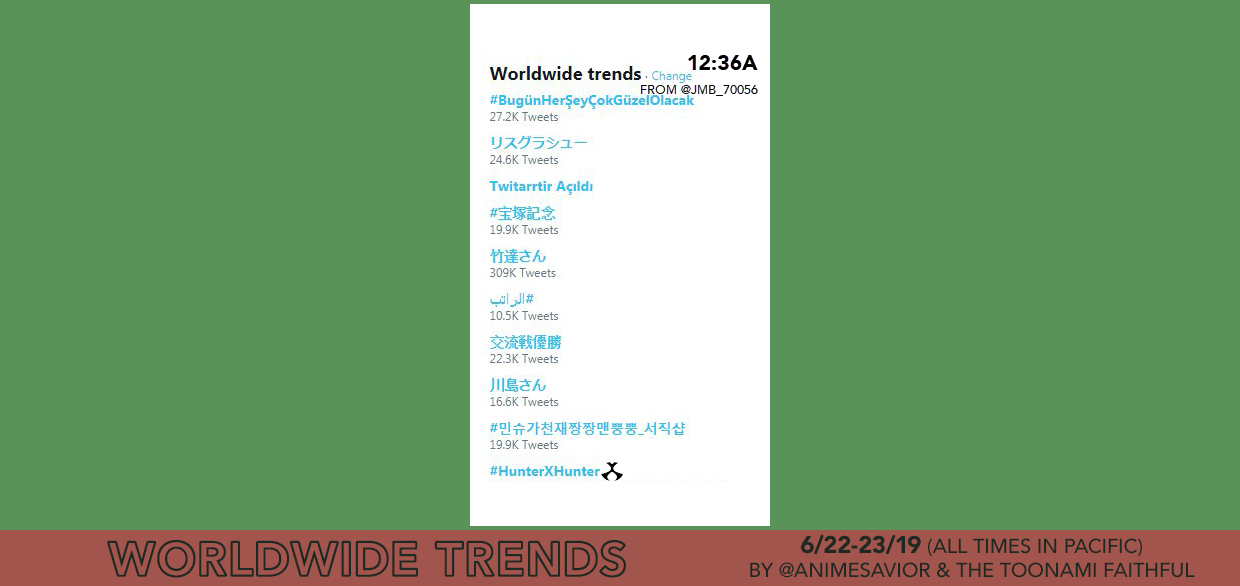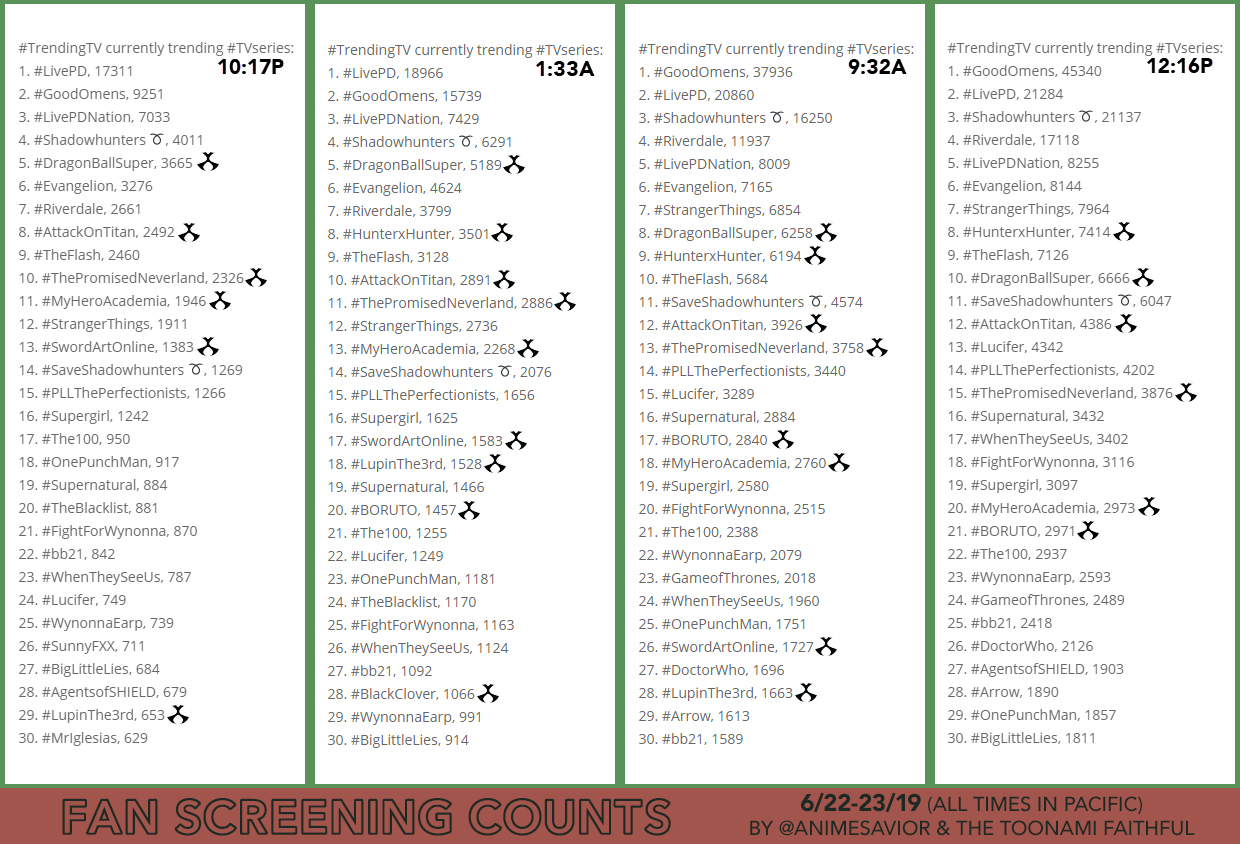 "Enjoy the side trips. A lot, okay? Things that are more important that what you are hunting for could be on the side of the road."
–          Ging Freecs, Hunter x Hunter (Ep. 148)
The Toonami Trending Rundown for June 22-23, 2019. It was a firey night for anime, as Hunter x Hunter showcased its grand finale before its dreaded "Hiatus x Hiatus" as Gon hangs out with Ging for the first time. Meanwhile, the scouts suffer heavy losses trying to take down Reiner, Bertholdt, and the Beast Titan, while the kids of Grace Field House implement their escape plan, nd Kirito has to fight a Eugeo brainwashed by Quinella's lust, among other moments.
On Twitter, Toonami and every show except for MHA, AOT, and Shippuden would successfully trend in the US, including #SwordArtOnline trending alongside these shows. Hunter x Hunter would also trend worldwide. In addition, both Hunter x Hunter and SAO's respective buzz also produced a character trend with Ging (as he meets Gon atop the World Tree and recall his and Gon's adventures), Chimera Ant, and Eugeo (as he fights Kirito as an integrity knight, before going after Quinella herself). On tumblr, Hunter x Hunter would trend along with The Promised Neverland and #BNHA.
And besides trending high on both twitter and tumblr, @TwitterMoments even recognized the buzz of fans saying their farewells to Hunter x Hunter with their very own moment.
Fans of anime TV series #HunterXHunter are saying goodbye to their favorite characters. https://t.co/FpFecvK5bR

— Twitter Moments (@TwitterMoments) June 23, 2019
The full list including statistics and tweet counts from the twitter app and Amr Rahmy's Fan Screening analytics app can be seen below.
---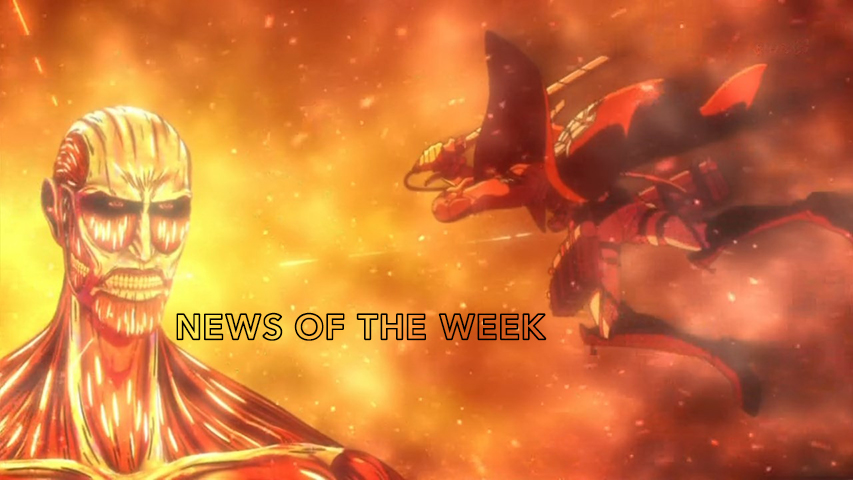 This week, Toonami released the promotional trailer for Mobile Suit Gundam: The Origin, which will be making its debut beginning on July 6 at 3 am Eastern. You can check it out below.
For those who have been wanting to add Megalobox to their Blu-ray and DVD collections, Viz Media on Wednesday has just released the boxsets containing all 13 episodes of the series. The set can be purchased at major anime selling retailers, with the limited edition retailing for $69.99 and the regular edition retailing for $44.98.
Gearless Joe will take the world of Megalobox by storm. In the ring, only true skill will survive. pic.twitter.com/DZhVqKl0n4

— VIZ (@VIZMedia) June 25, 2019
Bandai Namco has announced that they are producing a One Punch Man fighting video game, and released a trailer, which you can see below. Titled "A Hero Nobody Knows", it will be released on all major gaming platforms except the Switch on a date to be released.
The first ever console game based on ONE PUNCH MAN is coming to PS4, X1, and PC! Get ready to play 3v3 battles as Saitama, Genos, Hellish Blizzard, Speed-o'-Sound Sonic, Mumen Rider and more in ONE PUNCH MAN: A HERO NOBODY KNOWS!

Can you take down your foes with a single punch? pic.twitter.com/GakZKIxoqu

— Bandai Namco US (@BandaiNamcoUS) June 25, 2019
With thousands of fans hoping to attend this year's My Hero Academia panel to see the Season 4 premiere, Anime Expo will once again require prospective attendees to pick up an admission wristband in order to attend the panel on Saturday morning. This year, AX officials will allow fans to reserve a wristband on this registration page today at 6:00pm Pacific. Tickets are first come, first serve, so act fast and good luck.
---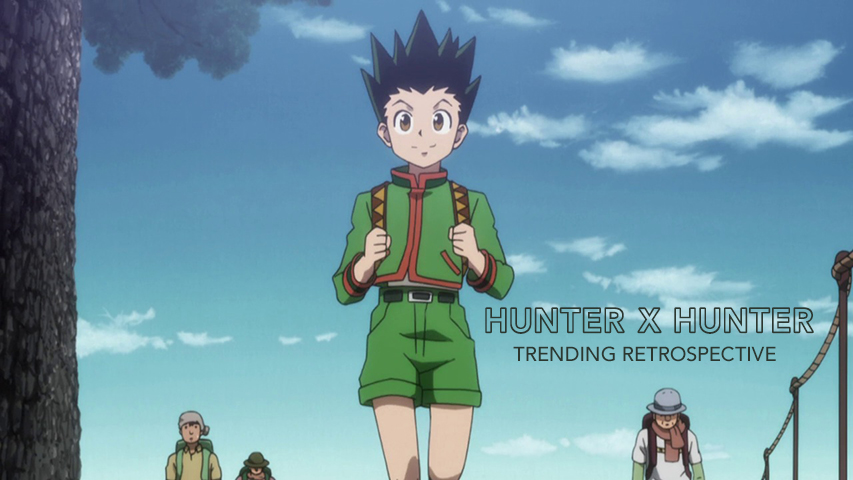 Ever since the manga made its debut in 1998, an early anime series the year after, and especially ever since the modern version of the anime made its debut in Japanese shores and on Crunchyroll in 2011, Hunter x Hunter has become a classic Shonen Jump franchise on both sides of the Pacific. But despite being a highly requested show for Toonami to one day air, it would not be until 2016 that Hunter x Hunter would receive a dub, and not long after, a Toonami premiere announcement came with it, as it made its debut on April 16, 2016. Coming from the same creator of Yu Yu Hakusho, fans had high hopes for this franchise, and during the 3 years it aired on Toonami, it sure did.
In terms of how Hunter x Hunter trended during its Toonami run, we'll it's a bit long, so I'll let the picture do the talking.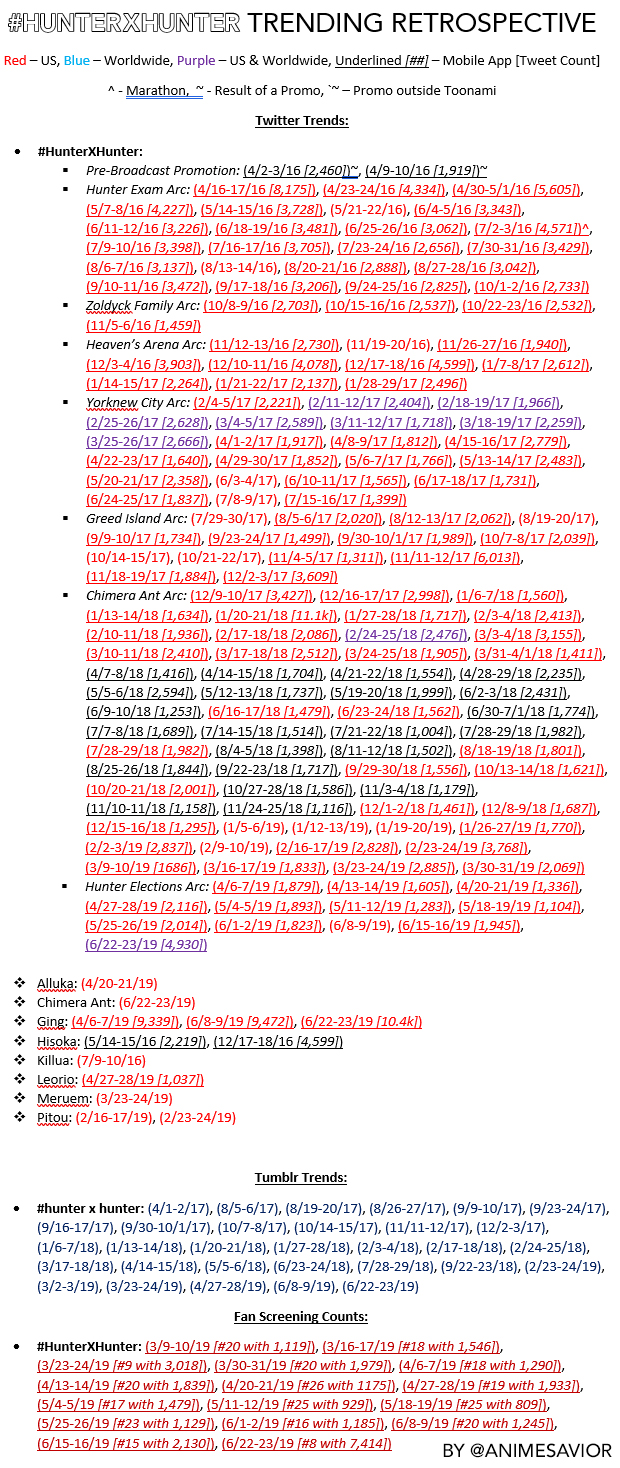 The manga continues on where the show left off, with the next arc, the Dark Continent Expedition arc begins at Volume 32, Chapter 340. Unfortunately, in recent years, series creator Yoshihiro Togashi has been suffering through illnesses and chronic back pain, which is why the manga has been going in and out of hiatus pretty frequently (hence the meme "Hiatus x Hiatus") and the shows next and possibly final two arcs, the Dark Continent Expedition arc and the Succession Contest arc, are nowhere near finished and ready to be animated.
Let's hope Togashi can one day finish the story and something can be done to help him out, but regardless, Hunter x Hunter can be considered a Toonami classic in a similar vein to Yu Yu Hakusho back in the day. Thanks for the memories, and here's hoping we can see its ending one day.
---
We're not finished with season and series finales just yet, as next week The Promised Neverland will showcase its season finale, while we have 3 episodes of Part 1 of SAO Alicization left to go. And with Gundam: The Origin not ready to go just yet, Toonami will encore run the final episode of the Chimera Ant arc at 3:00 am ET to end off next week's Toonami.
Until then, stay gold as always.
---
Legend: The shows listed are ordered based on their appearance on the schedule. Show trends are listed in bold. The number next to the listed trend represents the highest it trended on the list (not counting the promoted trend), judging only by the images placed in the rundown. For the Twitter tweet counts, the listed number of tweets are also sorely based on the highest number shown based on the images on the rundown.
United States Trends:
#Toonami [#5]
#DragonBallSuper [#16]
#ThePromisedNeverland [#5]
#SwordArtOnline [#17]
#SwordArtOnlineAlicization [Trended with #Toonami]
Eugeo (From Sword Art Online) [#13]
#LupinThe3rd [#14]
#BlackClover [#21]
#Boruto [#19]
#HunterXHunter [#3]
Chimera Ant (From Hunter x Hunter) [#13]
Ging (From Hunter x Hunter) [#9]
Worldwide Trends:
Tweet Counts:
#Toonami [8,624 tweets]
#DragonBallSuper [6,708 tweets]
#ThePromisedNeverland [3,839 tweets]
#SwordArtOnline [2,268 tweets]
Eugeo (From Sword Art Online) [1,394 tweets]
#LupinThe3rd [1,742 tweets]
#BlackClover [1,404 tweets]
#Boruto [3,398 tweets]
#HunterXHunter [4,930 tweets]
Ging (From Hunter x Hunter) [10.4k tweets]
Fan Screening Counts:
#MyHeroAcademia [#11 with 2973 tweets]
#DragonBallSuper [#5 with 6666 tweets]
#AttackOnTitan [#8 with 4386 tweets]
#ThePromisedNeverland [#10 with 3758 tweets]
#SwordArtOnline [#13 with 1727 tweets]
#LupinThe3rd [#18 with 1663 tweets]
#BlackClover [#28 with 1066 tweets]
#Boruto [#17 with 2971 tweets]
#Shippuden [# with tweets]
#HunterXHunter [#8 with 7414 tweets]
Tumblr Trends:
#Toonami
#BNHA
#The Promised Neverland
#Hunter X Hunter
Notes and Other Statistics:
Special thanks to @JMB_70056, @Journeyman15, @MikeMorse1017, @myanimewaifu, and others I forgot to mention for spotting some of the trends on this list.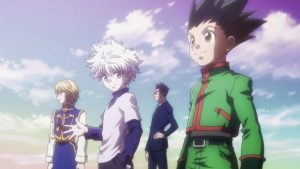 Suit Up Again…for the First Time. Only Toonami on [adult swim] on Cartoon Network.
Toonami Tweets of the Night for June 22-23, 2019